This is probably a world first. In celebration of the 100th year of the N°5 perfume, also possibly known as the most famous perfume in the world, Patrice Leguéreau, director of the Chanel Fine Jewellery Creation Studio, has created a high jewellery necklace inspired by the design of the iconic perfume bottle, showcasing a 55.55-carat custom-cut diamond.
The fragrance, composed in 1921 by Ernest Beaux and Gabrielle Chanel as the first "perfume for women with the scent of a woman" — is ubiquitous to all, and has been a mainstay in many of our bathroom shelves. Chanel's high jewellery began in 1932, when Mademoiselle Chanel created her one and only high jewellery collection called "Bijoux de Diamants".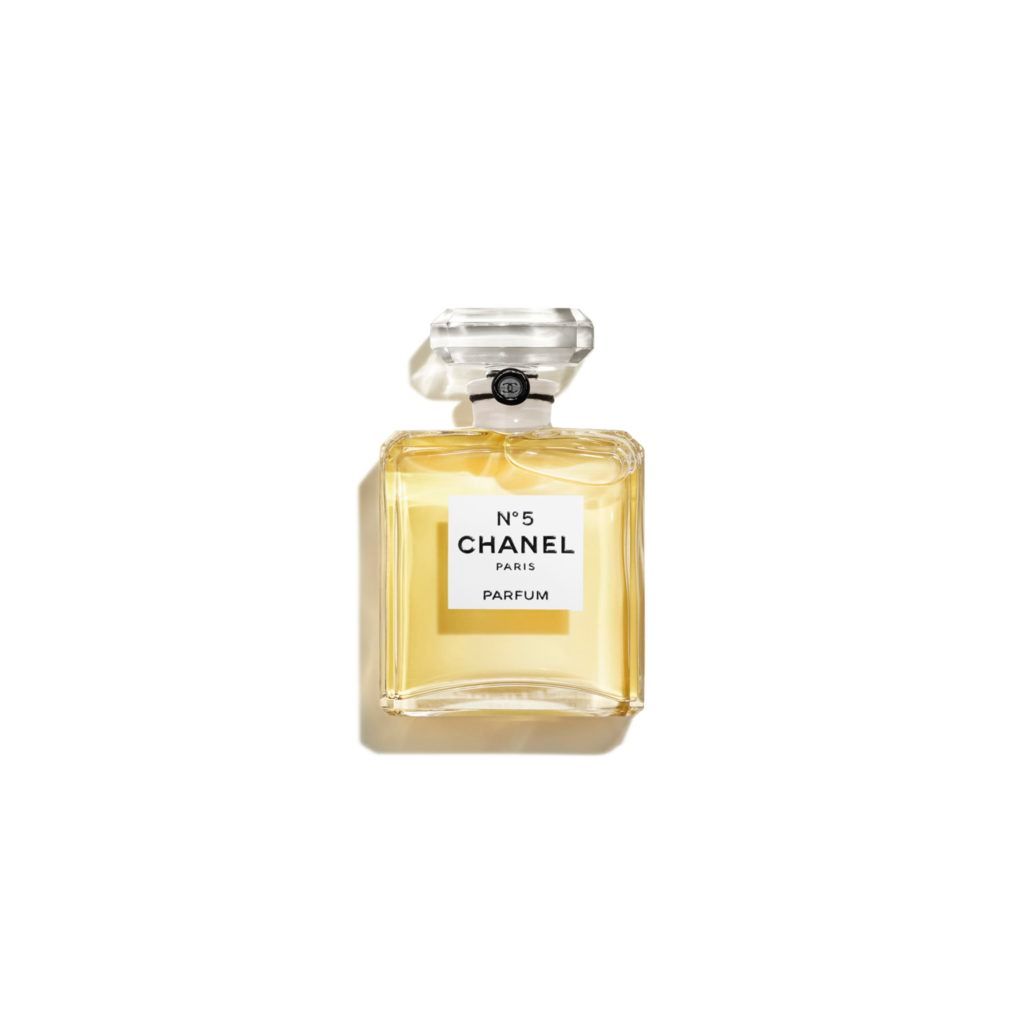 This 2021, the launch of the Collection N°5 high jewellery celebrates these two treasured domains by the Maison. "Gabrielle Chanel approached these two universes with the same visionary values, focusing on audacity and the quest for excellence. I wanted to rediscover that creative gesture with this collection, which has been conceived like a journey through the meanderings of the N°5 perfume's soul, from the architecture of the bottle to the olfactive explosion of the fragrance," says Leguéreau.
The zenith of the high jewellery collection is the extraordinary 55.55 necklace, named after the exceptional 55.55-carat diamond that is crafted as the ultimate tribute to the classic perfume.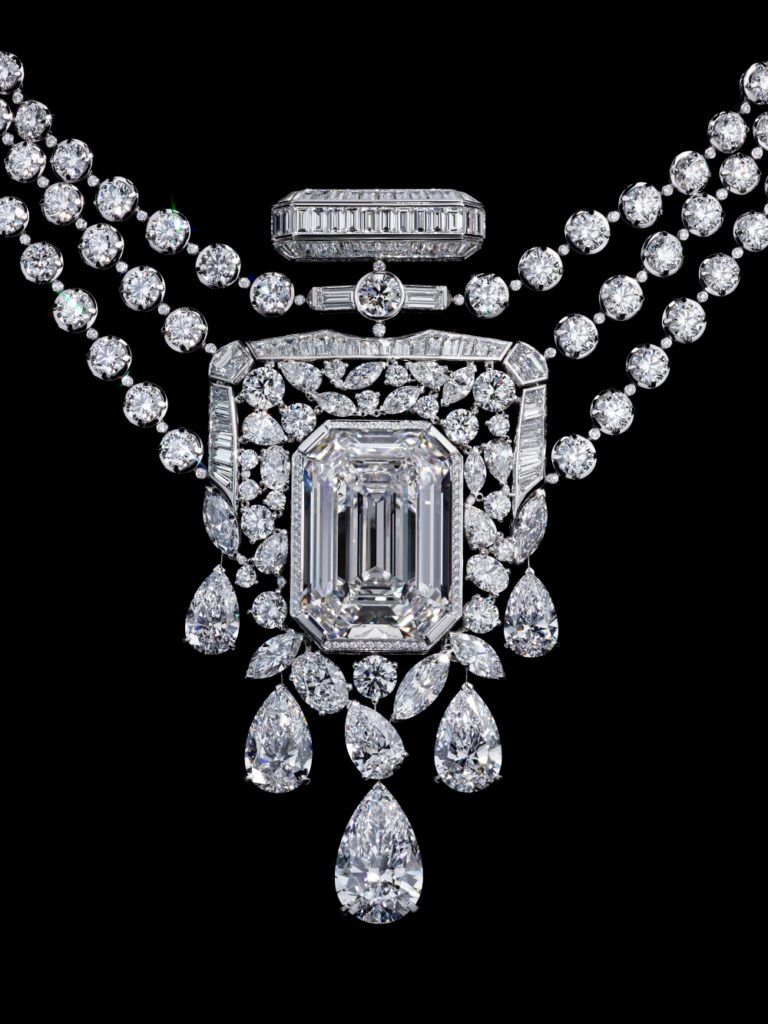 While most jewellers will cut into a diamond rough with the goal of obtaining the biggest stone possible without compromising on clarity, Chanel's team took an unprecedented approach, setting themselves the mission to cut a perfectly proportioned diamond that weighed an exact 55.55 carats.
The result is a beautiful emerald cut diamond, 55.55-carats exactly, in D Flawless quality, set in 18-carat white gold and surrounded by 104 round diamonds and 42 baguette diamonds. In a display of creativity and style, the necklace comes with a diamond-set topper, and the silhouette of the bottle is shaped out of pear-shape and marquise-shaped diamonds cut in different sizes. No detail is overlooked, even the fastener is shaped like the lucky number 5.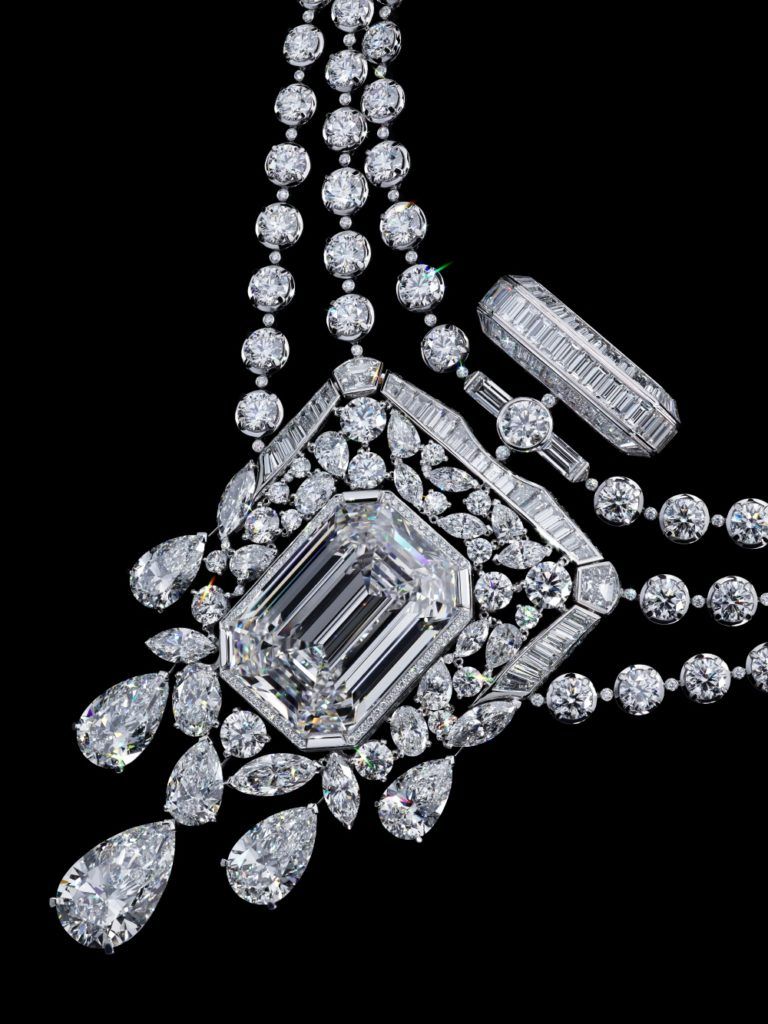 This unique necklace, however, is not meant for sale, with Chanel deciding to keep the necklace 55.55 in its archives.