The famous River Thames in London isn't just a waterway – it's also a place that a small and highly exclusive number of people call home. We survey some of the alternatives that offer luxury living afloat in the British capital.
Stroll along London's historic towpaths or around its rejuvenated old docklands and you'll surely cast a covetous eye over the quirky houseboats moored on the River Thames and its marinas, wondering how you too might enjoy lazy days on the water.
You'll daydream of throwing elegant, breezy summer soirées on deck, perhaps with Tower Bridge and the City skyscrapers silhouetted against the perfect Waterloo sunset; of the next morning sharing your outdoor breakfast toast and marmalade with a bevy of the Queen's swans.
And all within the easy striking distance of the metropolitan hubbub – the shopping and galleries, the theatres and lights – of the West End. How can I, you'll ask, dip my toes into London's life aquatic? Very few people take the plunge, of course. According to the Canal & River Trust, which oversees more than 3,000km of canals and rivers across England and Wales, boat numbers in London are up by 84 percent since 2012, to 4,274 vessels. But only about 350 are houseboats on the Thames, or just 0.01 percent of the British capital's 3.5 million residences.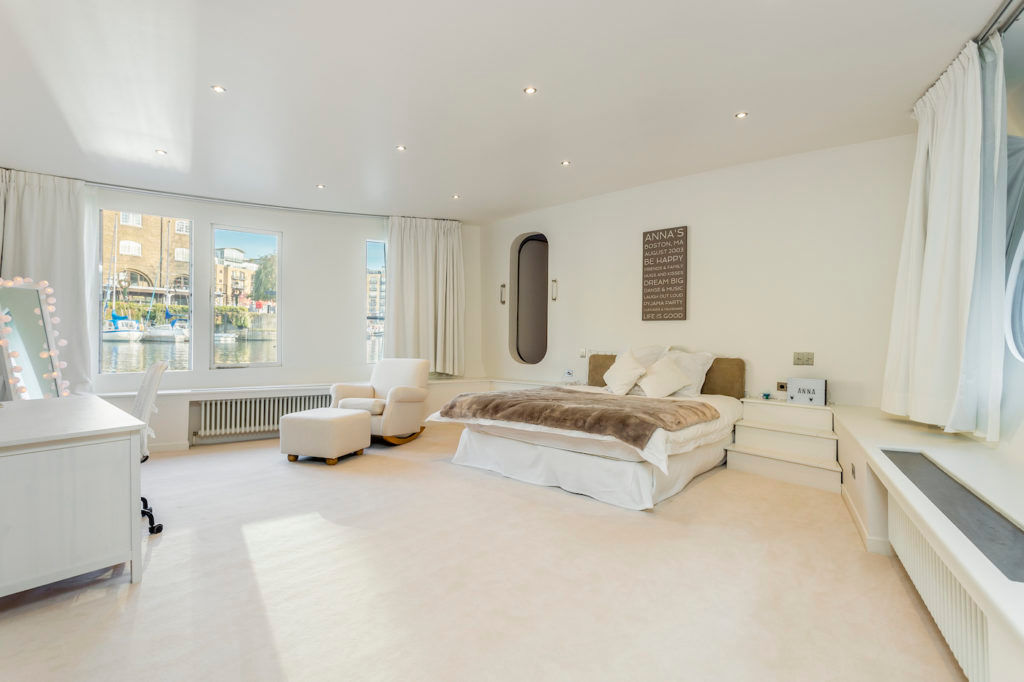 And for good reason: the trust compares living on a boat to a physical job. "It might seem romantic, but people should go in with their eyes open," it warns. Adventurous international investors with the will, a rebellious streak and the waterproof galoshes will surely find a way, however. And they'll also need to dip into the savings.
Houseboats vary dramatically in price, with the most luxurious
requiring initial outlays in the millions of pounds. Borrowing to buy such homes is tricky, because they aren't on a fixed plot of land, and you'll need to splash out on mooring costs, too, with prices rising to tens of thousands of pounds a year for the most prime locations, though sometimes with five-star facilities on land, including private clubs, health centres and spas, to ameliorate the deal.
One of the best spots to throw down an anchor is St Katharine Docks in Wapping, in east London – London's premier luxury-yacht marina, which is also close to the City. The plushest London houseboat currently on the market is moored here.
Matrix Island is a 1930s steel barge converted into a magnificent contemporary home that blows away the biggest misconception about houseboats – that they lack light and space – thanks to its expansive proportions, high ceilings and generous use of glass.
The recently repainted vessel's more than 5,000 square feet of internal space features an open-plan upper deck with huge and bright reception, kitchen and dining areas. A central atrium stairway leads to the lower deck with five large double bedrooms, each with direct or shared en suite facilities, as well as that all-important jet-ski platform.
The vessel is newly kitted out with wool carpeting and eco-friendly LED lighting, and the 15-metre-long foredeck provides ample space for entertaining under the stars.
Matrix Island is up for grabs from specialist London property agent River Homes for £3.5 million, with the agent estimating mooring costs at St Katherine Docks and maintenance charges adding up to a further £32,000 per annum.
On the other side of town, another luxe-grade houseboat is a five-bedroom charmer moored at popular Prospect Quay, next to Wandsworth Park in southwest London and just across from the exclusive Hurlingham Club. The refashioned Thames lighter is on the market for £1.8 million courtesy of Kensington-based property agent Malverns.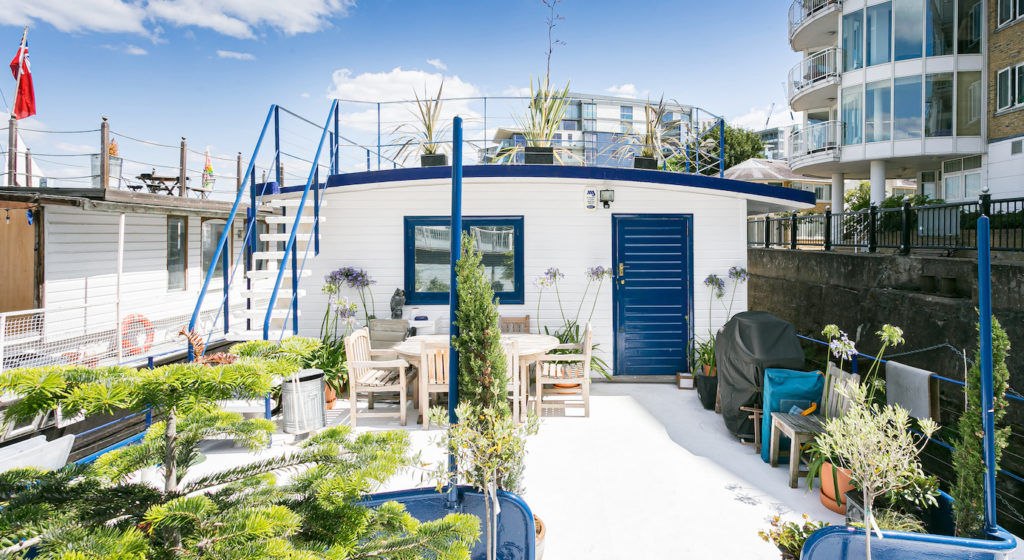 Owned by auctioneer Nick Bonham, of the famous auction house, the summery, white-and-blue houseboat has – according to the Daily Mail newspaper – "hosted British and European royalty, as well as actors and musicians. It's believed Prince Edward and his wife Sophie, Countess of Wessex, who are known good friends of the Bonhams, are among those who have enjoyed spending time on the luxury water-pad."
The spacious floating residence boasts 2,885 square feet of living space with another 1,655 square feet of outdoor areas and, once again, its interiors benefit from being flooded with light. There are five double bedrooms on the lower level, two with en suite bathrooms, as well as a utility room, study, lounge and another bathroom.
The upper deck benefits from an open-plan living area with a fully fitted kitchen-cum-breakfast room, front and rear decks and a sunny roof terrace. Mod cons include double-glazing, broadband and satellite TV.
The mooring costs are £6,000 a year, with the owners enjoying access to parking facilities, a porter, and a swimming pool and gym in the quay's adjoining residential development. "I've been here over 20 years, which is the longest I've lived in a place," Bonham told the Mail. "I love boating and water, I'm a third-generation sailor. It's a way of life and style of life, but you don't have to be a sailor to live here. This houseboat has an enormous amount of space – it's bigger than most people's houses in central London."
For the river rat with a more bohemian bent, Light Vessel 93 is a former North Sea lighthouse ship built in 1938 and refitted by her photographer owner to become a decadent home and a unique location for fashion and movie shoots. On the market for £700,000 courtesy of River Homes (which appears to have cornered the smart end of bobbing-about-on-the-Thames market of late), the ship is berthed at Royal Victoria Dock in east London at a cost of £850 a month, which includes electricity.
Houseboats vary dramatically in price, with the most luxurious initially requiring outlays in the millions of pounds
Light Vessel 93's interior spaces add up to an impressive 3,369.2 squre feet and are decorated with a dramatic steampunk aesthetic. Four of the six bedrooms – one en suite – are former crew cabins, complete with the original 1930s mahogany furniture. All replacement lighting, doors, timbers, portholes and fittings have been sourced from marine- and architectural-salvage firms or from shipyards.
The stern houses the large skipper's cabin, and a master cabin and bathroom occupies the top level of the wheelhouse, while the ship's 800-square-foot former engine room has proven a versatile space as a studio and for entertaining. A 19th-century French copper bath instantly grabs the eye in the master bathroom, and the open galley and mess are fitted out with English Rose cabinets.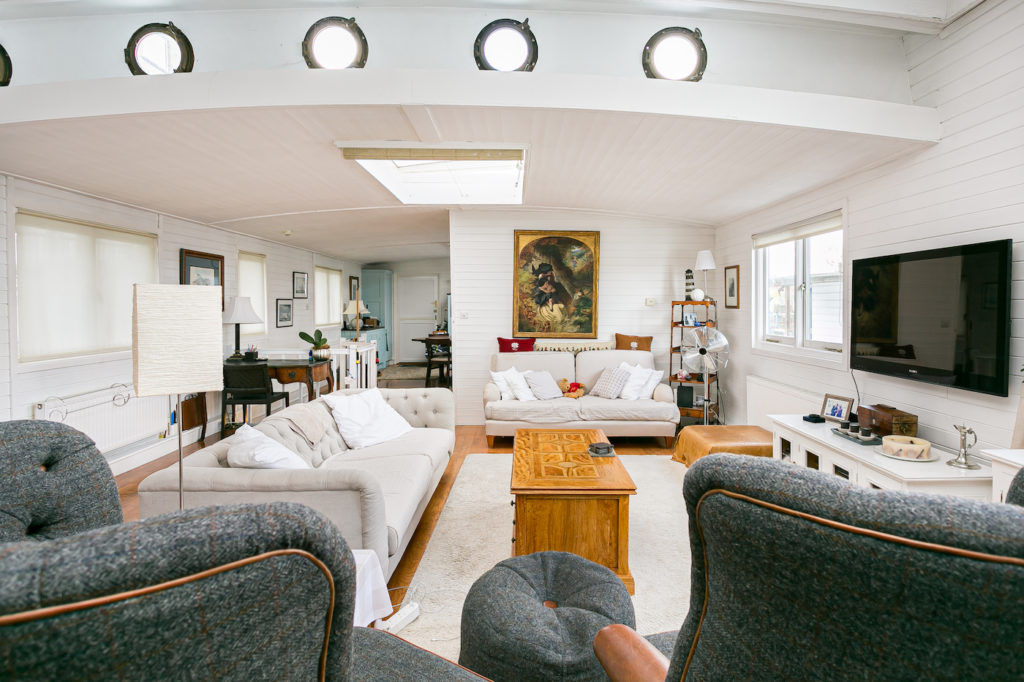 As well as having starred in World of Interiors and Elle Décor, Light Vessel 93 has been the backdrop for two Vogue magazine cover stories and many movie, advertising and music-video productions, bringing on board such talent as the Arctic Monkeys, Olga Kurylenko, Andrew Garfield and Jessie J.
More affordable still at £500,000 is cute Anny, a 1924 Dutch barge that's moored at Imperial Wharf at Fulham, in west London. Significantly smaller, with just 930 square feet of interior space, Anny has nonetheless been converted into a stylish living space with one double bedroom with dressing room and a further single bedroom- cum-study, a fully fitted kitchen with induction hob and oven, and sundeck. The single bathroom is fitted with shower and roll-top bath, and all is kept cosy through the year with underfloor heating and a wood-burning stove.
Anny has a fully functional engine and can navigate canals as well as rivers, and so could be shifted around the country easily. Mooring charges in its current location are around £13,500 a year.
Finally, the 19th-century Grain Tower Battery is a disused fort on its own island in the Thames estuary originally built to protect against French invasion and designated a Grade II listed building by English Heritage. Although it's clearly not a houseboat in itself, agent Chrome Residential (chromeresidential.com) advises that the dilapidated fort could, with extensive redevelopment, become the focal point for an exclusive houseboat community – or a hotel, or a casino, or even a private residence. It can be snapped up for just £2 million.
Completely surrounded by water at high tide, this is the ultimate fixer-upper for any would-be Bond villain out there, and with an address that nobody could forget: No 1, The Thames