Yayoi Kusama, one of the world's top selling female artists and most popular exhibitors made famous by her polka dot motifs, can rightly be called the matriarch of Pop Art.
Born in 1929 in Matsumoto, Japan, Yayoi Kusama was the youngest of four children in a wealthy but troubled family. Her father was a womaniser, her mother was cold and distant.
As a young child, Kusama was sent to learn Nihongo, or traditional Japanese painting, and surviving sketches from that time show clearly a talent well beyond her years. Kusama already knew that she wanted to be an artist, but found the traditional master-pupil regimen stifling. But her mother wouldn't entertain the idea, instead telling Kusama that she was destined to be a dutiful wife to a wealthy husband. The mother frequently confiscated Kusama's inks and canvases, which probably contributed to her obsessive creative drive.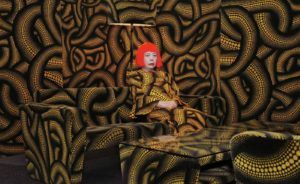 Kusama's burning desire to paint continued, and in the late 1940s and early 1950s she looked abroad, impressed by the new generation of American painters. She greatly admired Georgia O'Keeffe, with whom she corresponded for advice. O'Keeffe, who was more than 40 years Kusama's senior, warned her that artists in America had "a hard time making a living". Still, she advised Kusama to move to the United States and show her work to as many people as she could.
In her mid-20s, Kusama left to seek fame and freedom in New York, where she lived from 1958 to 1975. She would later acknowledge that "America was really the country that raised me". Kusama has said that without her art she would have committed suicide a long time ago. Her "Infinity Net" dot paintings, which first won her critical acclaim in New York, originate from visual hallucinations that she claims have haunted her since childhood and became the overwhelming power in her life.
"One day I was looking at the red flower patterns of the tablecloth on a table, and when I looked up I saw the same pattern covering the ceiling, the windows and the walls, and finally all over the room, my body and the universe. I felt as if I had begun to self-obliterate, to revolve in the infinity of endless time and the absoluteness of space."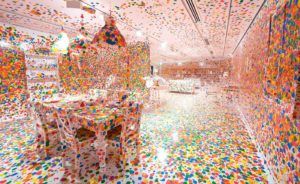 In 1977, two years after returning from overseas, she booked into a psychiatric asylum in Tokyo where she has lived on a voluntary basis ever since. However, she maintains a large and very productive studio across the road from the institution and describes her work as "art medicine".
She views her recent paintings as diary entries. Whenever she is overcome with a nightmarish hallucination, Kusama sits down at a canvas and begins to document the vision, completing the work in one sitting. These are always completed on the same size canvas and create a visual log of her obsessive thoughts. Despite their bright colours, the works have titles such as The Far End of my Sorrow and All About Joy, reflecting a troubled soul.
Kusama's output is prolific. According to Christie's, she was the world's highest-selling living female artist with her Infinity Net paintings being the most sought-after. Her touring retrospective, Infinite Obsession, attracted the largest global audience of 2015.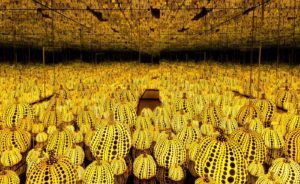 She is business-savvy and prolific Kusama's CV reads like a roll call of creative industries; she founded an erotic newspaper entitled Kusama's Orgy, has published eight novels, several books of poetry, designed a bus and has produced films – including one with British musician Peter Gabriel.
During her time in US and back in Japan, Kusama has never identified as belonging to any artistic movement, always describing her style simply as "Kusama art" despite her connections to major avant-garde artists. Still, Kusama often tells of how she craved fame when she arrived in New York. As a woman forging a career in a country that harboured post-war resentment towards Japan, it took dogged determination to get the attention she craved.
Sources: Christies, BBC, New York Times