At the opening of Michael Lau's solo exhibition at K11 Musea, where we meet as he's about to guide us through, instead of a self-introduction he asks us to watch a video of him wherein he implores, "Can we ask less conventional questions? Let's not start with Michael Lau was born in the 1970s …"
Clearly, he doesn't like convention and nor does he seem to like talking about his own work. Often he defers to the curator, whom he says can summarise themes and motifs in his pieces far better than he can anyway.
It's almost funny that after 30 years of creating art and being recognised globally for it, Lau still insists he wouldn't call himself an artist – that he wouldn't dare call himself an artist in the traditional sense that the term is reserved for the revered likes of Picasso, Bacon or Warhol. In other words, years after he found a place in the art world he's still mindful of his roots in street art and street culture, a theme he explores in depth in his Splendid Park exhibition.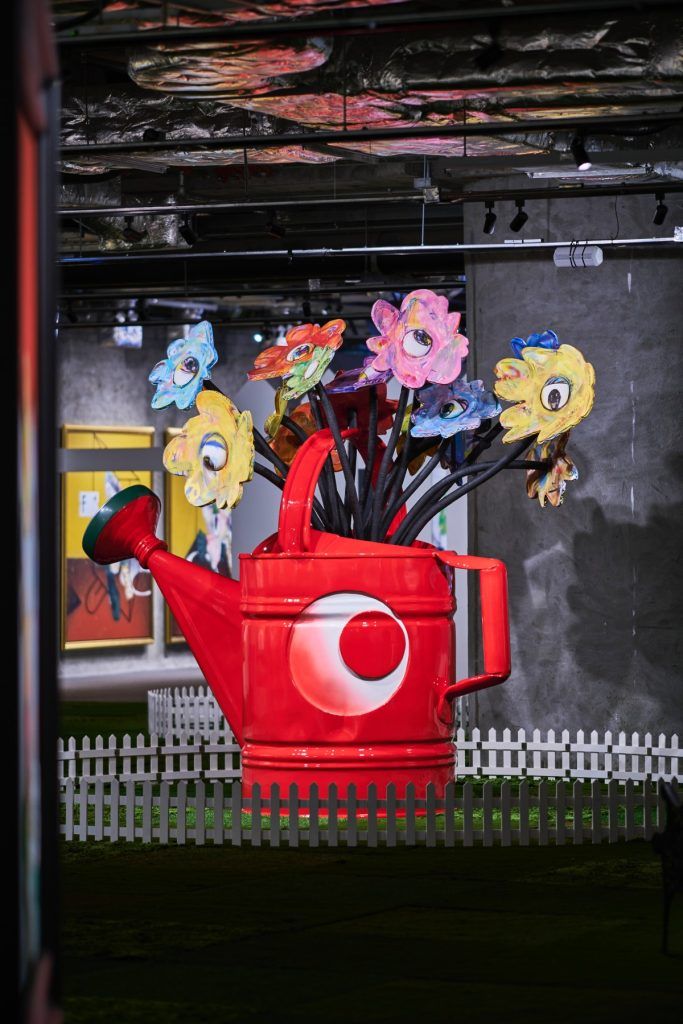 Split into two parts, Splendid Park is entered via what seems like a real park, only that the watering cans and dogs are larger than life and the flowers are painted with googly eyes. In the centre, there's even a park bench, which is where Lau and I eventually end up sitting down to chat, our conversation peppered with birdsong twittering from hidden speakers.
At the far end, a towering white picket fence brings us to the second part of the exhibition: leaving the park behind, we enter a more traditional gallery with framed works hung on pristine walls, a typical museum bench and classical music instead of birds.
"I'm questioning whether the picket fence is encircling us, or encircling them," Lau muses. "What is real art? On which side does real art reside? Are street artists being fenced out or are traditional artists being fenced in?"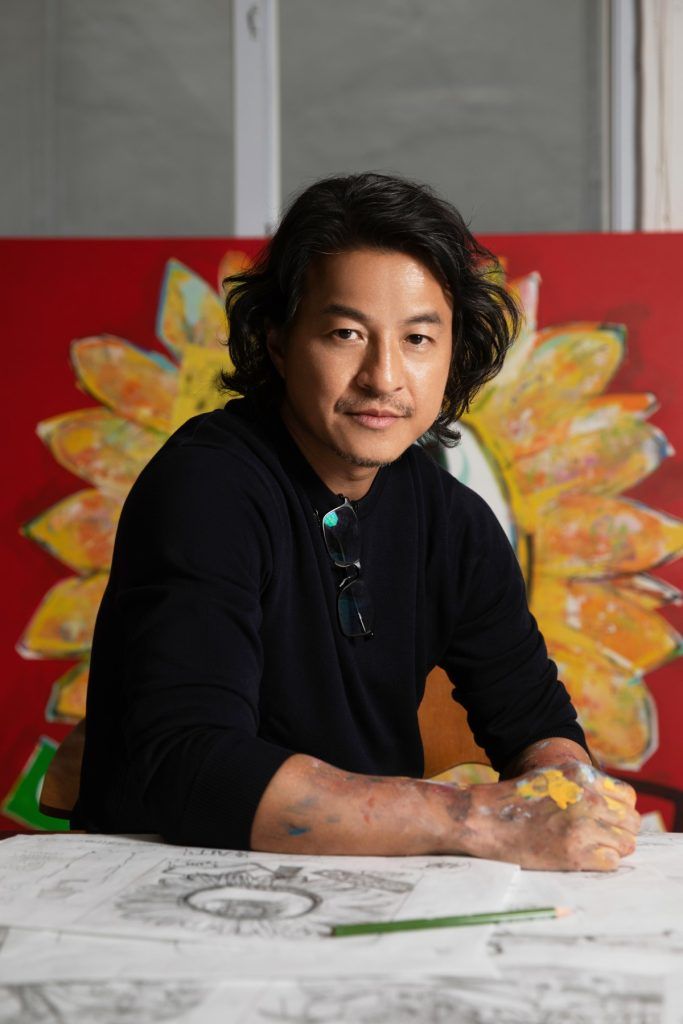 But for all his insistence he isn't a real artist in the art-world sense, most will agree that Lau has played a pivotal part in Hong Kong's creative scene. A simple Google search will show you he's the godfather of designer toys and urban vinyl, pioneering a global phenomenon in the '90s that saw the upsurge of collectible "artoys".
The year 1999, when he unveiled his Gardener action-figure series, was the genesis of Lau's artistic career. It was his first attempt at making figurines, though certainly not his first dabble in the world of toys. The series of 99 12-inch action figures was inspired by GI Joe and modelled after Lau's circle of friends, many of whom were graffiti artists, DJs, rappers and skateboarders deeply entrenched in local street culture.
"I was painting long before I made figurines," Lau says. "But I felt my work was becoming stagnant, and I wanted to find a way to make it interesting. I love toys and I collect them, so why not make them? I played around with combining toys and art. That was really the main reason why the Gardener series was born."
In fact, the driving force behind so much of Lau's work is simply that he became interested in something and then put his own spin on it. As a child, he didn't have lofty dreams about being a great artist. He just knew he loved to draw and wasn't bad at it.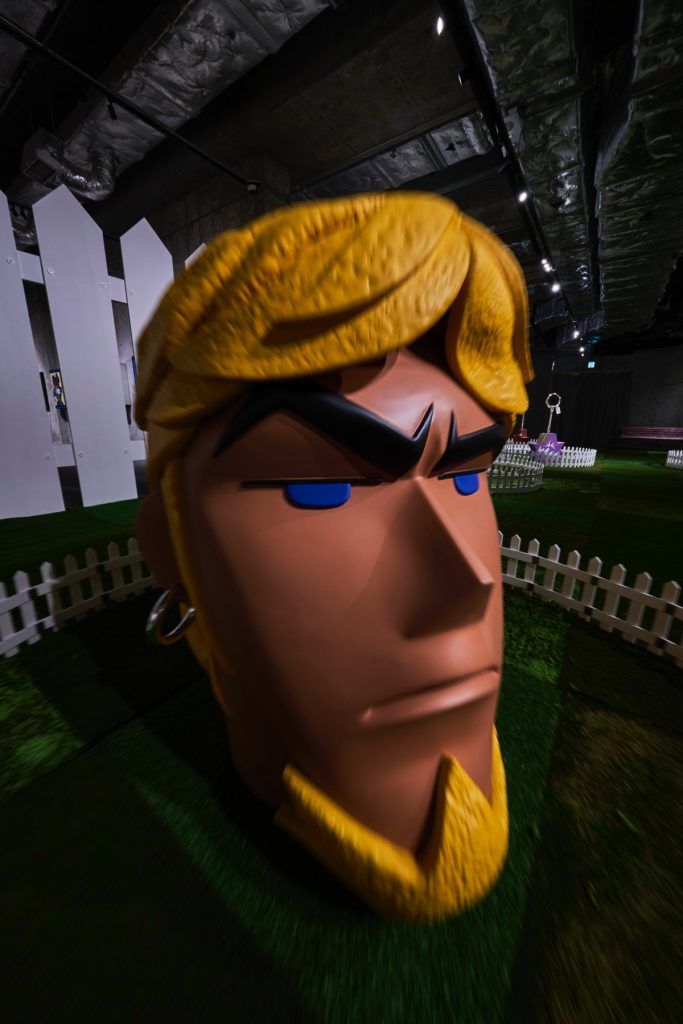 Today, he's considered one of Hong Kong's most prominent artists. He and his wife, Florance, are staples of the art and fashion scene, frequenting the city's largest and most exclusive parties and mingling with the likes of Adrian Cheng and William Chang. But just as Lau wouldn't – couldn't – let go of his street-art beginnings, nor could he forget his humble roots. His parents were farmers and though he and his five siblings grew up under a thin tin roof, for no apparent reason three of them discovered a love for drawing.
"There used to be a print of a painting by Salvadore Dalí on our fridge," he says. "And a few years ago I started wondering if this Dalí brought me to art, like a butterfly effect. My uncle gave it to us after one of his travels to Holland and for me it represented culture and taste. It was the '70s then and things you brought back from your travels were exotic."
Being poor, Lau spent a lot of times in libraries "because it was free", discovering an entirely new world through international magazines. "I was very influenced by pop culture abroad," he says. "There's a reason why the inspirations for my works have been quite international from day one. My early oil paintings, up until the Gardener series, say nothing about me as an artist from Hong Kong. There are no pineapple buns, no neon signs, no Chinese cha chaan tengs."
Following Gardener, Lau created the Crazychildren series – nine figurines modelled on himself that could be assembled and dissembled, which cumulated in Salvator Michael (2018) in both figurine and painting formats as a riff of Da Vinci's Salvator Mundi. Lau's big break into the "traditional" art world was Wall of Jordan (2015), a large-scale painting commissioned by Nike for the 30th anniversary of the Air Jordan and later auctioned for HK$1,375,000 in a 2017 Christie's charity sale.
"It represented an entry ticket into this new world," says Lau of Wall. "At that time, it gave me the chance to play on this professional stage of contemporary art. And when your art goes to auction, you're in. There's a record, right? It became this moment in time when people began to discover my work and recognise me as an artist. It was the moment I became part of their world."
In his works, Lau frequently explores social and cultural issues, including our dependence on the Internet (explored in the 2016 exhibition what? we: want!) and the collective feeling of isolation and frenzy early in the pandemic (captured in the 2020 Soliloquy series). But perhaps for obvious reasons, toys are still his favourite subject.
In 2018, Lau created the Package-Change series. Comprising paintings and three-dimensional sculptures encased in acrylic resin, the series superficially explores toy packaging and collecting, but at a deeper level it's also Lau's commentary on the state of human society, our obsession with self-branding and a collective need to hide our authentic selves behind a polished, "packaged" exterior. Especially notable is Package with Two Figures, a play on David Hockney's Pool with Two Figures, where instead of staring into one of Hockney's famous blue pools, you're staring swimmingly into a toy figure beneath a blue sheen of plastic wrapping.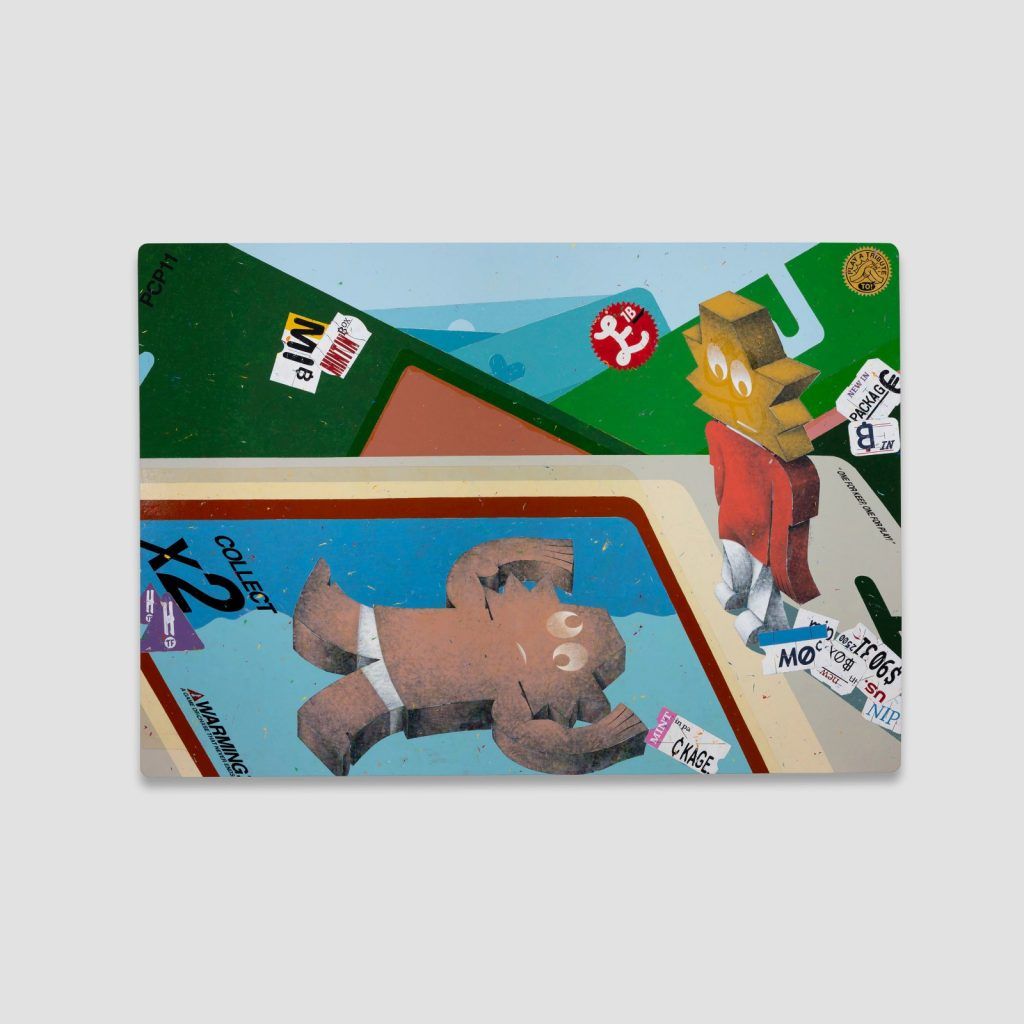 "If you're into collectibles you'd always buy two figures. One is for playing and the other is for collecting." Lau laughs and goes on, "But you know what? If you were really good at it, you'd actually buy three. The third one is for trading."
In the Package-Change series, there are also sculptures shaped like keychains, with hoops and chains punching ramrod-straight into the air. "If you think about it, a figurine is only a toy when it's small. Make it bigger and then suddenly it becomes a sculpture," he says. "People have this need to be particular about the terms used to label things. The art world has debated for many years whether or not my creations are a toy. A giant keychain is a sculpture, right? What is art and what isn't? A lot of my works play on this perception."
Another artist familiar to many in Hong Kong is the late Tsang Tsou-Choi, who for decades, painted black ink scrawls across public walls, lampposts and utility boxes with essays proclaiming himself as the King of Kowloon. Depending on who you asked they were regarded either as vandalism or art, and it wasn't until after his death that his works appeared at auction. So how is anyone inducted into the art world? Ultimately, says Lau, it's the collective endeavour of critics, curators and media to change public perceptions and bestow the label "art" and "artist" on someone's creations.
I suggest to Lau that, just like jazz musicians, street artists could argue that they're the ones creating real art. "Everyone is just trying to protect their art," Lau replies diplomatically. "My duty here is to open up the conversation. The world is big enough for all of us."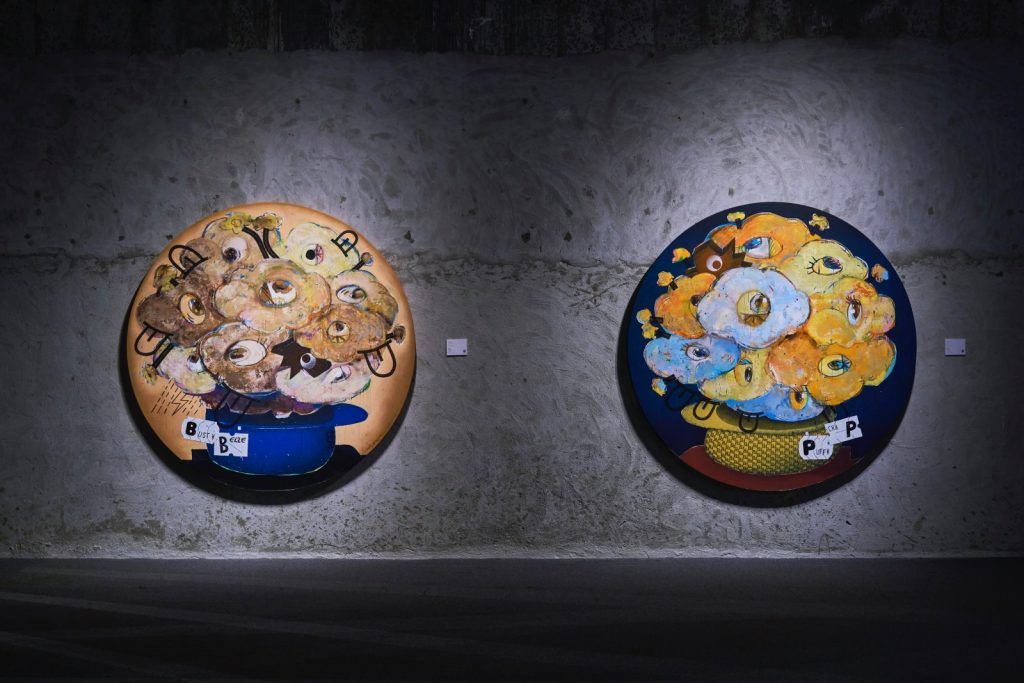 In 2020, Lau found himself painting flowers, which resulted in the Flower series. "I wanted my work to be more optimistic, more positive," he says. "There's so much going on in the world, it's a bit of a tragedy already. I want people to be happy, and I guess I want people to feel this positive energy from my work. So in a way, the topics that interest me now compared to the last decade have shifted a bit. It's less complicated, it's simpler now. Happiness, positivity, colours, innocence. Times have changed and I think the world is a little lacking in these things, so I want my art to showcase these themes."
After toys, flowers might be Lau's next passion project – he says he started painting them after picking up ikebana during the pandemic. After Flower, the Master series continues with the motif of blooms, figurative floral portraits that emulate the styles of some of the greatest artists ever, yet carry his own signature touch.
Toys and flowers might be quite different, but I point out there's a theme of gardens and parks in Lau's work that begins with the Gardener and continues until this very moment when we're chatting on a park bench. "The garden is a reflection of myself," Lau reveals. "I'm on the outside. It represents marginalisation and it's something I've grappled with all my life, from being poor and without means until now. Maybe it's why I have this constant need to breakthrough to the other side."
It's also behind his constant desire to give back to young people – or, as he calls them, "my crazy children". The auction proceeds from Wall of Jordan benefited a youth outreach programme supporting local teenagers to achieve their dreams in basketball. "When we were children, no one helped us," says Lau. "And now I have the means to help, so I help them. Because why not? It's not hard for me to create art, and to know that this piece here can fetch this amount, and that piece there could fetch that amount … it's that simple. It feels good to know I can keep on creating and helping these people."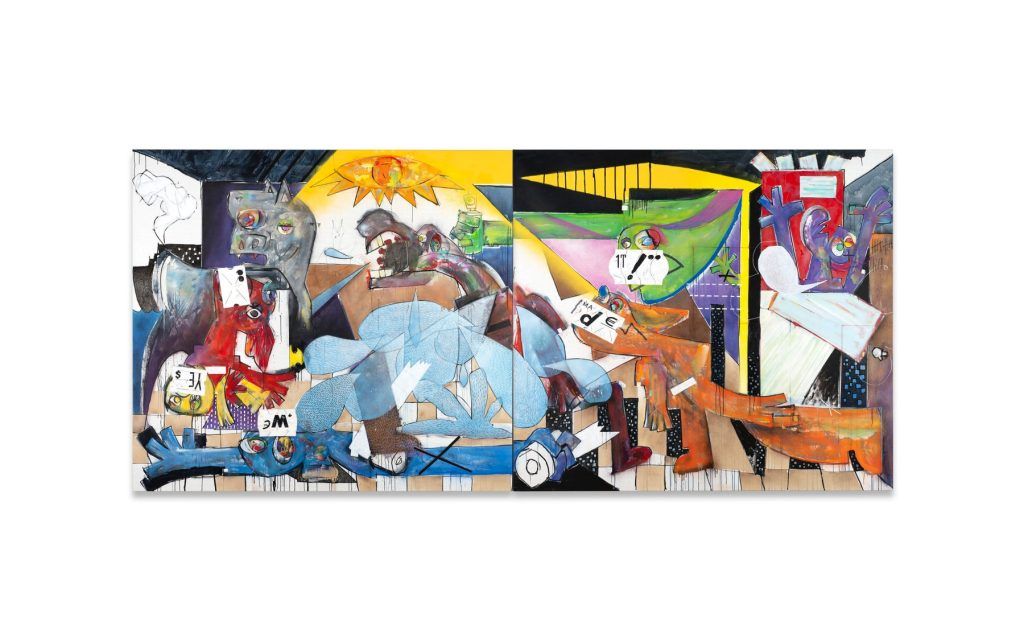 And create Lau will, ceaselessly. In the three years of Covid, he's created five different series of works, each involving countless hours of painting and sculpting. "It's my process, I like to work fast," he explains. "I guess that's the Hong Kong spirit in me – we'll work ourselves to death to achieve something."
I ask Lau if he identifies as a Hong Kong artist even though his inspirations have been so international. "I'm a Hong Kong artist even if I don't paint about Hong Kong," he replies. "I've embodied the spirit of Hong Kong in the way I work and I think that's what it means to be a Hong Kong artist."
And as to whether he's an artist in the traditional sense, he says it's up to the critics to decide. But of course he is, as he flits with ease between the lofty world of the gallery and the grittier environs of the street, with friends in both places. As we chat on a bench in his Splendid Park, he's sipping tea out of a thermos. Later this month he's showing two new works at Art Basel Hong Kong. What they are he can't tell me. Not because it's a secret but because he hasn't started them yet. "That's just how I work," he chuckles. We'll just have to wait and see.