If you're looking for a place to stay on your next trip to the beach destination of Bali and want something unique, perhaps a Boeing 737 villa is just what you're looking for.
With its beautiful beaches and scenery, Bali is a no-brainer when you want to go on a beach getaway. On top of that, there are plenty of places to stay where you'll get unique experiences and luxurious amenities.
But if you truly want something out of the ordinary the next time you stay in the popular holiday destination, look no further than this abandoned Boeing 737 that's been transformed into a private villa. Why charter a tiny private plane for a few hours when you can spend a few nights in a decked-out 29-metre plane?
[Hero image: Expedia]
Bali's Boeing 737 villa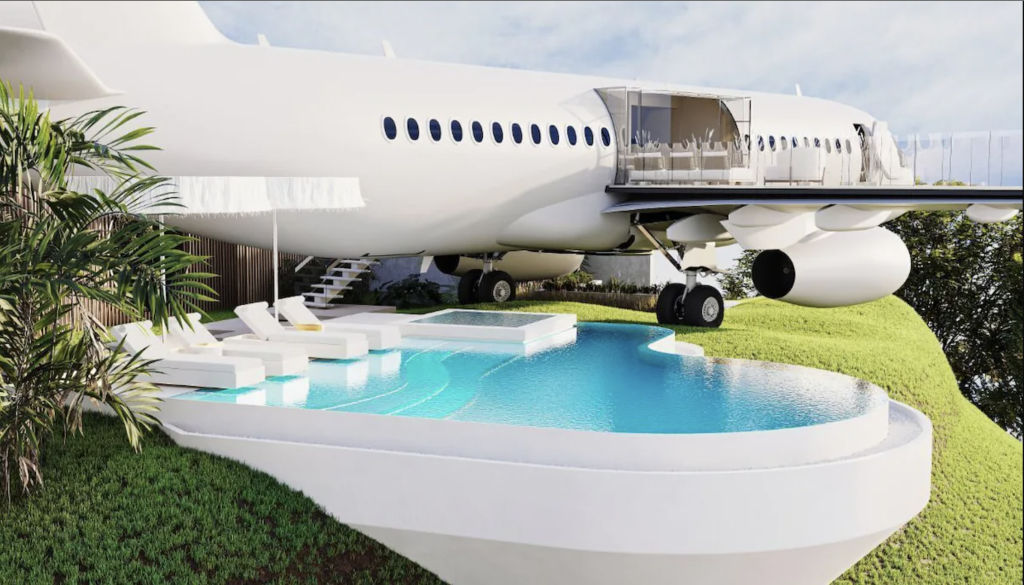 The property is called Private Jet Villa by Hanging Gardens Air and sits on a cliff overlooking Nyang Nyang beach. The jet was originally a part of the fleet of Mandala Airlines, which is now out of business. According to CNN, it was developer Felix Demin who bought the plane and decided to transform it into the luxury villa that it now is.
The jet/villa looks beautiful, but it was a bit of a painstaking job just to get it to where it was. Just transporting it to its location took almost two months of planning. The plane was eventually reassembled on the cliff where it now rests.
The design
The villa's design makes ingenious use of the plane's architecture. The wing serves as an outdoor balcony complete with comfy couches so you and your friends can lounge about and enjoy drinks and the sunset. The former cockpit is now a bathroom with a spacious and relaxing bathtub. Underneath one of the wings is the outdoor lounge area with a long L-shaped sofa and a firepit surrounded by greenery with the plane's giant engine in the background—a perfect IG opportunity.
The outdoor pool is located right beneath the plane complete with beach loungers that are situated so you have a great view of the beach 500 feet below. Meanwhile, in the interior, the plane has two bedrooms, two bathrooms, and a cosy kitchen area.
Opening date and price
There's still time to plan out your Bali trip because as of now, the villa isn't complete yet. But it is on track to start welcoming guests by April. As for its price, it's estimated that it will cost around USD $7,300 (THB 254,175) a night. Better start saving now.