Art month is coming to an end, leaving us with hints of withdrawal symptoms after being spoilt by the plethora of artsy exhibitions, events and happenings that lit up every corner of our city. Fear not – these gorgeous restaurants, decked out with stunning art displays, takes multisensory dining to the next level. It's time to feast, for the eyes and the appetite!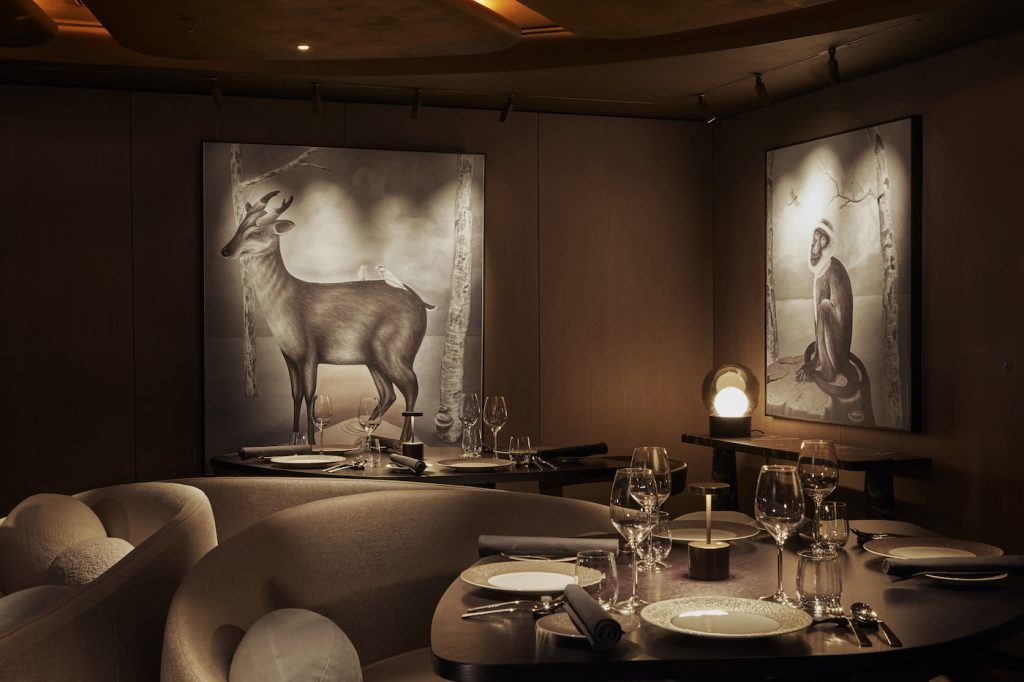 A walk through the vibrant peachy archway at Arbor instantly brightens up the day. There you'll find a one-of-a-kind free-form bronze sculpture produced in Belgium in the 1970s against the backdrop of a golden landscape created using traditional hand-printing techniques by Zuber, the oldest French wallpaper manufacturer founded in 1797. A forest-themed sanctuary in the heart of Central, Ami houses a collection of paintings featuring an array of adorable woodland creatures. The artworks, produced by artists from New York-based studio En Viu, mirror the alluring interior design elements dotted throughout the restaurant. For a quick getaway from the concrete jungle, look no further. A visit to The Magistracy is always an occasion: the high vaulted ceilings and ornate dark panels echo the historical significance of the former judicial house. Accompanying the regal designs from award-winning Joyce Wang Studio are acrylic paintings by Hong Kong-based abstract artist Wai Sze Clark-Burton and vintage still-lifes sourced in England's Cotswolds. For a pop of colour, Rosewood Hong Kong's elegant tea lounge The Butterfly Room decorates its wall with a sextet of Zodiac paintings by British contemporary artist Damien Hirst. Known for its extensive range of teas, this is the place to enjoy everything from delightful continental breakfasts to chic coffee breaks and a quick pre-dinner drink. A venue for social and cultural events as much as a restaurant, Duddell's houses a grand display of art spread across its two floors. Built over four decades, the M K Lau collection – one of the finest in Asia – reflects the main currents of Chinese brush and ink art from the 19th to the 21st centuries, and includes works by masters such as Lui Shou-kwan and Cheng Wai-kwok.