With its first anniversary just around the corner, contemporary French restaurant Clarence gets a soft revamp to celebrate the occasion. Chef-owner Olivier Elzer reflects on the past year and gives us a peek into exciting things to come. Despite his 190cm height and broad-shouldered stature, Olivier Elzer comes across like an excited schoolboy who can't sit still for long. "I had ADHD when I was a kid," he says animatedly, as we catch up over the inaugural year of Clarence. "I'm still a little right now, but that's a good thing when you're a chef, you know, because it brings you a lot of energy."

With 23 Michelin stars under his belt, Elzer's restaurant marks an exhilarating milestone in this seasoned chef 's career. Beyond designing the menu – something the Alsace native could do in his sleep – this is the second time, after Seasons, he has full creative control over a restaurant. From choosing light fixtures and furnishing to hiring back- and front-of-house staff to selecting table- and glassware, every minuscule feature is handpicked by him. It announces that when you visit Clarence, you're getting a most authentic taste of Olivier Elzer.

Some may find the experience intimidating, but for him – perpetually buzzing with an energy that most could only procure through a fourth cup of coffee – it's an exciting time to get the creative juices flowing. With his classical training in haute cuisine, the fundamentals of French culinary art are ingrained in Elzer's DNA as a chef. And while the menu at L'envol – where he leads as the culinary director – keeps things classic and familiar, Clarence, on the other hand, is his playground to repackage everything he knows and loves about grand cuisine into unexpected surprises. And there's no better playgroup than Hong Kong's notoriously hard-to-please and easily bored epicures.

"I knew I wanted a casual concept," he explains, "somewhere people could feel relaxed no matter what mood they're in. It could've been a bistro or a brasserie, an existing model that I could just copy and paste. But I want something unique and personal; slightly unusual with a special soul, and I have confidence this would work in Hong Kong because people here aren't only acclimated to but are always excited for a dynamic and rapidly evolving dining scene."

Subtlety isn't the name of the game at Clarence; don't expect to be eased into Elzer's world of innovative imagination. The standard opening act at any French spread – the proverbial breadbasket – is replaced by a crispy stack of homemade corn crackers, paired with an airy fresh tarragon cream instead of the customary soft salted butter.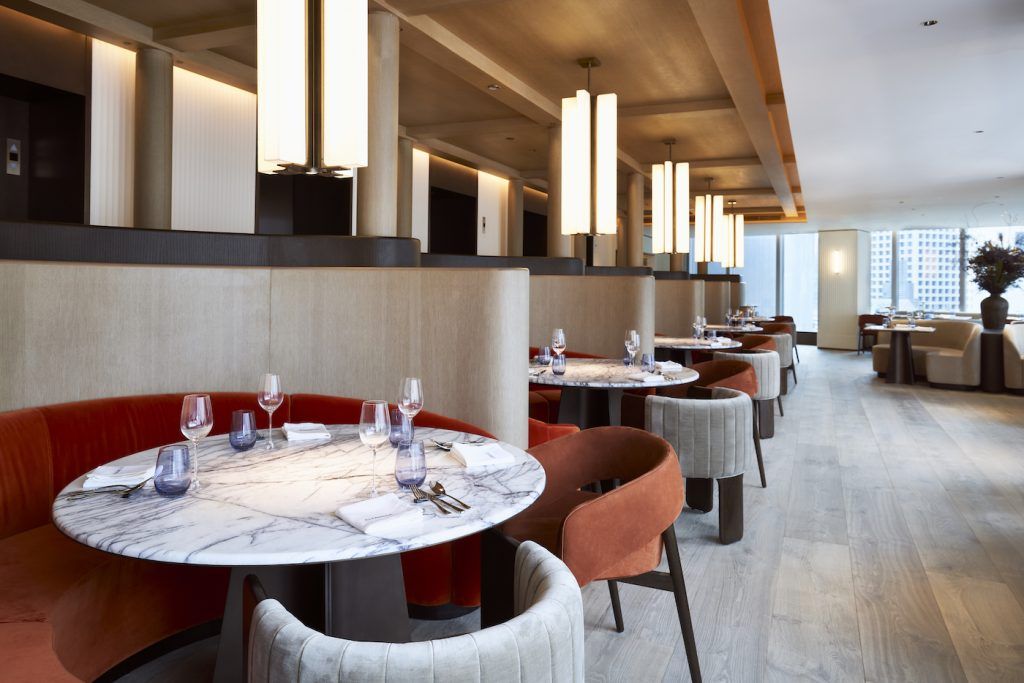 "Joël Robuchon, my mentor, shaped a lot of my thinking," Elzer says. "He blew me away with what he's achieved; when he first opened L'Atelier de Joël Robuchon after a five-year hiatus, everyone back in France went berserk over the idea of French food cooked with the Japanese teppanyaki, on a sushi counter, presented in small portions. For the first year or two, he was heavily criticised; they thought he'd lost his mind. But look at the great success the unusual concept as grown into. I'm not measuring myself against the genius of my mentor, but I'm keen to follow in his footsteps to do something gutsy, something that might require more time for people to understand." The ever-changing menus at Clarence reflect the delicate connectivity between his French training and cosmopolitan career. "I'm a French chef, I'm proud to be a one," Elzer asserts, "but living in Hong Kong for 13 years has impacted me in the way I think and the way I eat. My bottom line is always to bring French products and techniques to the table, and at Clarence I want to do the same with an Asian twist." By now, his original and patented invention, the Yakifrenchy, is well known among gourmets. Although the presentation resembles the charcoal-grilled skewers found in the narrow alleyways of Japan, the flavours of French classics, such as ratatouille, duck confit and escargots, shine through with every bite. But that's old news; in March, the restaurant celebrates its first anniversary and, in true Elzer fashion, the menu has undergone a makeover to keep pace with the chef 's propensity for the new and surprising. The à la carte is superseded by thematic seasonal sets, changed monthly to showcase different regional classics and local produce. "The à la carte format was a good way to introduce my vision," he says. "We've matured over our first year, observed our guests and listened to their feedback. It's now time we offer a fully curated and seamless experience, so diners can sit back, relax and simply enjoy the ride."

To make the restaurant's first birthday extra special, Elzer's mother Dorothée Elzer, an outstanding chef in her own right, is joining the team to introduce the first regional experience featuring the family's favourite ingredients and recipes. The star of the menu is her choucroute d'Alsace, a dish she cooked when visiting Hong Kong in 2018, which garnered rave reviews from friends and family. The hearty dish, bursting with sauerkraut, sausages, charcuterie meats and potatoes, is the quintessential comfort food Elzer grew up loving.
Alongside food, an expansive and honestly priced wine programme, the Secret de Cave menu, takes diners on a journey to discover new gems. "Hong Kong is a paradise for wine," says Elzer. "The amount of French wine is well represented; being here for 13 years, I see that all my customers are well educated, they know exactly what they want. But the focus is very much on the big names. My sommelier and I want to showcase the rising stars, a selection of what's not yet available in Hong Kong. "I don't like it when I see places selling wines at ridiculous premium prices; guests aren't dumb, they type the name of the wine into their phones and see exactly how much the product has been marked up. After all the hard work we've put into getting the wines here, why would we shoot ourselves in the foot by selling them at prices our guests would be reluctant to pay? We want them to try everything on the list, taste something new every time they visit. The connoisseurs come here because they recognise items that are only available to us because of my sommelier's strong connections with vineyards and châteaux, and they appreciate our fair prices." And indeed Elzer has been recognised for his incessant pursuit of innovation and excellence; in November 2022, aged just 43, he became a Knight in the Order of Agricultural Merit of the French Republic, one of the youngest chefs ever to receive the honour. "I'm sure everyone says this, but I truly feel humbled by the achievement," he says, turning instantly shy by the mention of the accolade. "I wouldn't have been awarded if it weren't for my team. It's like football, you can't win by yourself just because you're the captain; all players must be on top of their game to triumph. The medal belongs to the whole team, that's how I see it."

With L'envol driving full force for its third star and Clarence undergoing its soft revamp, it's natural to assume Elzer's attention is fully occupied. But the self-proclaimed overactive chef says there are more projects currently ongoing in other parts of Asia, including Seasons' resurrection at the Taipei W hotel and a residency at The Hall in Chengdu – the first Louis Vuitton restaurant in China. And, knowing Elzer, he'll be updating us with additional happenings again very soon.