A 1959 Receipt for an Imaginary Piece of Art Might Fetch Upwards of US$500,000 at a Sotheby's Auction
Rare pieces of art often sell for high prices, but can you imagine spending big on something that doesn't exist? That will soon be the reality for one buyer at a Sotheby's auction. The event is slated to feature a 63-year-old receipt for an imaginary piece of art; the note is expected to fetch between US$3,30,000 (HK$ 25,86,985) and US$ 551,000 (HK$ 43,19,481).
More about the rare Yves Klein receipt
The item is one of the last surviving receipts that French artist Yves Klein issued to collectors as part of a 1959 performance, which involved selling off pieces of empty space in exchange for pure gold. According to a report by CNN, the artist gave buyers two choices: keep the receipt proving that the sale took place or burn them in a ritual. If they chose to burn the receipt, which was designed to look like a banker's check, the buyer was deemed the artwork's one and only owner. As part of the performance, Klein would then light the receipt on fire with witnesses present and dump half the gold paid to him into the Seine River, which runs through the French capital.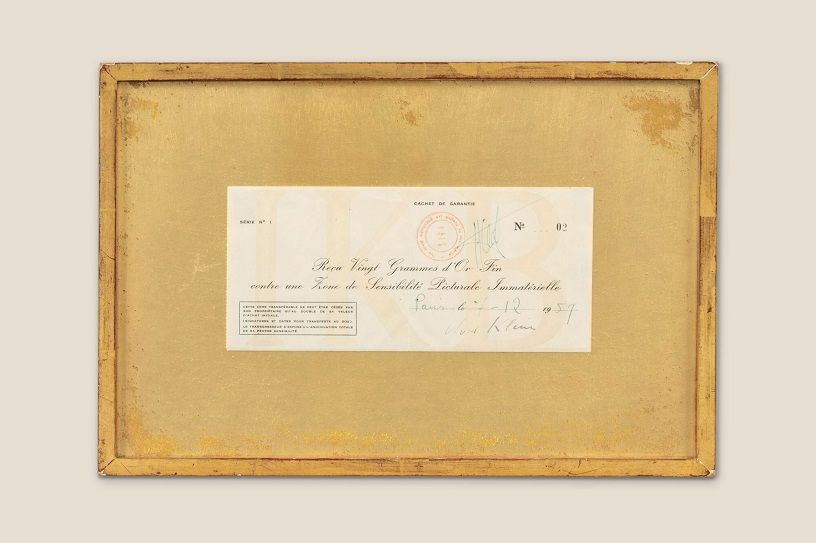 While some chose to partake in the ritual, others held onto their little piece of history—including antique dealer Jacques Kugel, who formerly owned the receipt up for sale. Over the past six decades, the piece of paper has been displayed at major art institutions across Europe, but it's now being put up for auction by art advisory and previous gallery owner, Loïc Malle, notes CNN.
Many have compared Klein's imaginary spaces, which he coined "Zones of Immaterial Pictorial Sensibility," to today's blockchain, considering it the first non-fungible token, or NFT. "Some have likened the transfer of a zone of sensitivity and the invention of receipts as an ancestor of the NFT, which itself allows the exchange of immaterial works," the auction catalogue states. "If we add that Klein kept a register of the successive owners of the 'zones,' it is easy to find here another revolutionary concept—the 'blockchain.' "
Sotheby's, which is accepting cryptocurrency as a form of payment, said in a press release that the winning bidder "will not become the custodian of this historic receipt, but also of Klein's invisible work of art, as well."
This story first appeared on www.marthastewart.com
(Main and Feature Image Credit: Courtesy of Sotheby's)
© 2021 Meredith Corporation. All rights reserved. Licensed from MarthaStewart.com and published with permission of Meredith Corporation. Reproduction in any manner in any language in whole or in part without prior written permission is prohibited.