Among the stars that stole the show, on the red carpet and on stage alike, during the 94th Academy Awards last Sunday, was South Korean veteran actress Youn Yuh-jung.
In 2021, Youn became the first Korean actress to win a coveted statuette for her acclaimed performance in Minari. This year, as per Oscar tradition, she came back to present the award for Best Supporting Actor.
As she got to the Dolby Theatre's stage, she immediately made the entire room laugh thanks to one of her – now famous – timely jokes. "My mother used to say that you you reap what you sow, I should have listened to her," she said. "Last year, I complained because people were mispronouncing my name in public. I'm so sorry, after looking at the incredible nominees in this category, I have to pronounce their names! Please forgive me!"
Shortly after, before announcing the winner's name – CODA's Troy Kotsur – out loud, she signed it.
One of the moments that captured the audience's – and the internet's – attention the most was Youn's effortless grace and warmth as she took the award back from Kotsur to allow him to sign his acceptance speech.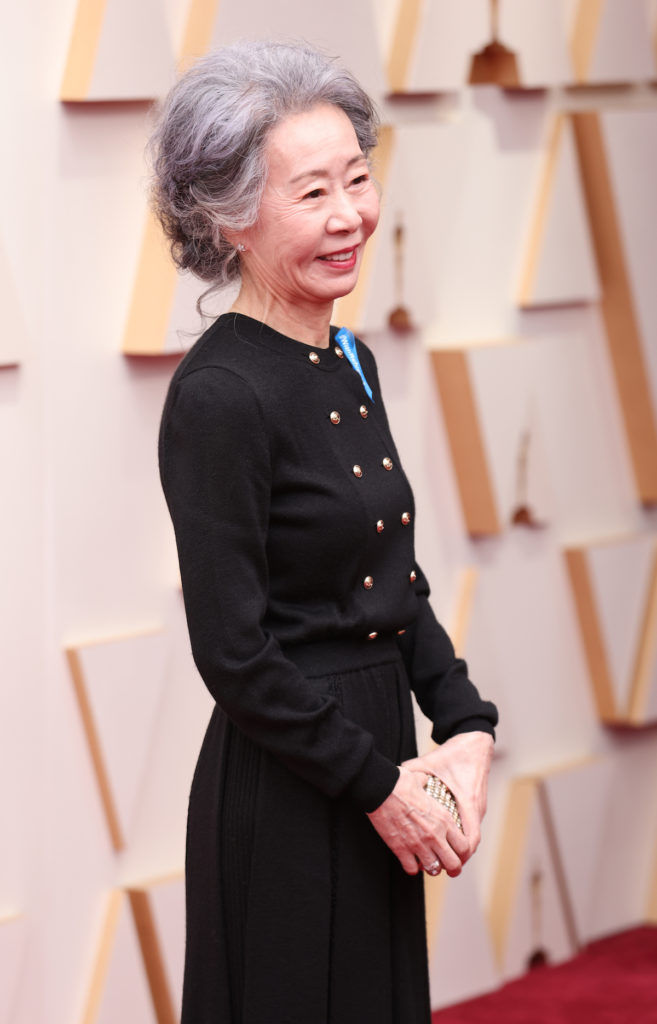 Even before setting foot on stage, however, Youn had already stolen the show as she arrived on the red carpet wearing an elegant and timeless Chanel black dress.
"I was going for something very simple. That's what she usually wants, classic and age-appropriate. She's not into crazy outfits," says our Beauty and Fashion Editor at Large Alvin Goh, who styled Youn. "This Chanel piece is from last season. it's very light and comfortable and most importantly, it kept her warm. Youn doesn't care about the brand being famous."
Goh also had the pleasure to style the 74-year-old Korean star for the 2021 Oscars and dressed her in a Marmar Halim's gown that fashion critics loved and garnered her a spot in Vogue US' coveted "Best Dressed" list (which she also made this year).
"In 2021 we did everything via zoom," Goh says. "This year, I finally met in her in person. I got to Los Angeles in early March and after spending some time with her, I realised how authentic and down to her she is. She's so classy, real and compassionate. Working with her was a beautiful and comforting experience."