During a recent video shoot at Mont Rouge, Candice and Leonard Chao reveal to us what a typical day in their household is like.
What was your first home together?
It was an apartment in Columbus circle in New York. We had a beautiful view of Central Park and it was completely monotone. Everything was black and white.
Describe your dream home.
We have similar tastes in interior decoration and design, and are very fond of indoor-outdoor living spaces. We appreciate nature and the outdoors and would ultimately like to integrate them into our living spaces. We imagine our dream home to have a spacious indoor-outdoor living room that can open up in the summer for us to soak up and enjoy the sun, while also being able to warm up to a cosy fireplace while admiring the snow-covered trees in winter.
What's the best thing that happened to you this month?
Our oldest son turned eight this month. We're blessed to have three
healthy, happy children, keeping us busy at all times.
What's one thing you've kept with you from your childhood?
A journal full of sketches and drawings, and wood carved stamps that I collected during my travels when I was a kid.
Which new hobby did you pick up in the past year?
We've started hiking as a family on weekends.
What's your favourite thing to do at home?
Relax and spend time with the children. We like to catch up with all three of them to see what fun and exciting stories and experiences they have to share with us.
We appreciate nature and the outdoors and would like to integrate them into our living spaces

Leonard and Candice Chao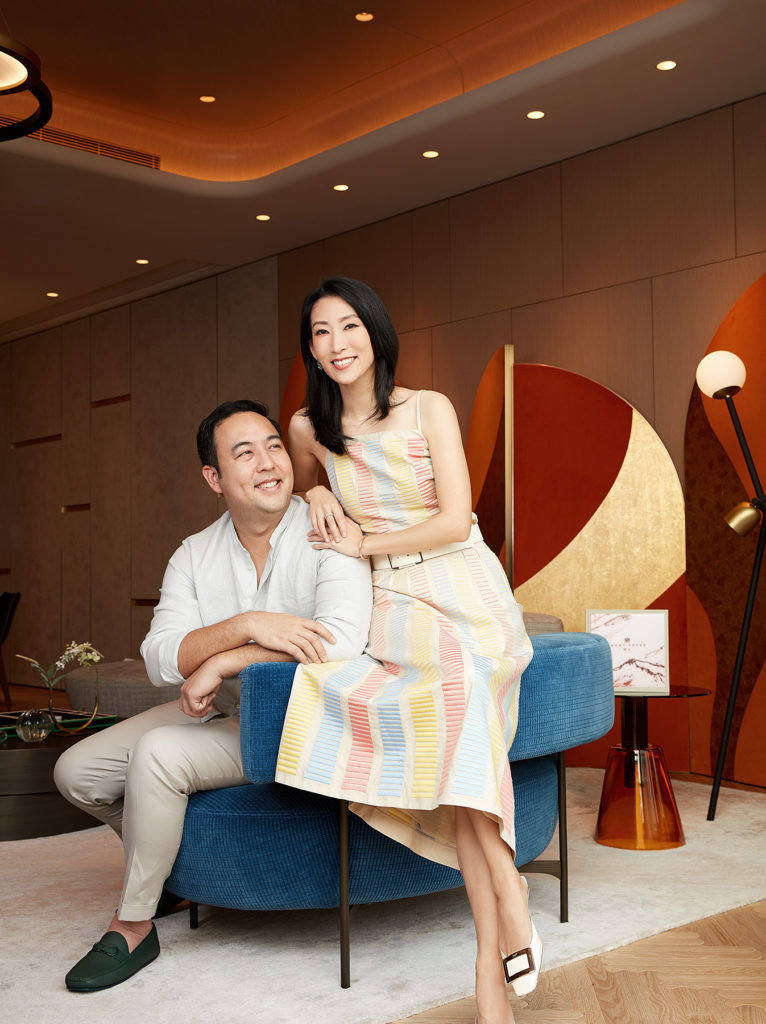 Which is your favourite room in your home?
The living room, where you can hear the birds singing in the morning when the windows are open.
Describe a typical evening at home.
We have a sit-down dinner every night together with the kids. Afterwards, we get the children ready for bed, read bedtime stories and tuck everyone in. Once the kids have fallen asleep, we like to catch up with each other, play an online board game or watch a movie.
You're throwing a party at home. What do you prepare?
Korean barbecue on tabletop charcoal grills.
If you could invite anyone over for dinner, who would it be?
JK Rowling. The kids have been fascinated with Harry Potter lately
and I'm sure she'd have a few interesting stories to share with them.
What do you bring to a house party?
Champagne or cheesecake.
What's your favourite cocktail?
C: Gin and tonic.
L: Vodka soda.
Where and how do you relax?
On our roof terrace, listening to music and tending to the plants and flowers.
Which TV show would you recommend?
We really enjoyed the Black Mirror series. Although certain episodes were a bit dark, it really touches on many social aspects worthy of thought.
Describe your perfect weekend.
Taking a ferry to an outer island and digging our toes into the sand while watching the children play on the beach, followed by a simple seafood dinner by the water.
If you could renovate your home, what would you change about it?
If we were to make any changes, it would most likely just be to upgrade some furniture. You'd be surprised by the wear and tear that three children can cause.
Where do you see yourself living in 10 years' time?
It would definitely still be in Hong Kong. Nowhere else beats the convenience and efficiency of our city.
STYLING CHERYL YAM AND SU CHIU
HAIR KIDD YUEN
MAKE-UP SHIRLEY WONG @ NARS
LOCATION MONT ROUGE, KERRY PROPERTIES
Follow Leonard on Instagram here