Aside from the recent release of Disney's Mulan, 2020 has been a relatively quiet year for actor and martial artist Donnie Yen and his wife Cissy Wang. The couple talk about life — family, love and professional.
Covid-19 has reshaped personal relationships in countless ways, bringing some partners, families and loved ones closer together, while causing stress, conflict and even worse to others. Yet to judge from the demeanour of actor and martial artist Donnie Yen and his wife Cissy Wang, who seem so close and intuitively together during our four-hour photo shoot and interview that it's if they've fallen in love with each other all over again, the past half year of semi-lockdown appears to have been, if anything, way too brief.
Inevitably, the pandemic has caused a hiatus in Yen's movie career. Although his Disney outing Mulan premiered just three months ago, filming on that movie had wrapped almost two years earlier and with subsequent projects put on hold, the actor has spent much of 2020 kicking his heels at home with his family. For someone who's been hard at work on film projects for the best part of four decades – his many acting credits include four Ip Man titles, Rogue One: A Star Wars Story, Flashpoint, Iron Monkey, Hero, Blade II and Legend of the Fist: The Return of Chen Zhen – it's been an unusual though by no means an unwelcome change.
"My kids have got used to their father's lifestyle," says Yen of his daughter Jasmine, 16, and son James, 12. "Especially a few years ago, when I was constantly away from home, making three and even up to four movies a year. They understood their father didn't have a nine-to-five existence, when he could be home every evening and at weekends.
"Unfortunately, they didn't have that kind of normal family routine, but at the same time I tried to make up for it whenever I was free. And for the past six months we've been together every single day. By now they're used to online learning and they've been really good with each other."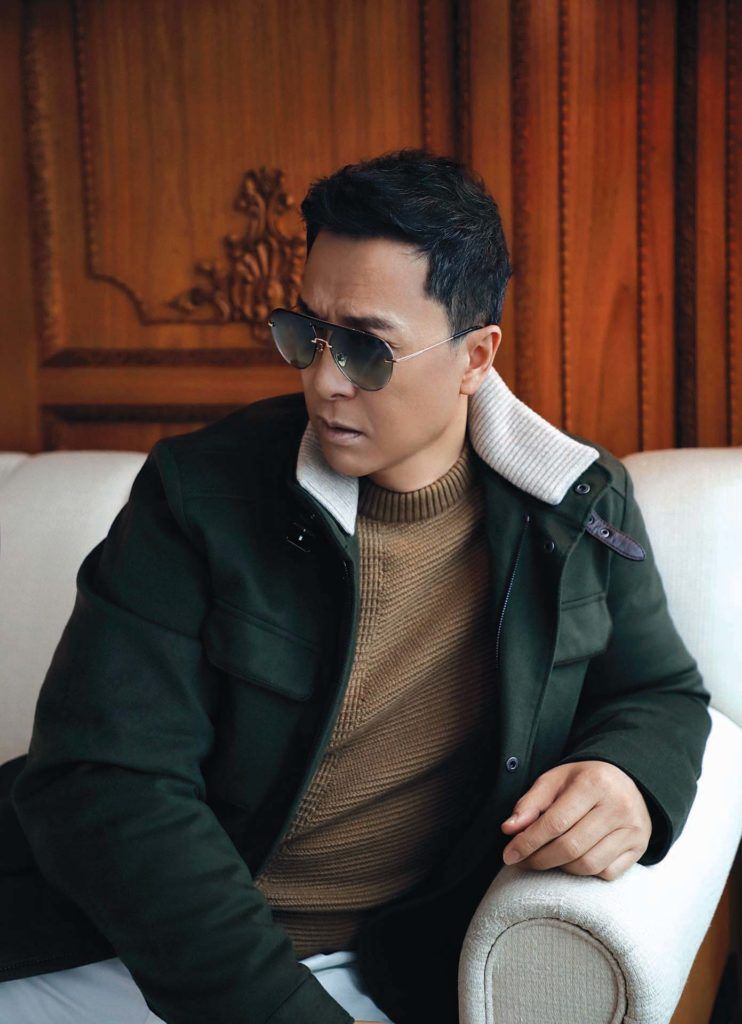 Wang, too, admits that 2020 has proved to be something of a learning curve. "It's certainly been different," she says. "Usually [Donnie's] back for a few weeks and then he's gone again, but this has been a long year. For a lot of families it's been different and though we have our ups and downs we do appreciate the time together – and the kids say that they're so happy he's here."
"Cissy and I work together too," Yen adds. "She manages our company, and the marketing and promotions for our products, too – she's the boss, not me, haha! She always makes the better and more thoughtful decisions for my career and our family."
Such a close and settled family life seems in marked contrast to the actor's own childhood. Aged two, Yen moved from Guangzhou to Hong Kong with his father, leaving behind his mother, the martial-arts grandmaster Mark Bow-sim. The family only re-united in Hong Kong when Yen was 10, shortly before they all moved to Boston in the United States.
"I got to know my mother much later in my childhood, though I realised at the time that she had a special skill and that she was very unique," he says. "So I didn't have the same kind of childhood as kids in other Chinese families, who'd go home and eat their mom's food – my mother was more like, in the morning you'd get up, go to the park and do martial-arts training before you went to school.
"After we arrived in America, she opened her own school, established her career and became famous and popular among the martial-arts community across the United States. And then I realised that my mom was a very renowned and respected person. But I never realised until later on that I didn't have the same kind of lifestyle as my other friends.
I would not want my kids to go through what I had to go through. I want to give them the family life that I didn't have.
Donnie Yen
"We were new immigrants," Yen explains, "living in a 700-square-foot apartment – in America, that's small – and existing on food stamps. My mother was always at the martial-arts school, teaching, making a living, and my father was helping her until he later took over Sing Tao newspaper's Boston branch. They were both constantly working, new immigrants trying to improve their lives, so I was always alone. Aside from training in my Mom's school I was out playing on the street, making friends with other kids, and I'd come home, open up a can of Campbell's soup and that was my meal.
"I appreciate what my family went through but at the same time, as a parent myself I would not want my kids to go through what I had to go through. I want to give them the family life that I didn't have."
Nonetheless, Yen learned plenty of important lessons, not least from the self-discipline imposed by his mother's martial- arts training – though his evident aptitude for hard work has been tempered by a rebellious, contrarian streak that's persisted well into his movie-making career, one that's probably helped make him the artist he is now. For example, when told to do something, he'd always ask why.
"If my mom or my father would tell me one thing, I'd always question them and go the other way," he says. "I'd try to find an answer – 'Why do you have to do it this way?' Even in my film career – and I've been in the industry for 38 years – I've been constantly challenging the system. 'Why does it have to be that way? I'd like to try this way.' So on the one side there was this discipline but on the other, as I didn't have a traditional family life I was always on my own, so I needed to find answers myself.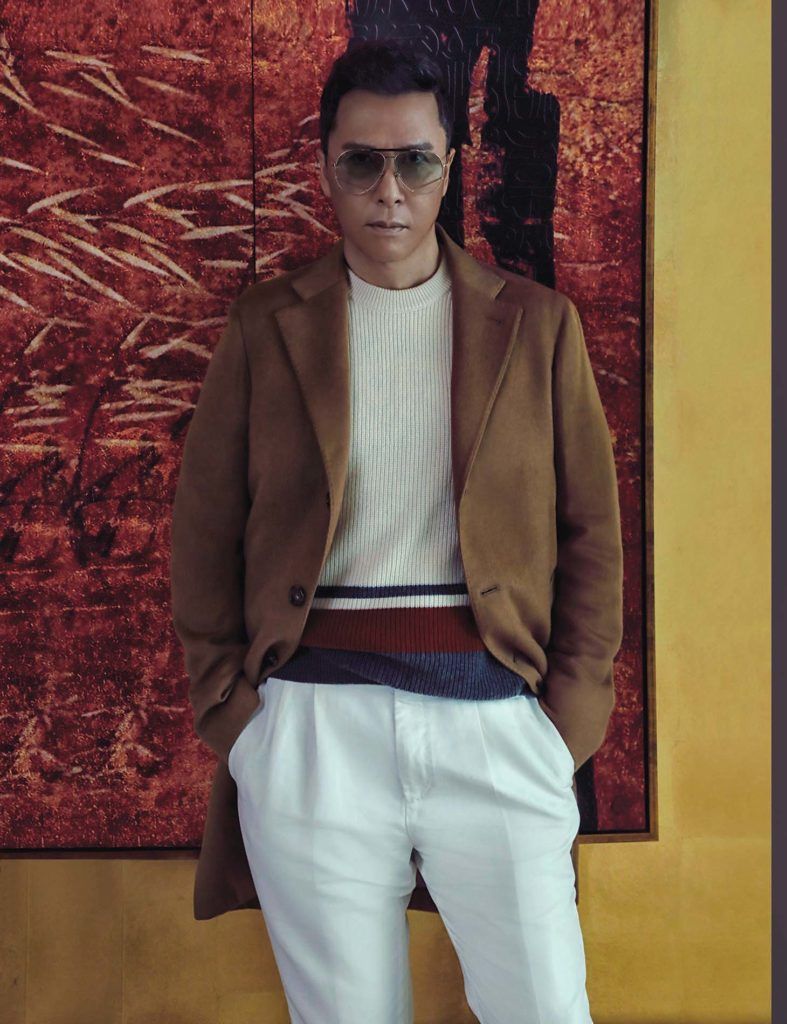 "When I came back to Hong Kong [in the early 1980s] it was difficult, because it's quite old-school in the Chinese and Hong Kong film industry, especially in the kung fu and action-film culture. You don't question, you cannot question. The director, or whoever the big brother is, calls the shots, everything, to a point where if the director is on the set, no one moves.
"And as a young rebellious kid, I was always questioning. I was always questioning [director and martial-arts choreographer] Yuen Woo-ping, my mentor who brought me into the industry – and he was in awe. 'Why is this kid questioning me? No one dares to speak up.' But I would speak up. He just thought I was a naïve kid.
I was tough, maybe because of martial arts, and I was never an outgoing person. I also felt insecure, because in this industry, you don't know, you might be on top today and down at the bottom the next.
Donnie Yen
"It was like the old Hollywood where – and it's no secret – there were a lot of connections with the mob and back in the day in Hong Kong, there were a lot of connections with triads. And that's the old school: you don't ask questions, you just follow orders."
If it took the local film industry some time to get used to this difficult young man fresh from the US – his first major role was in the 1984 martial-arts/action movie Drunken Tai Chi – the Hong Kong press and sometimes the public too were also slow to warm to him. He is, by his own admission, introverted and shy, and an unwillingness to engage was occasionally construed as a brand of macho rudeness.
"I was tough," Yen says, "maybe because of martial arts, and I was never an outgoing person. I also felt insecure – I guess that's the word – because in this industry in particular, you don't know, you might be on top today and down at the bottom the next. And I was always a loner ever since I was young. So even with the press I never had a smile, I had a stone-cold face, and it wasn't because I was macho or I wasn't friendly or I was difficult to deal with. If fans were waiting for me, I'd look down at the ground and not even look at them. I'd walk away, and my wife would get angry with me."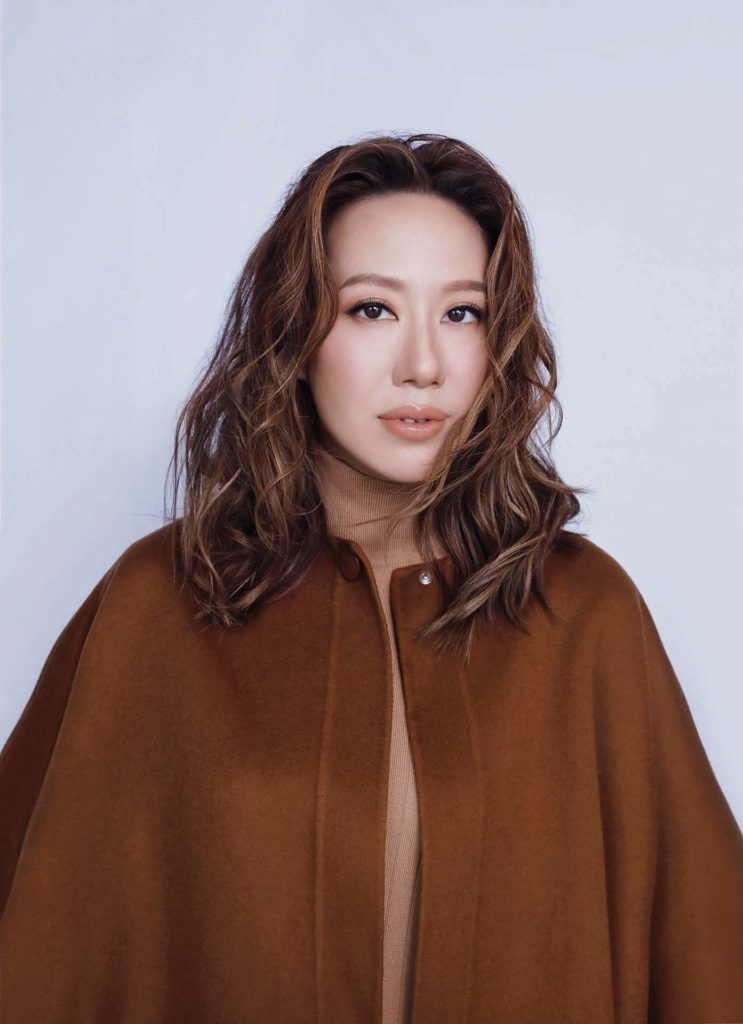 "He felt uncomfortable when people were looking at him," agrees Wang. "And I'd say to him, 'They're fans, they're actually excited to see you,' but he was uneasy and didn't know how to act. But over the years he's got better."
Yen was already an established star when he met his wife-to-be, and to say that theirs was a whirlwind romance is an understatement. "It was instantaneous," he says about meeting Wang, who was then a striking young Hong Kong-born model who'd arrived back in the city after living with her jeweller parents in Peru and then Canada.
"I proposed to her after two weeks. The first week, we were just dating, but the second week, that strong feeling came and I thought, 'This could only happen in movies.' I couldn't believe it – each day it was getting stronger and stronger, and I thought that I wasn't going to let this opportunity go by.
"I'd been married once before and it wasn't successful, so I wasn't eager to get married again, but when we met I told myself, 'I have to propose to her.' Which I did. And she said, 'Yes!'"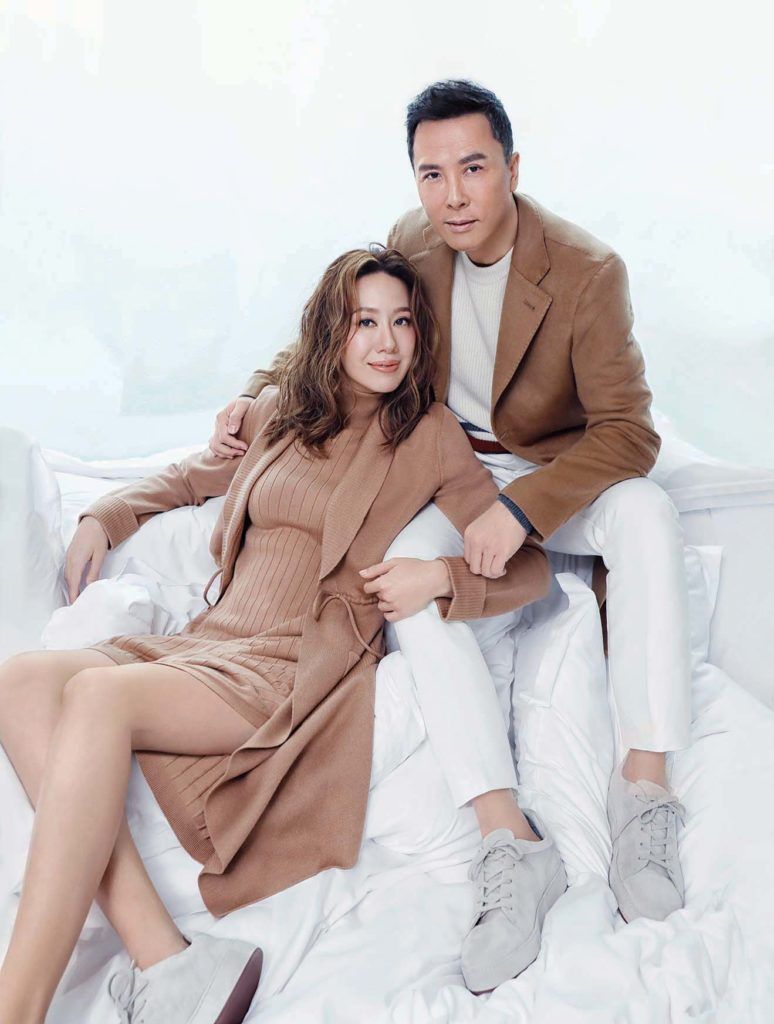 "It was really crazy," says Wang, laughing. "It was two weeks and then he proposed, and my family was obviously concerned, because they're conservative and traditional, and he's in the entertainment business – and he'd had a previous marriage, etcetera. At that time my Cantonese wasn't so good and I didn't really know his background.
"But I felt very safe and secure with him. Something clicked and he was really honest – a good man. At that time I was opposed to marriage, because I was career-oriented and I always had a very strong and united family supporting me. But when I met him it was weirdly mutual, our feelings were getting stronger, we shared the same values and we both felt that if we didn't commit we'd walk our separate ways.
"I was quite young, so I said he had to get approval from my parents, because I'm traditional in that way, and he said, 'OK,' so we flew to Toronto and he asked them in a very formal way." After dating for just three months, the couple married in 2003.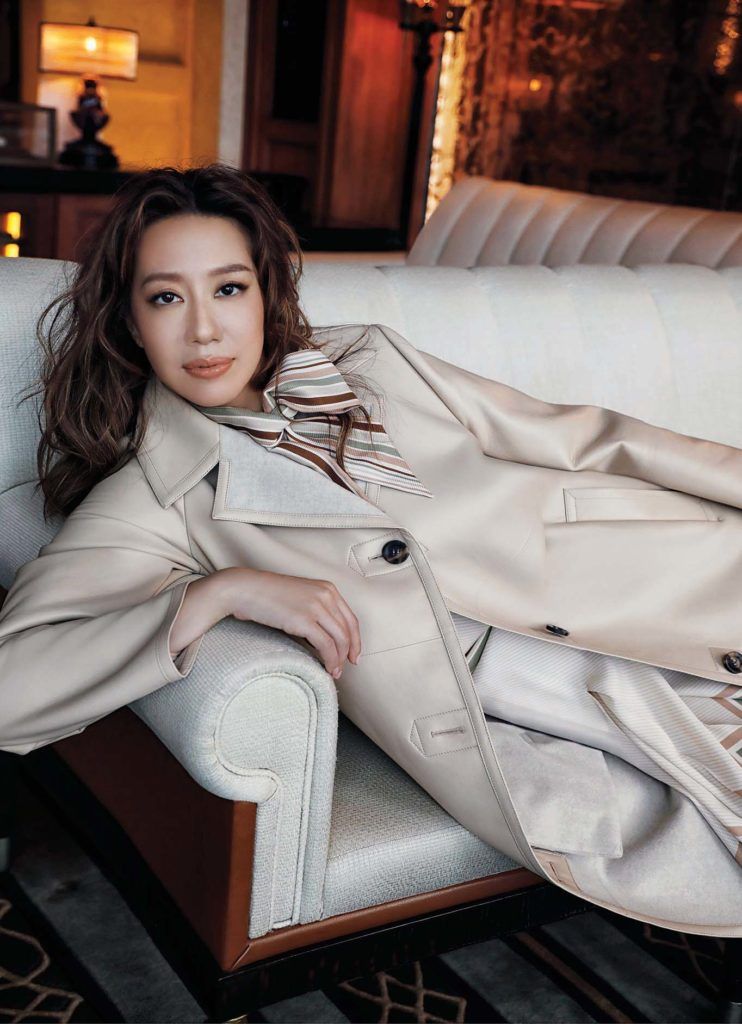 As to his development as an actor and filmmaker, Donnie Yen looks back on his career with a surprisingly open and self-critical eye. "The early kung fu movies were the wrong entry to an acting career," he says, "because there was no such thing as acting. Most of the old-timers came from Beijing Opera and then it was much more of a physical performance. There was no understanding of human emotion. It was TVB that helped to change that – you can't fight nonstop for 20 or 30 episodes. But even TVB didn't have a structured method of teaching.
"It was only after the new wave of directors came through that it became about characters, telling a story through acting. And I learned that halfway through my career. For the first 20 years of my career, if I shined on screen just by punching and kicking, then I was master of my ship. But I then I began to ask, 'Where can I go from here?' I'd wanted to be the next Bruce Lee, and I'd gained respect and recognition from the industry for that – yeah, Donnie Yen is the guy – but I realised, 'Where do I go next? What am I going to do?' You can only do so much as an action star: was I an actor or just a machine?
I was fascinated by every aspect – the camera, how you shoot something, how you place props — and I developed a love for filmmaking early on. Then I realised how important this knowledge is, how it can help you develop as an actor.
Donnie Yen
"I couldn't go to film school," Yen says, "but I could self-study. So I began picking up different books, reading on the Internet and just – learning, how to be an actor. So for the past 18 years, I've been learning about acting, directing and editing, because I realised they all went hand-in-hand. If you want to be a great actor you need to know the mechanics of movie making, how to tell a story in two hours or a TV series in 20 episodes, what you do with the camera and how you convey your message to the audience."
In fact, Yen worked on his first film as action director on 1988's Tiger Cage, when he was in his mid-twenties, and directed and produced Legend of the Wolf, which he also co-wrote and action-directed, nine years later. Being behind the camera as well as in front of it have become all- consuming passions for him, as have all aspects of cinema and filmmaking.
"In 1996, '97, I produced two films," he says. "I worked on scripts, I edited, I even put the music in – I did every single thing. So I found love and I also discovered a talent for making films. I was fascinated by every aspect – the camera, how you shoot something, how you place props. It was so much fun, like a theme park, and I developed a love for filmmaking early on. And then I realised how important this knowledge is, how it can help you develop as an actor, because you know how to build this building.
"And because of that, I was able to get my way much more easily, because I knew exactly what the directors, the producers and the cinematographers were thinking. And that helped me to achieve what I wanted."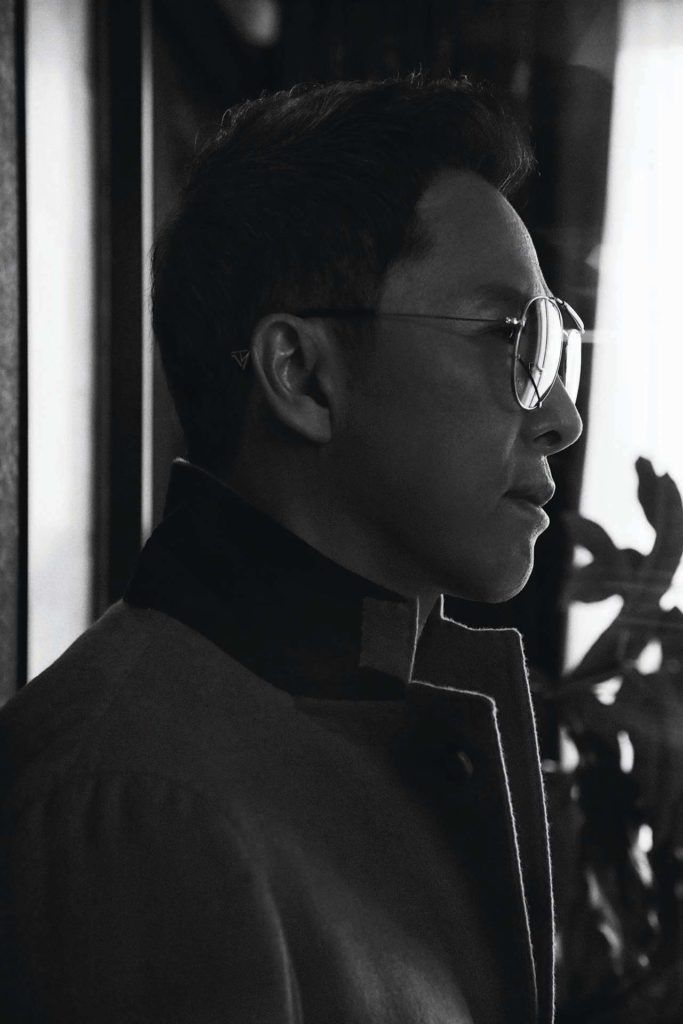 That combination of passion, hard work and knowledge has helped bring him an international audience, especially after his appearance in the critically acclaimed, 2016 Star Wars spin-off Rogue One, which doubtless led to a role in this year's Mulan. So where, with audience bases in Asia and around the world, does the actor go from here, especially as the pandemic shows no sign yet of slowing down globally?
"I'm hoping we'll get back to normal soon," he says. "It looks like the industry in China, at least, is beginning to resume normalcy. Resuming life, your daily routine, is important for everyone, not just for the movie industry – we're human beings and we're all suffering. Throughout history, mankind has faced so many traumas that I'd like to think that, at the end of the day, humans have that natural instinct and positivity to overcome such issues, as we always have. Humans are very adaptable – we're survivors, so maybe we'll find another way of living.
"Cissy and I co-founded our own production company, Silver Bullet Pictures, in 2015, and we've produced films such as Enter the Fat Dragon, Big Brother and Chasing the Dragon. We're also working on exciting new projects, like Sleeping Dogs, The Father (with Alec Baldwin), and Fear Is the Key, which is based on the novel and directed by Roger Donaldson.
"Sleeping Dogs is a blockbuster based on the video game about undercover Hong Kong cops and triads, and it's coming along very quickly. I'm working with the producer Neal Moritz and there's a possibility that Samuel L Jackson will be involved. The first draft is done and now they're working on the second, so, hopefully, top of next year, if this pandemic gets under control."
As well as English-language films, they're also co-producing Chinese-language movies such as Benny Chan's upcoming Raging Fire and Law Chi Leung's Rescue. And away from the cinema, the couple has also developed their luxury eyewear brand, DonniEYE. "Donnie is an avid collector of glasses," says Cissy, "and this is our first step in developing a lifestyle product. There'll be plenty more to come."
I quickly realised that he was an introvert; nobody knew he could play the piano – and he felt nobody would care to know he could play.
Cissy Wang
Actor, martial-artist, film director, producer, scriptwriter, devoted husband and father – but is there something that most of us don't know about the man who's surely the reigning superstar of the Hong Kong film industry? His wife lets us in on a secret.
"I'm very competitive," says Wang, "and I remember distinctly that when we met there was a piano, and Donnie said, 'Oh let's play something.' Usually I need my music sheets, so I played a simple song and he said, 'Wow, you're so good.' So I said, 'How about you, why don't you play a little bit?' So he sat down and suddenly, it's [Chopin's] Fantaisie Impromptu! I was in shock!
"Quickly I realised that he was an introvert; nobody knew he could play the piano – and he felt that nobody would care to know he could play. That's why I think his choreography has such a tempo and a beat, because he's so passionate about music. It all comes together."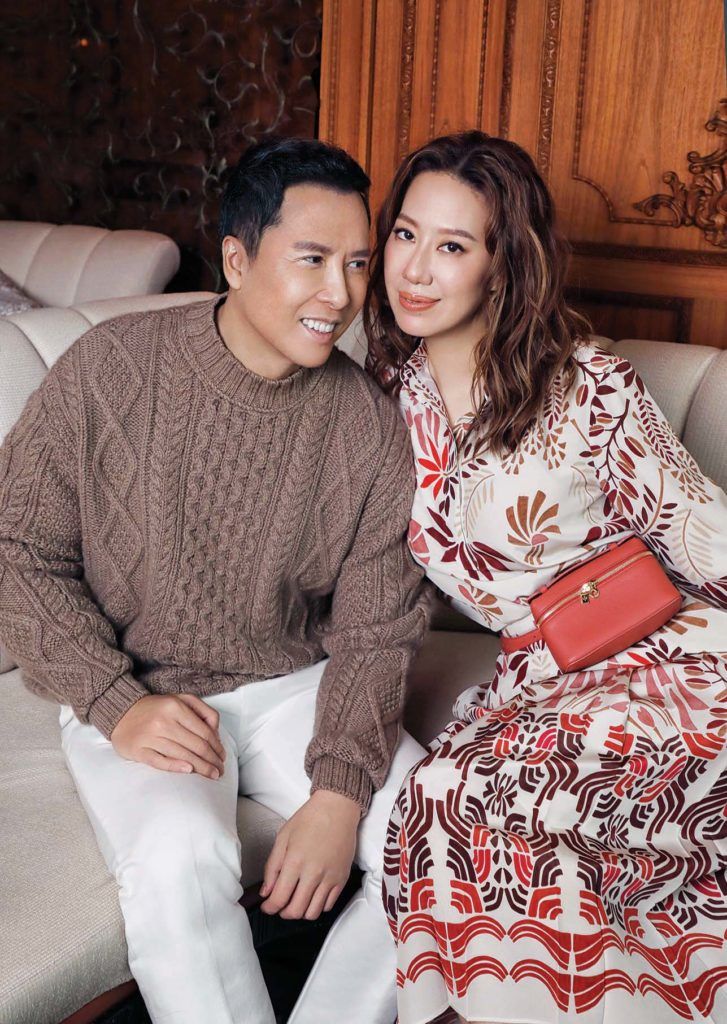 Martial artist and accomplished classical pianist? One wonders how the young Donnie Yen found time for anything else.
"My father was a violinist and before she became a martial-arts master, my mother was a soprano, so my family has always been musical," Donnie Yen explains. "When I was a kid, they forced me to play classical piano and I hated it until I was 14 or 15, when I met a friend who told me he was learning to play.
"So I told him, 'I know how to play the piano a little.' At that time I wasn't really into it – it was just something I did among friends. But we started competing, and I began to realise how much I loved to play. I just love music.
"Maybe my martial arts have certain characteristics because of my musical background, because everything has music. The way you talk and express yourself, the way you walk, your gestures, martial arts, dance – everything under the universe has a rhythm to it."
CREDITS:
ART DIRECTION SEPFRY NG
PHOTOGRAPHY OLIVIA TSANG
STYLING HARRY LAM
MAKE-UP LITTLE WHITE
HAIR STYLING KENJI NG @ IL COLPO
ALL OUTFITS BY LORO PIANA
SUNGLASSES DONNIEYE AT LANE CRAWFORD
LOCATION FOUR SEASONS HOTEL HONG KONG