The opening of their Hong Kong gallery marks the realisation of a dream for the French former politician Dominique de Villepin and his son Arthur.
The archetypal global city, a point on the world map between one far-flung spot and another, Hong Kong has forever been a transitory sort of place where people wash up or touch down, stay for months or even years, and then move on somewhere else. So there should be nothing especially odd about the fact that, for the past few months, a small village on Lantau island has been home – temporarily, but home nonetheless – to a visitor from France.
What does make this particular gentleman's presence a little more surprising, however, is that it wasn't so very long ago that, in his capacity as France's Minister of Foreign Affairs, he was addressing the United Nations as to why his country was opposed to the invasion of Iraq, and that some two years after that he was appointed prime minister by his then-boss, the French President Jacques Chirac. But then, though suitably patrician in appearance and demeanour, Dominique de Villepin hardly seems like your ordinary politician, as these days he's exchanged the cut and thrust of international diplomacy and parliamentary debate for the rather more cerebral world of art.
Villepin's extended stay in town wasn't exactly planned. He arrived in March to help his son Arthur – a Hong Kong resident for the last decade – open the art gallery that the two had been talking about for years, and then, no thanks to the Covid-19 pandemic, found himself more or less trapped here. But as he's spent considerable time living overseas – first as a child and then while working as a diplomat in the US and India before entering the world of politics – making himself comfortable during his prolonged stay seems to have proved no hardship at all.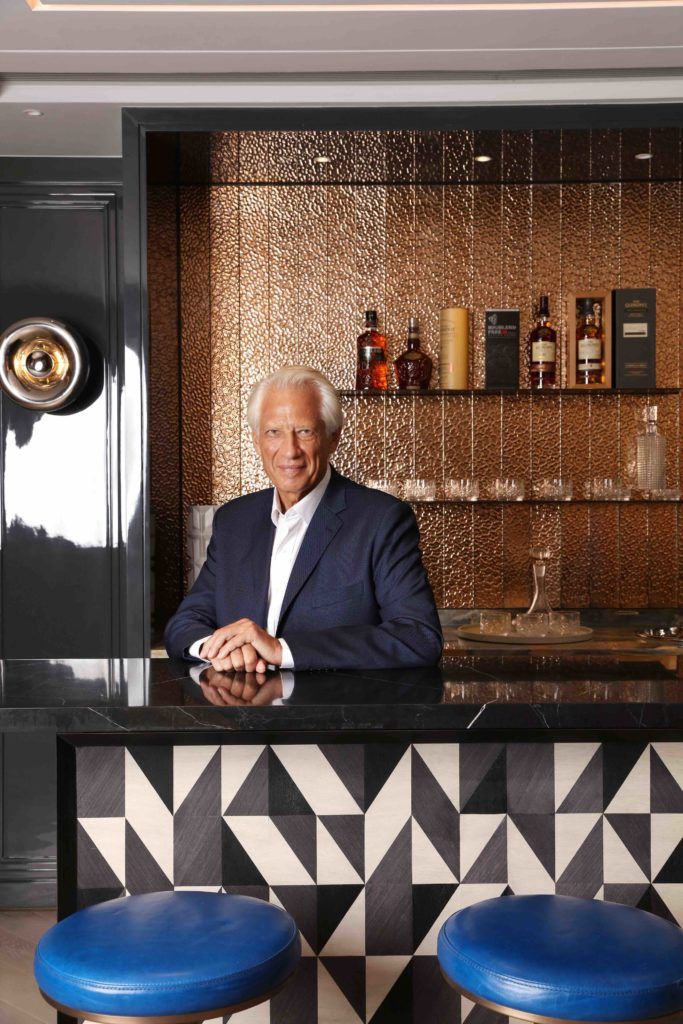 In fact, says Dominique, "This has been an opportunity for me to stay for a much longer period of time than I've been anywhere during the past 15 years. It's also given me the possibility to be with my son, whom I haven't been with for a two-month period for years, which is also a fantastic experience. And to do that through art, well, I wish everyone could do that."
Occupying three storeys on Hollywood Road, the new Villepin gallery is a manifestation of a passion for art shared by the entire de Villepin family, and which imbued Arthur from a young age, so that being surrounded by artists and other creative souls was entirely normal for a young boy. "It came very naturally," he says, "thanks to my father being a collector, but also thanks to my family, because my sister is an artist and mom is a sculptress. This has profoundly influenced me and changed the way I see the world, and how I see the world of art.
"Another aspect is the attention that my father brought into creating relationships with artists, not so much as a collector, but more with the idea that we always had wild people around the family, at our table. It's quite funny and interesting, because in France you kind of associate my father and our family as being aristocratic, and that somehow that we existed in high circles, but the truth is that the people we had at our table on Sundays were really wild and creative, always trying to find originality."
Dominique had been bitten by the collecting bug when he was living in South America as a six year-old, and began to hoard old watches and clocks, as well as matchboxes depicting images of the Indians of the Orinoco. "Today, of course," he says, "my collections have changed a lot, because now I'm into contemporary art, but I've always kept a passion for old books, old editions and manuscripts too. There's the idea of having things that are unique and the idea that I really need to find a new book or a new painting in order to fulfil that. So it's the idea of looking for beauty but also to enter into new questions and maybe – hopefully – to find new answers."
The Villepin Gallery opened with its current exhibition, titled Friendship & Reconciliation, of works by the distinguished Chinese-French artist Zao Wou-Ki, which are displayed throughout the space's three floors. Comprising watercolours, lithographs and Chinese inks that date from the 1940s until the early years of this century and reflect Zao's own blend of eastern and western techniques, the exhibition not only takes the visitor on a journey through the Beijing-born artists's oeuvre, but also evokes a strong sense of the personal. Zao was evidently a close friend of the Villepin family and the walls of one staircase are lined with photographs that offer touching glimpses into his life following his arrival in France in the mid-'60s.
"Being a gallerist can be defined in a lot of different ways," says Arthur. "I think our approach is quite different from the rest of the galleries that we see around. Not that we're better or they're worse, it's just that our approach is more personal and more oriented towards our family. The galleries that I see out there, they have amazing artists and they participate in this contemporary art wave, this market that's thriving and is so exciting, but this has never been our approach to art. Our way of looking at art is the idea of bringing a few collectors into a studio."
Further reflecting on their vision, and why Hong Kong was the place in which to realise it, Dominique says that the gallery offered "the possibility of sharing our relationship as father and son through this common passion.
"We also thought that we were at an historic turning point, that we were in a moment when many collectors were coming from China and Asia, but these collectors had been collecting for decades through a western eye, with western expertise and auction houses, and we thought that the moment might come – and is coming – where most of these collectors will collect with an Asian eye. They will reconnect their own culture, their own identity and their own geography with art. And that might change a lot of things in who they're collecting and how they're collecting. So I believe this emancipation, this independence will increasingly influence the way that they choose art – and that was also a strategic factor in why we thought, let's go to Asia, to Hong Kong, where in the DNA you have art and this idea of looking at the world with a lot of freedom."
According to Arthur, he and his father had been "mumbling about the idea" of starting a gallery for a long time, but it was only in the last two years that they were able to start to make it happen. "It's so personal," he says, "that you'd rather not do anything than do something that's not right. So we needed the right moment, the right environment and the right team, to make sure we'd translate everything that we're saying into reality. It wasn't easy, but I loved the whole challenge.
"It's like when you make a watch, when the hands are working and everything is in balance it's fine, it's like everything just falls into place, but the truth is that you have to think about every piece, about what the philosophy is here, why you put watercolours on the first floor, why there's a separation between the first and the second room, why you're using this light on this artwork, why there's a room that's darker – all these aspects have to be thought through and aligned with the philosophy that underlines what you want to you."
"There has to be a narrative," says Dominique in agreement. "It was a very good idea of Arthur's that he wanted to focus on two things, which is, first, the direct relationship with the artists and, second, the very special link with collectors. And these main themes of the gallery's DNA are very important.
"It's also about having the possibility to get the collector into new thinking and new understanding by discussion, meeting with experts – it's about confronting ideas and sensitivities. I think this part is very important, because art is not so much about answers; art is about questions. You know, how you question your life, how you question your taste and how you question your destiny. So, going with the question, you need to have a debate and if you don't have debate, the painting you're buying is a dead painting, it has nothing to say. A good painting keeps the question alive, so that each time you look at it you see something different, you will find new understanding, new life, new perspective. This is important. Art should be alive."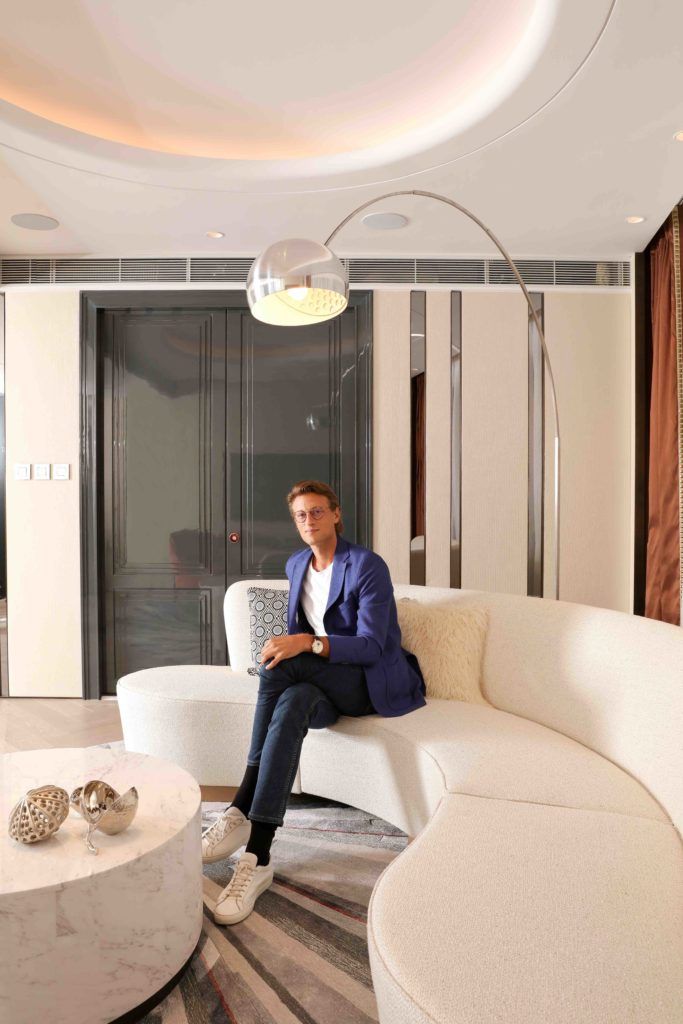 If the broader value and importance of art, the elder de Villepin's views verge on the evangelical. "The world is going through incredible change," he says, "and we need artists as a bridge to understand this new world, to fit into this new world, to try to cool down the fears and cool down the violence, but at the same time to understand what's going on.
"We're in a moment where we could doubt about how much good sense our world still will have, on the ability of civilisation to adapt, but art and culture – that makes us human, that really tells us, yes, we can still have a good life and we can make altogether a good life. I believe it's absolutely necessary. Ten or twenty years ago, people could wake up in the morning, look at the stock market, go to bed at night, look at the stock market… that doesn't make your day, that doesn't make a good life, it doesn't make a good world. Today, with the coronavirus, everybody has been confronted by the question of life and death, and the best way to deal with that is, of course, art and culture. That is the best mediation, that makes life bigger and better."
It's some 45 years since Dominique de Villepin first visited Hong Kong and now, partly thanks to his son, he's found himself back here again. "Then, I was just finishing university," he says, "and I remember there were aircraft carriers in the bay and [US] marines coming out of Vietnam. It was a very tense moment, but very fascinating in terms of feeling history passing through, and, yes, I fell in love with Hong Kong – and I told myself I may come back here. And Arthur, he did it for me.
"I've been lucky to spend so much of my life around the world and to meet so many fantastic people. And what I am today – and I believe it's true for my son, too – has a lot to do with the chance we had to meet people like Zao Wou-Ki. You know, it's such a fantastic opportunity to receive lessons of life, meditations, how you make something out of difficulties, out of suffering – and how you transform all of this into something that makes you better. That is a fantastic chemistry – and that is chance."
---
Photography: Alison Kwan
Art Direction: Sepfry Ng
Hair: Roland Boutin at Bruneblonde Hair
Make up: Jess Chong
Photography Assistant: Clay L
Location: 23-39 Blue Pool Road, courtesy of Hang Lung Properties