For centuries, Traditional Chinese Medicine (TCM) has been used to restore one's balance through specific treatments targeted to each individuals. Vivian Tang, executive director of Wai Yuen Tong and founder of ProVet talks to us on how she's disrupting the old-fashioned Chinese medicine industry, and how TCM can also be tailor-made for our furry friends of all ages and specific health needs.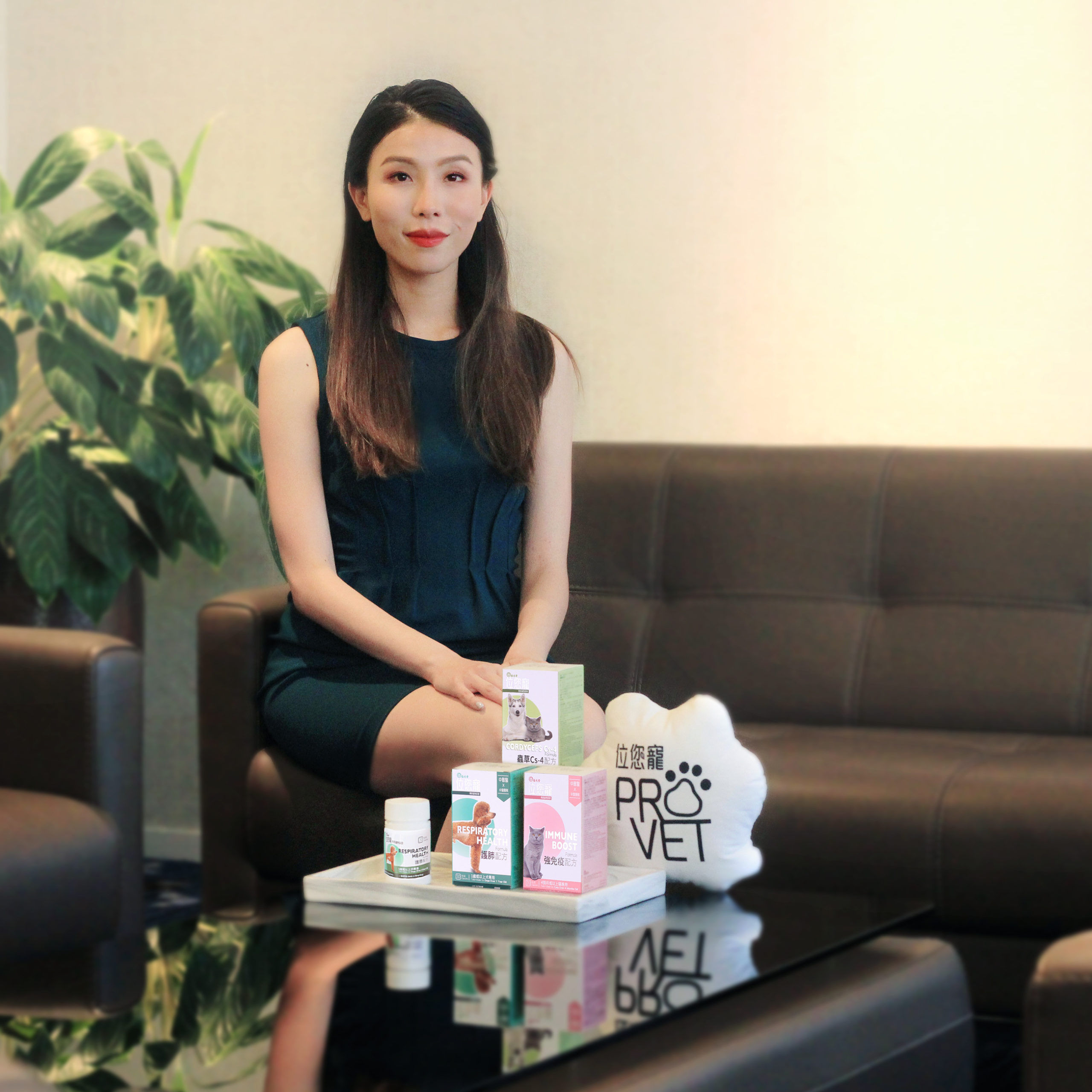 What inspired the new product line Wai Yuen Tong just released?
I saw a growing interest in the pet market and with Wai Yuen Tong's century-old pharmaceutical expertise, my vision was to bring a unique, tailor-made TCM wellness line ProVet to our furry friends! It was an exciting and entrepreneurial process, working with a team of three highly-qualified vets whose expertise was in TCM and pet health. To date, ProVet has eight supplements for cats and dogs, tailor-made for their different ages and health needs. The feedback has been incredible; pets feel the benefits of our supplements in a week or so. I'm thrilled to also be partnering with so many fantastic institutions — from vet clinics to our upcoming Blue Cross joint promotion, as well as leading pet-friendly hotels like The Murray and Rosewood Hong Kong, where our four-legged guests have been loving our products! ProVet is also a proud sponsor of SPCA and we support their many projects.
What has been your biggest hurdle? And how did you overcome it?
Wai Yuen Tong was founded since the Qing dynasty so it's a challenge to innovate and push for new, modern ideas. The proposal for my new pet line, for example, was met with much controversy, since it was a "non-human" product range. My mission involves finding scientific ways to prove the benefits of TCM and educating Hong Kong's younger generation.
What is a normal work day like?
My morning starts off with sales meetings or catching up with Marketing, Product Development, Management and everyone in between! Communication is key. In the afternoon, I'll head for a site visit to one of our 71 stores in Hong Kong: we operate the largest local team of 54 TCM practitioners. Some days, I'll be at a meeting with Tung Wah Group Hospitals, where I am the Director.
View this post on Instagram
What is the best piece of advice you've ever received?
"Don't expect to always get it right the first time," is probably the best piece of advice I've received from my mum in my early 20s. She reminded me that it's okay to make mistakes, and we should see it as a way to get better and learn from it.
"You cannot control the external world, but you can control your reaction to it." This is one of the most empowering pieces of advice I've been given this year, and I'm still learning to cope with it, especially given the Covid-19 pandemic and recent global developments.
What's kept you sane during the pandemic?
I love coming home to Sebastian, my baby boy! I'm also keeping myself active with cycling since gyms have been closed, and I practice gratitude as a daily habit. Family time is my main priority. Whilst I'm going out for dinner less these days, I'm enjoying relaxing and taking care of my health. Most days, I'll opt for our Wai Yuen Tong 28-days Postnatal Care Premium Soup, made of Korean Ginseng for anti-fatigue and waist or shoulder pain. A must-have for new mothers out there!
View this post on Instagram
Which travel destinations are you missing the most and why?
My family and I have an annual ski trip to Niseko where we stay in a big suite and the whole family including my first cousin and their kids get to come and ski! I love being there and spending quality time with my parents.
What would your perfect Sunday be like?
My perfect Sunday is staying at home with family- my husband, Andrew, my 7-month-old baby, Sebastian and all my nieces and nephews. We'll order in, curl up together on the sofa with a nice cup of tea and spend the day playing games.
What's your guilty pleasure?
If you could launch another product, what would it be?
I would love to launch a comprehensive beauty line.