Mixed-martial arts (MMA) fighter Ramona Pascual assesses the agony and ecstasy of winning – and losing – in conversation with Stephen Short
It's one of those things. You work your arse off for six to eight weeks, or in this case 10 weeks, you deplete your body, and then you have the wake-up. There's always something so tragic about a holiday right after a loss. Because everything's slowed down, you can't really think about it. There's still an element of sadness."
Mixed-martial arts (MMA) exponent Ramona Pascual is reflecting on her June 12 fight in America's Ultimate Fighting Championship (UFC) in Singapore, and her defeat on points to the American Joselyne Edwards. The fight went the distance, which in MMA parlance equates to three gruelling rounds of five-minutes each, but wasn't a clear-cut decision; some observers even had Pascual ahead on the card.
"It was really close," Pascual says. "A lot of people had scored it for me. But, one judge might see damage as a winning factor, while another might see point-scoring as a winning factor, by which I mean a person may be hitting you, even if it's not doing any damage whatsoever." Pascual says judging is so subjective because a) MMA is a comparatively new sport (created in November 1993), with women's involvement only since 2013, and b) judges have adopted the boxing-scoring system, so evidently different to mixed-martial arts.
But like all natural born competitors, Pascual lays the blame for her loss squarely at her own toe-varnished feet. "Ultimately, I'm an athlete, and you look back at a competition and know you were capable of more, you could have done more in the moment, if little things had been adjusted, at the right time…" She pauses, as if summoning the knockout sentence. "We train to win dominantly; we don't train to win by a fine margin."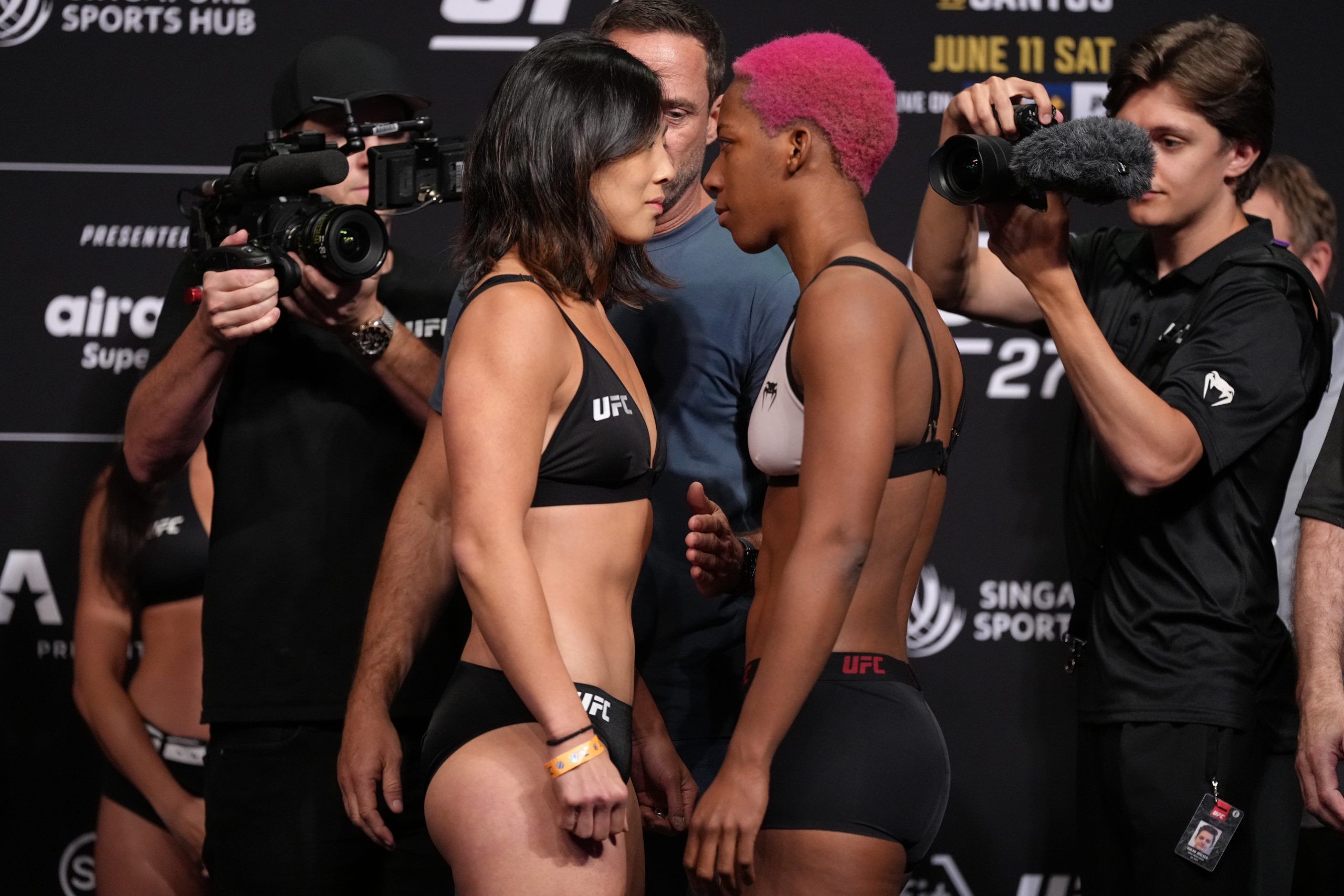 Following the defeat, Pascual left for a week-long "holiday" or recuperation, in Phuket. East Asia, after all, is home. Although both her parents are Filipino, Pascual grew up and was educated at Hong Kong International School (HKIS) and then studied Business at University of Southern Carolina. Her combative instinct started young, too. At HKIS she was playing basketball and rugby competitively. She alsostarted Muay Thai and Ju Jitsu at 16 and continued that interest while at college to great acclaim, winning awards and titles. Post-graduation, she found her secure desk job mentally and physically numbing and swapped it for her pugilistic passions. Her training subsequently took her to Korea, Thailand, Shanghai and the US, where she's currently living and training in Las Vegas. And she's even conducted a TEDTalk on fear along the way.
MMA is a combat sport, which allows an inventory of pugilistic intent under the semantics of "striking" – that's punching, kicking and using elbows – and grappling, or wrestling; its purveyors scrap and brawl interchangeably while standing up and horizontal – though by no means passive – on the floor of an eight-sided cage, known as the Octagon. As such, it's like a mobile moodboard of combat and martial-arts styles, toughed out until one party submits, is knocked out, or can no longer continue. And just in case you think MMA is a US-centric invented endeavour, think again; it's Chinese, and called leitai.
One imagines Pascual being possessed of a relentless, seat-of-the-pants, thrill-seeking, "Don't think. Just do"-Top Gun Maverick-style mindset. Wrong. "People think I must be spontaneous and a risk-taker, but in fact, that couldn't be further from the truth. I'm the least spontaneous person I know. I'm like a 75-year-old; I need to be in bed by 10pm, stay at home, water the plants, don't want to go out." So much for the glamazonian woman warrior, or should that be, glaMMAzon.
Not wishing to rub salt into the fresh wounds of defeat, but unable to resist a factual tussle, we jab some more Singapore sling her way. Was it more a physical or mental loss? "A bit of both," Pascual surmises. "The mental encapsulates your ability to make decisions in the moment, regardless of how much technique you know, or how well-prepared you are physically. If you can't access that it's like a mental issue, it's a confidence issue, an experience issue. There's so much going on. You're fighting for your life, you're so pumped up with so much adrenaline, that you almost blackout and fight on autopilot."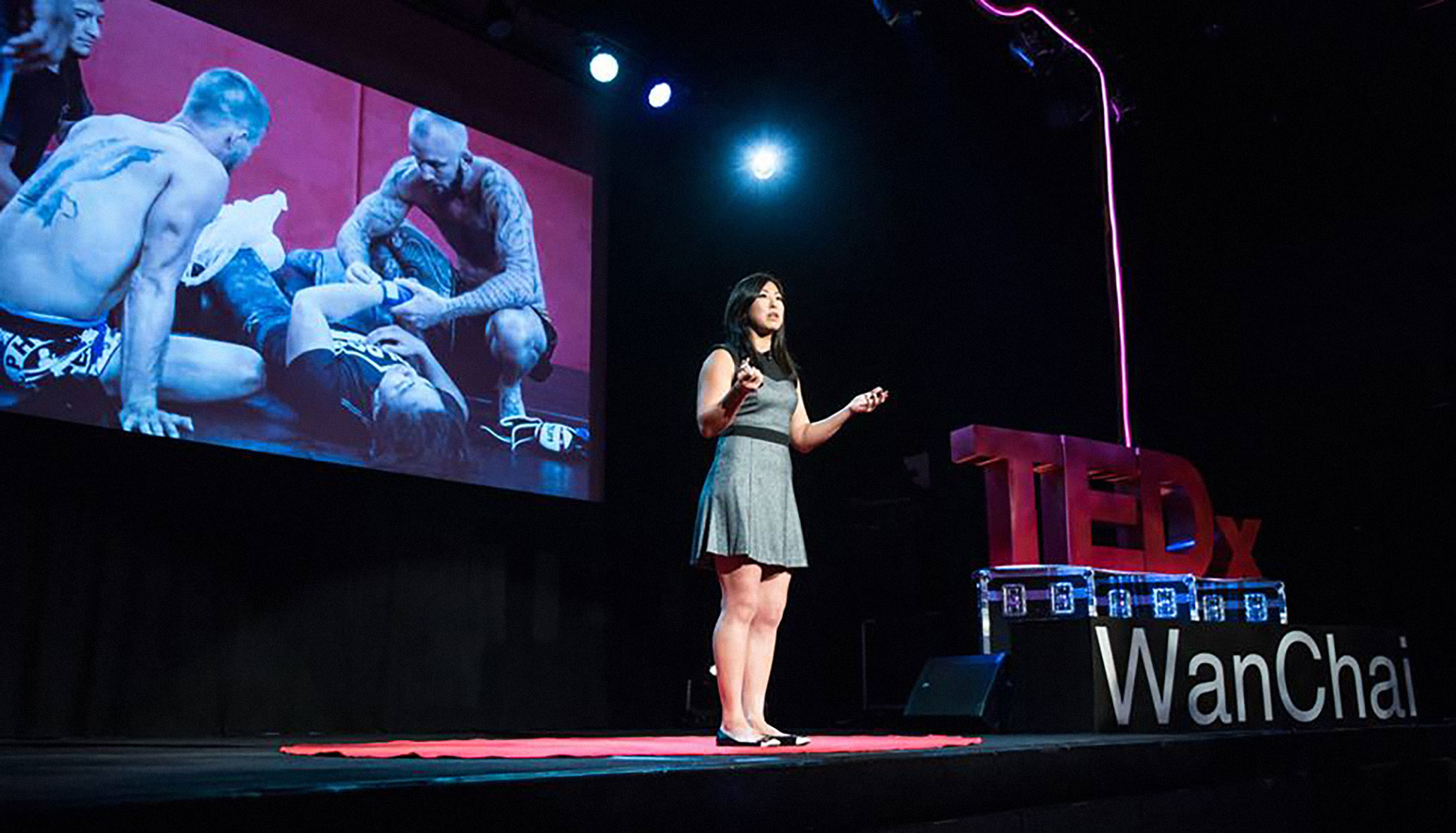 Pascual can seem so precocious (that TEDTalk), eloquent and lucid in the way she rationalises her sporting exploits, it's revealing to discover just how much MMA experience she lacks. "This fight was an experience from the point of view of fighting three rounds," she explains. Pascual has only fought two three-round fights in her entire seven-year career, and both in the last six months under the auspices of UFC.
"All my other fights have been one round, two rounds, or even within one round. So, this is different; it's about having the capacity to make the right decision in different rounds when you're exhausted, and your nerves are going crazy, and adrenalin is going crazy, and you have to focus your mind, you want to win, and you're attached to a strategy thinking it's going to help you win."
Preparation, preparation, preparation. Despite swatting up tapes of Edwards' previous fights, Pascual admits she and her team got it wrong. "We had prepared for her to come charging in. That's what she does. But the reality was she barely did that at all. And so, we trained for one thing, yet she was doing something completely different. And you have to know how to adjust. That comes with maturity in the sport, a lot of long fights. It's all about cage time. The more cage time you have and the more experience you have fighting, and I've learned so much from this 15 minutes of fighting, so much more than training. More cage experience makes me better."
"Right after the fight I watched it straight away to try and understand what had happened, and pinpoint where I lacked. Physically, my mentality was more like, 'I really don't want to lose this fight,' I don't want to lose, so I'm going to be more cautious in certain moments, whereas there were moments in the third round where I should have just gone for it. And if I get knocked out, I get knocked out, but at least I'm going to try and win the fight. And that intensity could have been enough. So, there's a lot of things to take away from it."
Is she too cautious? Should she evoke more of the 'Don't think. Just Do" mantra, or "womantra". "When I use the word 'cautious' in reference to a fight, it's in terms of not wanting to make myself too vulnerable, where a really big shot might knock me out. And I would also say embarrassment is one of my greatest fears. But sometimes I think you just have to risk it all, because you might win big. I'm not very good, or not programmed, to just let it all fly. In the first few minutes of the fight, I'm just a bit careful, and I'm thinking, I need to win this, I need to win this, I need to win this. And, as there's more and more on the line in my career, I get more cautious… but that cautiousness could also be the thing that holds me back from getting the results that I want."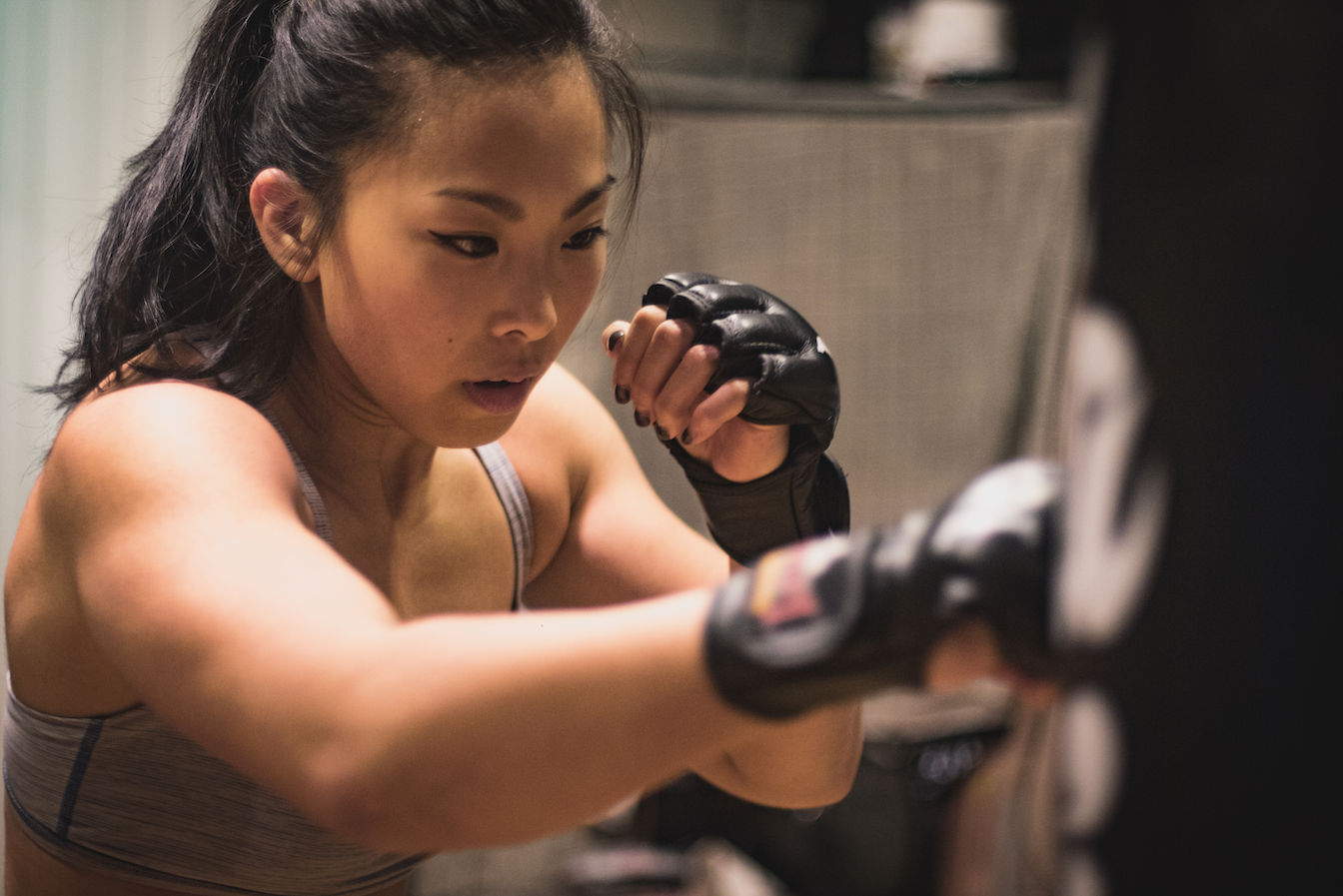 And there's a lot to want fighting MMA in the biggest league. UFC President Dana White claimed in April that the company has an estimated worth of US$9-10 billion – not bad for a sport that American Senator John McCain once described as human "cockfighting". And while the sums of money women can earn (sensing a familiar gender pay-gap refrain, anyone?) aren't commensurate with their manly counterparts, UFC's highest-paid quartet of women – Julianna Pena (American Bantamweight champion); Amanda "The Lioness" Nunes, (Brazilian former Bantamweight champion) – the two will fight a rematch on July 30 in Dallas for UFC 277 – Rose Namajunas (American 'Strawweight' champion); and Valentina "Bullet" Shevchenko (Russian Flyweight champion) earn US$500,000 a fight, which equates to US33,300 per minute of fighting time, plus additional winning and pay-per-view bonuses. China's top earner, Weili "Magnum" Zhang, who sits sixth on the list, earns US$250,000 per bout.
American's Ronda "Rowdy" Rousey, the sport's most famous exponent to date (beloved of Beyoncé and Tina Fey), who topped the UFC in 2015, was estimated by Forbes to be the eighth-highest paid woman in global sport with annual earnings of US$6.5 million that year.
Women have become the major driving force for MMA and UFC, but their role is polarising within the sport. On the one hand, the UFC engages with notions of women's empowerment, but on the other, it's a business that still uses so-called "Octogan Girls", scantily clad babes in bikinis teetering around the edges of the metal cage announcing each new round of a fight, and the sexualisation of UFC's female fighters is undeniable. Not all fighters make large sums of money (and most, if not all, are only paid when they fight) which sees MMA stars doing modelling, training, fashion and running Instagram accounts, while a "select" few also run OnlyFans sites on the porn platform. How does Pascual navigate this "post-post- feminist" terrain and how tangible/invasive is the sense of glamour, voyeurism and sex within the ecosystem?
"That is a fantastic question and doesn't get talked about enough. Because it is absolutely there, there's no denying it. Because at the end of the day, this is sports entertainment, and whether that's entertainment in violence, or technical ability, or entertainment in finding athletes that appeal to the greater audience. It's also much to do with MMA being such a young sport and wanting to go mainstream, and I think it's getting there. It's also got quite far along because of people like Conor McGregor, who've generated popular interest. And you know, you're trying to attract a crowd. Some fans are really into MMA, they want to watch the sport just for that, but that's a very small percentage. More are like casual fans, they want blood, violence, fighting to death, but they also want to see attractive people go into the cage and do all these things. There's no denying all of that exists."
How does Pascual assess the danger? "If you're getting into this sport, there's like a dog in you. There's something in you, that when it snaps, it's violent stuff, and the sport allows us to do that, in a cage, moderated by a referee and medical people, in front of thousands of screaming fans. It can seem quite sickening to want to do that, because there's so much pressure, an unbelievable amount of pressure being exerted. What if I lose, what if I get knocked out, so much on the line, but a part of you is enamoured by it and just wants to get in there, even knowing the risks involved, and see what happens." Pascual's injuries have been relatively conventional; three knee surgeries, a broken nose, a herniated disc (almost fashionable in MMA) and associated niggles.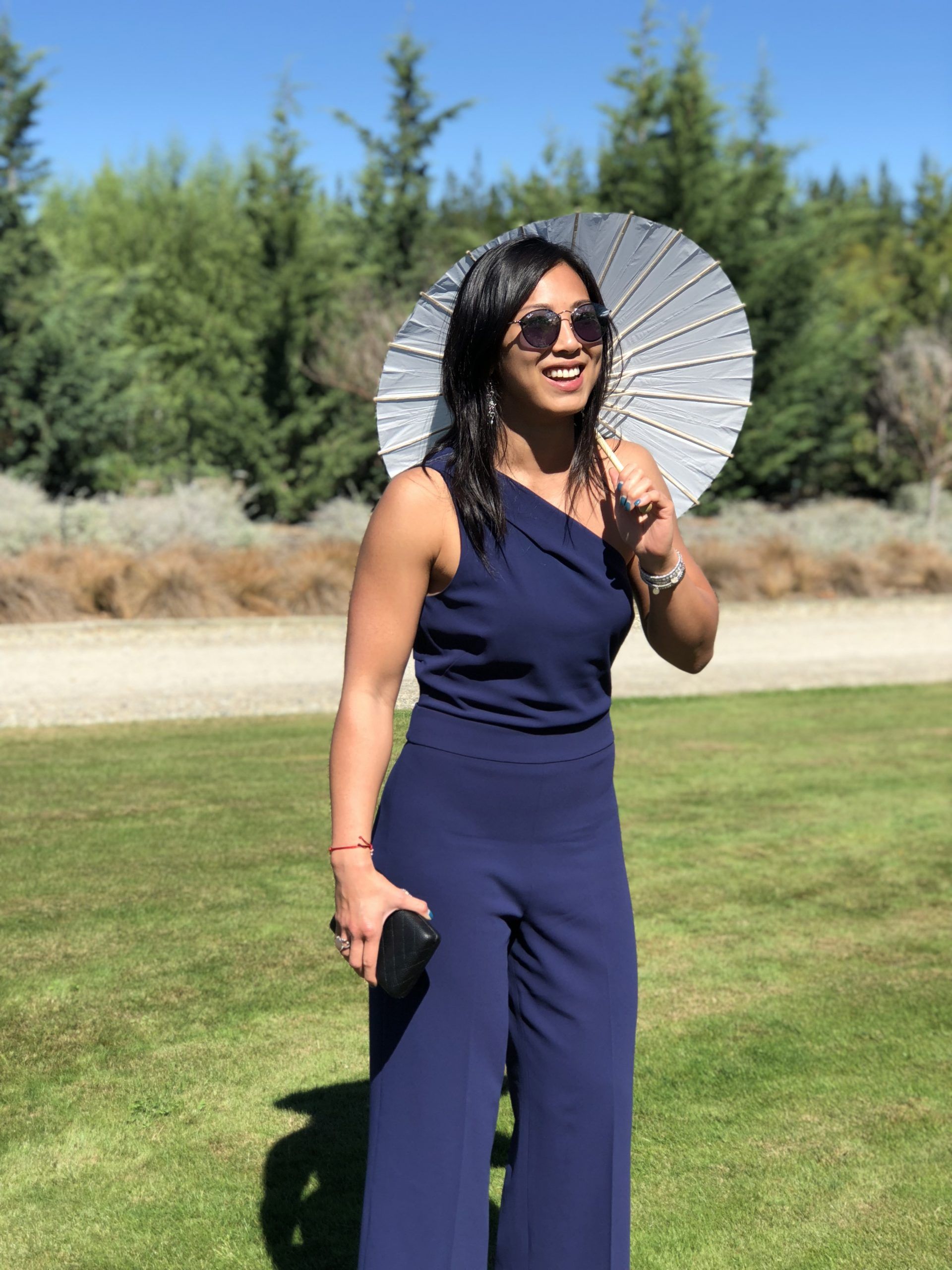 So where does she go for wellness? "For me, wellness is predominantly a mental state. Performance is also mental as well. It all comes down to, obviously, what you're putting into your body, how you sleep, how well you're regulating your stress. All those things are by-products of where your mind is at, because if you're stressed out by something, if you're unsettled, be it in career, relationships, family, financially, that effects all the things that help your physical wellbeing. You won't eat or sleep well, you might drink too much. You're not in the frame of mind to take care of your body. So you also need to be around the right people, that is, people who don't drain you of energy, but help navigate and add value to your experience, either professional or personal. If you can make sure your mental environment is healthy and well, then wellbeing is the by-product."
For her day job, or alternative office work, her moods lurch between agony and ecstasy. "It's like the lowest lows and highest highs. And I can tell you, you get the most unbelievable high in winning a fight, in front of thousands of people. But at the same time, you're also putting yourself out there to feel the depths, the lowest low, being depressed after fighting, like crying at random moments throughout the day, so down on yourself, wishing the ground would just swallow you up."
Is there a parting shot Pascual wishes to share with budding MMA aspirants?
"Yes. You can't hold anything back in a fight, your soul is expressed in those 15 minutes, and every deficiency that you have, that's the reason we learn – you learn more from your losses. You think endlessly; it keeps you up at night, it's the first thing you think of in the morning, all the things you did wrong, or the things you could change, or that you will change, and there's nothing more powerful than that. The inadequacy of losing fights, or even having little losses in the gym, is such strong fuel. You have to be programmed in a way that allows you to digest failure because it is just endless in this sport.
"And it's fricking painful. It will make you just want to fall into a hole and be in there forever. And, there's just nothing more real and pure than that. You can't hide behind anything, it's a part of the sport that's the most scary and painful, you feel that all the errors you make have such a big impact on you and how perfect or imperfect you think you are, everything is just brought to light and I think that's the thing that draws me into wanting to do this and keep coming back for more; the clarity I get about myself, and also, just the world around me, after each of these setbacks, I perceive the world a little bit differently and I think there's nothing just like so dark and beautiful about that."