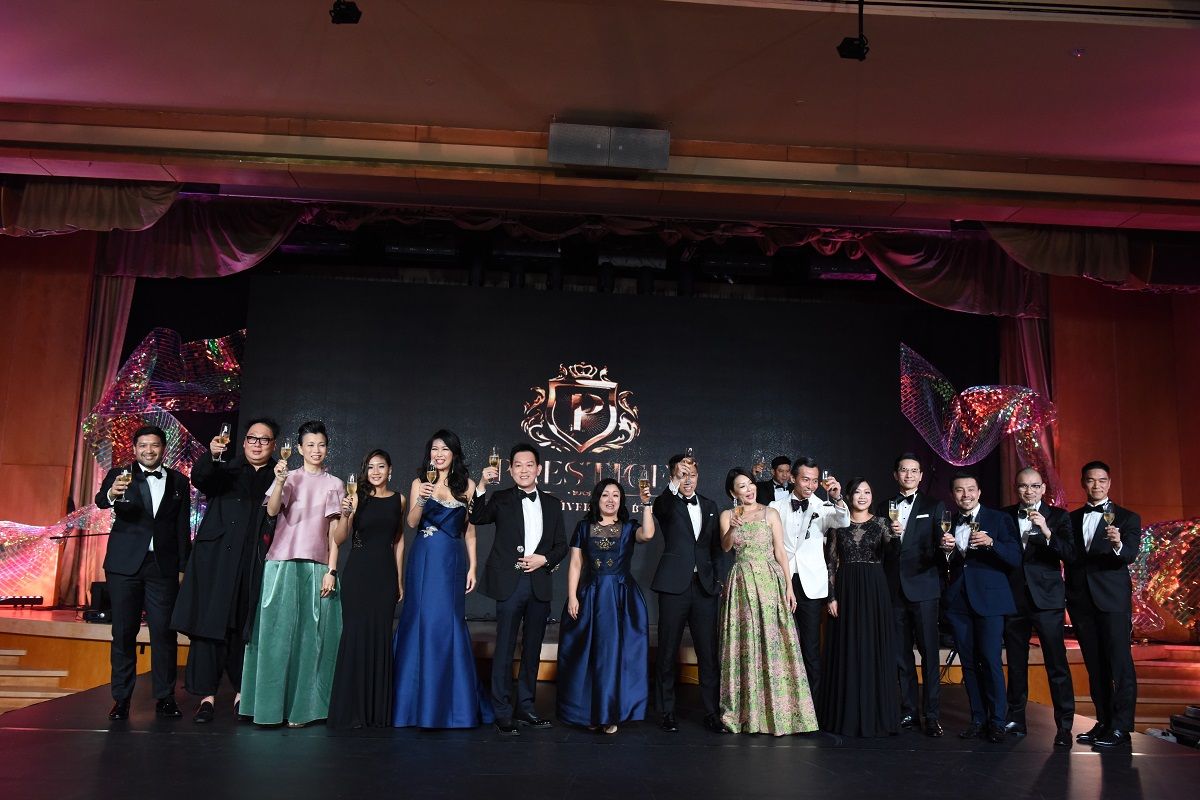 It all began with a rather lofty idea: To align the conceptual theme of the 17th Prestige Anniversary Ball with the changing environment, depicting Prestige as an unyielding foundation stone — a rock the society and luxury scene turns to for news and gloss. Even the five-course menu put together by Chef Massimo Pasquarelli was named as if an odyssey through the Ocean, Snow, Earth, Volcano and Galaxy.
In the end, we simply rocked (in other words, partied hard).
Turning 17 was an awakening. It was as if like teenagers, we found freedom; we found our voice. And with more than 500 friends all in a celebratory mood, much of our usual formalities were left behind on the driveway of The Ritz-Carlton Millenia Singapore upon arrival.
While there was new vigour in the air, many of our well-loved traditions continued to endure. For the fourth year, we conferred the Prestige Award to an invaluable friend who has in their own unique way, impacted or inspired others. That person this year was the incomparable Wong Ai Ai, who whether in her capacity as Chairman of the Yellow Ribbon Fund or the first Singaporean on the governing body of international law firm Baker McKenzie, always leads by example and heart. With Giuseppe Zanotti as the Prestige Award sponsor, Wong will now be known for an enviable shoe closet too.
Within the cavernous ballroom, which had been transformed for the evening, Las Vegas' Sarah Moser electrified the stage with her LED Cyr Wheel as did Rose Larkings, one of London's top ballet and contemporary dance performers. A gang of legit rock stars also ruled the stage, which they then shared with sopranos Stephanie van Driesen and Tiara Sadikin.
Guests were given latitude to get Bouzy too. Pierre Paillard Les Parcelles Bouzy Grand Cruz champagne and Italian whites and reds — all from M@dhatters & Co. — poured freely during dinner, as did premium cognacs and The Botanist gin at the outdoor Rémy Martin bar. Even if sober, guests could not drive off with the Batman-worthy, ultra-sexy matt black BMW i8 conveniently parked by the bar. But they could operate and take pics with its swinging scissor doors.
Winners of the always-anticipated Most Stylish Awards, however, were promised a weekend test drive in the BMW 7 Series. The arbiters of style also walked home with gifts from Ermenegildo Zegna, Bulgari, Chopard, Ebel, Flower Diamond, Hermès, Jaeger-Lecoultre, Resorts World Sentosa, Vihari, Buben&Zorweg, BMW (again) and lush, long-stemmed blooms from Roses Only.
Because it was a Saturday night, and we should all be without a care in the world, dinner quickly evolved into a dance party with spin-doctor couple Adrian Ng and Loh May-Han and the awesome pair of Adrian Ong and Michelle Eng behind the decks. Us inviting guest DJs isn't new, but to their credit, a lot more refused to leave the dance floor this year. (All you crazed party-goers, you know who you are.)
Good thing that a supper buffet of local delights, such as mee siam, laksa yong tau foo and kueh pie tee provided extra sustenance, while good friends at luxury Korean skincare brand Sulwhasoo (which this year set up a display of golden blooms) and H'air Trichology by Leonica K stuffed our goodie bags with products that ensure we look none the worse for wear after a long night out.
To all our friends: Rock on!
For more candid pics, scroll through #prestigeball2017 on Instagram.