CEO of New World Development Adrian Cheng has announced plans to support the United Nation Children's Fund (UNICEF) to aid vulnerable children and young people around the world to fight against COVID-19.
Through this charitable initiative, Cheng will donate 500,000 masks to UNICEF that will be distributed to children who are most in need, including those in refugee camps and communities, as well as underequipped medical workers. "With this donation, it is my sincere hope that we will help to galvanise global efforts to protect children and youth, especially those residing in the world's most vulnerable zones, from COVID-19," said Cheng. With a presence in 190 countries, UNICEF is committed to delivering assistance to children across the areas affected by COVID-19 and is working with governments, implementing partners and donors to find solutions to logistical and operational constraints to ensure children in need continue to receive humanitarian assistance. By providing a half million medical masks to vulnerable children and young people, Cheng's contribution looks not only to save lives, but also to support the global containment of the virus and safeguard against its possible resurgence.
"Our ecosystem at New World Development places a great emphasis on education and healthcare, bringing to the forefront the importance of creating shared value across communities worldwide. I hope this donation will play a role in giving youth refugees the health protection they desperately need at this challenging time." – Adrian Cheng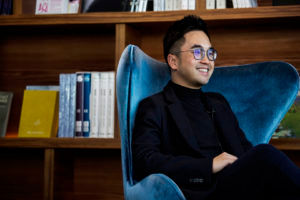 This initiative is the latest of Cheng's efforts to combat COVID-19 worldwide. Driven by New World Development's vision to contribute innovative and sustainable solutions to today's most pressing problems, the group created a US$7 million fund and made a donation of more than three million medical face masks to fight the spread across Greater China in January 2020.
Shortly after, in February 2020, New World Development donated over US$1.2 million to establish a "community anti-epidemic fund" in Hong Kong. Presently, the donation has generated more than two million masks and 10,000 preventative kits which include medical face masks, hand sanitiser gels and sanitising wipes, all of which have been distributed to low-income families within Hong Kong.