Singer and actor Josie Ho talks about finding all three while making movies and music – and relentlessly exploring new directions – during the pandemic.
Words JON WALL
Creative Direction and Styling ALVIN GOH
Photography REUBEN FOONG
Make-up ALVIN GOH
Hair styling KEN HONG @Evolve Salon
Manicure PINKY HO
Photography Assistants TYLER YEUNG and DEREK LI
Styling Assistants VINCY LEE, ZOE and CANDY CHUNG
Videographer ZAYNE OTHNIEL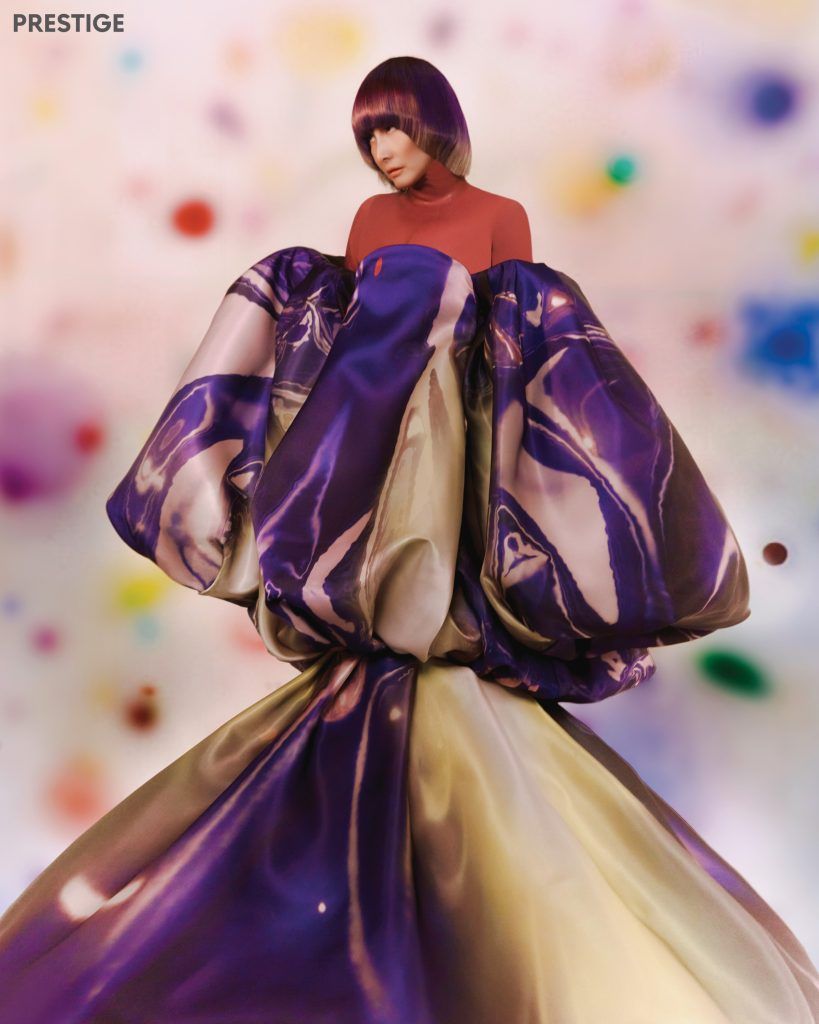 Joy, Bliss and the Godbomb
There aren't many performers in Hong Kong quite like Josie Ho. Come to think of it, there aren't any.
Born into one of this city's wealthiest families, in her late teens Ho flies in the face of convention – which, in a deeply conservative place like this, can be as confining as a straitjacket – not to mention the entrenched opposition of her father, Macau casino magnate Stanley Ho, by deciding to embark on a career as a singer. This she quickly follows – though, by the norms of our local entertainment industry, somewhat more conventionally – by becoming an actor.
But then, true to form, she also turns out not to be your typical Hong Kong singer or actor either, increasingly taking control of her career and her persona by pivoting from sweet songstress to a more uncompromising style better suited to her husky, contralto voice and, on screen, by seeking out roles at society's edges that include prostitutes and lesbians and, along the way, earn her career-affirming awards and accolades. After marrying actor and producer Conroy Chan some 20 years ago, the pair set up their own production company, 852 Films, with the avowed aim of serving as a bridge between East and West; roughly at the same time, Ho teams up with a bunch of local musicians to form the band Josie & The Uni Boys, which is still going strong 15 years later. Her cinematic roles and projects, many with the involvement of 852, span an enormous breadth from comedy to post-apocalyptic horror and often veer towards the indie and avant garde; musically, she and the Uni Boys tread that cacophonous and sometimes angry path between searing hard rock and punk; in person, Ho is refreshingly spontaneous and direct, her words a rippling stream of fun, self-deprecation and openness that occasionally appear to surprise her almost as much as the listener – and make her such an entertaining interview subject.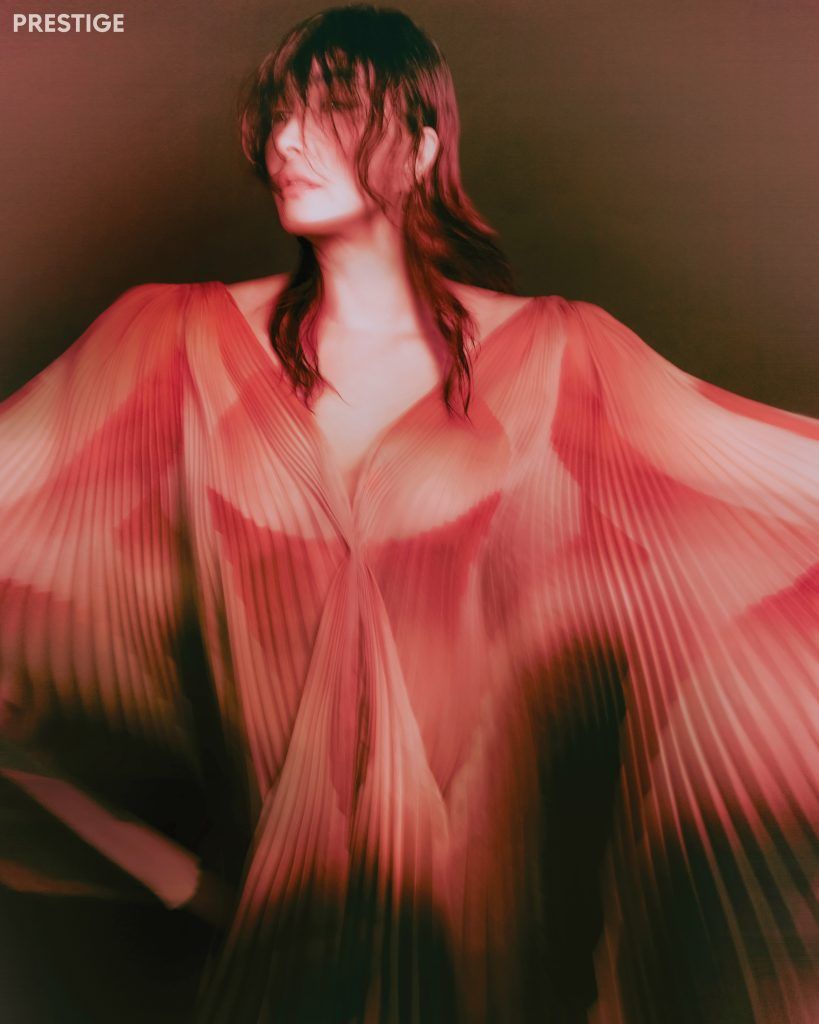 Given her background of enormous privilege, there are some who might be inclined to dismiss her experimentations and appetite for the offbeat as those of a dilettante, someone not to be taken entirely seriously – indeed, I put this to her during a long conversation over afternoon tea (during which, full disclosure, my voice recorder turns out not to have been working and she, graciously and cheerfully, agrees to go over the same ground all over again. "Don't worry," she tells me kindly, my face reddening with embarrassment, "it's just a machine.").
"They never did [take my talent seriously]," she says, answering my question. "They never did. And even now – after how many years have I been in the industry? Since 1992 – they just felt that I was having fun and that I could drop out at any time. It really hasn't changed and it will never change in Hong Kong." She laughs, which she does often and infectiously, more playful pixie than the intimidating, spike-haired and dark-eyed Goth of her onstage image. "I can't do anything about it. So I do what I'm doing, I go abroad to look for collaborations – and I've found people who understand me and want to work with me."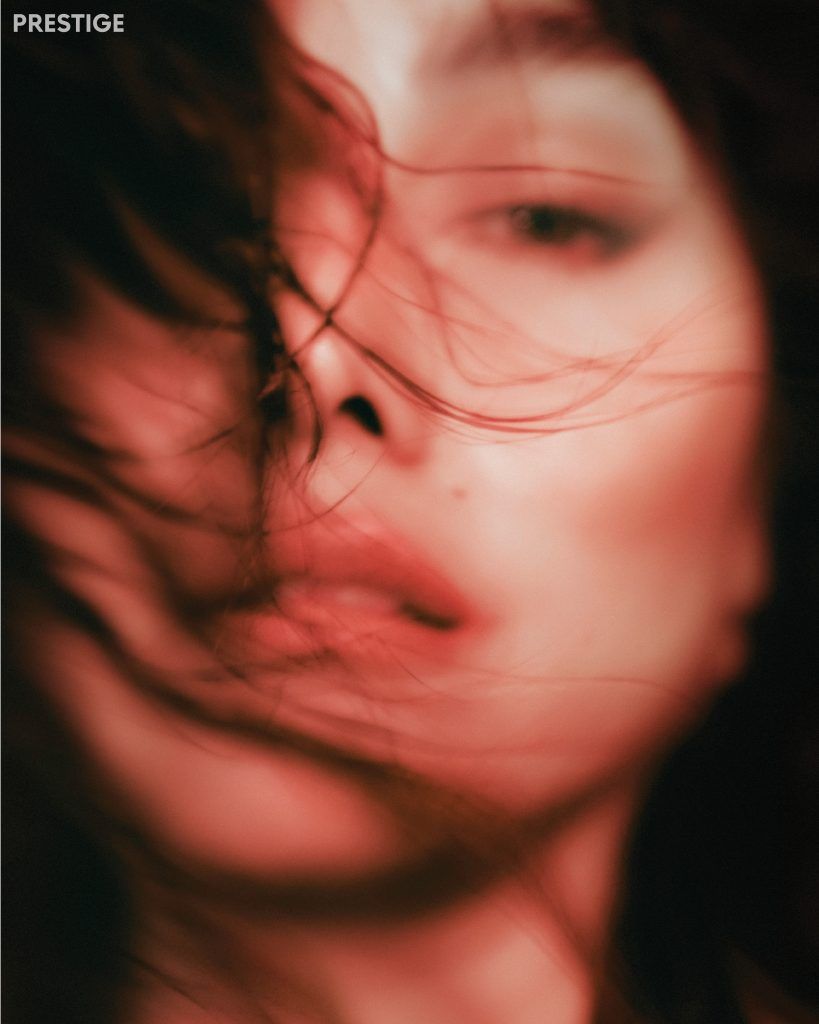 Had she indeed been a dilettante, she might well have done little more over the past three years of Covid than sit on her backside and complain loudly of her inability to work. Not so. During this time, she's been involved in no fewer than five new film projects: Rajah (or as it's also been known, Edge of the World), an international co-production recounting the true and remarkable tale of James Brooke, the first White Rajah of Sarawak; the comedy thriller Habit; a starring role in the J-horror outing Onpaku; the suspense thriller Mother Tongue, currently in post-production, which is set in Los Angeles but was filmed in Hong Kong under celebrated British director Mike Figgis (best known for Leaving Las Vegas and Internal Affairs); and Finding Bliss: Fire and Ice, a documentary recounting a visit to Iceland made by Ho and a group of Hong Kongers at the height of the pandemic. There are tantalising hints of other projects in the pipeline, too, linked to names such as French director/producer Luc Besson (La Femme Nikita, Transporter, Taken) and British filmmaker Tony Kaye (American History X), though as they're still at the discussion stage she can't say much about them.
In spite of the pandemic, Ho was also able to visit several festivals around the world where her films were being shown. In November last year, she picked up a Lifetime Achievement Award for her cinematic and musical endeavours at the Hawaii International Film Festival, where her movies Dream Home (852's first production from 2010, for which she was nominated for Best Actress at the Hong Kong Film Awards), Onpaku and Finding Bliss all formed part of a Spotlight on Hong Kong programme. "I totally appreciate that kind of attention and recognition," she tells me. "It's almost like a green light for me to move on and do more – to make more surprising movies, surprising roles and way crazier stuff.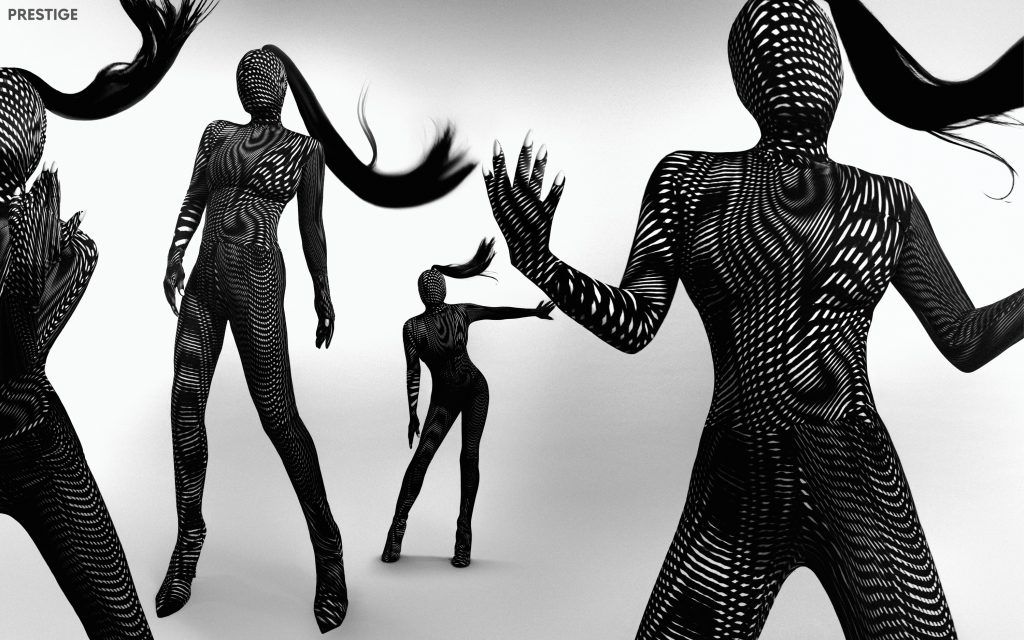 "The movies that are shooting in Hong Kong are generally big blockbuster films," Ho explains. "There was a niche market for smaller productions and indie productions, but we just felt it might not be enough for my appetite. I'd been working with my agent for so long, hoping to bring something new to my career, and I was also looking for more green lights in world cinema. Luckily, some of my films were invited to festivals where I got to watch a lot of new films and discover some future directions. Which totally moved me and showed me that my way is not a lunatic's way, hahaha! Because at first, when I started doing cult films, I thought that maybe it was just my interest. That maybe there were some voices in town saying, 'Oh, she's just doing whatever she likes, because she's from such and such a background,' and blah, blah, blah. So yeah, that's why I went to Hollywood and I knocked on a lot of doors. And people told me I was going in the right direction. And I went to film festivals and got the message, right?"
Indeed, though Ho readily acknowledges the support she's received in Hong Kong, she admits she's never been a perfect fit in the local entertainment industry. "It's partly because of my face," she says. "My family comes from a crazy mixed-blood background. When one of my sisters had her DNA checked for fun, she found out she's Persian, Chinese, she had some Jewish blood and German blood, Irish and English – a lot of things going on that most probably all had to do with the Silk Road.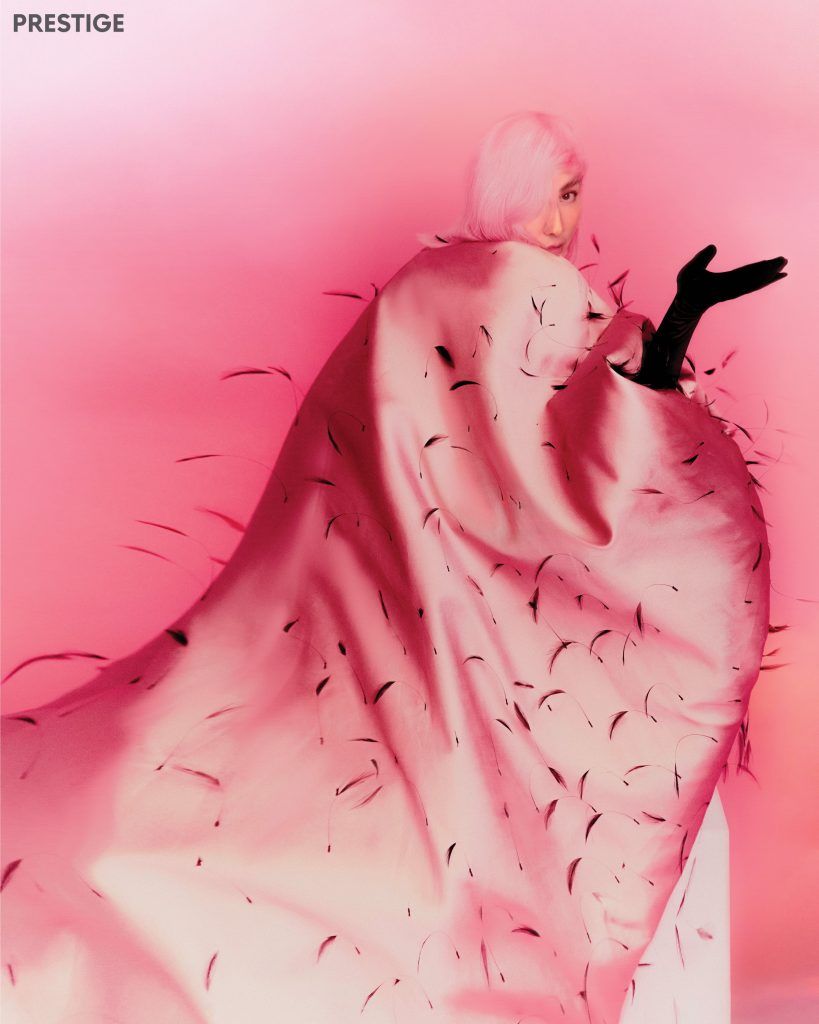 "I felt that, yeah, when I worked in Hong Kong – I don't know, it's like this taboo that was told to me by the CEO of the record company when I started out in singing. He said, 'Eurasians never make it, Josie. Look at the history of Hong Kong cinema. No Eurasians made it, yet they were all beautiful. So, you're beautiful, but you're not gonna fit into the film business because you look too different. You don't look like you're related to anyone.'" She chuckles at the absurdity.
"I've generally felt more sincere feedback from the people overseas. Of course, I got a lot of support from Hong Kong, but when I go to China, Taiwan, Malaysia, Singapore, Japan or even London, they find me much more interesting." As for her decision to start filming on Mother Tongue, most of which was shot in 2021 at the height of Covid, Ho says she was inspired by Hollywood director Steven Soderbergh (with whom she'd worked on the remarkably prescient medical thriller Contagion, partially filmed in Hong Kong and released in 2011). "We already had a script when I heard the news from the Directors Guild of America that Soderbergh had started work again [on the movie No Sudden Move], but with a medical team on the set. Although it meant a little more budget, I just felt that could be an idea.
"So I invited Mike Figgis to come over because I was more confident about the pandemic in Hong Kong – at that time we didn't have high numbers – so I felt it was really applicable to shoot the film here, because I understood that everybody was afraid of the pandemic. So we started out with a medical team basically testing everybody.
It took us almost two months to shoot the movie on set, though Mike was here for more than five months."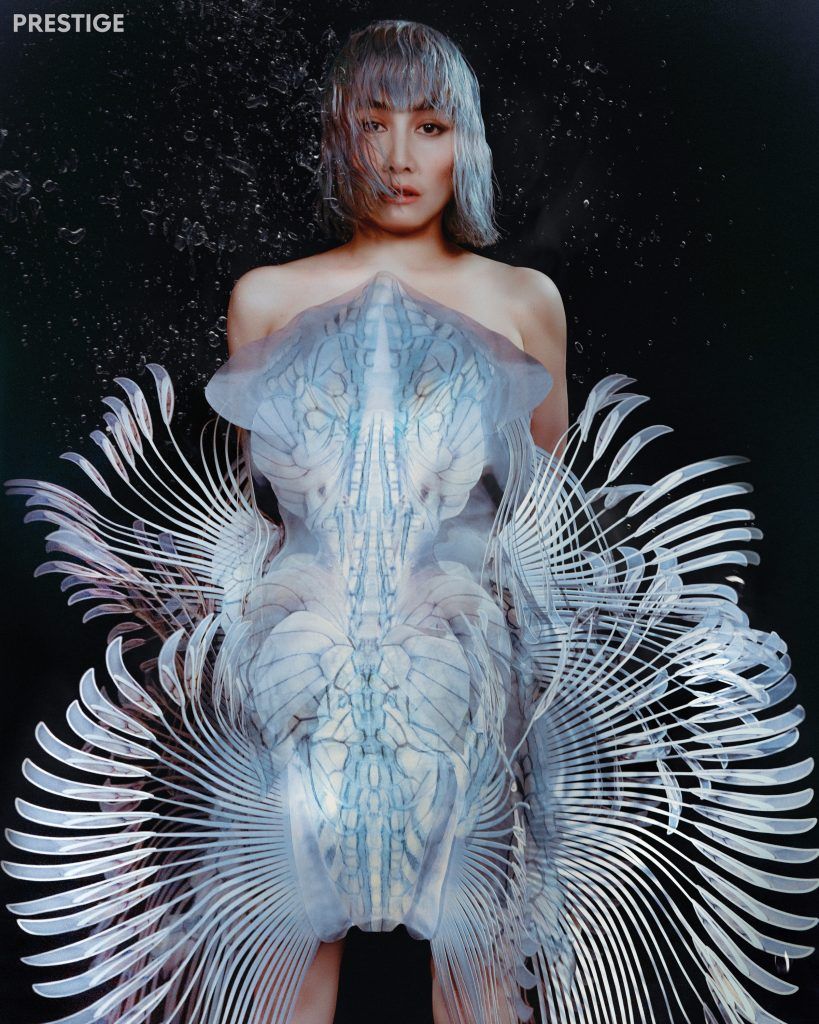 Which brings us to the documentary Finding Bliss: Fire and Ice, a response to the depredations of Covid and a labour of love that Ho says, laughing, "is one of the most important things I've accidentally done! It was because of the pandemic and a lot of things – like the start of recession, and the fact there were a lot of unhappy people around and the general vibe of Hong Kong was low. I had friends who'd jumped off a building – suicides – who were so young and so talented, and I just felt I should do something about it.
"All I could do was go back into my memory and try to dig up the happiest moment – like complete happiness, a completely blissful moment – in my life. Aside from being a member of my family and getting married, that was actually when a clown teacher called Philippe Gaulier came to Hong Kong; he's taught Sasha Baron Cohen, Emma Thompson, Helena Bonham Carter and lots of actors around the world.
"I took that class, which was organised by Jim Chim, who's one of Gaulier's biggest protégés and a famous clown himself. So I decided to knock on Jim's door and try to start a project about getting him to teach a bunch of very introverted friends of mine, musicians and music students, people who are very passionate but don't show it in their daily lives, very timid, very shy, very honest people who at that time weren't happy either. We put all these people on a plane and flew them to Iceland for 10 days to do a lot of, well, I can't really call it acting lessons, it was more kind of experimental, and see what went on."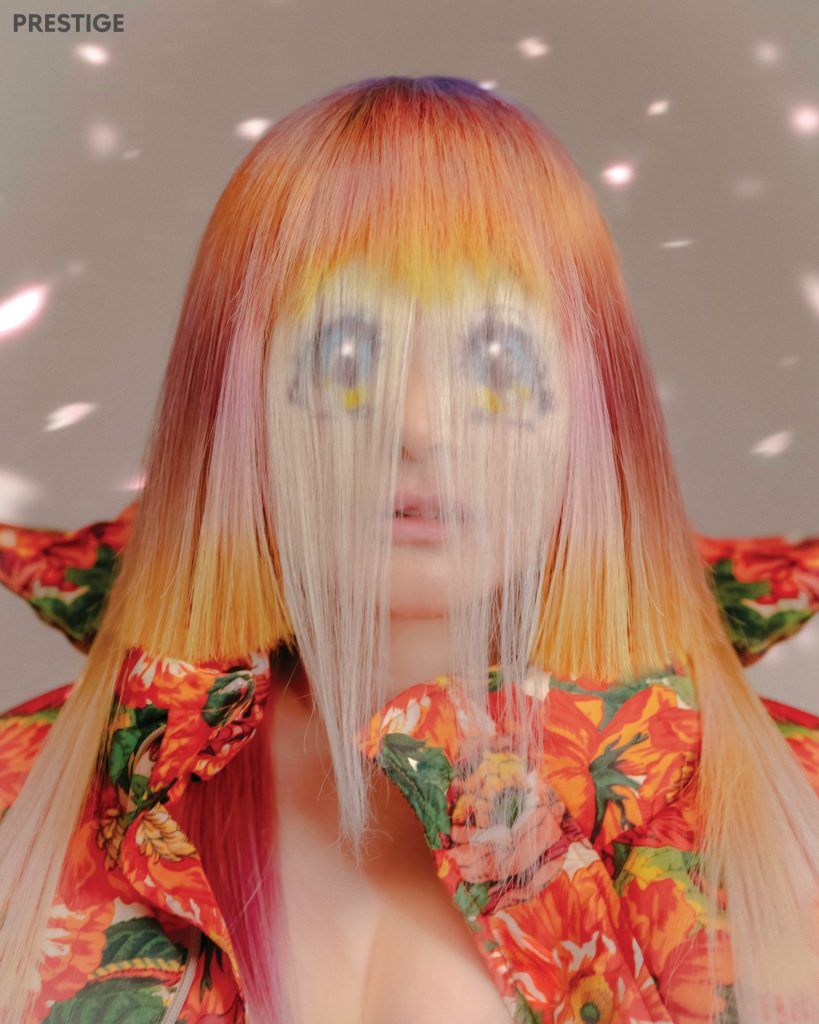 Ho chose Iceland because it's "a dream destination for many people in Hong Kong", though time considerations meant they were only able to visit during Chinese New Year, when daylight lasts only a few hours. "The Icelandic music scene is also really interesting to musicians," she says, "which was why they wanted to come in the first place. They just didn't know about the course, which everybody had to attend for six hours a day. We'd travel around to scenic areas where we were all blindfolded. We'd get off the van and go to the tip of a mountain or a cliff edge or in front of a waterfall, and they'd hear huge, huge noises and kind of guess what it was, but they weren't sure. It was really windy and icy, and when we took the blindfolds off they were astonished. Oh my God, for some people who'd never seen a waterfall like that, it's the Godbomb, motherfucker!"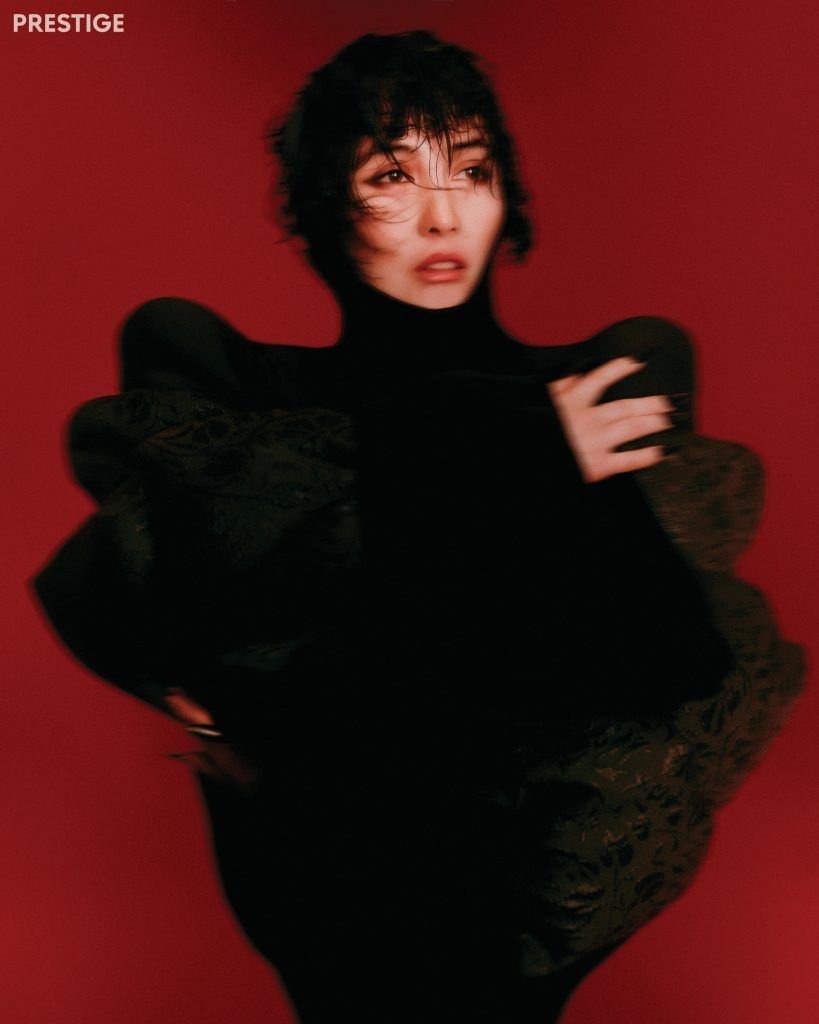 The search for unbridled joy among a sub-Arctic wilderness of waterfalls and volcanoes may seem a million miles from the gloomy confines of a run-down and apparently deserted Japanese love hotel, but the latter is the setting for the surreal J-horror Onpaku, in which Ho stars as a woman whose visit to Japan to buy an investment property quickly goes wrong – and scarily. I'm curious as to whether her Goth stage persona and the fact she's appeared in several movies of that genre mean she has a penchant for horror.
"I have this Goth consciousness, but I'm really afraid of the dark, and of any kind of spirits and ghosts," she says. "I swore to myself I'd never ever do a horror film again, because I had an incident many years ago, while shooting a horror film, when I had a ghost in my house. It took a lot of effort to open myself to the ritual world. I'd respected all the gods before, but I wasn't really with any kind of religion. And then I suddenly had to find a religion for myself just to find a proper exorcist to help me send that ghost back. The exorcist told me I used to go by myself and party too much – I'd always go to rave parties and disco parties and just park my car on the road. She said there were a lot of ghosts who were jealous of my fun, so they came along with me. So I had to quit going out at night on my own! But luckily," Ho says, laughing, "I got married!"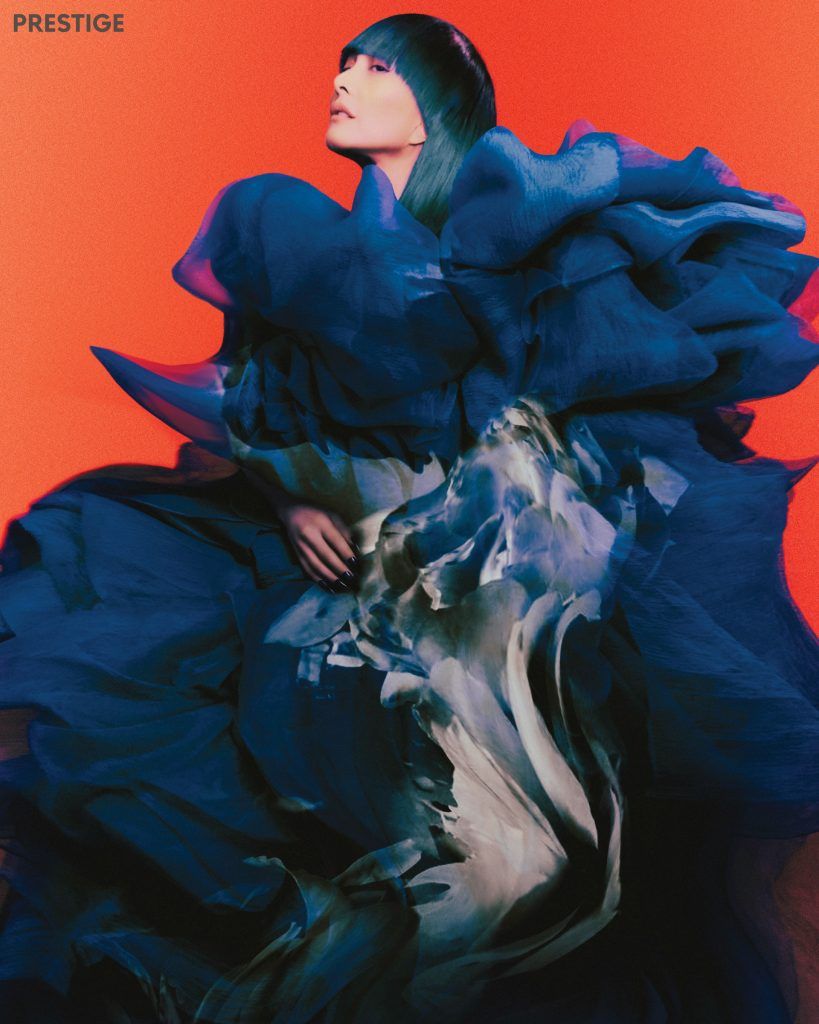 An 852 Films co-production, Onpaku was made on an unusually low budget. "So low," says Ho, "you won't believe it! And I couldn't believe the things that they could do with it. Everything was very minimal. We had three lights on the set, just three big lights, and that was enough. I was like, 'Really? Three lights. What's going on? What are you guys doing?' And they're like, 'Josie, those guys won the Best Gaffer Award for 20 years in Japan's equivalent to the Oscar awards.' Now that I've got to watch the film, I'm really impressed with the director, Shugo Fujii. He's crazy talented. We also worked with a producer from [the J-horror classic] Tokyo Sonata, but by the time the film was in post- production he'd passed away. I really cherished the time we had together – a very hard-working dude."
She applies the same epithet to Michael Haussman, the director of Rajah, who, says Ho, "was so hard-working he was running around like he was on steroids. He never sits down – I've never seen that! But I'm so happy with Rajah, because 852 Films was constantly looking for stories like that. We'd turned down other stories pitched to us by Hollywood because the production costs would be too high for us. We could only manage small, indie, occult-type fantastic films. So I'm happy they could make it and that the story was so well written – by Rob Allyn, who was also the producer."
Shot on location in Borneo, the film stars Irish actor Jonathan Rhys-Myers, who brings a matinee-idol aura to the role of James Brooke, as well as to a tale of adventure so marvellously old-school and swashbuckling that it's hard to credit the story is actually true. "Jonathan was so perfect," says Ho. "I don't want to call him a method actor, but he was so into the film and so into his role every day that he kept it up throughout the whole shoot.
"It was so beautifully done, because Michael Haussman is also a photographer, and I'm so glad I finally got a role in a period piece. Even though I didn't have a lot of lines I was so proud of it."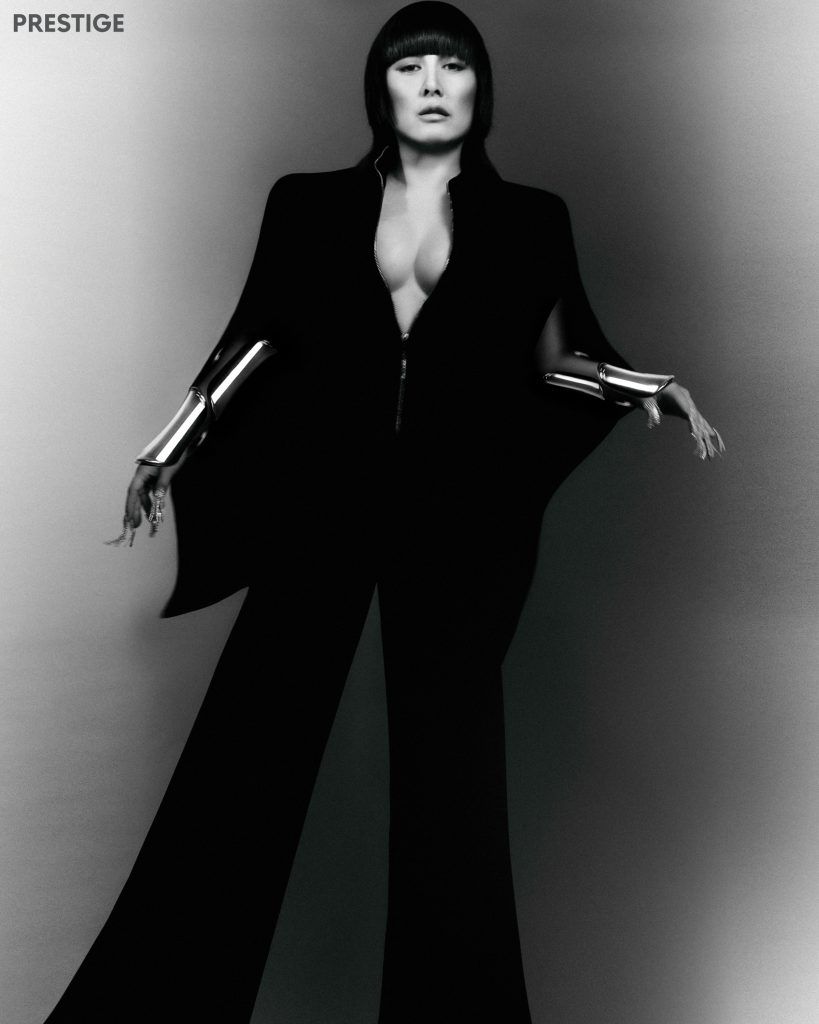 And then, of course, there's Ho's music career with Josie & The Uni Boys, who not only recently passed the important milestone of 15 years but also blew everyone away by tackling '70s disco, soul and funk when they threw their Flash Back Now Party at KITEC last September. "It was about throwing a party instead of having a concert during the pandemic," she says. "At that time we were having a better moment in Hong Kong and everyone was sort of healing. That's why I didn't want to spend that time singing about my own news – I mean, we've all been bored for a couple of years so let's have a party, something that makes us happy.
"I got inspiration for the concert when I went to New York for the Asian Film Festival. I was walking around and went into Nordstrom, where I saw a lot of sequins on the men's and ladies' fashions. I was pretty sure it was about the disco era, so I thought I just had to practice a few dance moves. I think we got like 160 glitterballs, small ones, big ones, and we had some lasers too."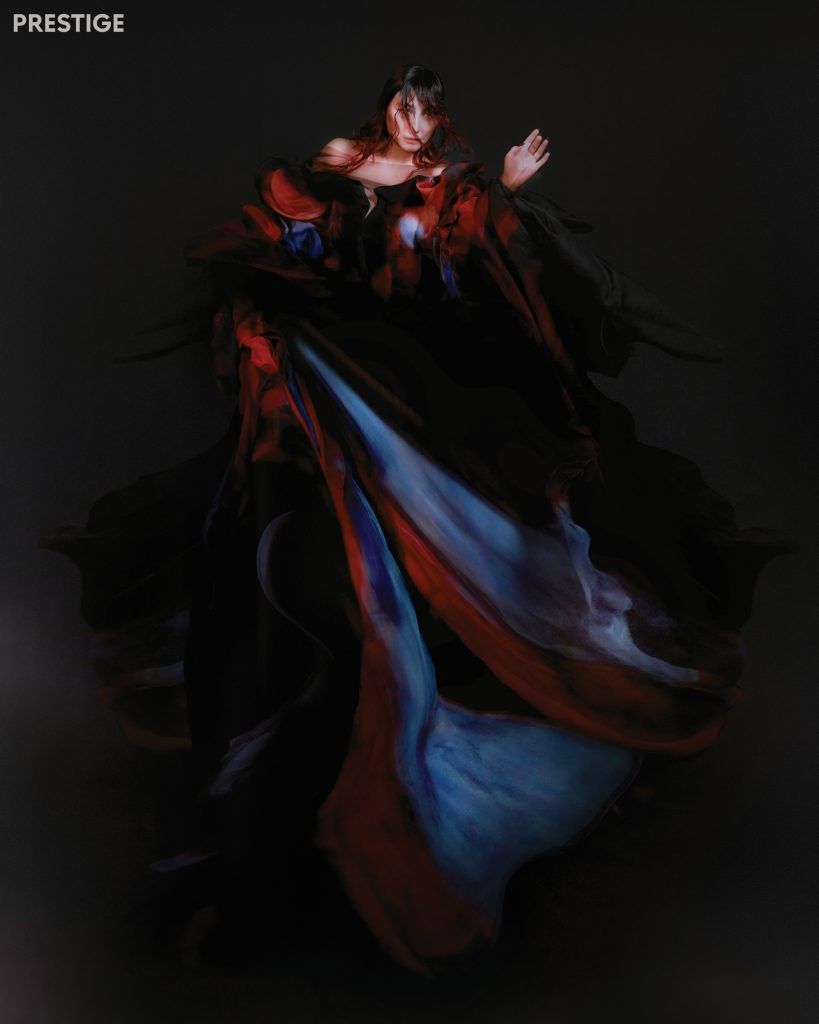 So which of her various roles – singer, actor or investor – does Josie Ho prefer, if indeed it's possible for her to separate them? "Well, I hate being an investor, I hate to produce, because it drives me nuts, but I have to do it," she says. "You know, when you're a singer or an actor, you're just responsible for yourself, but once you're a producer you're responsible for somebody's money!
"I'm not a people-managing person, I fail at it, though when it comes to promotions and marketing I'm very gung-ho. But I do like teamwork, just like team sports at school, I really enjoy it – I really enjoy working with people. I also love to be in the moment, which is why I can't decide whether I prefer singing or acting."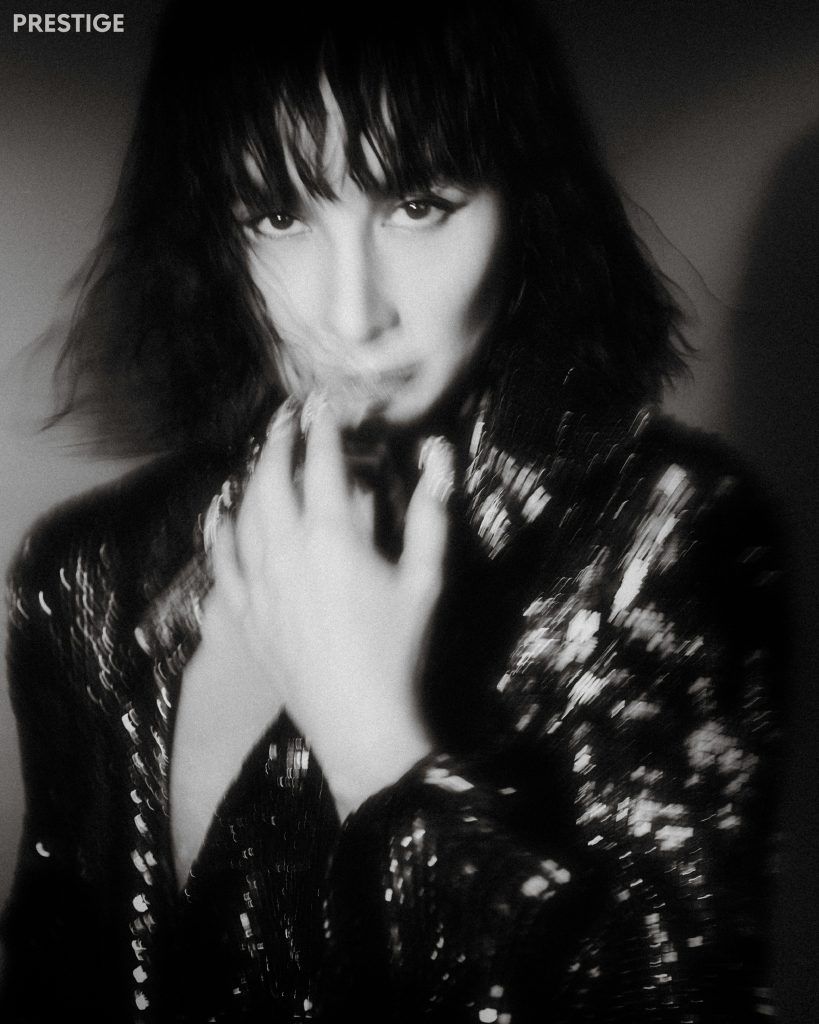 In closing, after she's told me of her delight at Michelle Yeoh's recent success in the Golden Globes – they're close and share the same management – I can't help asking Ho what her siblings think of her artistic and creative endeavours, and she replies with characteristic candour. "They're more on the practical side of things," she says. "But I think that Pansy and Lawrence really, really sort of understand what I'm doing. And for Daisy and Maisy, it's kind of like, 'OK, are you done, are you done yet?' Because, you know, sometimes a film takes a long time to make back all the capital and it's not the kind of business model they like. So it's kind of like, you know, 'You had your dream and you succeeded in your dream job, but it's about time to say goodbye to it – because, you know, you're not making the most money.' I get pressured. But I stand strong on my direction.
"Because it's the only thing that actually gives me joy, aside from being married and in my family and having all my friends – and I guess it's the only thing I know how to do. It's not like you'll ever see me working at the office, right?"