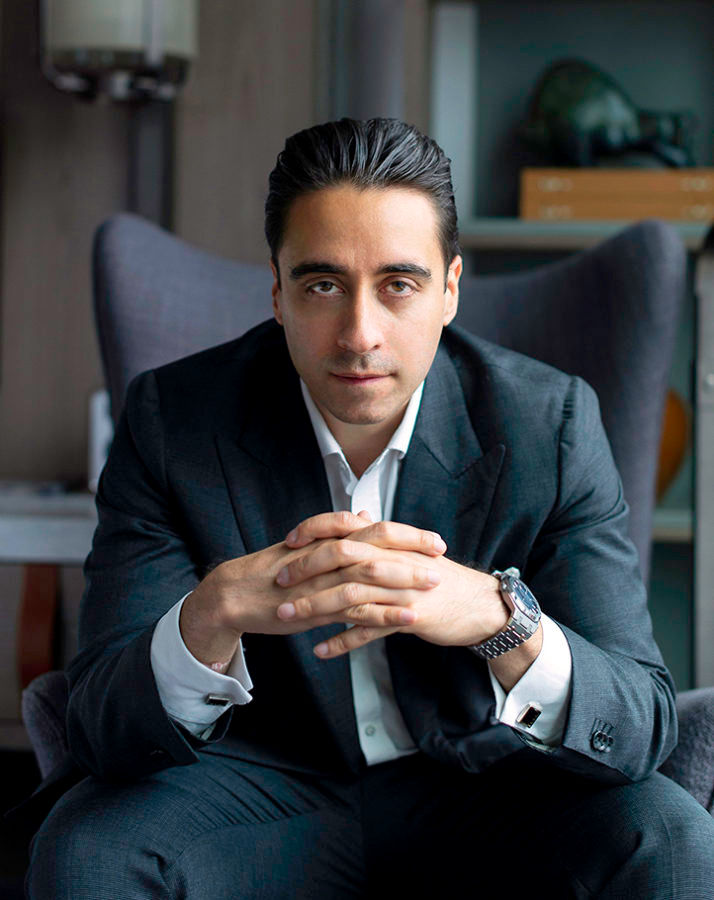 Manesh Chellaram
Restaurateur
Tell us about yourself.
I was born and raised in Hong Kong. My parents were keen for me to study business, given our entrepreneurial background, but I decided to follow my passion for art through the Canterbury School of Architecture in the UK. I'm the seventh generation of a family trading business that started in 1860. We were among the pioneers of Indian international trade and are featured in the book The Global World of Indian Merchants, 1750- 1947 by Claude Markovits.
What's one thing not a lot of people know about you?
One of my hobbies is sketching with coloured pencils. I have a series of renderings of Hong Kong urban landscapes that I hope to exhibit someday.
Did you always want to be a restaurateur?
Food & Beverage has been in my blood since the family business brought the Wimpy fast-food restaurant to Hong Kong in the late 1960s. I've been lucky to work on various restaurant and hotel projects while practicing as an architect in Hong Kong and London, which gave me a true appreciation for the design element. My exposure to the industry, appreciation for design, passion for food and wanting to share my experiences to enhance Hong Kong's dining experiences led to me co-found the 8 creATEive collective.
What has been the biggest challenge in your career?
Challenges are a way of life that make you stronger to face the future. The Coronavirus epidemic would be the greatest challenge I've seen in the F&B industry. I've never witnessed times such as these where the entire world is almost at a standstill and people are going through such hardship.
Whom do you look up to and why?
I admire and look up to Mahatma Gandhi who taught and preached "Satyagraha" the peaceful but righteous movement that gave India its freedom in 1947. It would be a dream come true if people worldwide could follow his example today.
What does it take to succeed in your line of work?
Patience and open communication. At any given time you're dealing with multiple people with various backgrounds and personalities so it's important to be grounded and deal with each situation and person in a peaceful and polite manner.
What are you most proud of?
I'm proud of our team working extremely hard through the pandemic and doing their best to create a pleasant and enjoyable dining experience for our customers. One of our restaurants, Amalfitana, has also received multiple awards which is always encouraging to see our hard work being recognised.
What advice would you offer aspiring restaurateurs?
Treat staff like family; if they're happy this will reflect in the customer experience and ultimately lead to success. Additionally, you must always embrace your critics and be open to improvement. You need to be dedicated, hardworking and have a clear vision; you also have to prepare for adversity and have a contingency plan ready. My father taught me that the customer is always right — it doesn't matter whether a customer is big or small, a customer is a customer.
How has the pandemic impacted your businesses?
It's been a very challenging time and the recent beach closures largely reduced the footfall at our southside venues, for example, at The Pulse. However, it's important to maintain a positive outlook and clear mindset to see how you can best achieve results in these circumstances. Personally, throughout the pandemic I made sure to stick to my workout regime that includes 10,000 steps a day, jogging on Bowen road and resistance training (I also created a home gym when the restrictions were in place). Professionally, during this time, increased our online presence and visibility and tailored our offerings for deliveries and takeaway.
What can we look forward to from you in the next 12 months?
Together with my brother Manoj and partners, we are always looking for new opportunities to grow our business and share more of what we are passionate about. The pandemic hit the F&B industry hard, but we are optimistic in working with landlords who can now view the relationship as a partnership to navigate these challenging times together instead of separate entities, which can benefit both in the long run.
---