Return to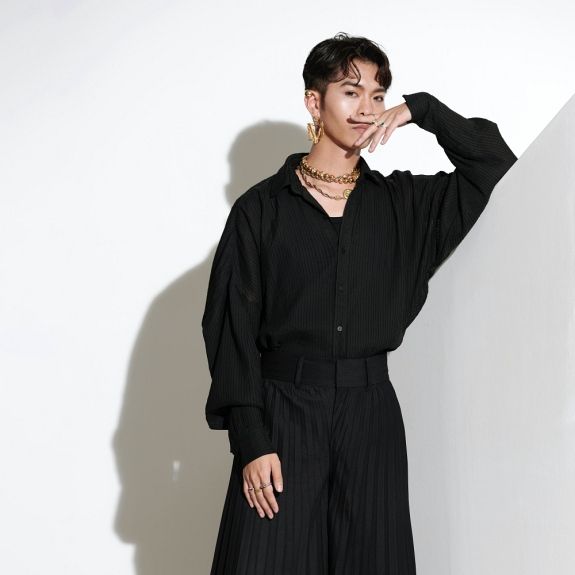 Mite Chan
Co-founder of Gingermite and Fashion Brand DEMO
I'm the co-founder of the Gingermite floral studio and the fashion brand Demo – I'm driven by the need to create beautiful things. I always try to do things differently: my parents told me to "follow the rules first and walk your path", but I don't want to follow the rules any longer, so I'm creating my own path.
I'm inspired by the 1980s Japanese TV drama series Oshin, about a young girl who never gives up, no matter how dire the circumstances are. I think she's my spirit animal. I'm also inspired by my mom, Ginger, who pursued her dream in her late fifties and set up Gingermite with me. She's always the first one to arrive in the office and the last one to leave. Her devotion inspires me and all our colleagues.
My biggest motivation is love – I'm working with the two of the closest people in my life, my mom and my boyfriend Derek. Creating beautiful things with them gives me real satisfaction – and travelling to fashion week with Derek and to other events with Ginger have been among my most enjoyable work experiences.
My most significant achievements include when Gingermite designed and built Floraland, the first flower presentation at Ocean Park since it opened. It involved a lot of hard work and devotion. For Demo, it was designing costumes for Hins Cheung and Kenny Kwan's concert; we also dressed and styled Mirror, and many other celebrities and artists in Asia.
"There's nothing you can't do if you want to achieve it" is the best professional advice I've been given. It inspires me and has brought many "miracles" in my business.
I measure success by how much I can contribute to others. After all, it's all about how many footprints you leave. I feel as if I've achieved it somehow, but I'm always driven to share more. Last year our sales grew by 100 percent over the previous one – difficulties always create opportunities.
Now I'm studying landscape architecture full-time at Hong Kong University. I'll stay in both fashion and the floral industry, scaling up my business with the things I'm learning at the moment.
My dream? It's to build a public park and a garden for the people of Hong Kong.