Dubbed the "gallery of the future", Hauser & Wirth's newly launched research and innovation arm, ArtLab, has just announced that it will host its first ever virtual reality exhibition on 30 April. The group exhibition, titled Beside Itself, takes place in Hauser & Wirth's future gallery space in Menorca, allowing visitors a first look at the art centre ahead of its opening in 2021.
ArtLab was birthed by Hauser & Wirth after intensive research in the summer of 2019 to create bespoke technology solutions for the most pressing issues in the art world, including greater accessibility and sustainability. The ArtLab team began exploring innovations that would allow audiences to fully experience exhibitions in different local contexts without traveling —a project that takes on greater meaning and urgency amid the coronavirus pandemic— while permitting artists, curators, and exhibition coordinators to better prepare shows using new technology. In addition, ArtLab will also host a digital residency program at Hauser & Wirth Los Angeles for artists and their teams by invitation to enabling them to explore the full potential of this new technology. Using a bespoke technology-stack not found in any other industry and drawing from techniques applied in architecture, construction and video-game design, Artlab creates true-to-life scale and accuracy as well as the authentic look, feel and interactivity of Hauser & Wirth galleries. Building the virtual 3D space from the ground up at a pixel level rather than relying on combined photos, HWVR provides an unprecedented level of accuracy and flexibility.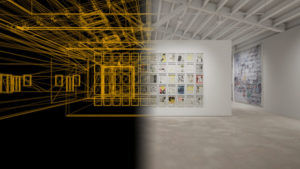 Visitors will be able to experience the virtual reality exhibition through the gallery's website. Taking its title from a wall piece by Lawrence Weiner, the exhibition brings together text-based works from the following artists: Louise Bourgeois, Mark Bradford, Charles Gaines, Ellen Gallagher, Jenny Holzer, Roni Horn, Luchita Hurtado, Mike Kelley, Glenn Ligon, Damon McCarthy, Paul McCarthy, Bruce Nauman, Lorna Simpson and Lawrence Weiner. Spanning a period from the 1970's to the present day, these works explore the intersection of text and the visual image from Bourgeois's etching 'Le Coeur Est La' to Mark Bradford's bold printed words in 'New York City'.
Iwan Wirth, one of the founders, made the following statement regarding this new venture:
"Our primary goal was to create technology that would help our artists visualise the spaces where their exhibitions would be presented. We were equally motivated by a desire to plan exhibitions for our locations around the globe in a way that would reduce the amount of travel and transportation. Given the current situation, we feel this new approach to virtual reality exhibitions is especially relevant, will engage as many people as possible and bring them together while we're all apart."
Iwan Wirth
'Beside Itself' will open on 30 April 2020 and can be accessed by a computer, smart phone or using a VR headset such as google cardboard.
Preview the Virtual Reality exhibition space here: