Lévy Gorvy Gallery's latest exhibition provides a rare glimpse into art history with concurrent exhibitions of works by two great artists, France's centenarian Pierre Soulages and the late New York street artist Jean-Michel Basquiat.
This summer, Lévy Gorvy inaugurated its new global initiative, called Reveal, an ongoing series of single-work focused exhibitions devoted to showcasing post-war and contemporary masterpieces. These are presented along with in-depth contextual materials and educational programming in their gallery spaces and online.
The exhibition, which opened in Hong Kong on July 7, presents a seminal painting by France's greatest living artist Pierre Soulages, titled Peinture (1953), which hasn't been exhibited in public in almost 60 years. As an artist who is still actively painting at age 100, Soulages has offered an extraordinary continuity across his oeuvre. The exhibition strives to provide viewers with a historical perspective on Soulage's career by contrasting this formative early work with an exhibition of six of his recent Outrenoir paintings, highlighting a period during which he gained international recognition.
Peinture was painted by Soulages as he entered his stylistic maturity and represents a breakthrough moment for the artist. In this work, he introduced a sense of vigorous movement that is also anchored by a powerfully structured composition. The work is also permeated by a compelling sense of inner light created by his brushstrokes in varying hues of black, grey, white and brown, which creates a dramatic luminosity and showcases his lifelong exploration of darkness and radiance. Peinture, along with all six of Soulage's Outrenoir paintings are for sale, half of which have already been sold.
At the same time, a rare painting by Jean-Michel Basquiat is also being exhibited as a second Reveal exhibition, titled Jean-Michel Basquiat: Royalty, Heroism, and the Streets. This is the first Asia gallery presentation of Basquiat's work, and Untitled (1982) is one of his most impressive and important works. The work consists of an electrifying portrait of a Black hero figure that is part self-portrait, part idol, standing proud amid the chaos of abstracted forms on a background of blue.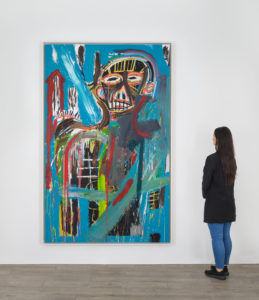 Untitled (1982) is one of a famous trio of large-scale paintings on the theme of a prophet that Basquiat made in 1982, a pivotal year of the artist's meteoric rise to international stardom. It was in this year that Basquiat was able to realise an ever-more extraordinary sequence of hauntingly powerful paintings with the support of his first dealer Annina Nosei, who provided him with his first supply of high-quality working materials as well as a dedicated space to paint.
"We are excited to launch Reveal, a new series of focused exhibitions that will bring major works of art to our galleries around the world," co-founder Brett Gorvy says. "At a time when travel is heavily restricted, we look to engage with collectors and the public on the ground while simultaneously connecting to a global audience using our digital platforms to introduce these preeminent artists and their masterworks."
The exhibitions run until 10 September, 2020 .