Nicolas Party's 'Red Forest', his first solo exhibition in Hong Kong, is on view at Hauser & Wirth from June 30.
Over the past Sunday, Greta Thunberg stood on Glastonbury Festival's Pyramid Stage and, before a sea of spectators and flying flags, warns of an impending "total natural catastrophe" in our midst. Climate change is an undeniable scientific fact; an ever-looming threat to humanity's very existence. For an artist like Nicolas Party whose work is so entrenched within nature and our relationship with it, the issue of climate change — despite the artist's proclivity for pastel pieces more poetic than photorealistic — is a haunting reminder of the dire circumstances we're currently living through.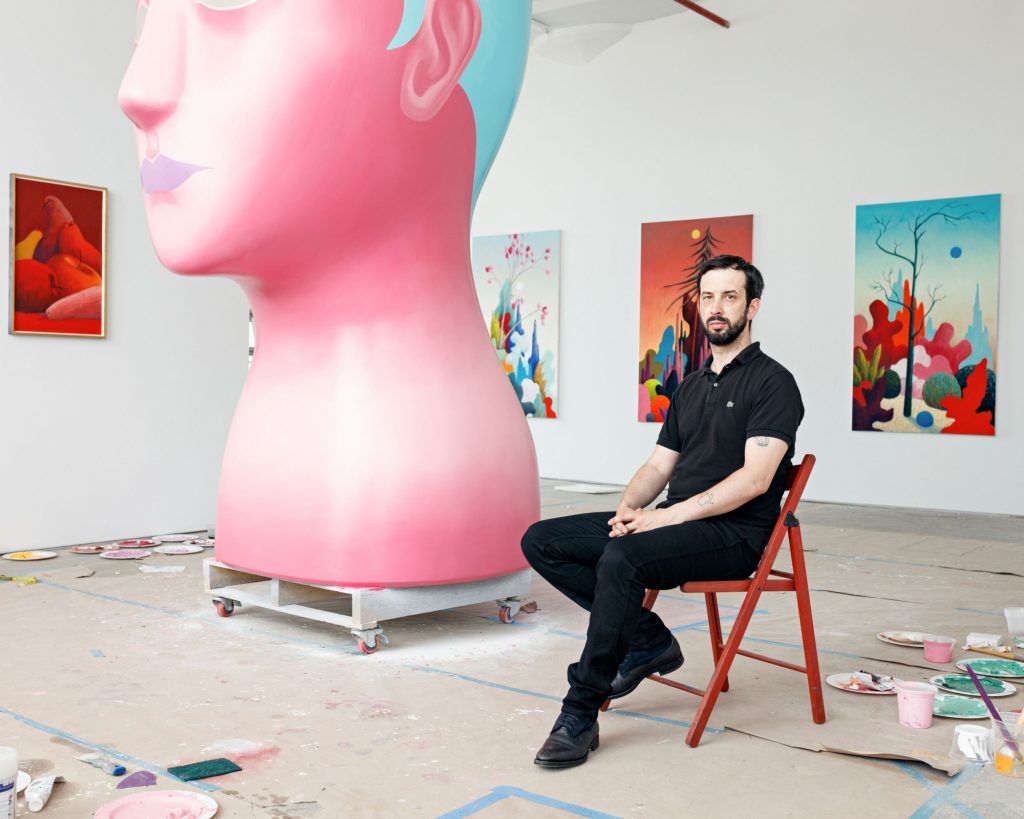 "Otherworldly" is a word that, inescapably, levitates into mind in the presence of any of Nicolas Party's oeuvre. Partly attributed to the gauzy, misty quality of the pastel medium Party prefers, and partly attributed to the often organic, often strange colours and shapes Party layers on to create his landscapes, the New York-based Swiss artist's stylistic choices always pose a pending question.
"For a long time, the natural world was dangerous for humans, and conquering it was an imperative step in the course of the dominance of our species, but each step of that conquest brought a sense of loss," says Party, in Phaidon's survey of his work. "Landscapes often depict either a glorification of our conquest of our environment or the nostalgia of a lost paradise that existed before we destroyed it. We could say that the greatest landscape paintings both contain ideas and question the viewer about it."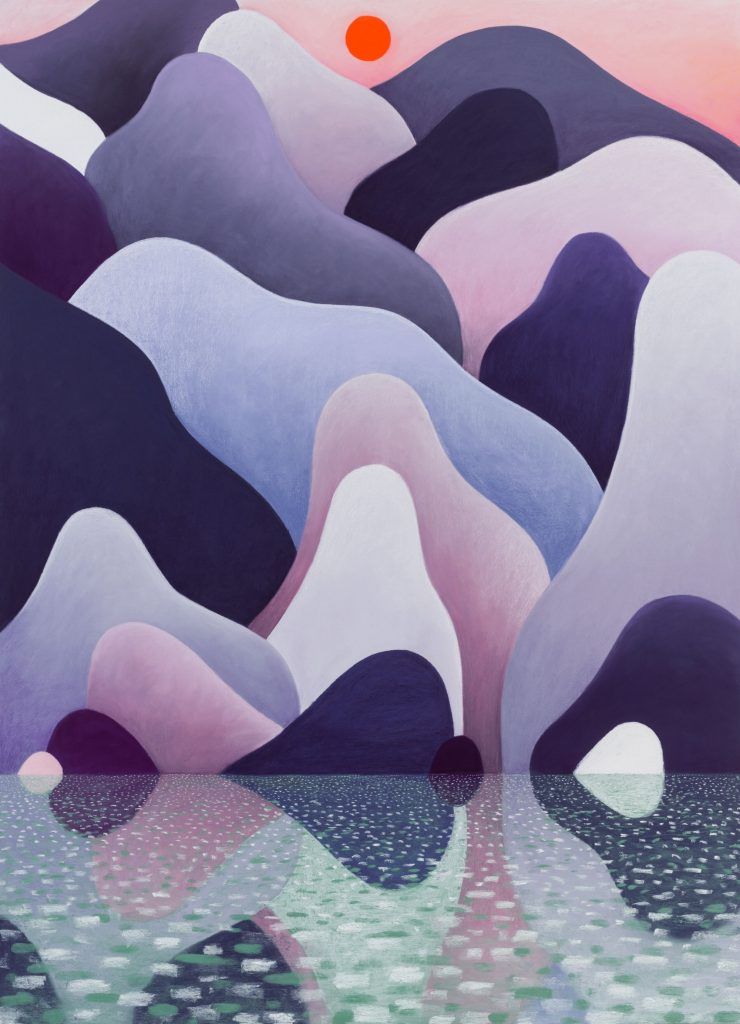 "I decided to paint landscape with no traces of humanity, no houses, fences, roads, canals, farmland, etc. I paint an environment that belongs either to a time before or long after humanity, a time when human culture doesn't affect the landscape," Party continues.
'Red Forest', however, stands out as an ideological and stylistic divergence from this school of thought.
Unlike Party's 'Water Reflection' landscapes that depict mountainous vistas that look at once like plump, pillowy marshmallows and, on the other hand, unscalable surfaces always perpendicular to wherever sea level stands still, 'Red Forest' is less phantasmagoric dreamscape and more BBC Breaking News header image; the kind of image we're so, unfortunately, intimately familiar with, from coverage of California's stream of wildfires to Australia's devastating "Black Summer" bushfire in the winter of 2019 leading into 2020. Party's 'Red Forest' pieces — brimming with bright reds that bleed into orange, into yellow — were influenced by his conversations with art historian-critic-curator Bénédicte Ramade and the concept of L'heure mauve (mauve twilight; the transitional time when day gradates into night) and, despite his past commentary, appear like an environment very much touched by humanity. Like an environment very much devastated by humanity.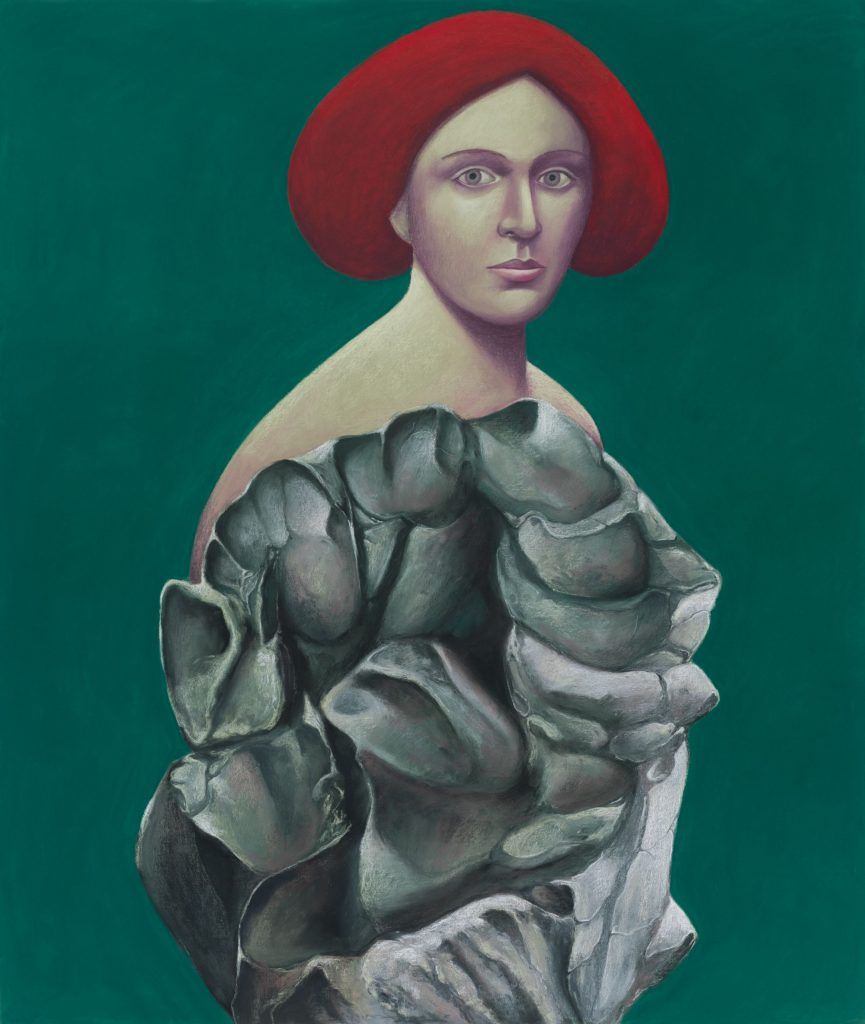 Other works present at Part's exhibition include portraiture paintings featuring subjects wearing meteorites from outer space, all presented against brightly-painted walls with nods to the artist's graffiti past.
"We've been dedicated to bringing great artworks to the region from our global programme, and we are very excited to be hosting Nicolas Party's first solo exhibition in Hong Kong," says Ying Yue Li, Director of Hauser & Wirth, exclusively to Prestige Online. "Party's upbringing in Switzerland and influence of European art on his practice positions him as a unique voice in the discourse of contemporary painting. The exhibition 'Red Forest' consists of 13 new extraordinary pastels, they are intriguing yet universal in their visual language. A celebration of colour and art history, Party's work is a radical interpretation of centuries-old genres."
---
Catch Nicolas Party's 'Red Forest' exhibition at Hauser & Wirth Hong Kong from June 30 to September 24, 2022.
Hauser & Wirth Hong Kong, H Queen's, 16-15/F, 80 Queen's Road Central, Central, Hong Kong, +852 3958 7188