We don't have the frosty air and snowy settings of Europe, but we sure do know how to bring on the festivities and get everyone feeling merry and bright.
Stuck at home this holiday season? There are more ways than one to get into the Christmas mood. Besides picking up gifts for your loved ones and enjoying a beautiful light show, here are all the pop-ups and Christmas markets to help light up your Christmas this 2021.
This Christmas, here are all the Christmas markets and pop-ups you should know about.
Christmas Pop-up Market at K11 MUSEA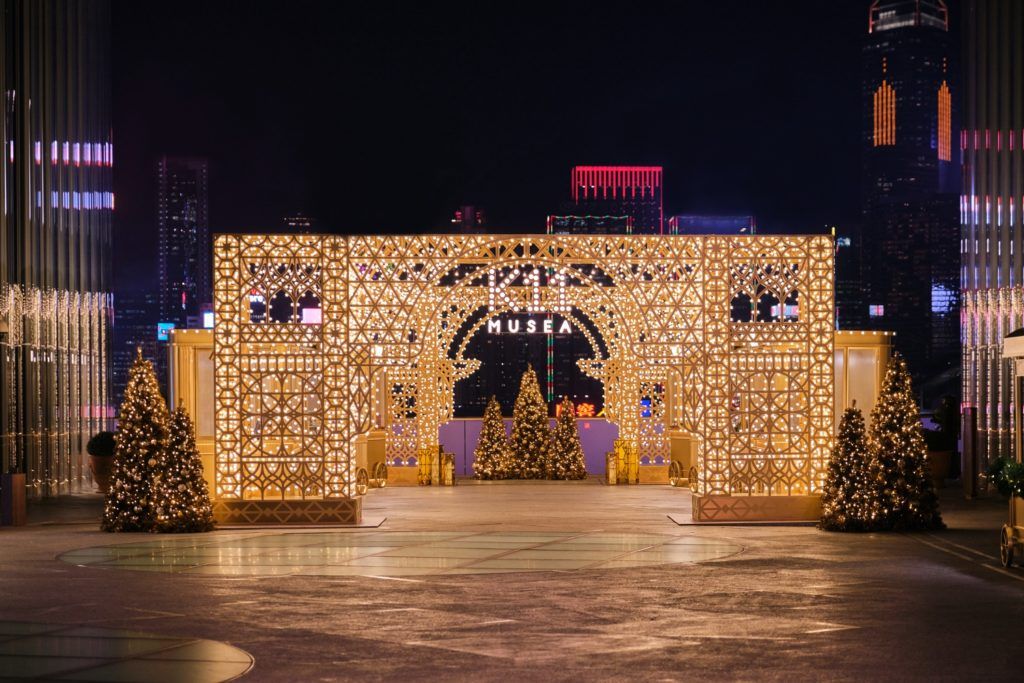 Savoir-faire is at the heart of K11 MUSEA's Christmas Village Pop-Up, which this year sees the market gilded in shimmering lights, inspired by the traditional Luminarie festivals of Europe.
The festive village pop-up is located on the 6th floor's Sculpture Park, complete with a mesmerising archway that's designed as an homage to Europe's festivals of light. The archway, which took 20 craftsmen more than 1,500 hours to build, echoes the intricate motifs of K11 MUSEA's architecture – its structure recalling the Gold Ball, Oculus, even the Bohemian Hexagons that have become checkpoints for every visitor to the shopping mall.
A curation of local and international brands are present at the Pop-up, offering everything from gourmet creations to hand-crafted lifestyle gifts. Delectable eateries include Honbo, who's serving up exclusive and decadent dishes like the Foie Gras Beef Burger, as well as Maison Argaud's gourmet jars of luxury spreads and pates. Fernet Hunter's bottled-in-Hong-Kong Mulled Spiced Cider is available for those thirsty for some festive cheer.
Looking for last-minute gifts? There's the award-winning specialty store Stradf Mall's custom "chocolate boxes", as well as festive and personalised bouquets from Bunny Garden, Lazy Soul's CBD candles and Para Ti's Japanese dark roast hojicha cold brew.
Every weekend through December, catch spellbinding spectacles and entertainment by a host of performers, hand-picked by K11 MUSEA to bring in extra seasonal cheer. VOX Vanguard's immersive performance is not to be missed. Their contemporary revival of a famous French opera-ballet will take place on 25th and 26th of December.
K11 MUSEA, Victoria Dockside, 18 Salisbury Road, Tsim Sha Tsui; +852 3892 3890
Central Market's Christmas with Heart 2021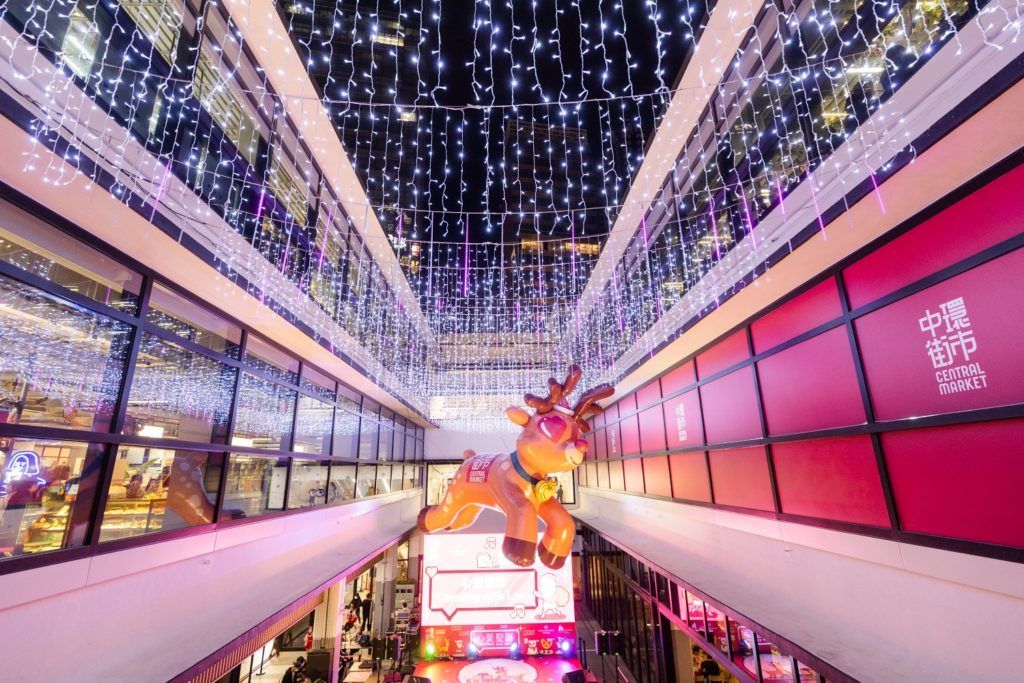 An 8-metre-tall Santa Claus, a dreamy Christmas forest, and reindeers await at the newly-revitalised Central Market, which has opened its first-ever Christmas market, Christmas with Heart 2021″ from now until January 16th.
The iconic historical architecture serves as the backdrop to 20 meticulously designed Christmas characters, making the Central Market a go-to spot for photos this festive season. The market is rich with Christmas carols, performances, and charity activities, but what's exciting is the integration of NFT art – guests are invited to create their very own NFT as souvenirs in two art workshops hosted by Pantone C Workshop, while 1,000 limited edition event-linked NFT Tokens will also be given out to Central Club members, who can redeem one piece valued at 1,500 points on a first-come, first-served basis.
You won't miss the inflatable Santa Claus perched on the rooftop, but another highlight is the simulated large-scale snow installation at the Oasis, possibly one of the most photogenic spots at the market. Afterwards, spend time browsing the three Christmas markets, offering Christmas gift ideas from urban-design products, to metro wellness and start-up creativity.
Santa will make a stop between December 24th to 27th from 4 to 8 pm, so be sure to be on your best behaviour when you visit at those times.
Central Market, 93 Queen's Road Central, Central
Winter Wonderland Pop-up at Rosewood Hong Kong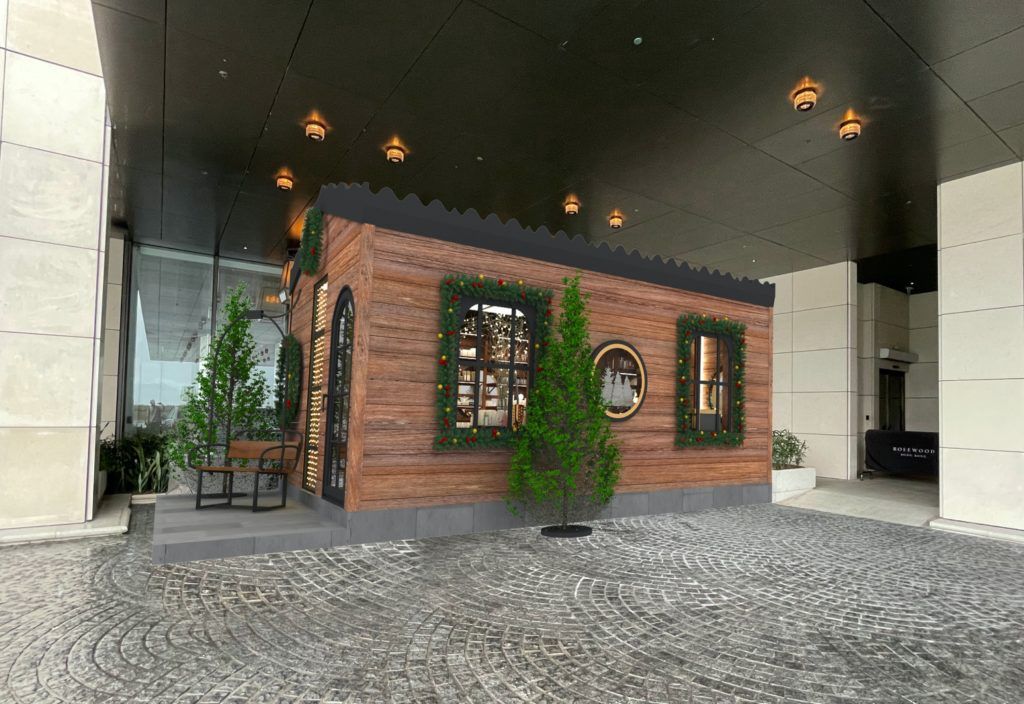 As part of "The Holiday Edit" at Rosewood Hong Kong, the luxury hotel is presenting a cosy wooden chalet pop-up store at its main entrance from now till December 26th.
Filled with festive gifts from Butterly Patisserie, guests can also enjoy roasted chestnuts, mulled wine and hot chocolate in the chalet daily between 6 to 7 pm, until December 19th, and between 6 to 8 pm from December 20th to 26th.
To add an extra touch of magic, guests at the chalet will be able to experience a sprinkling of evening snow between 6 to 9 pm daily, until December 31st. And of course, if you've been good this Christmas, you'll be able to catch Santa on December 24th and 25th, making his rounds between 12 to 1 pm and then again from 4:15 to 5:45 pm.
Rosewood Hong Kong, Victoria Dockside, 18 Salisbury Road, Tsim Sha Tsui, Kowloon, Hong Kong; +852 3891 8888
A Very Big Christmas at Lane Crawford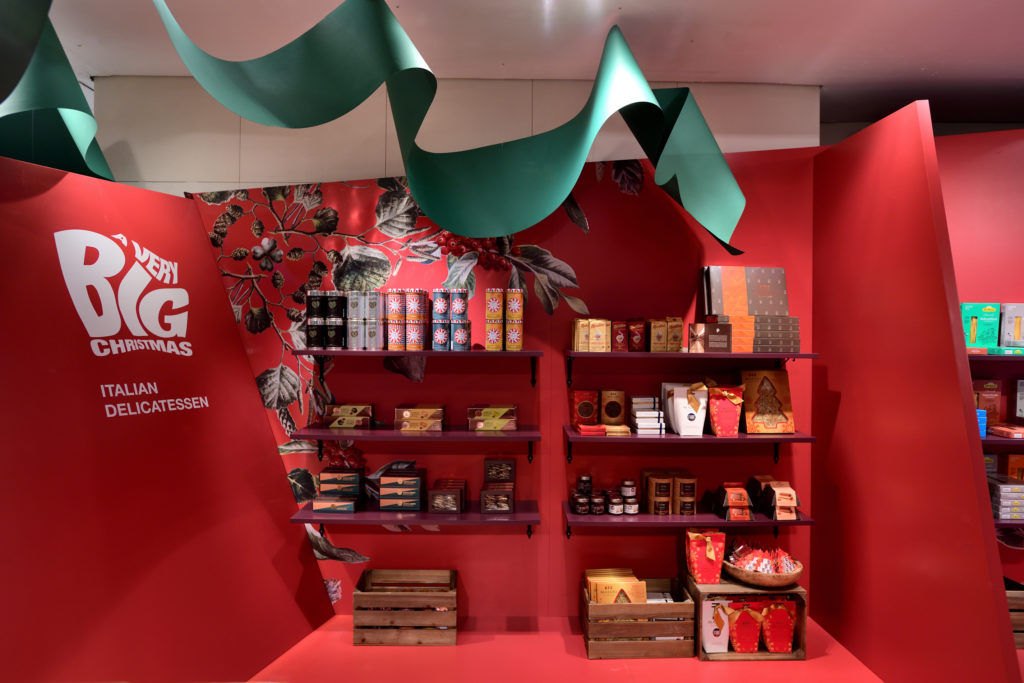 This Christmas, gift shopping, food market, and charity sales are all in Lane Crawford.
Lane Crawford's food market will introduce Michelin-star Chef Ryota's curated traditional Japanese sake, French treats, Italian's all-time classic Panettone, and more. Unique gifts like healing crystal grid by Ariana Ost, sauna blanket by Higher Dose, and laser kit by LYMA can also be found here.
After shopping, select a floral wrapping paper to dress your present. The money you paid for the wrapping paper will be donated to Po Leung Kuk to help children in need and elderlies with disabilities. Lastly, brands like Jovens, Johnstons of Elgin, and Dreyden will also offer Christmas services such as monogramming or embroidery.
Lane Crawford, Podium 3, ifc mall, 8 Finance Street, Central; +852 2118 2288
Orient Express at ifc mall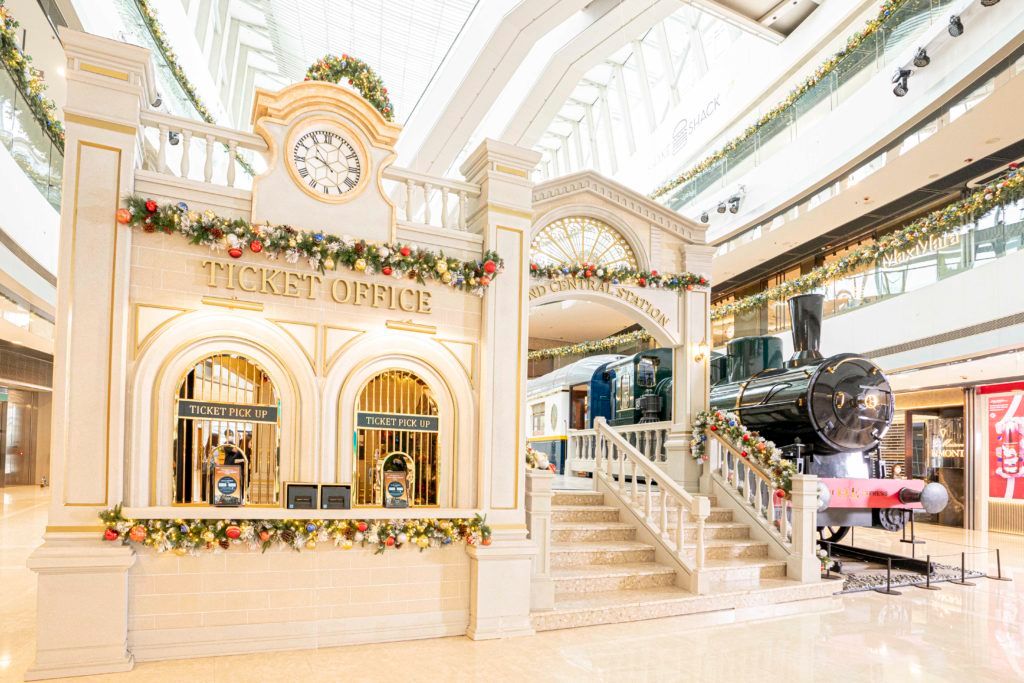 ifc mall will present a story-like Orient Express from now until January 2 to celebrate this Christmas. The pop-up is inspired by the original Orient Express, the first transcontinental train in Europe that was developed by Belgian engineer Georges Nagelmackers in the 1880s.
Besides the train, there are other zones to give guests different experiences. Guests could learn about the history of the Orient Express, mail cards at the vintage post office, and immerse themselves in the traditional European street with twinkly lights and baubles.
ifc mall, Podium Level 1, Oval Atrium, 8 Finance Street, Central; +852 2118 2288
Winter Wonderland European-style Christmas
Winter Wonderland will be held at the AsiaWorld-Expo from December 13th to January 2nd, bringing a European Christmas Village to town. A mecca of dining and shopping experiences, the Village will also be filled with photo opportunities and tons of exciting performances.
Glacier Ice House is one of its highlights. Built from hundreds of gigantic ice blocks, people can have a drink in the Arctic Circle world. House of Light is another highlight, an immersive interactive art installation developed by XCEPT that will present a crystalline tree under northern lights in Winter Wonderland. The venue is also great for those with children: MR. MEN LITTLE MISS Xmas Maze and a Christmas theme inflatable play zone can give children memorable moments.
Winter Wonderland, AsiaWorld-Expo Hall 2, Airport Expo Blvd, Chek Lap Kok, Lantau; +852 3606 8888
Citygate Outlets Outdoor Christmas Market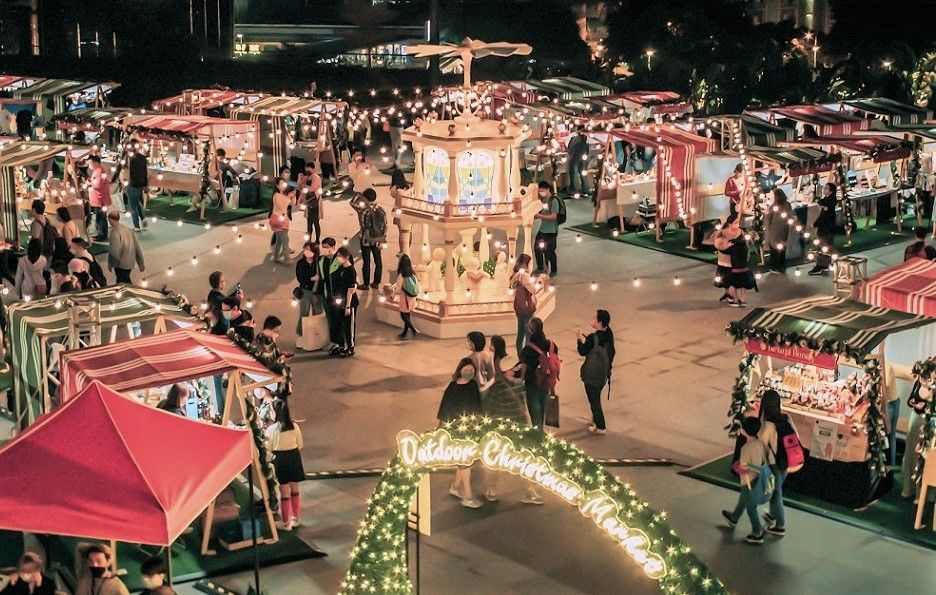 This winter, Citygate Outlets is celebrating the beloved tradition of Christmas Markets with renowned German handicraft brand Wendt & Kühn. The Jolly Christmas Market in Tung Chung is set to open for three consecutive weekends from December 10th, under a 4.3-metre German-style Christmas Pyramid in the outdoor areas on Level 4. Joined by Wendt & Kühn's mischievous angels, the Christmas market will host over 40 unique stalls to offer shoppers an array of gifting ideas, delightful Christmas ornaments, clothes, handicrafts and festive delicacies.
Apart from shopping – don't miss highlights such as Poki Ng's trendy brand Lost Life, jewellery brand ohmydeer designed by Adrian Wong, and Lantau social enterprise Tai O Fei Mao Li, German organic honey Hexapi Honey – you'll also catch music performances from local rising star MC Cheung, as well as newcomers Alfred Wu, Tracy Chow and Ho Pui Ting.
The Jolly Christmas Market is open from December 10th to 12th, December 17th to 19th and December 24th to 27th.
Citygate Outlet, 20 Tat Tung Rd, Tung Chung; +852 2109 2933
Après-Ski Village at the HK Golf and Tennis Academy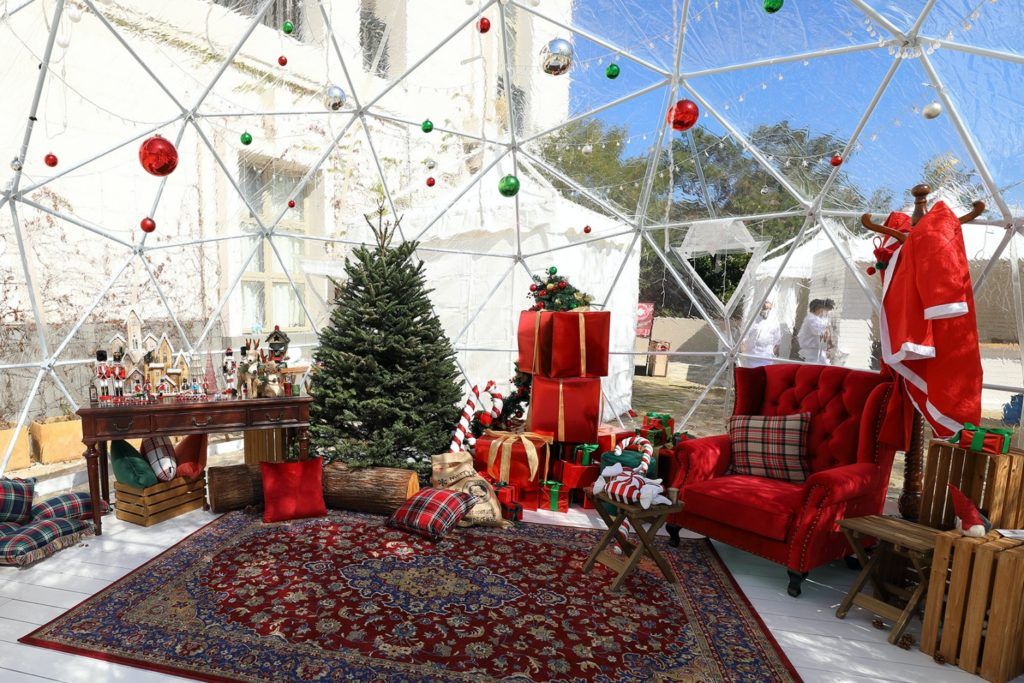 Another Christmas event that cannot be missed is the Après-Ski Village if you are a sports lover. Hosted by the Hong Kong Golf and Tennis Academy (HKGTA) the Après-Ski Village will run on its Sai Kung premises until January 2nd. This pop-up event brings a series of sports challenges, a brand new ice rink, and fantastic winter market to its members. In Tai Chung Hau, guests at the Après-Ski Village will be greeted with welcome drinks before they immerse themselves in golf experience sessions with the help from top-tier golf coaches in Hong Kong. What's more, Little Ice Town and Little Christmas Chalet will be serving delicious foods and warm drinks. The finest delicacies and traditional holiday favorites can be discovered at the Global Winter Fair.
Hong Kong Golf and Tennis Academy, Hong Kong Golf and Tennis Academy, 81 Tai Chung Hau, Sai Kung; +852 3187 8900