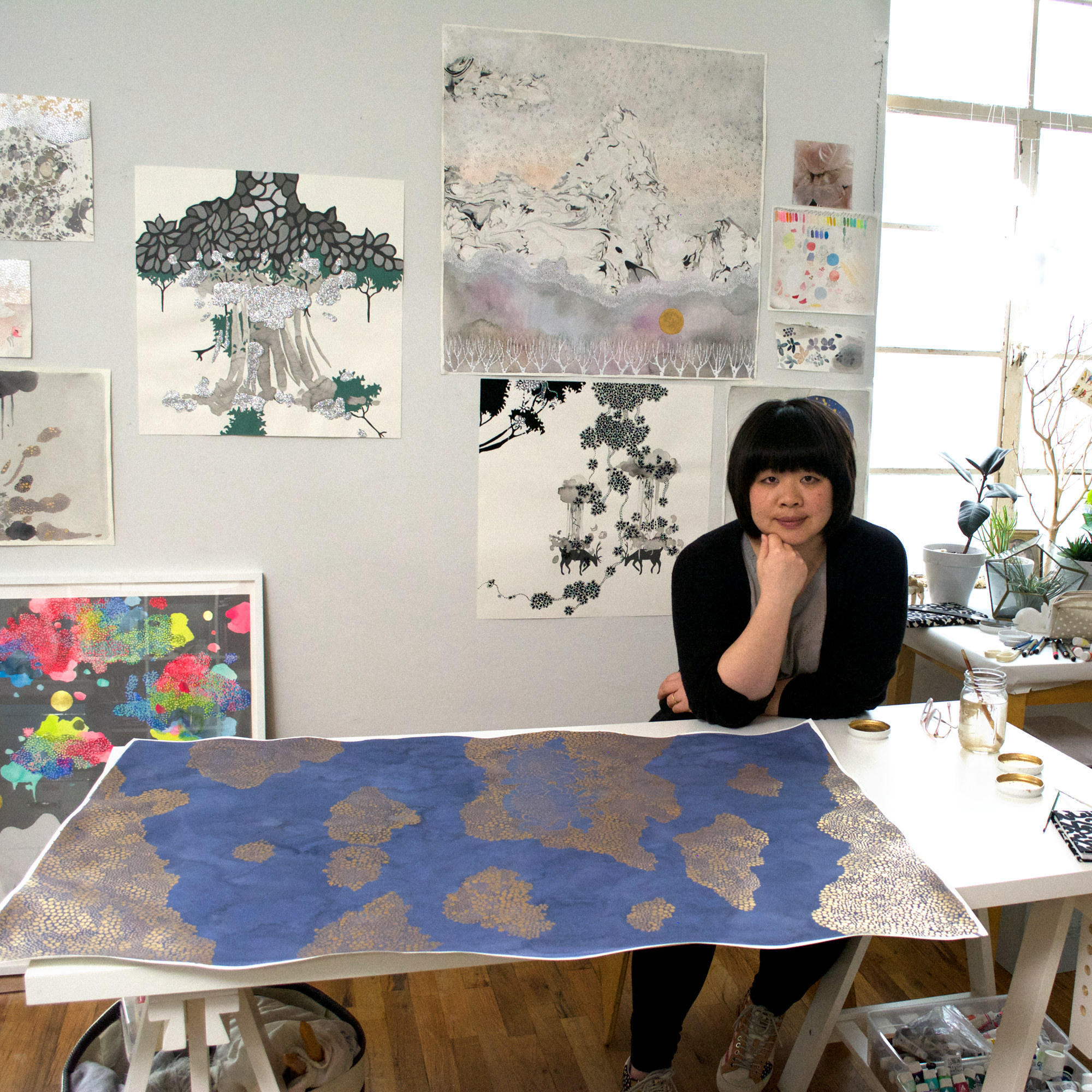 When first glimpsing the watercolour and gouache on paper works of Toronto-born, US-based painter Crystal Liu, you'd be excused for thinking that she's a keen admirer of both traditional and modern Chinese ink painting. The natural imagery she portrays – mountains, rocks, trees, the moon, sky and clouds – have frequently featured in the works of masters of this genre for centuries. However, this is not the case, claims the artist, whose show in dreams runs at Galerie du Monde until October 29.
"I grew up in a Chinese family where we had a few ink paintings and poems on the wall and I went to museums to look at exhibitions of Chinese landscape paintings," she says. "But I think it was never really conscious in my own paintings [to reference the genre] – it just came into it subconsciously. I paint landscape and not figures.
"My art is very inspired by nature and the things that happen in nature, I use some of these as metaphors for things around me in my life and how I'm feeling. Usually I pick main characters – it can be a tree, a mountain, rocks, the moon and the stars. I make up narratives with these about things that I'm experiencing. For example, mountains represent stability and shelter – they're massive and majestic and very present and they come from the ground shifting; something bursts and it's created. The moon represents dreams and wishes – people look up in the sky and make a wish. I'm exploring the relationship between all these, plus between myself and the mountains and the moon. Trees are stand-ins for people, including myself."
Like practitioners of Chinese inks, Liu also uses marbling techniques – but unlike them she frequently uses precisely applied clusters of dots, which become a signature surface texture. "I enjoy the contrast of the very controlled dots and lines I use with the washes and marbling, which I have to let take their own course more," she explains of her techniques.
When Liu exhibited paintings from the same in dreams series from December 2016 until January this year in San Francisco, she recalls that one couple from Europe bought a piece because it reminded them of a landscape near where they'd grown up. "The only direction I give to the viewer," she says, "is with the title – then they take what they think of the painting from there."
In the pipeline for Liu, who has exhibited in Canada, as well as the US (where her work is also in museum and art foundation collections) and now for the second time in Hong Kong, is a two-month residency in Chongqing, China. "I look forward to seeing the Yangtze there, as I've been wanting to bring rivers into my landscapes for a while," she says.