Although America's greatest architect died more than 60 years ago, it's still possible to buy a Frank Lloyd Wright-designed residence. We find out, it doesn't have to cost a fortune.
Frank Lloyd Wright was one of the world's most influential and prolific architects, his creative period ramping up in the closing decades of the 19th century and continuing until his death in 1959. Over more than 70 years the visionary American designed 1,114 structures, with 532 being completed. They included offices, churches, schools, skyscrapers, hotels, museums and, of course, designer homes.
Among the most celebrated was the rural-Pennsylvania residence known as Fallingwater (completed in 1938), which the American Institute of Architects described in 1991 as "the best all-time work of American architecture". Wright was also behind New York City's distinctive, spiralling Solomon R Guggenheim Museum that opened in October 1959, six months after his death.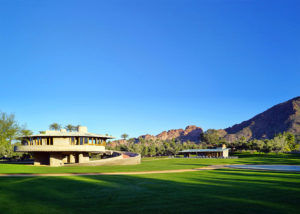 Unfortunately, not all of his designs still stand, making those remaining even more desirable.
For architecture buffs, to possess and possibly live in a Wright masterpiece would be the stuff of dreams, and a prime example of inconspicuous luxury – only recognisable and to be appreciated by those with educated knowledge of design history. At the time of writing, there were fewer than 10 Wright-designed residences on the market, all in the United States. Although the architect's residential projects often command upward of US$1 million – and sometimes substantially higher – the most affordable, on Chicago's South Side, is a steal at less than US$150,000.
Wisconsin-born Wright believed in designing buildings where the needs of human habitation and the environment existed in harmony, a philosophy he called "organic architecture". This life-affirming approach was best exemplified by Fallingwater, which was constructed over a waterfall in a woodland setting. In 2008, the house was included in the Smithsonian Magazine's global "life list" of "28 places to see before you die".
Most famously, Wright was the pioneer in the Prairie School of architecture, instantly identifiable by bold horizontal lines evoking the wide, flat, treeless expanses of the American prairies. Other characteristics of that modernist style were flat or gently sloping roofs with broad overhanging eaves, thoughtful integration with the natural landscape and strict discipline in the use of ornament.
Wright took his quest to create an indigenous architectural style further in the 1930s, when he developed the concept of "Usonia" – his all-encompassing vision for a utopian United States that included everything from the planning of cities and the architecture of buildings to interior design (he not only had a hand in his building's interiors, but also in the furniture within and colour palettes for decor). He coined the adjective "Usonian" for his New World ideas, which would shake off the architectural traditions of classical Europe.
Fortunately, the Wright-designed homes now on the market include Prairie School masterworks and rare Usonian treasures, as well as some of his earliest creative forays, including a house with Japanese influences. There's even an extraordinary Arizona residence that could be viewed as a small-scale precursor to the Guggenheim, with a cantilevered spiral walk-up entrance ramp.
For Architecture Buffs,to Possess and Live in a Wright Masterpiece Would Be the Stuff of Dreams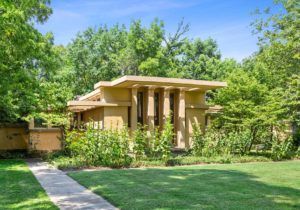 Finally, while it perhaps takes an architecture aficionado to appreciate "the Wright stuff", that can have a biZarre impact on asking prices. Should a particularly exquisite example of Wright's genius arrive to market, it's likely to be listed for a pretty penny more than a similar-sized property in a similar location by a lesser-name architect. Then again, maybe not.
In April of this year, the Chicago Tribune newspaper reported that a Wright-designed, Prairie-style house in the suburb of Elmhurst, where many older properties are being razed for redevelopment, sold for less than the value of the land it sits on. Built in 1901 and known as the FB Henderson House after its original owner, the five-bedroom, 5,500-square-foot residence features one commodious in-line space subtly divided into library, living room and dining room, a large veranda off the living room that overlooks landscaped grounds, more than 80 Wright-designed stained-glass windows and three brick fireplaces.
The conservation-minded sellers were determined to hand over their house to a buyer who would occupy and not demolish it. They originally put it on the market in 2007 for US$2 million, settling 13 years later for just US$825,000.
Completed in 1952 in Phoenix, Arizona, the three-bedroom, four-bath David and Gladys Wright House (it was built for the architect's son and daughter-in-law) covers 2,200 square feet and is set on 2.4 hectares of private land set against a sweeping backdrop of Camelback Mountain.
Rendered in concrete bricks, the stilted house – which is offered for sale by Arizona property agent Bob Hassett (bobhassett.com) for US$9,999,999 – is a rare example of Wright's late-career rounded style, which reached its apex with the Guggenheim. The property was described in a 1955 issue of House Beautiful magazine as "a modern castle in the air".
The house's interior features custom-designed, hand-cut furnishings in Philippine mahogany and reproductions of the signature "March Balloons" carpet originally designed by Wright for the living room. An additional 360-square-foot detached guesthouse in the property's grounds has recently been restored, while application for Historic Preservation – Landmark status is pending with the City of Phoenix.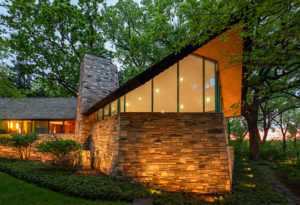 In Minneapolis, Minnesota, the angular and asymmetrical Frieda and Henry J Neils House was designed in 1951 for a local stone and architectural-materials distributor, and subsequently boasts ample use of marble, stone and wood. Meticulously cared for, the property has only ever had two owners and has been on the market since 2018, originally at US$3.4million, though Lakes Sotheby's International Realty (lakessothebysrealty.com) is now asking for US$2.75 million.
Set in 21,780 square feet of grounds and overlooking the area's landmark Cedar Lake, the house extends over 2,511 square feet and has an L-shaped layout (typically Wright and sometimes described as "peak Usonian"), as well as many large floor-to-ceiling window expanses, integrated furniture pieces designed by the architect and Wright's signature "Cherokee red" concrete floors.
Built in 1955, the Wright-designed William L Thaxton Jr House in Texas's Bunker Hill Village originally covered a modest 1,800 square feet. Later, in 1995, that L-shaped Usonian design became the centrepiece in a grander development, when Houston-based Kirksey Architecture added a further 6,300 square feet of living space. The property, which is offered for sale by JP & Associates Realtors (jpar. com) at US$2.85 million, now has five bedrooms and six bathrooms.
A sympathetic renovation ensured the gated residence – one of only three Wright homes in all of Texas – retained many original features, including ample use of redwood and mahogany, polished concrete floors (again in Cherokee red) and plate glass, generous overhangs on roofs and a cantilevered carport.
The parallelogram-shaped pool was part of Wright's design, and the kitchen in the original structure is largely as the architect envisioned.
The 2,200-square-foot William F Keir House, built in 1915 as part of the Wright-conceived Ravine Bluffs housing development in Glencoe, Illinois, is an early example of the Prairie School and features a wood and stucco exterior, broad overhanging eaves and an attached porte cochere. Today, it's on sale by Coldwell Banker (coldwellbankerhomes.com) at US$724,000.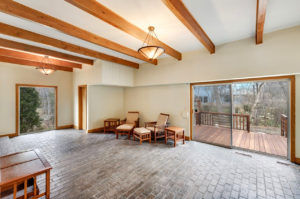 The largely open ground floor boasts a modern kitchen and a massive family room with a brick fireplace and vaulted beamed ceiling. Three bedrooms, an office, and full bathroom with dual sinks can be found on the upper level, while a lower level adds a fourth bedroom, a steam shower and a recreation room.
Located on the grounds of Wright's larger Avery Coonley House in Riverside, Illinois, the two-bed, two-bath Avery Coonley Playhouse was originally constructed in 1912 as a private school. Wright used the 3,503-square-foot building as testing ground for concepts – such as a cantilevered roof and ample built-in shelving – that he'd later use in his Usonian homes. It's currently on sale by the Mike McCurry Group (themccurrygroup.com) at US$650,000.
In 1917, Prairie School architect William Drummond converted the playhouse into a home. After multiple modifications made over a century, a recent restoration returned much of the design to Wright's original vision, the standout feature being reproduction art glass windows (the originals have been removed and placed in various museums around the world).
According to the Museum of Modern Art in Manhattan, "The windows were inspired by the sights of a parade, and their shapes abstracted from balloons, confetti, and even an American flag."
Lastly comes the pre-Prairie Stephen A Foster House in Chicago's West Pullman neighbourhood, which was built in the closing years of the 19th century, just before Wright established his own architectural practice in the city. As such, the property exhibits none of the distinctive design flourishes that the architect later made his own.
What makes this piece of genuine American design history conspicuous in the 21st century is its incredible bargain price of Just US$145,000 (Coldwell Banker; coldwellbankerhomes.com).