Graff's latest Bridal Campaign is nothing short of breathtaking given its current selection of bridal jewellery.
Choosing an engagement ring and wedding band is not like selecting any other piece of jewellery. Much like choosing your significant other, it is a careful decision that will be everlasting and particularly meaningful. For the bride, it is a dream come true to be graced in the brilliance of fabulous jewels on her big day and the love of a lifetime should be celebrated in the most opulent way. Graff has honored this sentiment by launching its latest #FallInLoveWithGraff bridal campaign featuring the finest diamonds in a series of stunning designs that have been perfected by the House since 1960.
Presenting a range of styles from signature wedding bands and engagement rings to scintillating tiaras, necklaces, earrings and bracelets, Graff's latest campaign captures the blissful glow of a bride as she starts a new chapter with her one and only. Each diamond is hand-picked by a member of the Graff family and handcrafted by experienced artisans in Graff's London workshop. Aside from classic designs, novelties such as the Threads and Bow collections are also featured, giving the classic bridal look a feminine touch with British flair.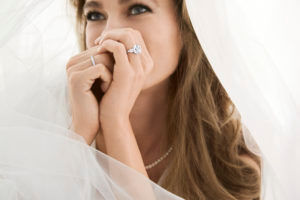 The ancient romans believed that the vein running through the fourth finger of the left hand led directly to the heart and wore a ring over this 'vena amoris', which is Latin for 'the vein of love,' to symbolize their commitment. Graff's latest campaign presents seven exclusive engagement ring settings that are each inspired by legendary diamonds passed through the House and Mr. Laurence Graff OBE's passion for diamonds, providing plenty of choice for the modern couple. From the Promise, Flame, Icon, Constellation, Paragon and Legacy settings that pay tribute to history-making diamonds, to the Laurence Graff Signature setting honouring the diamantaire's passion for the world's finest diamonds, every distinctive engagement setting embodies Graff's signature stone-led craftsmanship. Graff's craftsmen take many years to hone their ability in order to enhance and complement the innate beauty of a stone, allowing every ring to cradle a diamond's unique silhouette, with maximum amount of light to reflect and amplify its natural brilliance.
To build on its role as a guardian of love, Graff is also pleased to delight couples with a special surprise – from now until the end of June, couples will be able to enjoy a complimentary dining voucher from a partnering world-acclaimed restaurants upon purchase of a pair of Graff wedding bands and a classic solitaire white diamond ring, savouring the delectable touch of their Graff experience.