A socially distanced affair, Giorgio Armani digitally presented the 40th-anniversary, Emporio Armani autumn/winter 2021 show from his Via Borgonuovo headquarters, streaming it online for audiences from Paris to Tokyo and New York to New Delhi.
Followers of fashion clicked on to a collection that mixed the disco era of the late-'70s and early-'80s with the modern. A patina of hues accompanied his signature navy and all-black ensembles, emboldened by flashes and pops of colour with contemporary cuts, exquisite silhouettes, patterns and monochrome.
Filmed against a backdrop of the brand's name writ in neon, the collection had all the signature pieces one expects from the legend; luxurious fabrications, glitter, leather, whimsical cuts and classic silhouettes, the pride, the peplum, the pinstripe, he showed it all. Models wearing knits with sequin borders, jacquard, suitings for women and loungewear tailoring for men.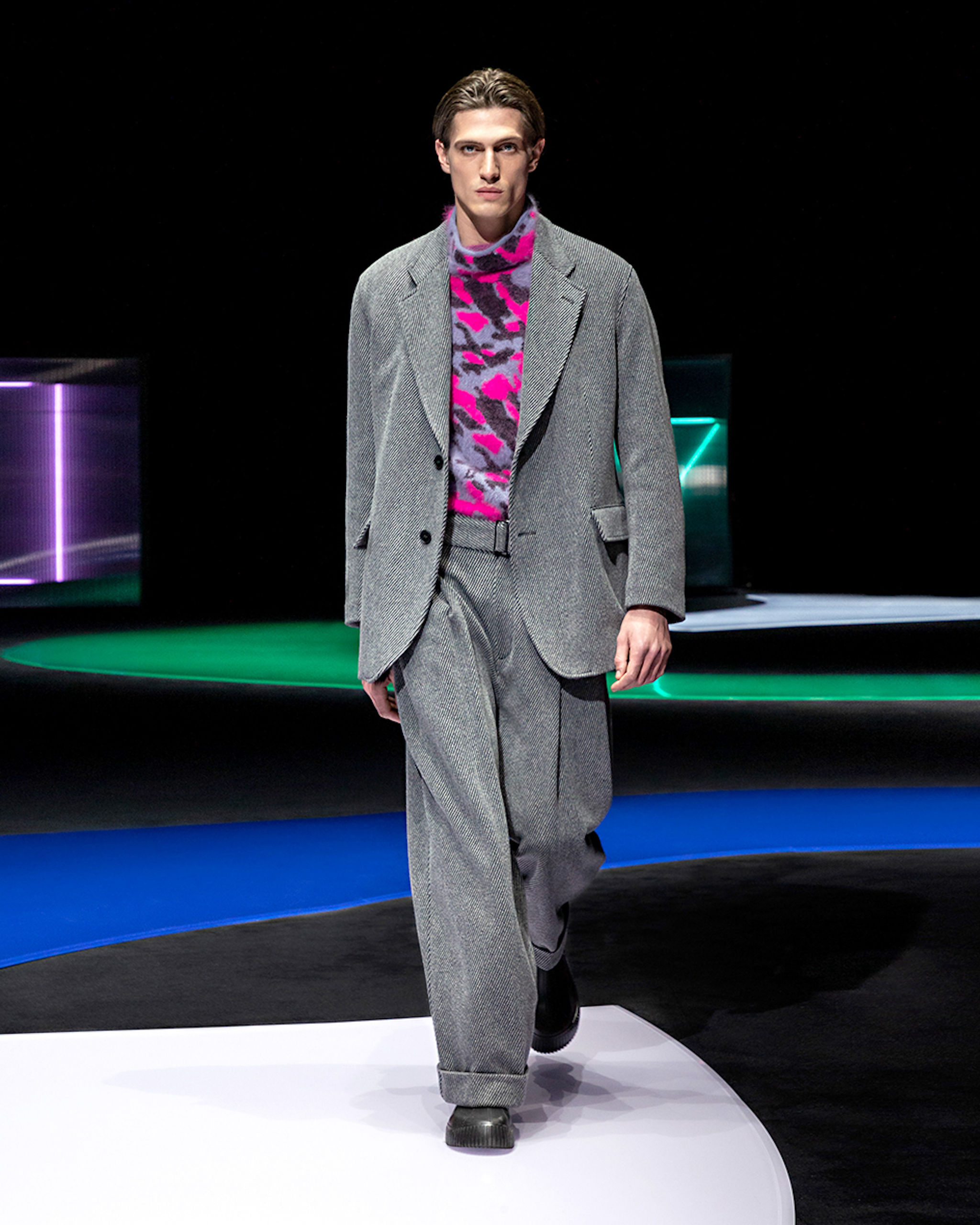 For long loving, enduring fans of the brand, there were new graphic shapes, amplified colours, as well as reassuring crystals and glittering gowns – those most often seen on the red carpet of every award show. Pieces you'll see again on Armani's muses like Cate Blanchette, Julia Roberts and that A-list ilk; there's a reason why he's held the crown of "the king of the Hollywood red carpet" (Vanity Fair) since 1978, when he first dressed Diane Keaton. Movie stars and Armani go hand in velvet-gloved hand so when you see a black and white gown with glittering embellishments, you know Kidman will swan down the stage like he made it just for her.
No other designer of his vintage – Giorgio Armani turned 87 this past July – stands this tall, relevant and a force to be reckoned with. Trends come and go, tides rise and fall. Style is eternal and Armani is forever.
Discover the full collection at Armani.com.