Take the leap with one of Graff's stunning engagement rings, whose designs show off the beauty of each diamond like no other.
In a world that is ever-changing, there is no symbol of constancy more everlasting than an engagement ring. Since ancient Roman times, people have sought to honour a love that never ends by placing a ring over the "vena amoris", the vein of love, as they believed that the vein on the fourth finger of the left hand led directly to the beating heart.
Though this lovely sentiment persists today, our options for what that ring looks like have increased considerably in the ensuing centuries, and Graff presents seven engagement ring designs inspired by legendary diamonds that have passed through the house during its storied history.
A reverence for unique specimens has always been at the centre of Graff's stone-led craftsmanship, with each diamond hand-selected by a member of the family. These are placed into settings such as the Icon, with a halo of diamonds to support and reflect shine; the Promise, which sees a central solitaire flanked by twin diamonds; or the Legacy, which comes with a parted paved band and is named after a 493-carat rough diamond found in the African kingdom of Lesotho.
Then there is the Laurence Graff Signature, a setting that shows off stunning facets and allows the beauty of a stone to shine bright, with or without pavé accompaniment. Its simplicity tells the story of a diamond that can stand alone, and stand the test of time.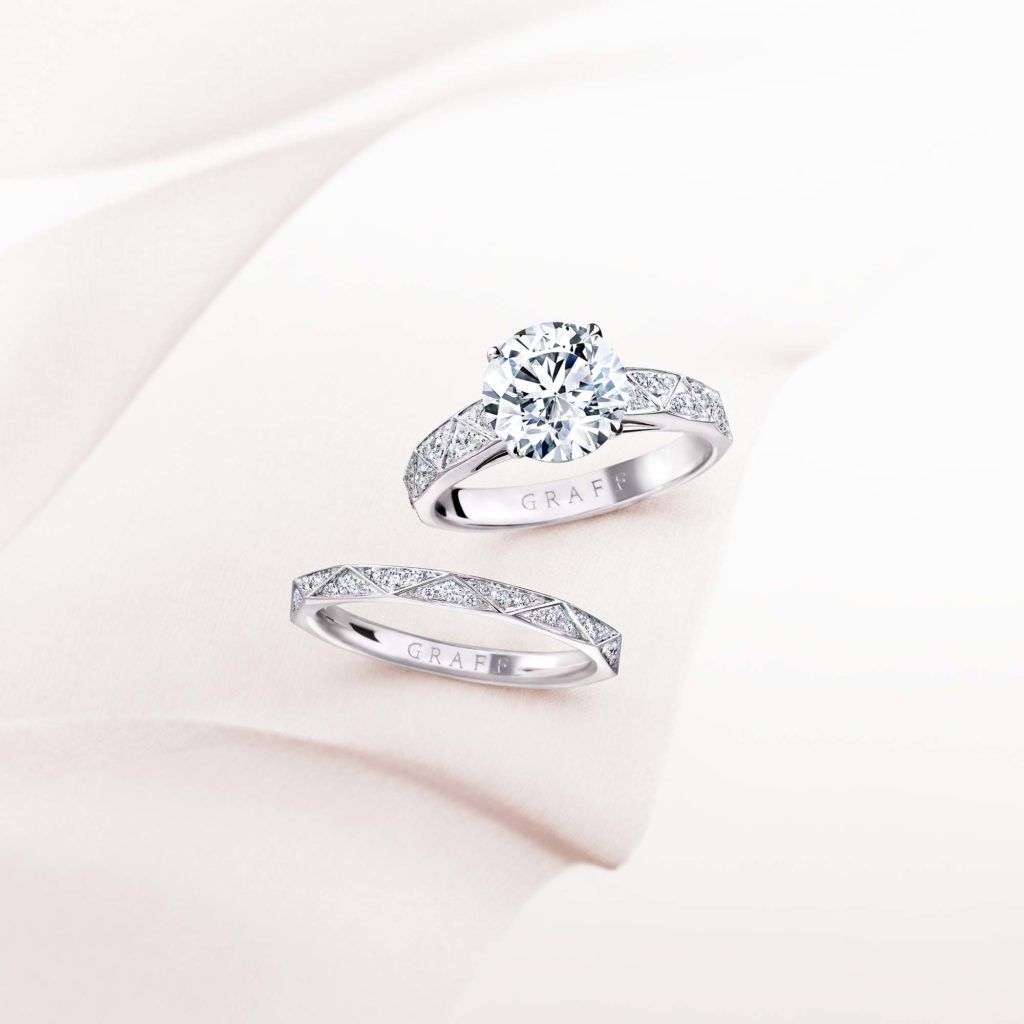 Of course, the engagement ring is just the first step for a bride, and Graff is here to support and complement that first ode of love with couples' wedding bands – and the Laurence Graff Signature wedding band is the perfect complement to a stunning solitaire.
Featuring sculpted facets, it echoes the precise cuts of a diamond, and is available in varying thicknesses to suit delicate or stronger hands, with pavéd options that can be personalised with traditional white, or even pink and yellow diamonds.
For the big day, Graff can dress brides in extraordinary classic jewellery sets and contemporary novelties such as the fluid, feminine Bow collection or the edgy Art Deco-style Threads collection, that can express each individual couple's personality in a glittering manner.