Lancôme x Emily in Paris: Brand Ambassador Lily Collins on the New Collection, Beauty, and Self-Care
Everyone's favourite Parisian 'it' girl is back in town. The second season of Emily in Paris is set to premiere on 22 December – and Lancôme is celebrating with a new beauty collection inspired by the show's star, and the French luxury brand's ambassador, Lily Collins.
When the first season of Emily in Paris aired in 2020, it quickly became a hit – reaching 58 million households in the month after its debut, as well as receiving one Emmy and two Golden Globe award nominations. Starring and produced by actress Lily Collins, the Netflix series follows marketing executive Emily Cooper as she begins a new life in Paris.
With the second season set to premiere in the coming week, Lancôme is celebrating with a special "Lancôme x Emily in Paris" collaborative beauty collection comprising makeup and skincare. After all, Collins has been a Lancôme Ambassador for eight years now. "I've always admired Lancôme's loyalty to their Ambassadors, and to their customers. I don't think I expected a huge company like Lancôme to feel as small as it does; it really feels like a family," she says.
The limited-edition collection has everything you need for all-day dewy skin, bold lips, and intense eyes: a 12-pan heart-shaped eye palette (featuring chocolate browns, rosy mauves and smoky silvers), the Advanced Génifique Serum, and lipsticks in creamy rose beige and classic matte red.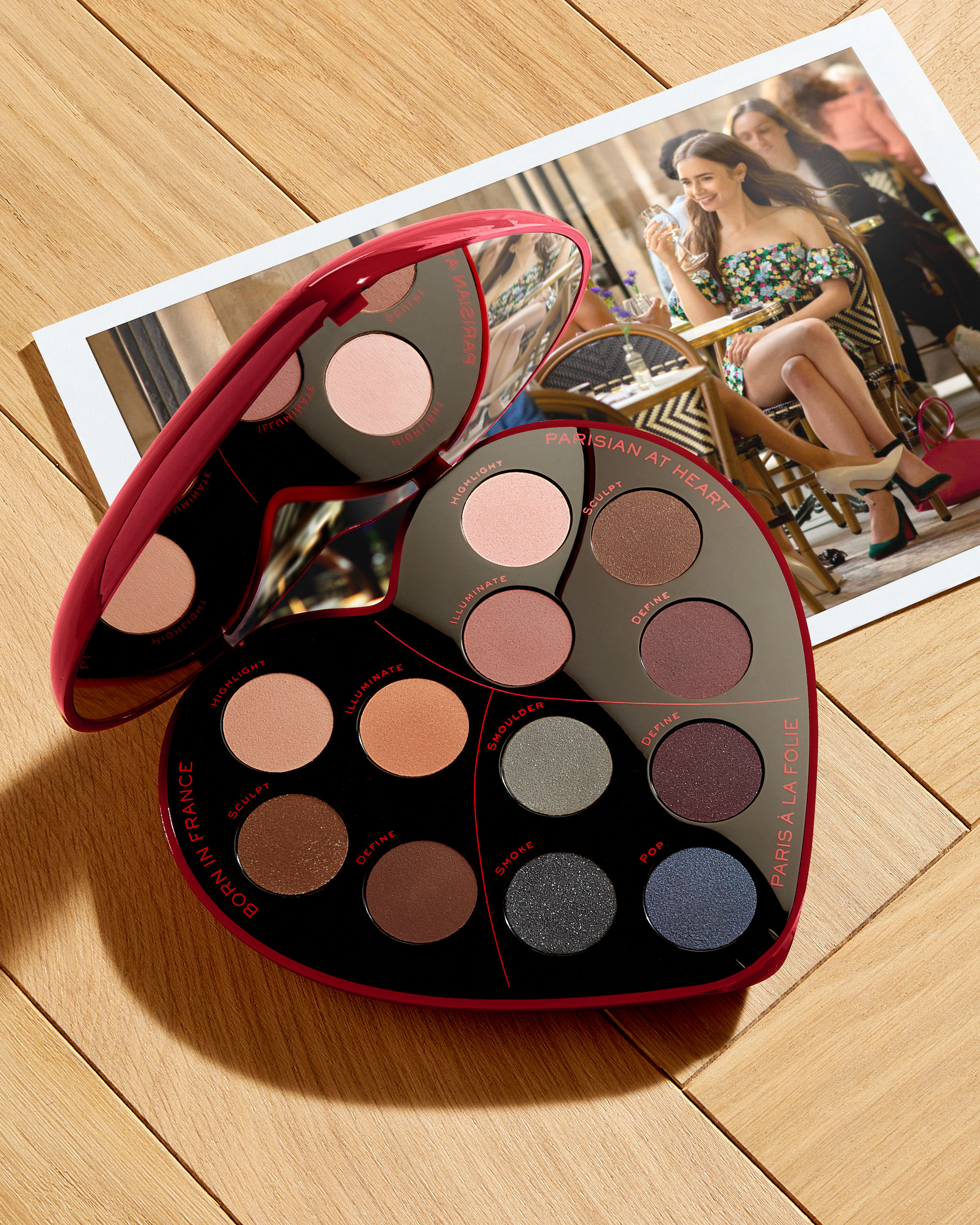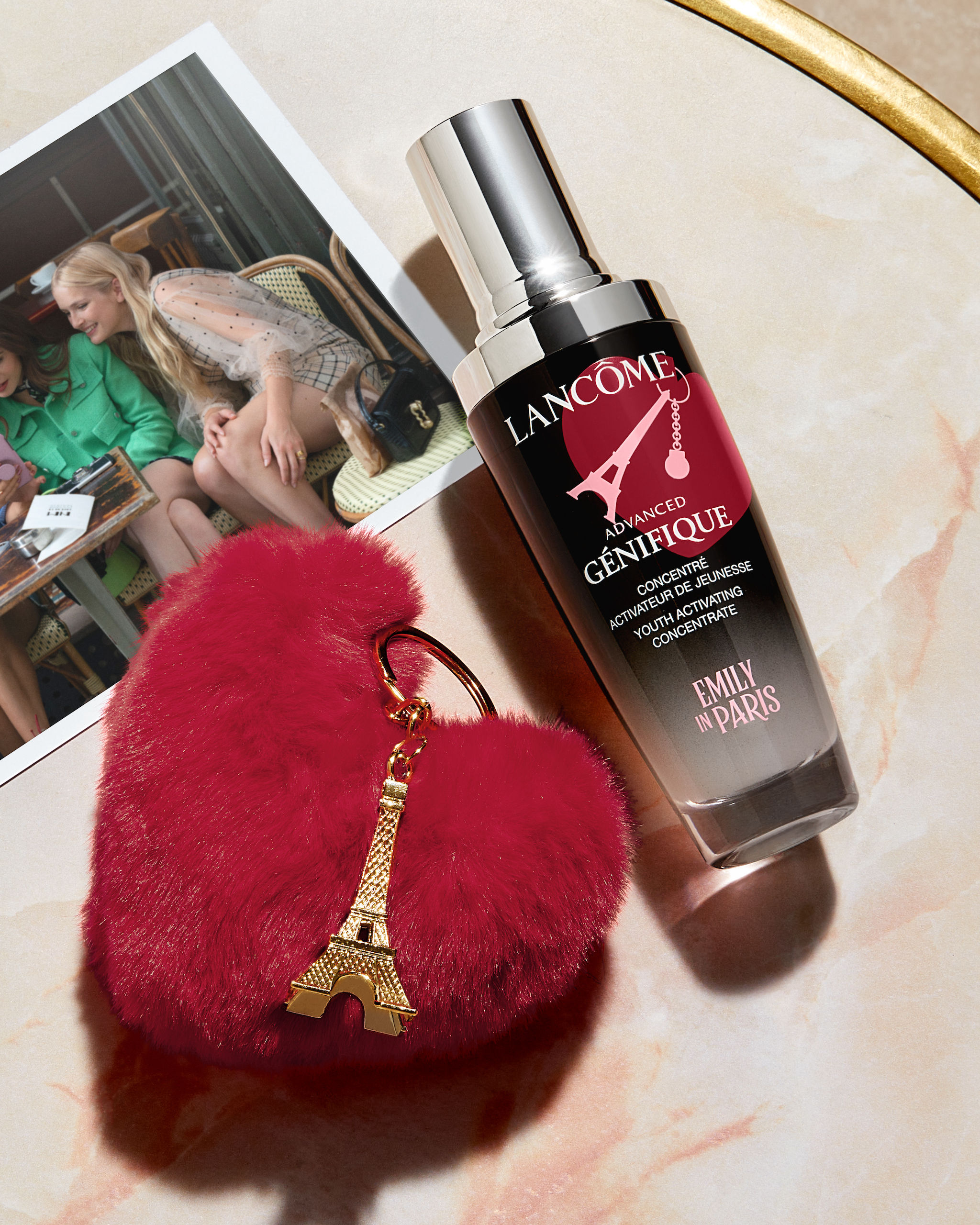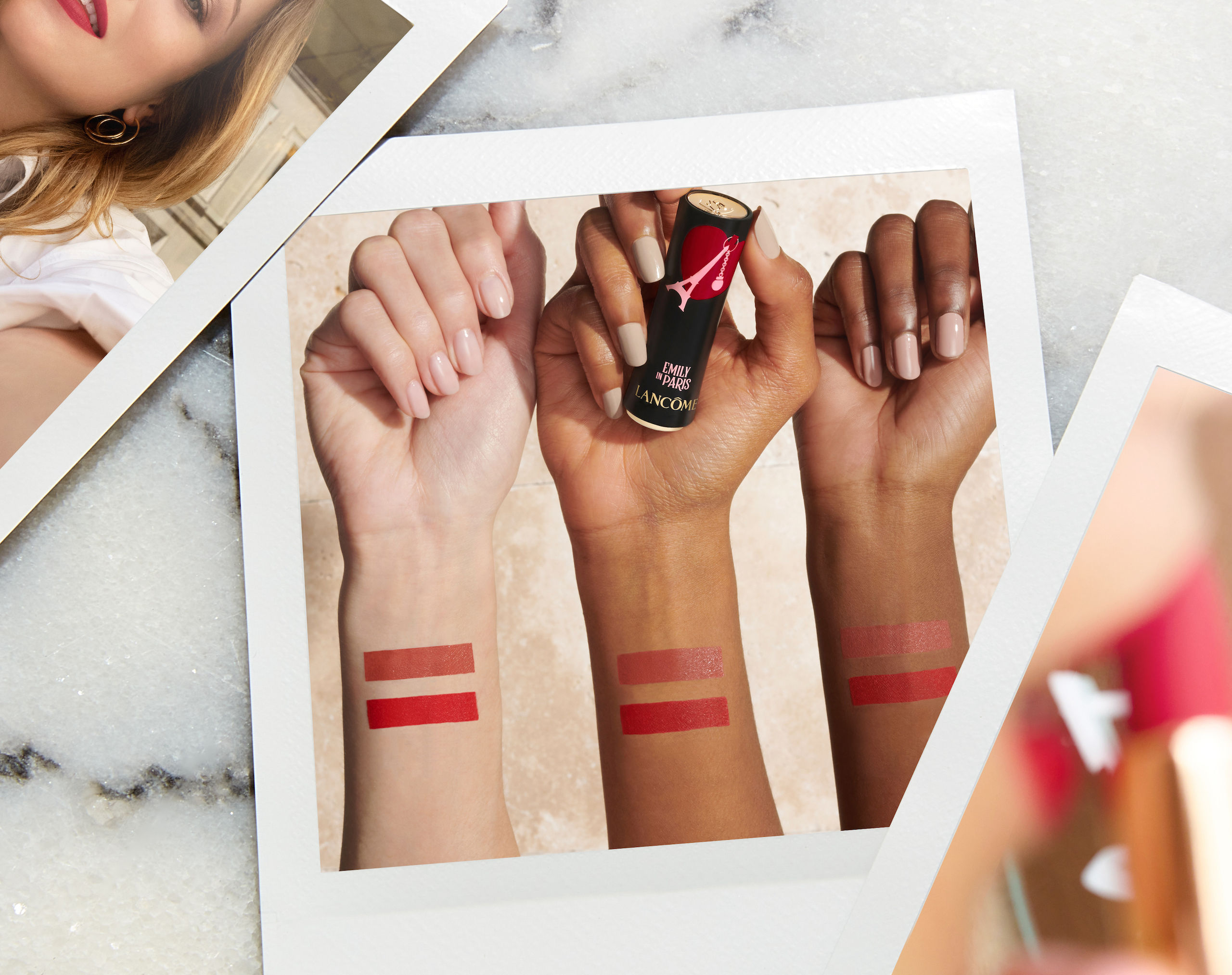 We chat with actress and Lancôme ambassador Lily Collins about how she uses beauty items from the collection, her self-care routine, and her feelings on community…
Actress Lily Collins on the Lancôme x Emily in Paris beauty collection and more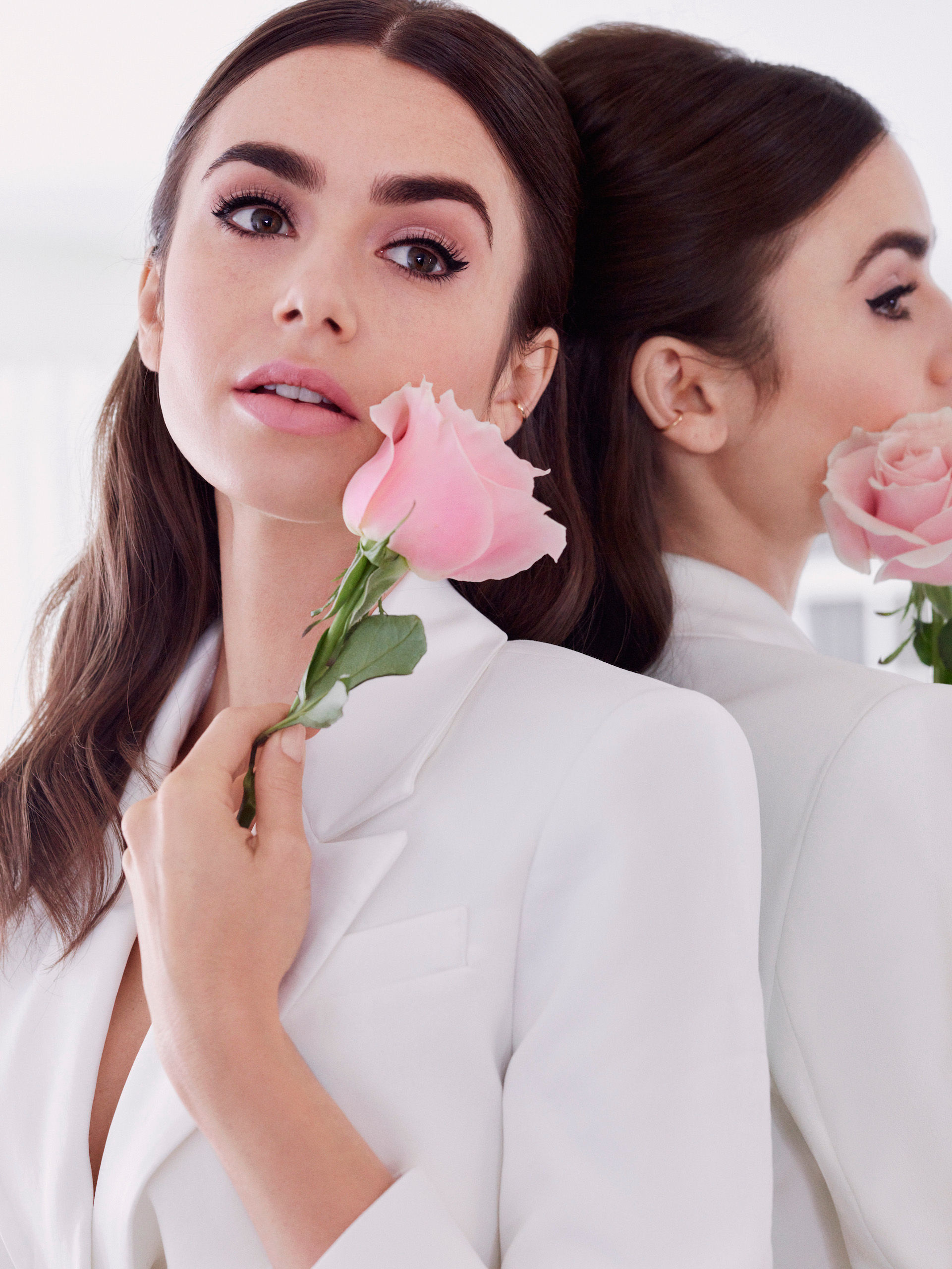 You're the face of Lancôme's Advanced Génifique Youth Activating Serum. How do you work Génifique into your routine?
I love the serum and I love the hydrogel melting mask, which I use whenever I have a big job or been travelling or just want to feel like I'm having a spa experience at my house. They're the most wonderful things. Also, I've started using the Advance Génifique serum with my foundation. I add a few drops with the Teint Idole Ultra Wear foundation and mix it all together. It just glides on for a very light look but with great coverage.
Are you a mascara enthusiast?
This is, maybe, a pretty obvious statement but as an actor, you emote through your eyes first. It doesn't matter what you say' as long as you are present and awake and emotive through your eyes, then anyone can understand the state you're in and the emotion that you're feeling. And so to accentuate the eyes is something that I always have to do.
Have you been practising self-care more lately? What have you been doing?
I totally have. I think self-care can come in many forms, whether it be therapy, meditation, reading a book, or having an amazing cup of coffee. We haven't been able to go out and get our nails done or go to the spa. Instead, I've been finding that joy in wearing a face mask, having a bath, taking a walk outside, reading a meditation book in the morning, writing in a gratitude journal. And just taking a moment for myself. I think it's easy to confuse the fact that we've had so much time at home with self-care time but they're not the same. You're outspoken in your support for female empowerment. Does this cause remain close to your heart?
Yes, and I believe it starts with me. Because when you feel empowered, you can then empower others. It's the same as how, until you feel comfortable and confident and love yourself, you can't be the best version of a partner or a sister or brother, a friend, a colleague.
Community is important to you. Tell us about that.
It's very important and I think that can mean a physical community, but it can also be an emotional or spiritual community. Community is when you connect with people that are willing to share and be there for you and vice versa. I think that when you have a strong sense of community, you can be the best version of yourself because you feel like even when you're feeling low, you'll have the support there to lift you up. It makes you feel a part of something greater.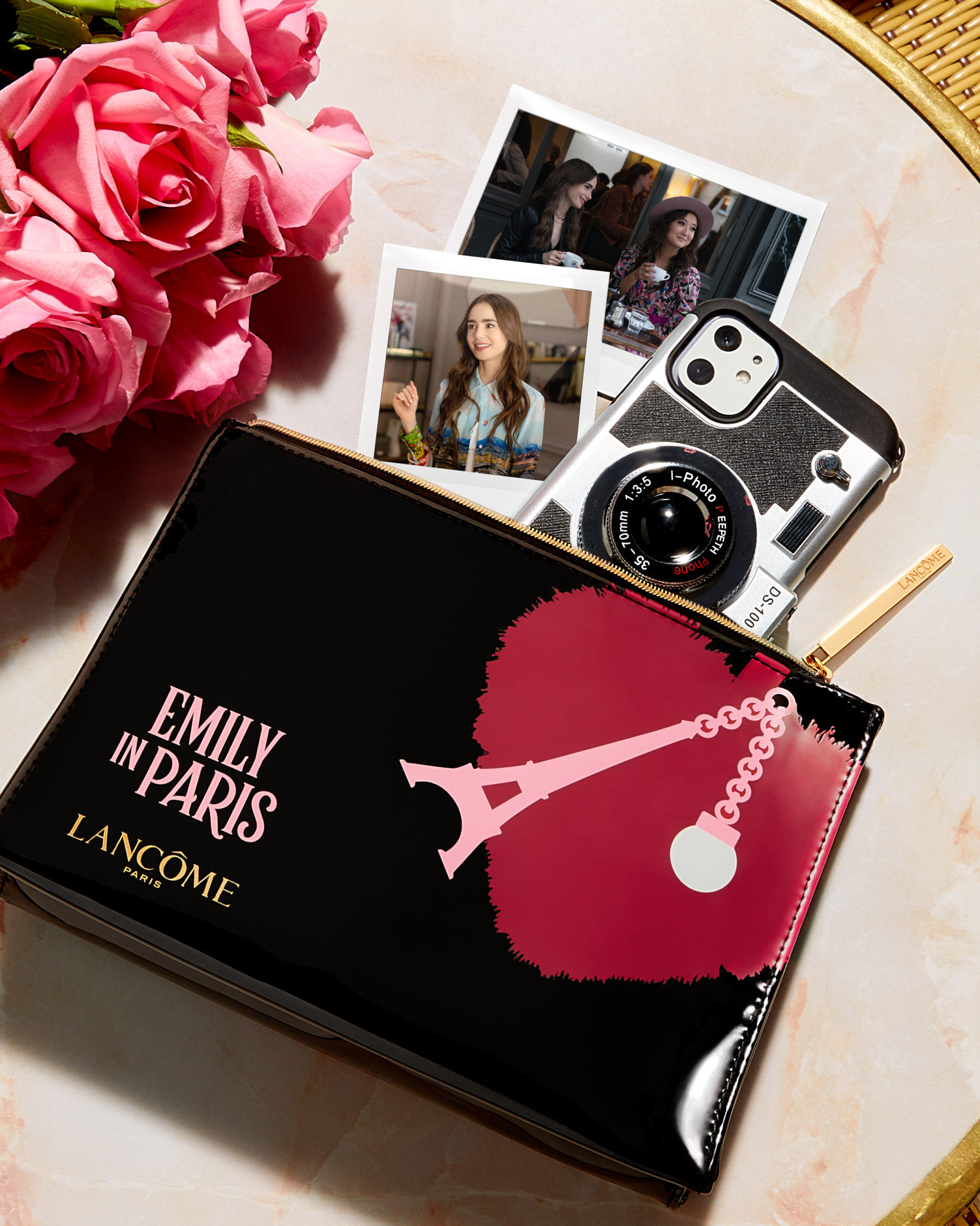 You can catch the newest season of Emily in Paris on Wednesday, 22 December on Netflix Hong Kong.
The "Lancôme x Emily in Paris" collection is available now to purchase online and at stores across Hong Kong, while stocks last. And as an online exclusive, the first 200 customers to spend HK$500 or above on an Emily in Paris limited edition product are entitled to a free exclusive Lancôme x Emily in Paris pouch.
You can find out more here.
(All images courtesy of Lancôme)