Infatuated with the Roaring Twenties, Cindy Yeung explores the jewellery and fashion of 1920s women in her latest Nùo by Cindy Yeung Sautoir collection.
Cindy Yeung has long had an interest in jewellery design and has been creating her own pieces for more than 10 years. You'd hardly expect the chairperson of Emperor Jewellery to be as hands-on as she is, while overseeing the 70-year-old retailer's many brands, ranging from the most prestigious timepieces to contemporary jewellery and the brand's own creations.
But driven by her own pursuit for exemplary craftsmanship and creativity, Yeung was inspired to create her own brand of jewellery. Nuò by Cindy Yeung, meaning promise in Chinese and representing the Chinese character in her name, demonstrates both her own commitment to quality and the skills and expertise of Emperor Jewellery's team of craftsmen.
The 'Nuò by Cindy Yeung' Sautoir Collection by Emperor Jewellery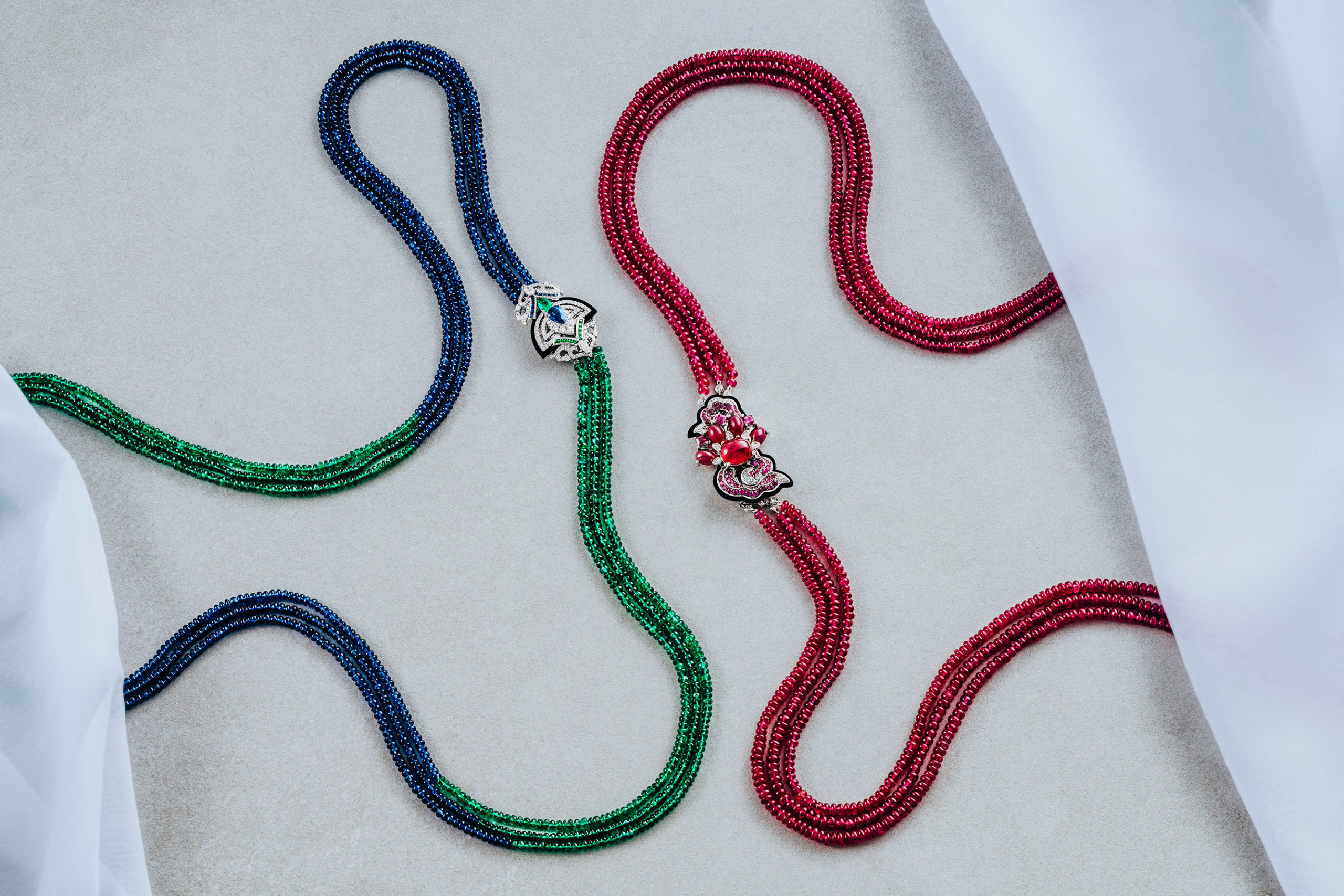 "All the inspirations for Nuo's collections come from me," says Yeung. "Then, my team will help me sketch them out and create the final pieces." From sketching to sourcing the gemstones and crafting the pieces, the entire process to put together a collection takes up to a year, while some of the more challenging pieces could take two to three months of back and forth before they're complete.
The latest Nuò by Cindy Yeung collection is Sautoir, inspired by the epoch-making accessory of the 1920s: the long sautoir necklace. Appearing as long twists of pearls or draped with tassels and large pendants at the end, sautoirs were the accessory of choice for contemporary, confident, and free-spirited women of that era.
It was a period that captivated Yeung. "I've always loved reading old classics and found the fashion in the 1920s so sleek and stylish," she says. "I loved how women dressed then, and how they did their hair. It also had a similarity to Chinese fashion at that time. The style was also very slim-fitting – and Chinese ladies also wore sautoir necklaces. I loved both cultures and that's how I started imagining sautoirs as a theme for this year's collection."
"Because I'm Chinese it was important for me to bring out the beauty of jadeite in an oriental brand, but in a Western style"
Yeung's design philosophy often revolves around the East-meets-West concept, and her collections often combine Western jewellery techniques with Asian motifs. Yeung's favourite gemstone to incorporate into her jewellery is jadeite. "Fei Cui isn't very often used in international brands, but because I'm Chinese it was important for me to bring out the beauty of jadeite in an oriental brand, but in a Western-style," she says. "Fei Cui is my favourite stone to use. I love the green colour and it represents femininity in Chinese culture."
Fei Cui appears throughout the Sautoir collection. There's a beautiful jadeite and mother-of-pearl necklace that was created with a double-sided stone-setting technique. The set also featured a detachable design that allowed the necklace to be divided into three necklaces or bracelets to allow the wearer to create her own style. Another Sautoir necklace, inspired by Venus the goddess of love, features harmonic hues of natural purple Fei Cui, black chalcedony, pearl, ruby and diamond.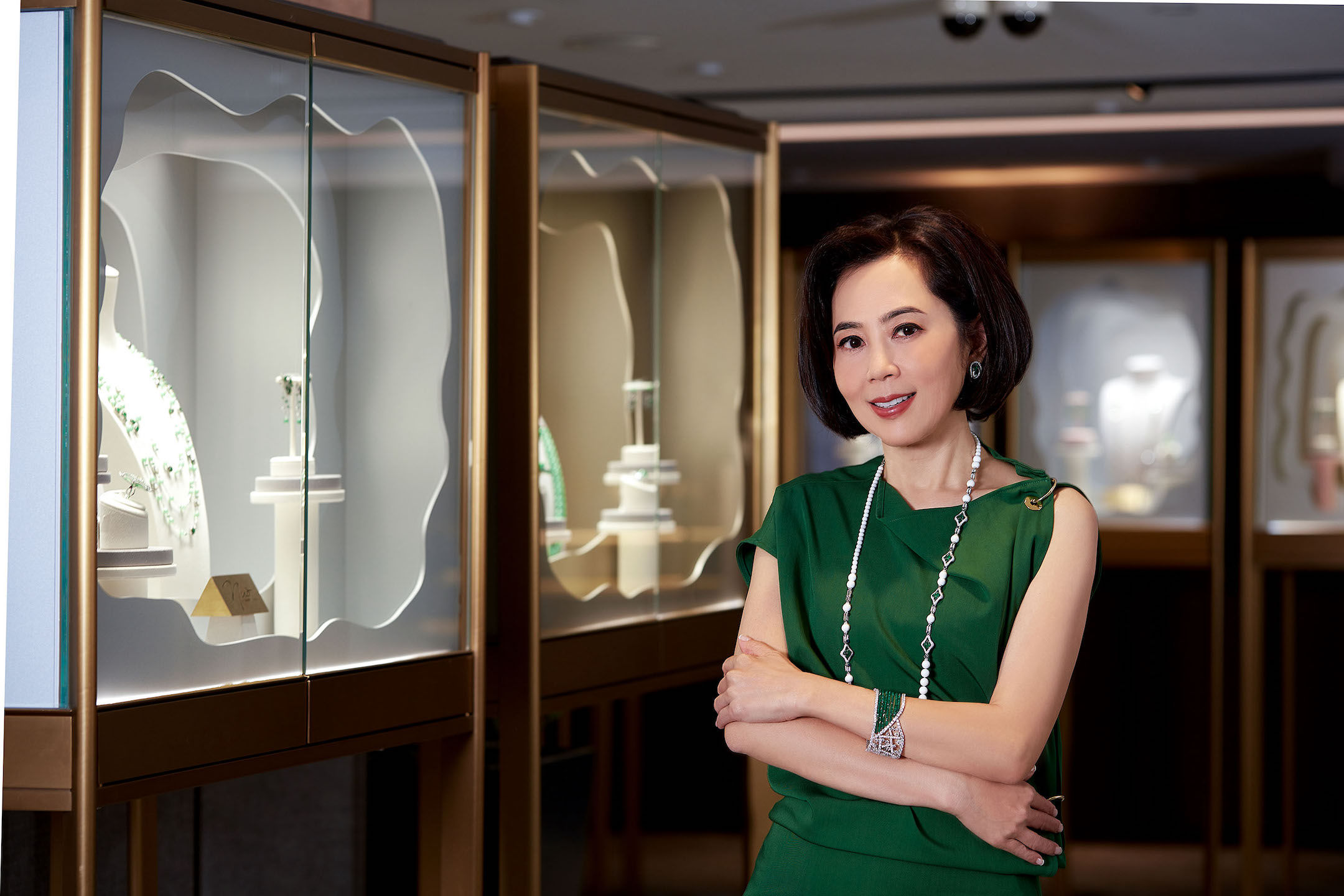 Transformable jewellery also features predominantly in the collection. "I'm a career woman," explains Yeung, "and there are often parties and functions I need to attend that I don't have the time to change my outfits for. I love playing with transformable jewellery and making them wearable during both day and night."
Yeung points out a particular jewellery piece set with rubies and sapphires, which comes with a detachable clip. "This was the most creatively challenging piece to make," she says. "The necklace comes with a detachable clip that turns into a pair of earrings. If you're going out at night, you can wear the necklace, and turn the clasp into earrings for a grander look."
East meets West, old and new, tradition versus modern – these are all concepts that she consistently explores through Nùo by Cindy Yeung. And the Sautoir collection embodies this sentiment exactly. It's a celebration of tradition, of an era 100 years past, but it's also a celebration of the versatility and strength, and the incredible fashion sense found in today's modern-day women.
View the entire Nuò by Cindy Yeung collection here.