Now in Hong Kong waters, Prestige Yachts' stunning new X70 flagship totally reimagines cruising in comfort for the favoured few.
With the summer sun high in the sky these days, we're certainly getting our fair share of Vitamin D, but after being cooped up for months on end in the all-too-familiar environs of home, the tonic that would do all of us a power of good is surely a sustained dose of Vitamin Sea.
To put that in your system you can, of course, head to the beach for the afternoon, or jump on a ferry or a junk, but to really get your fill of the ocean's recuperative powers, nothing beats heading out into the wide blue yonder aboard your own boat. Released from the dull routine of life on shore, you're blissfully free to sail wherever and whenever you please, with no other route or timetable to follow than your own carefree whims.
We're not talking about being aboard any boat, however, but rather the latest offering from Prestige Yachts. This renowned French brand not only boasts a 30-year pedigree of building exceptional luxury motor yachts but with more than 4,000 of its vessels – which range in length from 40 to 75 feet (roughly 12 to 23 metres) – currently afloat in various locales around the globe, it's also become synonymous with making life on the water seem just like home for several thousands of privileged weekend and leisure-time sailors.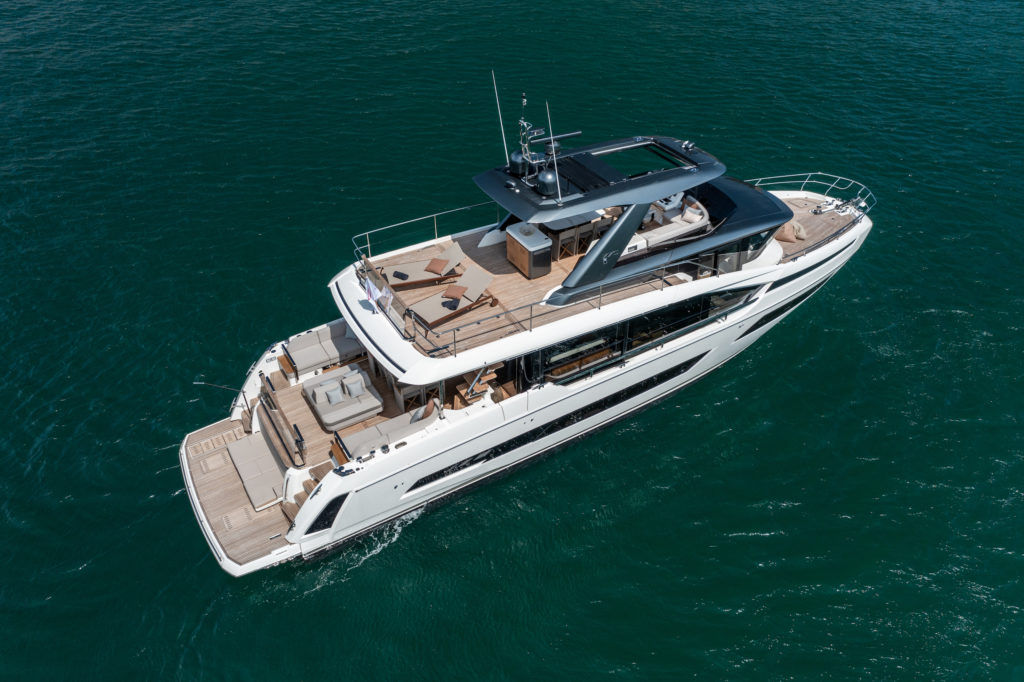 Backed by the world-famous French Groupe Beneteau, whose portfolio of brands includes some of the most revered names in yachting, Prestige's capabilities – from a mastery of design and technical innovation to superb craftsmanship – are second to none.
And nowhere are those capabilities more evident than in its luxurious new X70 motor yacht, whose combination of space, architectural flair and leading-edge technology represents a radically new way of living at sea, one that's been reimagined specifically so that families or groups of friends can enjoy quality time together at a delightfully unhurried pace.
The Prestige architects have paired with Italy's Garroni Design studio to reinvent movement onboard by dispensing with traditional side decks and thus creating four open and yet discrete areas. Together, these take full advantage of the X70's generous width, with large windows heightening the impression of space by flooding the yacht's interior with natural light.
The yacht's four main-deck areas comprise a front helm station, central galley, cockpit lounge and aft beach club, the latter three all linked by an unbroken expanse of floor. In a further innovation, the foredeck is easily reached directly from the upper flybridge, with two stairways providing further access upwards from the main deck. Interior decor and furnishings are sumptuous yet sleek and contemporary.
Wood finishes and fabrics such as soft cashmere have been carefully selected, while generous, made-to-measure sofas by the heritage French house of Duvivier are swathed in artisanal Foglizzo leather. A specially designed, state-of-the-art audio system by UK sound specialist Bowers & Wilkins is also part of the package.
The private areas on the lower deck, which are equally well-appointed and spacious, enable overnight stays on board for eight people with all the amenities of a luxury villa on land. The accommodation comprises a full-width en suite owner's cabin and up to three guest cabins, each with a separate entrance. Crew areas can also be provided.
Moreover, the X70 promises effortless progress across the water, thanks to an integrated propulsion system consisting of a pair of powerful Volvo engines of up to 1,000hp each, which offer a cruising speed of 20kt (equivalent to around 37km/h), improved fuel consumption – which extends your time and range afloat considerably – and enhanced manoeuvrability. All of this goes to increase the comfort and enjoyment of everyone on board.
Unveiled at Cannes last year, the Prestige X70 has now arrived in Hong Kong waters. If you find the notion of escaping to the sea with family or friends irresistible – and whenever the fancy takes you – this magnificent motor yacht is available for a private inspection.
Simply contact the team at Asia Yachting, who will be delighted to offer their full assistance and arrange a time at your convenience. The yacht's grand launch is planned for late September.
You can find out more here.