UOB capitalises on its strong Asian network and traditions to bring a tailored banking experience to the regional market.
The UOB logo is familiar to people throughout Asia and beyond. The five red bars symbolise not only the five-bar-gate counting system, but also the security and unity that derive from the bank's history, which dates back more than 80 years. Founded in Singapore in 1935, it's since diligently built up a network comprising around 500 offices in19 countries, with an expanding private bank network that includes presences in mainland China, Hong Kong, Malaysia and Singapore.
With a bedrock of traditional family values, trust and reliability, the bank's private wealth-management branch UOB Private Bank remains committed to legacy management and the protection and growth of the assets of high-net-worth individuals and family business throughout the region.
Christine Ip, the CEO – Greater China of UOB, joined the bank in 2011 to strategise its development in Greater China. A veteran banker with more than 30 years' experience, she was appointed to her current position in 2016.
Her work, and that of her colleagues, has not gone unnoticed. UOB is among the world's highest-rated banks, with an "Aa1" rating from Moody's Investors Service and "AA–" scores from Standard& Poor's and Fitch Ratings. It's won numerous awards, including this year, from financial institutions and trade publications. These, Ip says, recognise the advisory and service quality the bank has provided its clients over the years.
"Our private banking service has received various accolades for wealth transfer and succession planning, investment advisory services, innovative client solutions and the best brand over the years. These awards are an endorsement and recognition of the quality of advisory and services that we've provided our clients over the years. They help us raise UOB Private Bank's profile among our stakeholders and potential clients in the region."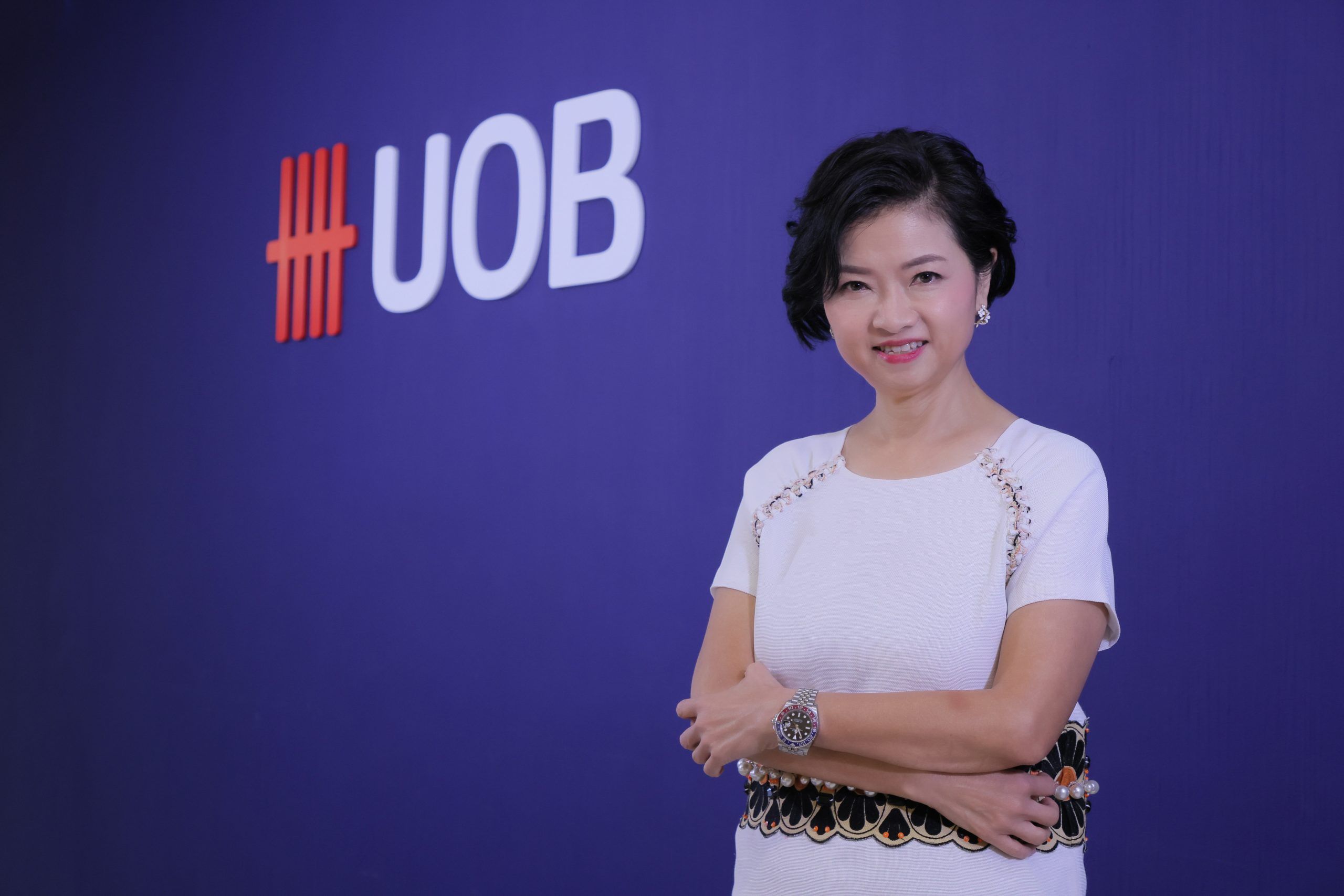 Not least in building this success is the bank's "Three Principles of Investment" approach. The first of these is asset allocation, which drives a portfolio's long-term return and risks. Assets are allocated in accordance with a client's long-term goals and appetite for exposure. Secondly, diversification embodies the idea that clients should invest across markets globally, spreading risks to preserve their wealth. And thirdly is an emphasis on long-term superior and sustainable returns, driven by value and quality. "Chasing prices and buying overvalued investments negatively impacts portfolio performance," she says. "Taking a long- term view is important for investment success."
The Three Principles are, of course, enhanced and supported by the bank's extensive global network and experience of investment in Asia, its high internationally accredited ratings and what it calls the One Bank approach.
"In UOB, we work together as a team to offer seamless and broad coverage of services, ranging from private investment, specialised and tailored corporate lending to general banking services to all our clients," says Ip. "UOB Private Bank provides comprehensive services to high-net-worth individuals and family businesses. Keeping in mind our clients' financial objectives, our customised advisory and solutions draw on UOB's full suite of personal, business and investment services as part of our One Bank approach to ensure greater convenience, efficiency and flexibility for clients."
But, as noted earlier, it's UOB's commitment to family values and legacies that's perhaps the chief reason for its stellar reputation in Hong Kong and beyond. The accumulation of wealth for the sake of it is both meaningless and short-sighted. UOB Private Bank enables its clients not only to maintain and grow their riches, but also to pass them onto their next generations or other loved ones – often by getting the whole family involved in the investment journey."
Over more than eight decades, generations of UOB employees have carried through the entrepreneurial spirit, the focus on long-term value creation and an unwavering commitment to do what is right for our clients," says Ip. "We uphold UOB's values of Honour, Enterprise, Unity and Commitment that lie at the heart of our business, including UOB Private Bank, to build long-term relationship with our clients and preserve wealth for future generations. Those values are well-regarded by the Asian families that we're committed to providing comprehensive wealth-preservation solutions to meet their goals. And this has translated to long-standing trust in the bank."
UOB's approach to enterprise in the context of legacy is a particularly interesting aspect of its operations. Ip says that younger generations are increasingly becoming involved in family investment decisions early on, but may have concerns relating to the environment and the social impacts of commerce and industry on the planet. They're also savvier when it comes to start-ups and new technologies, which she says makes them more attuned to new business models – and more informed when it comes to investment decisions and modernising the family business."
We're right by the clients to provide new and appropriate opportunities," she says. "For example, we've launched several initiatives aimed at building long-term relationships and providing them with advice to safeguard and grow their wealth across generations. As most of our clients are business entrepreneurs, we focus on helping them to prepare their next generation for future responsibilities and leadership roles. Our Next Generation Programme helps inspire and encourage leaders to gain insights in emerging business and technology trends."
Despite her obvious commitment to her profession, Ip finds the time to do plenty outside her working hours. As an ardent supporter of the arts, her job allows her to promote them as part of the bank's corporate social responsibility programme, and clearly it's a role she relishes."
In Hong Kong, since 2015, we've been striving to forge a thriving local art scene, through programmes under the UOBArt Academy, including art collaboration projects such as our partnership with Art Central, the UOB Art in Ink Awards, and educational outreach programmes to make art more accessible to the community, to nurture artistic talents and to rejuvenate cultural heritage." Legacy, it seems, has many facets.
Find out more here