In a quiet green pocket of a desirable neighbourhood that forms a gateway to Jardine's Lookout on Hong Kong Island, a newly created high-end property elevates residential standards to new heights.
There are few residences in the Blue Pool Road vicinity that fit into the premium luxury category, and even fewer that offer low-rise living with an unusually spacious floor area. So when 18 semi-detached, large three-storey homes at 23-39 Blue Pool Road, on the eastern flank of the neighbourhood, were created by developer Hang Lung Properties (known for its exclusive residential projects, such as the all-duplex The Summit on Stubbs Road), they were the talk of the town and won a string of local and international architecture and design awards.
Very recently, an imaginative combination of house numbers 31A and 31B was completed, to present an extremely rare urban mansion that spans some 9,000 square feet, including outdoor areas and greenery. This grand undertaking was designed in conjunction with US-based architect and interior design firm Hirsch-Bedner Associates (HBA), a leader in hospitality design whose outstanding recent projects includes the Four Seasons Hotel Kyoto and The Ritz-Carlton Guangzhou, alongside a host of A-list residential, restaurant and spa properties.
After a series of meetings, the main design request from the developer for making two homes become one was to produce a configuration that enabled an easy flow between two main bedroom suites and several other rooms and areas designed with cosy spaces for social gatherings and relaxation in mind, as well as to create an overall modern and luxurious domestic experience for its resident multigenerational family and visiting guests.
"We started our design process, as always, by analysing different possible moods and design approaches," explains Paulo Dias, HBA's associate director for this project. "And after discussions with Hang Lung Properties and taking into consideration the existing architectural characteristics of the house, it was decided to go for a 'modern timeless' approach that's both dramatic and sophisticated, and also reflects the city we live in.
"The main ground-floor area was specifically designed to impress and entertain visiting guests but, very importantly, we also wanted to ensure we embraced an intimate, warm home atmosphere throughout. The upper floors are more private and were designed for daily family uses." New spatial planning included, on the first floor, creating a sizeable family room of around 650 square feet, while the master chamber on the second floor was furnished with a boutique-style walk-in closet measuring around 600 square feet.
Another design highlight is the clever utilisation of space, which includes nearly 2,670 square feet of floating garden on the roof, multiple balconies and private garage parking, so that there's now a seamless flow between all these areas. The overall result of reconfigurations in the mansion creates a luxurious yet timeless residence that embodies modern elegance and caters as easily for formal social functions as it does for casual and comfortable daily living.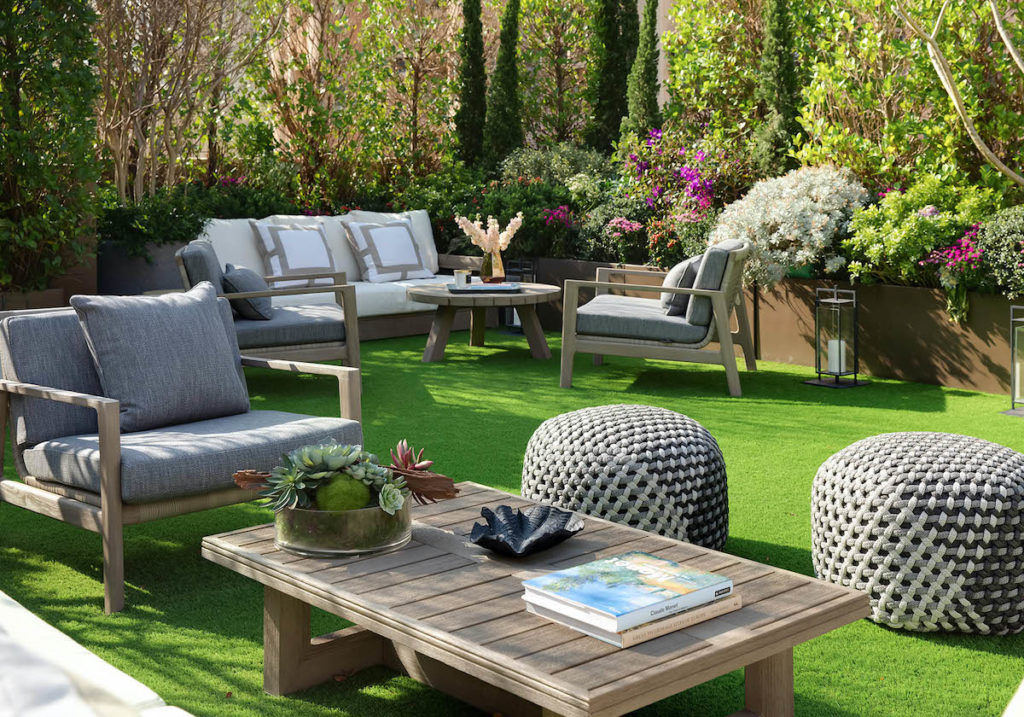 "The interior architectural language was kept simple, with elegant tailored detailing and beautiful architectural finishes that exude luxury throughout," explains Dias. "Our furniture collection is a balanced combination of Italian designer pieces – the selection includes a modern Giorgetti dining table with Poliform chairs, and a Minotti sofa and coffee table – along with our own bespoke furniture; together, these help give an overall comfortable, 'lived-in' ambiance. And the art collection for this house was something we decided early in the design stages." HBA's design for this detached mansion also comes complete with a kitchen that's fitted with luxury furnishings by Italian brand Boffi.
The real wonder of this finished house, however, is its opulent scale; the fact that it's detached and with 23-foot-nine-inch-high (around 7.25 metres) ceilings makes it an especially gran residential space. "Being able to build architectural interior features, such as a striking reception hall with a sculptural staircase, an island bar in the living room and a 'floating' garden on the roof, make it a truly unique experience," adds Dias.
The feat of combining what were previously two separate luxury residences was not without its challenges. "There were initial structural issues, as the new overall interior had to be redesigned in order to allow for bigger living- and dining-room spaces, as well as for the 7.25-metre-high ceilings," says Dias, who's delighted with the end result. "The high ceilings are quite dramatic and the light is abundant throughout the day, making the ground-floor rooms very bright and welcoming spaces. The way the different spaces flow and open towards the garden is also quite unique and gives an overall sense of tranquillity.
From an aesthetic point of view, HBA is pleased with the way each room tells a story, and all contribute to an overall very sophisticated lifestyle experience. "Other aspects of this house that set it apart from Hong Kong residences are its five generous bathrooms, walk-in closets, a theatre, games room, wellness and spa quarter and various useable gardens interacting with the internal spaces – it's quite rare here to have such a number of luxurious spaces in one home."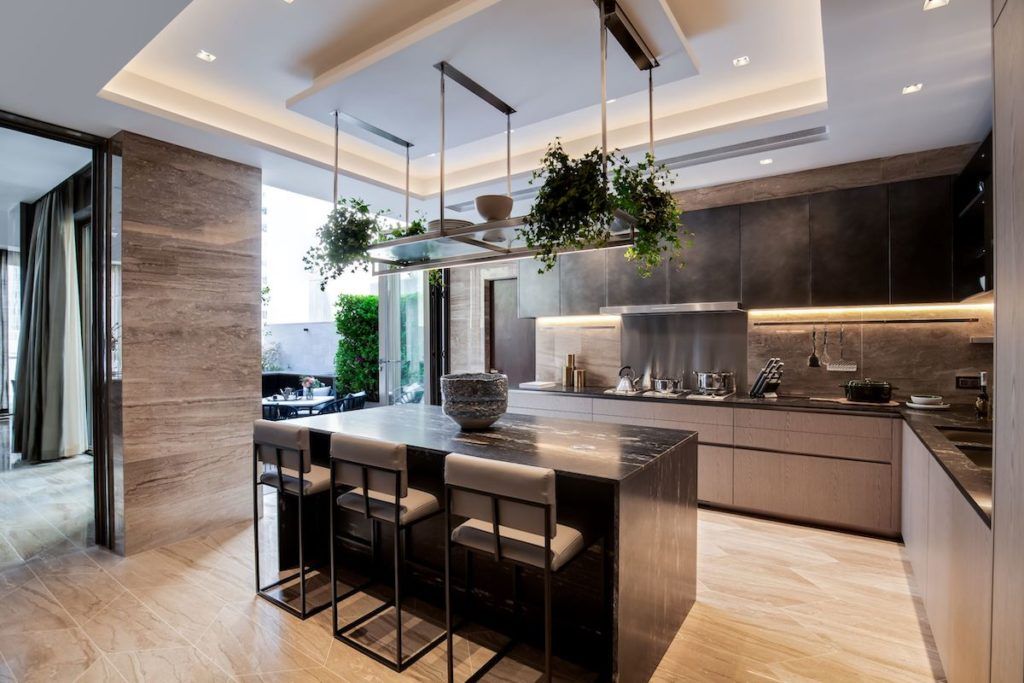 Adaptability was also seen as key throughout the whole interior – particularly in secondary spaces such as the games and screening rooms, both of which can easily be converted into guestrooms, should the owner wish to do so. Also important is the strong sense of privacy throughout the home, while the roof is a spacious-enough area in which to hold large functions – it has its own bar, barbecue counter, Jacuzzi tub and generous seated dining and lounge areas.
"As for the smaller decorative touches, including building and acquiring an art and home-accessories collection, these elements truly enhance the overall design experience and make it a completely unique environment," Dias explains. "We needed to acquire the art pieces to enhance the space and to add extra character and personality."
And the resulting final art curation would certainly impress a well clued-up collector or art-gallery goer. "Curating an art collection was a challenging but very enjoyable and rewarding experience," says Dias, somewhat modestly. "Our intention was to build a collection of both established and upcoming artists from Eastern and Western cultural backgrounds, which would reflect the taste of a hypothetical owner. We felt privileged to be able to acquire work by some of the most prominent artists of the 20th century – such as Picasso, Andy Warhol and Damien Hirst – which we selected from galleries and private dealers from all over the world. Each piece was carefully chosen not only due to its creator's importance and prestige, but also for its aesthetic appeal, as each one had a vital role to play in our interior design narrative." Indeed, the artworks really are the icing on the cake on this most stately, sophisticated modern residence.
(Hero Image: Opulent spaces embracing practical flexibility were regarded as key for the entire interior)