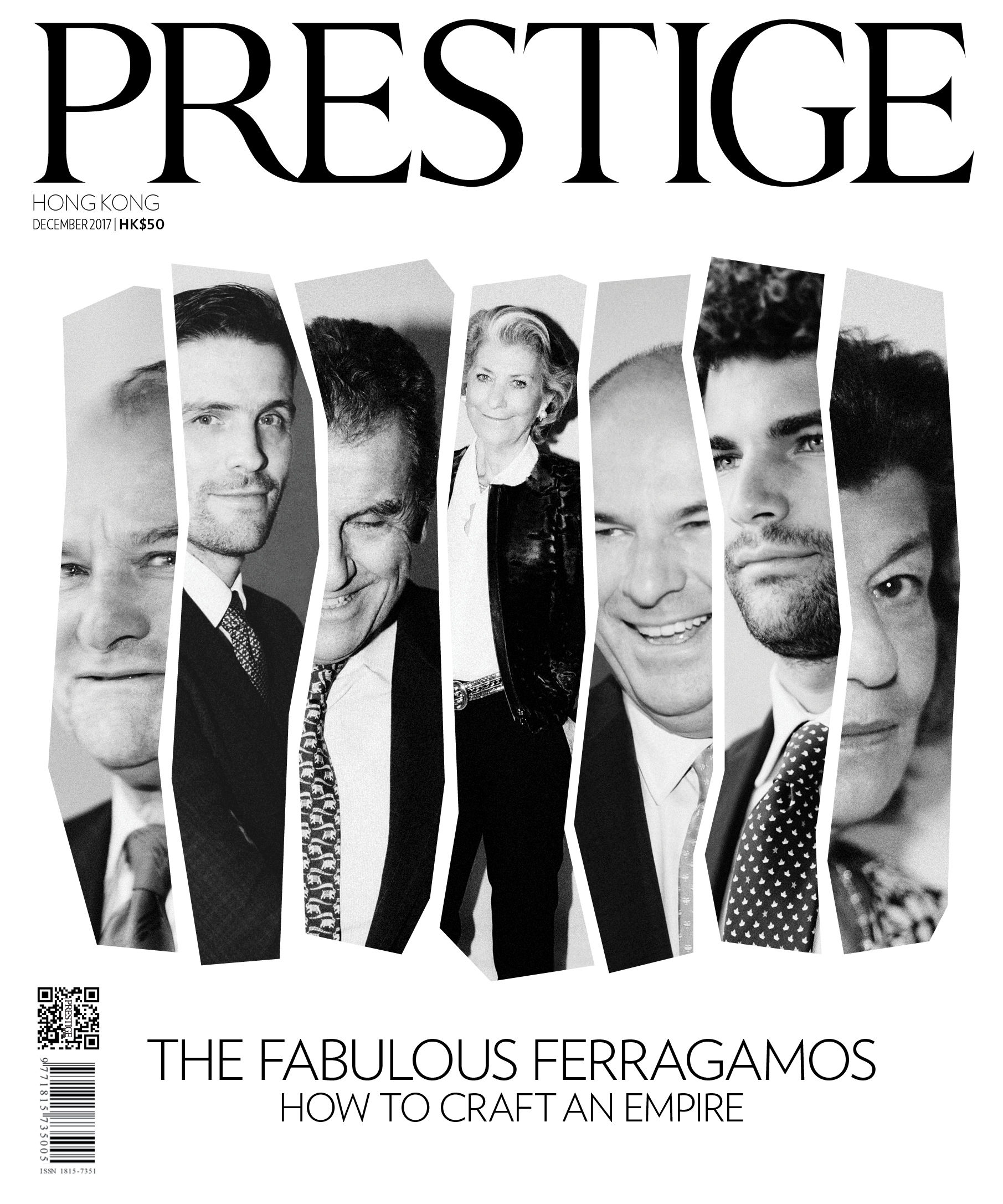 From the outset, things are a little different from your normal shoot. For starters, we're faced with an unexpected yoga class taking place on the lawn at The Upper House where we're due to set up, which is followed by the almost-unheard-of punctual arrival of not one but seven members of the illustrious Ferragamo family (if only all our cover personalities were so timely).
This is a unique way to start a beautiful sunny Hong Kong morning. As the Italian clan share stories with each other between front-of-camera moments, it takes no time at all to understand the strength of the family, and how (and why) its members work together so seamlessly.
Ferruccio Ferragamo – the eldest son of the label's founder, Salvatore, and his wife, Wanda – alongside his siblings Giovanna, Massimo, Leonardo and Fulvia, plus third-generation gents James and Riccardo, bring an instant warmth, with chairs offered and swapped, constant happy interruptions and easy laughter between the family and our own team as we get to work. One particularly vocal member of the Ferragamo tribe is the impeccably coiffured first daughter Giovanna, who sums up the mood of the morning perfectly when she exclaims, "When you get us all together, we are naughty!"
We settle in for a full-family interview (for the second time; the sun-trap terrace had some of our handsomely suited Ferragamos stripping off before we got five minutes in, prompting a dive for shaded cover and apologies at the interruption) and a game of conversational tennis commences, as answers come thick and fast. First up? What Florence means to the lauded maison and its founding family.
"It was chosen by my grandfather because of its artisanship and that spirit of the Renaissance," says Ferruccio's son James. "Florence for me represents that spontaneity in creating things that are new and always changing."
The perfectly chic Fulvia concurs: "It's the culture of manufacturing and artisans. All over Italy it's very difficult to find those kind of artisans: so lovely, so accurate."
Our assembled Italian cast is in agreement, all deep nods and proud smiles at getting to share the incredible craft heritage their Tuscan city is famous for. And beyond the business side of things, the family members share a deep-rooted love for the history and surrounds of the city (as evidenced by their investment in the stunning medieval
Il Borro estate, which sits in the nearby rolling hills), and its people.
"There's a saying that it's very hard to become friends with someone from Florence, but once you become friends with them you're friends forever," says Riccardo, Leonardo's son and the youngest face on our set, before Fulvia adds, "Florence is a magic city, full of art. You live there and you think you know it and still you discover. I actually live in Milan, so it's always very special to go back and to breathe this history."
When it comes to second-generation Leonardo proclaiming his favourite thing about Florence – that he would never change it with any other city in the world – he's quickly shot down with a chorus of, "But you're never there!" It's a good point, and one he's happy to accept, insisting that his love for the city comes from the memories he carries with him as he travels the world. It seems we've hit a subject that could spin hours of talking, as a cacophony of separate conversations ensues, with voices recalling this and that of the family's unique past in Italy's central city.
Ferragamo is a family company in the truest sense of the word. From the humblest of beginnings as a shoe store in the 1920s, it has grown to become a symbol of luxury, guided by Salvatore's children and, now, grandchildren. And yet, in a world ripe with nepotism, this Italian firm has found its own way of preserving the integrity of its name.
Ferruccio explains: "At the beginning, we tried to find rules in the family. We made an agreement, a rule, that out of the 23 grandchildren, when they're ready to join the company, only three will. And there were certain requirements for those three: they had to have experience in another company that had nothing to do with us, a university degree and, especially, that they want to enter, and that we accept them. That's something very powerful, to have a family with rules."
It comes down to the responsibility they feel in preserving the legacy of the brand's founder.
James unflinchingly agrees: "The statistics say that the third generation is usually where companies fail. I am the third generation so we had to take some correct measures."
A balance of emotion and pragmatism fuels our conversation. Alongside a keen push for creative growth, and an excitement in seizing new opportunities, a conscientious focus on anticipating future challenges pervades. It's all rather neatly summed up by James, who says, "We're always saying, what would Salvatore do if he were here with us today? I think that is the spirit that today we want to bring forward."
It would be wrong to label this mere reliance on the past. Cobbler Salvatore was (and still is) considered a master of creativity. Likewise, Ferruccio credits his mother, Wanda – who at 96 still makes time to come into the office – as giving everything to the brand following her husband's passing: "We wouldn't be here if it wasn't for her because she converted and evolved the company," he says. Every member of the family understands the incredible skill in design and execution that their predecessors brought to the table, and they count on a similar attitude to push the Ferragamo footprint even further.
Does this mean taking risks? "Risk is part of the game," acknowledges Ferruccio, although he does believe in taking a long view on how to prevent it. James is similarly minded. "Of course, we don't want to lose what we have, but at the same time you have to fight against those brands that are coming out with the concept of having nothing to lose," he is quick to point out. "You have to always foster innovation and creativity so that you're always moving forwards, but managing the risk so you're not gambling."
The arrival of Paul Andrew as design director of women's shoes in the summer of 2016 started a process that led to his appointment as the creative director of women's collections this autumn, and is a case in point of how Ferragamo is powering itself up to give even more. Just as the family points to the past for a reminder of how great things happen, so Andrew has drawn ideas from the label's original well of design.
"There's inspiration for days, for years in that archive," he tells me, "I'm just building on the original design ethic that Salvatore created back in 1928, trying to make that relevant for a new generation of consumers."
Of Andrew, James is effusive that his talent in providing inspiration while looking ahead is the epitome of taking the Ferragamo spirit into the future. In fact, even beyond the company walls, the family and consequently the brand are crystal clear on the ways in which they should preserve and continue to support what they have the privilege of taking forward.
"I think it's part of our responsibility in being entrepreneurs to make a contribution to public causes," Leonardo says, simply. "That's why we're involved in supporting art and culture, in Florence and Italy; that's why we sponsored the opening of some of the Uffizi halls. Fashion and art have always been very close together through the centuries. Our father and our company have not been an exception."
It's a mark of pride to each of the Ferragamos that they're involved in supporting Italian culture or business, whether it's the straight-talking Massimo, who sits on the board for the Foundation of Italian Art & Culture, or the glamorous Giovanna who is a member of the Board of Camera Nazionale della Moda Italiana (the National Chamber of Italian Fashion). Indeed, it seems the Ferragamo name is a promise to nurture the historic and support the new, as much as it is its own label's moniker. And that's a strong kind of legacy.
As we wrap up our chat, which has simultaneously lost and regained family members while our photographer snaps away at the entrance to the lawn, the laughing begins again in earnest. Who knew a group shot could cause such havoc? Giovanna is piping up with offers of acting as our photographer's assistant, which brings a "No – she's too expensive," from the mouth of one of the Ferragamo boys. Massimo won't put his phone away. Ferruccio has dropped his passport into a (fortunately unlit) fire pit. It seems even if you are Italy's first family of fashion, it still takes some getting organised.
—————————————–
Photography by Laurent Segretier