Fashion that transcends time and age, that has achieved cult status and is always in vogue — some of the revered luxury labels are emblems of such high style and perfection. Their creations symbolise master craftsmanship and exquisite design as well as carry a legacy of setting the wearer apart from the crowd. While signature jewellery and timepieces are regarded as statement pieces, iconic bags from luxury brands have their own chapters in fashion history.
From the women who inspired them to the stories behind their making and the iconic silhouettes that never go out of style — these bags tell sagas of creative direction and artistic brilliance while upholding the luxury brand's tradition. Whether it is a stunning Hermès bag or the Gucci tote flaunted by Princess Diana, every iconic bag with its signature monogram has become a status symbol.
With people having a penchant for all things unique, exclusive and sophisticated, the history and stories of every It bag have also caught attention. And some of them are as interesting as the creations themselves.
The most iconic handbags and the tales they tell
Lady Dior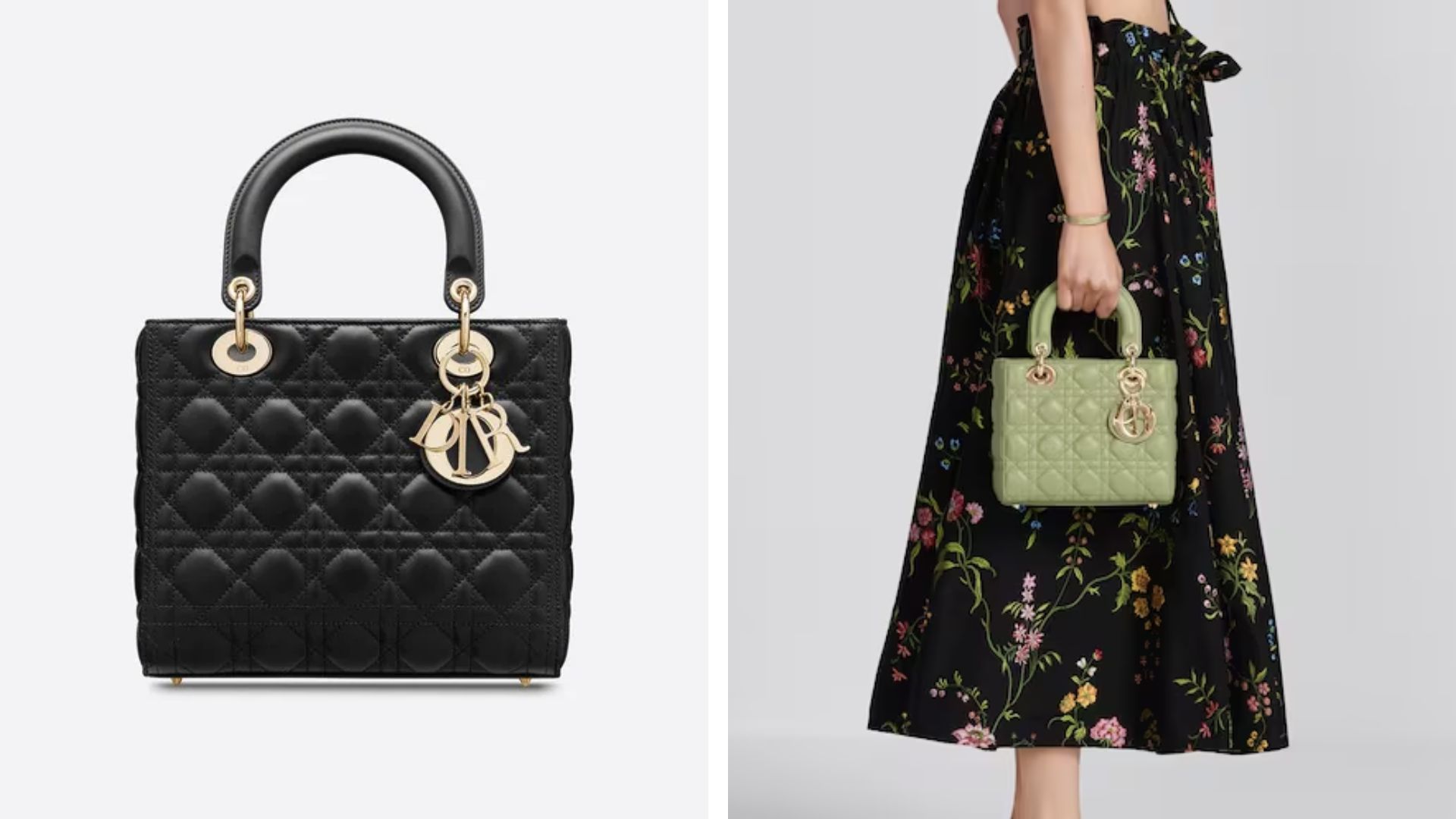 The Lady Dior bag symbolises luxury, sophistication and taste. Legend has it that First Lady Bernadette Chirac, the wife of French President Jacques Chirac, wanted to gift Princess Diana a custom-made luxury handbag during one of her state visits to France in 1995.
At that time, Gianfranco Ferré had recently taken up the role of Dior's creative director and had designed a bag named Chouchou in 1994, which means favourite in French. Resembling a box structure, the bag, which would not slouch or bend, reflected the dignified posture of a Royal lady. It had a pair of top-arched handles and the brand's monogram in gold.
After being gifted this bag at a Cézanne exhibition at the Grand Palais in Paris, Lady Di immediately fell in love with it and was later spotted carrying it at many Royal occasions and events including her famous Met Gala appearance in 1996. With her divorce from Prince Charles on the verge, the bag also became a sign of her personal freedom.
Being clicked in the arms of one of the world's most photographed women, the bag became a prized possession and the same year, the fashion house renamed it the Lady Dior bag to honour Princess Diana.
It was created with black quilted leather which was inspired by the fabric of the Napoleon III chairs that Christian Dior used in his initial shows. The leather was fitted on a rectangular box to give the sturdy look. Currently, the bag is offered in small, medium, and large sizes which are made by hand. They are also available in supple calf leather, patent leather and lambskin variants along with Dior's famed Toile De Jouy, a removable strap and other prints.
A mini Lady Dior can cost around USD 5,205
Louis Vuitton Speedy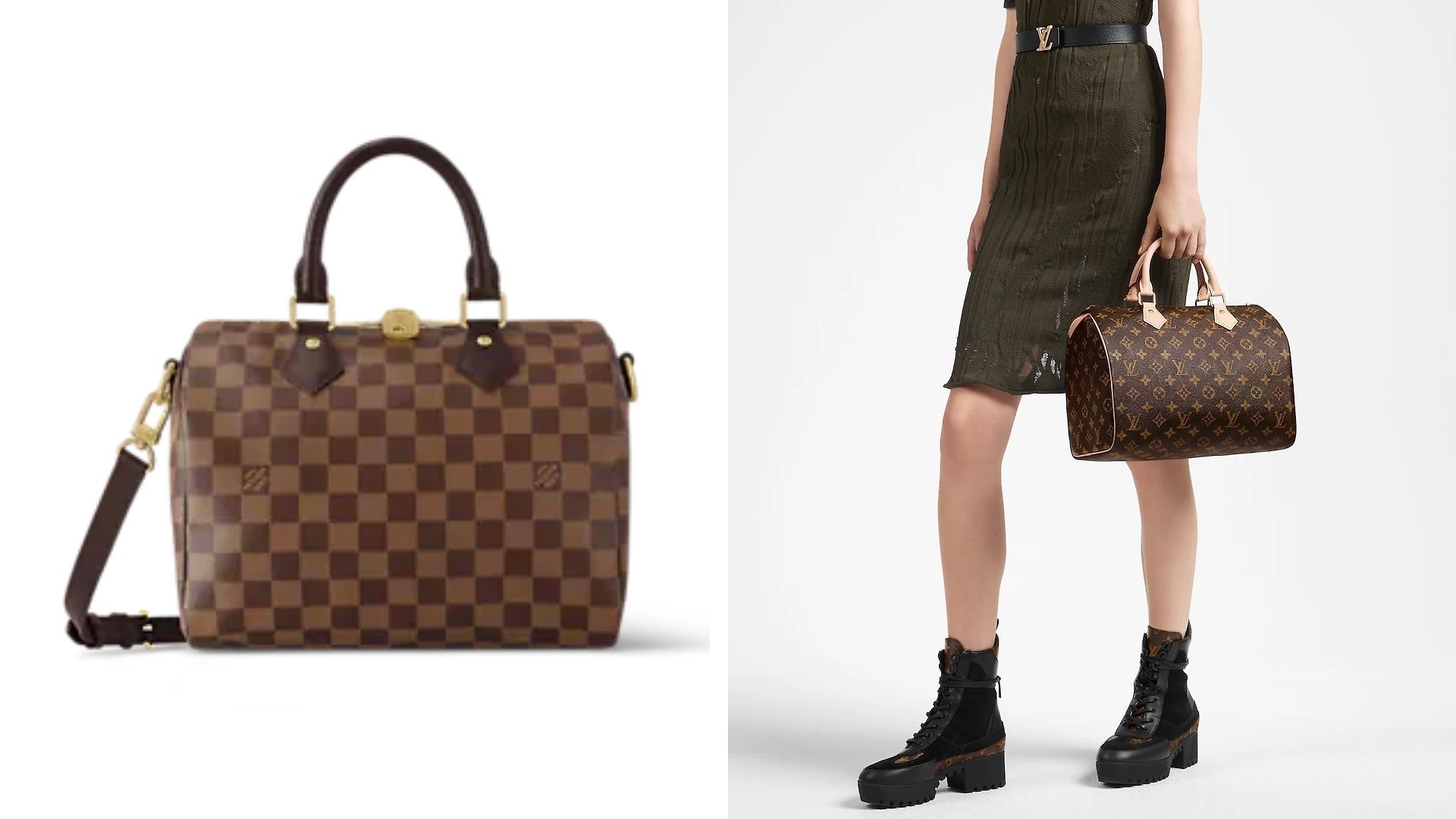 The 1930s was a period of altering travel habits as taking flights was gaining momentum. The bag came as the house's fitting reply to rapid industrialisation and the rise of modern transportation. Gone were the days of carrying stiff luggage as the new mantra was to travel light, smart and elegant.
The versatile Louis Vuitton Speedy bag, a smaller variant of the Louis Vuitton Keepall, allows maximum space to accommodate all your travel essentials and an adjustable shoulder strap makes it easier to be carried as a shoulder bag or a crossbody bag.
At the time of launch, the iconic bag was aptly named the Express and was perfect for all-day-long rough use. However, it was Breakfast at Tiffany's star Audrey Hepburn who catapulted it to its present It bag status. After the success of the film, Hepburn requested the French maison to resize the Speedy 30 (the number denotes the width of the bag in centimetres) to 25. Since then, the satchel-sized bag was seen as one of her favourite travel accessories.
Made of either Louis Vuitton's Damier Ebene canvas or exotic leather, it has double zip compartments (introduced in 2015) and super soft, rolled leather handles. This popular Louis Vuitton bag is available in sizes nano, Speedy 20, 25, 30, 35 and 40 and in several colours and designs. Most Speedy bags have two models — one with the strap is called Bandoulière (introduced in 2011), and the other goes without it.
A Louis Vuitton Speedy Bandoulière 30 can cost around USD 3,070.
Buy LOUIS VUITTON Speedy 30 Here
Hermès Kelly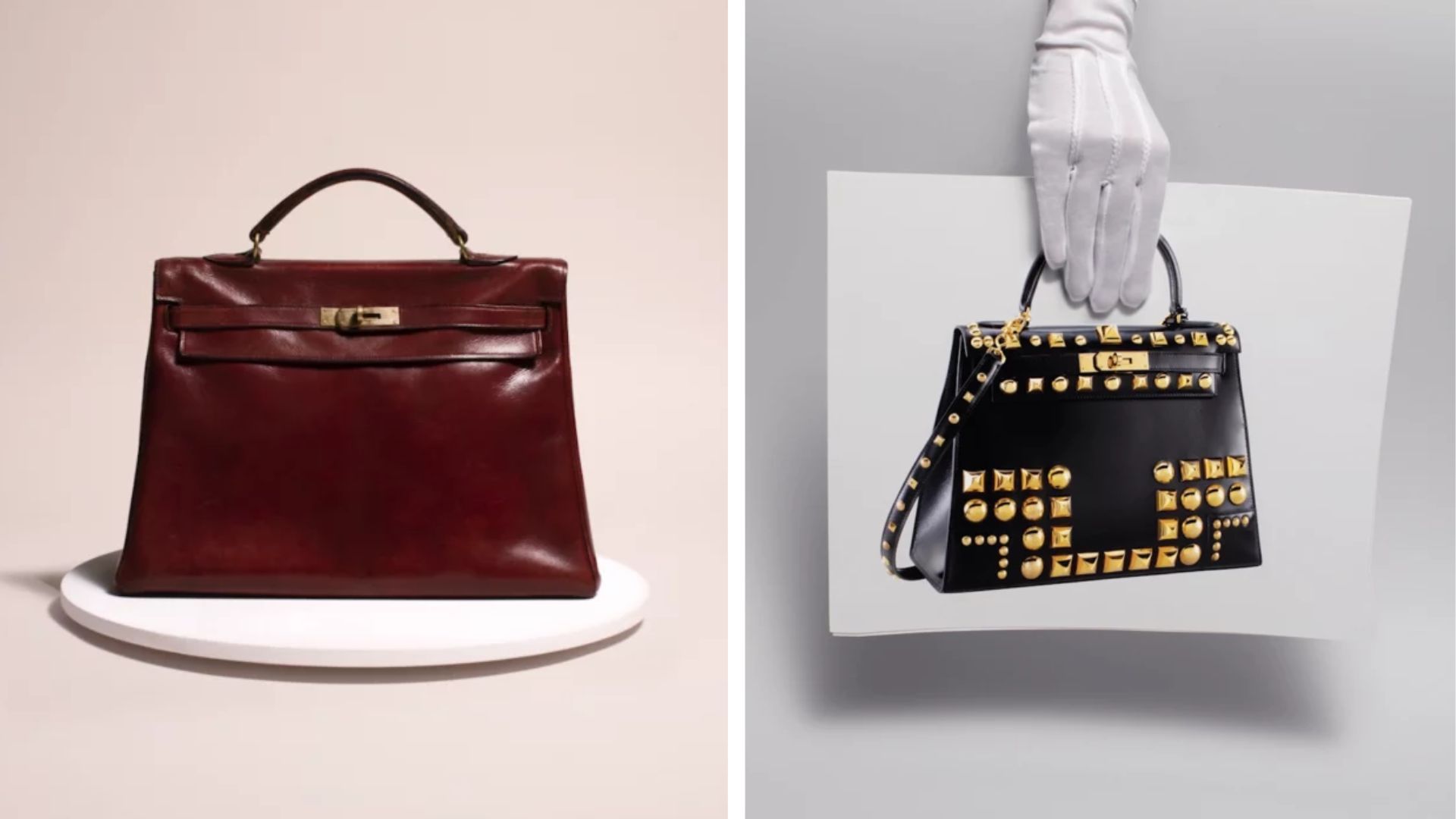 An epitome of grace and polished chic, the Kelly bag was not always named after American actress Grace Kelly. Initially christened Sac à Dépêche (A Mail Bag), it was created by Monsieur Émile Hermès' son-in-law, Robert Dumas, in the 1930s and was released in stores by 1935.
Its formal leather structure and neat lines thwarted the conventional embellishments of the time and the bag soon caught the attention of luxury buyers. It was in 1956, that Kelly, who got married into the Royal family of Monaco and became Princess Grace Kelly, used this iconic handbag to cover her baby bump from the press. This gave rise to a lot of speculation and it came to be known as the Kelly bag.
The event led to a surge in demand for the trapezoidal bag which has palladium or gold-plated hardware and a single top handle. The bag has triangular gussets, a cutout flap, a handle and two side straps too.
It comes in several sizes — the smallest is the 20 cm Kelly purse, also known as the Mini Kelly II. Besides this, there are the 25 cm and 28 cm models as well as bigger versions like the 32 cm and 35 cm ones.
Gucci Jackie First designed in the 1950s, this famous Gucci bag was known as the Fifties Constance. However, when former US First Lady Jackie Kennedy was seen carrying this unisex half-moon-shaped tote bag in 1961, it brought in a new fashion wave. Since then the house renamed the bag in her honour.
Over the course of Gucci's history, the bag has seen many redesigns and reinterpretations under several creative directors. First in 1999 by Tom Ford, followed by Frida Giannini, who gave it the name 'New Jackie.' The iconic bag got a fresh lease of creative metamorphosis under Alessandro Michele in 2021, who introduced piston closure, and an adjustable strap to make it go crossbody. It is now called the Gucci Jackie 1961.
A primarily self-coloured bag, the Gucci Jackie is available in several python and abstract prints, and designs to suit the likings of modern taste and be a part of several collections such as Gucci Aria and Gucci HA HA HA. The bag has hobo, mini, small, medium and tote options, along with pastel shades such as baby pink, lilac, turquoise, lemon, and GG nomogram supreme canvas. It has also been redesigned with silver eyelet embellishments albeit the gold buckle and closure continue to remain the main showpiece.
Kate Moss, Dakota Johnson, Harry Styles, Kaia Gerber, Emma Corrin and many other A-list celebrities have flaunted this iconic bag.
A small Gucci Jackie 1961 small shoulder bag can cost around USD 2,261.
Buy GUCCI Jackie 1961 Small Shoulder Bag Here
Hermès Birkin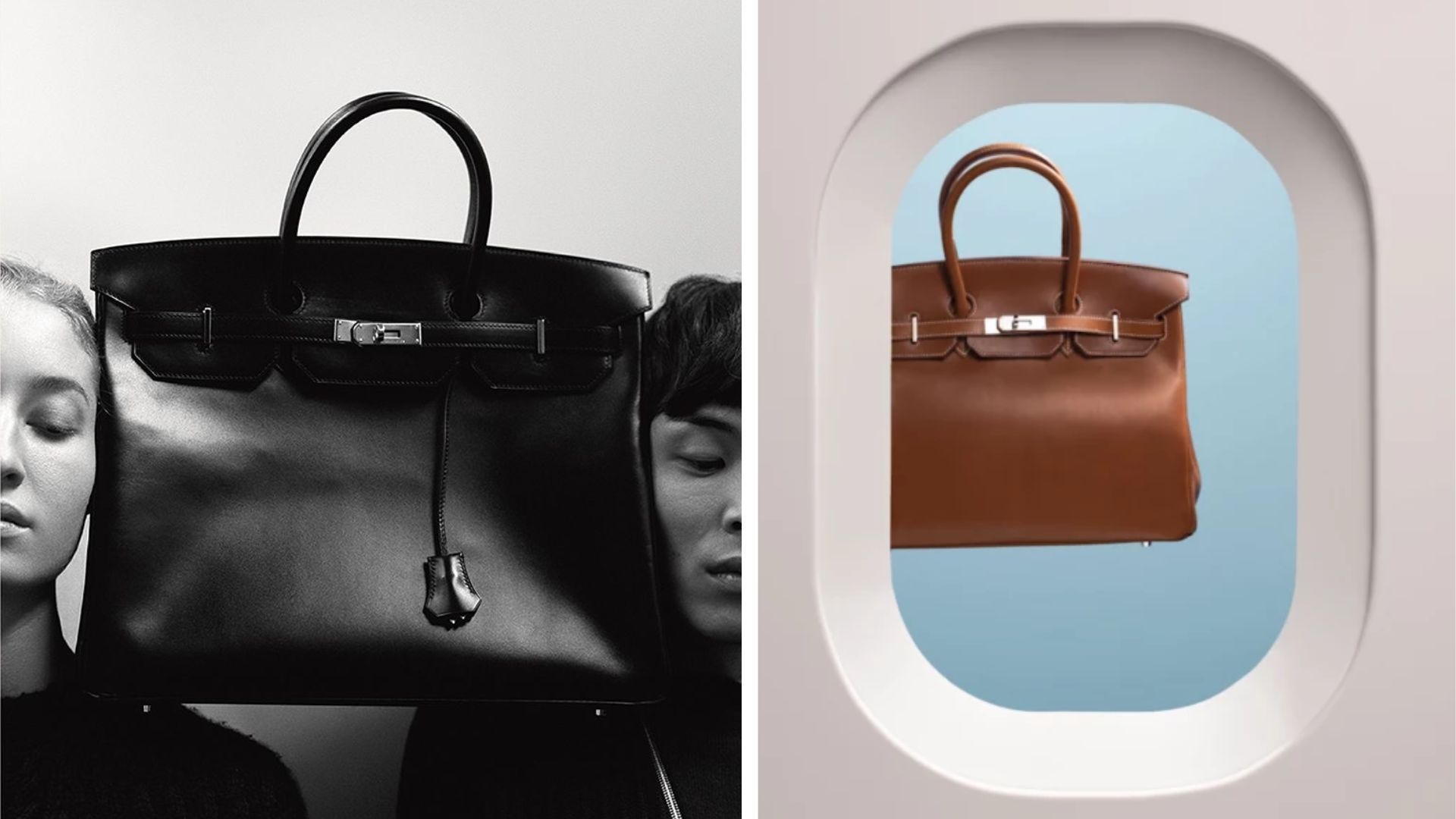 Another unmissable name on the list of iconic bags, the Hermès Birkin is an extremely popular item. Call it fate or destiny, a chance meeting between the luxury fashion house's executive chairman Jean Louis Dumas and actress Jane Birkin gave birth to the coveted Birkin bags.
In 1984, both were on a flight from Paris to London, when Birkin, a young mother, spilt her things from a straw bag and complained to Dumas for not having found a perfect spacious bag that could fit everything. Based on this conversation, Dumas started sketching a rough design for a bag on an air sickness paper bag, and the rest is history.
The "supple and spacious rectangular holdall" design has burnished flap and saddle stitching. There's also a separate space for baby bottles. The bags come in a number of pop colours and vibrant prints, besides the regular self-coloured ones.
Available in various sizes, the Birkin bag is now akin to a gold investment and is sold at high-end auctions. It is a favourite among Kate Moss, Kourtney Kardashian, Jennifer Lopez, Victoria Beckham and Drake.
Depending upon the choice of exotic leather and size, the bag can cost up to USD 4,00,000.
Buy Vintage Hermès Birkin here
Fendi Baguette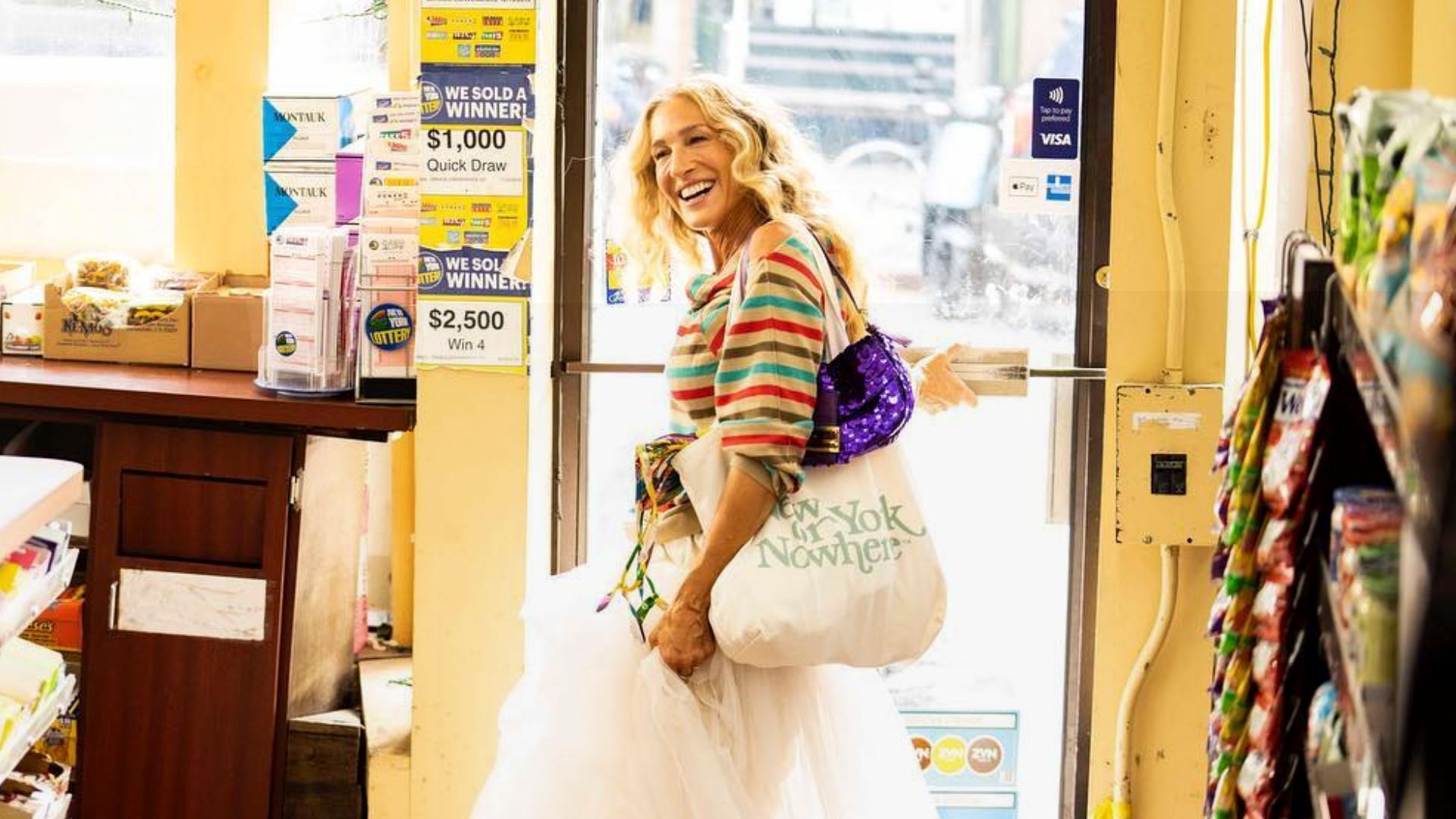 Trust fashionista Carrie Bradshaw (Sarah Jessica Parker) of Sex and the City (1998-2004) and And Just Like That (2021) to style a vibrant purple Fendi Baguette as a street-style accessory in the hit shows with effortless panache. Not to forget her famous one-liner, "It's not a bag. It's a Baguette."
A brainchild of Silvia Venturini Fendi, the bag was launched in 1997, when Karl Lagerfeld was the brand's creative director. Fashion history has it that Fendi reportedly changed the design's name after the classic French bread as it was supposed to sit comfortably under the arms like how people carried the loaf.
Often considered the first It bag in the true sense, the first design of the baguette had a beige FF motif set in a woolly textile with a removable strap crafted out of camellia-coloured leather. A unique half-moon narrow shape makes it a playground for experimentation during every new fashion season. However, Vogue says that the creation did not impress the label's design team as minimalism was the trend at that time. But today, it is every bit of a star in itself.
Featuring a single strap and a classic flap closure, this leather bag is usually available in three main sizes — the standard Baguette (27 cm long x 15 cm high), the Baguette mini (19 cm long x 11.5 cm high) and the Baguette multi with two straps (28 cm long x 17 cm high). New iterations also include a crossbody chain and leather strap. It comes in different prints, pastel shades and silk bodies.
A Fendi Baguette midi bag can cost USD 2,427.
Gucci Diana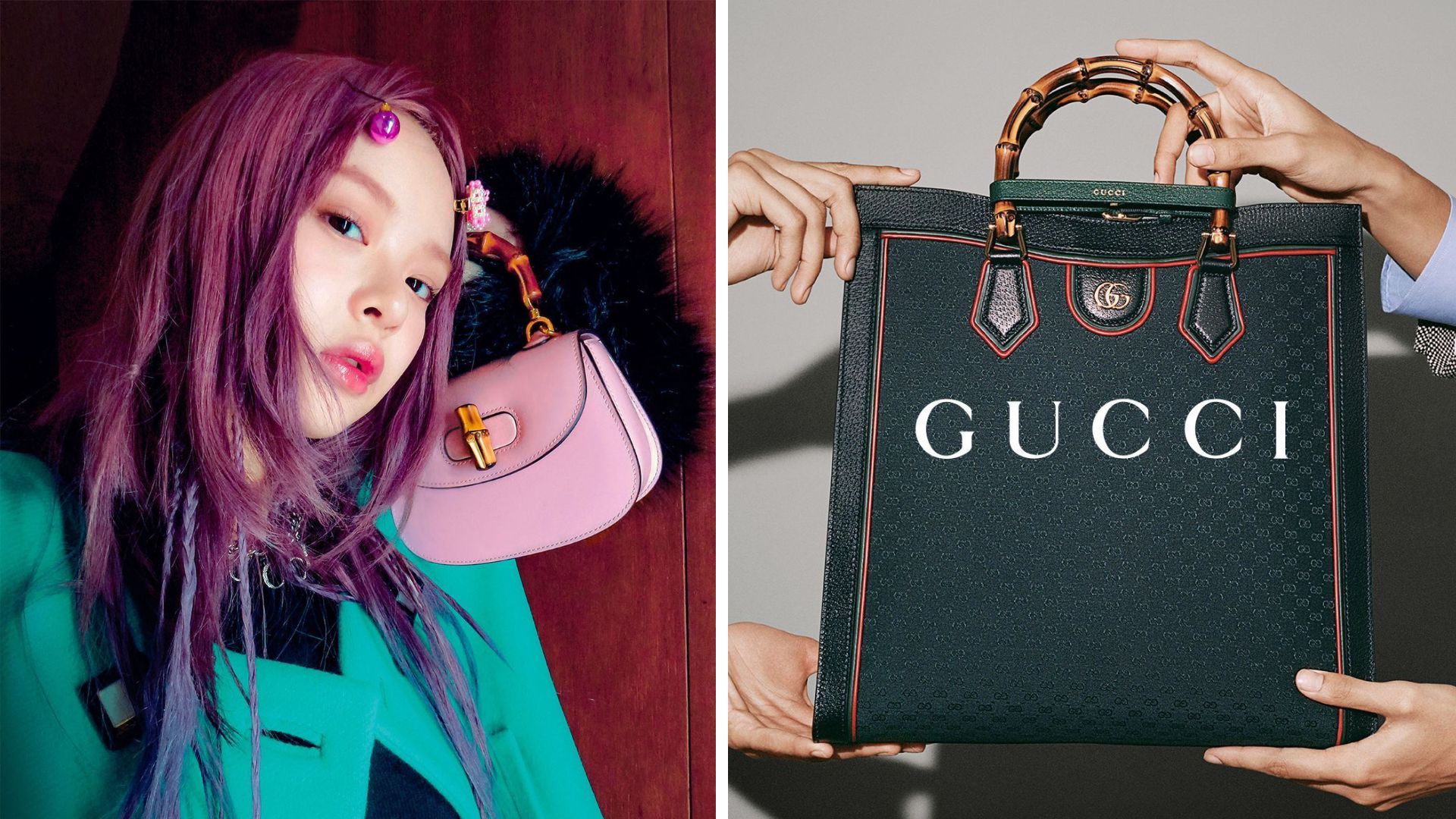 After world war II in 1947, the luxury fashion business was severely affected owing to material shortage. At such a juncture, the Italian house realised that Japanese bamboo could become the perfect replacement for exotic leather as it was convenient to grow and could be bent into handles over an open flame. The bag was originally called the 0633 and was later rechristened to its current name.
The Gucci Diana is an extended version of the Gucci Bamboo. A tote bag, it is a Gucci trademark design that has seen numerous innovations. Lady Di often carried the tote on her trips and even paired it with shorts and sweatshirts. Soon this iconic bamboo-handled bag became emblematic of her freedom and individuality.
In July 2021, the Gucci family honoured the late Princess on her 60th birth anniversary with Michele renaming it Gucci Diana. The handbag features a GG logo facing the same direction, as well as neon bands around the handles which are reminiscent of the old ways of keeping the bamboo in shape. Some models have crossbody straps as well.
Undoubtedly one of the most iconic bags of all time, the Gucci Diana is offered in mini, small and medium sizes, and seven colours.
A mini Gucci Diana tote bag can cost USD 3,300.
Buy Gucci Diana Small Tote Bag Here
Bottega Veneta — Jodie Bag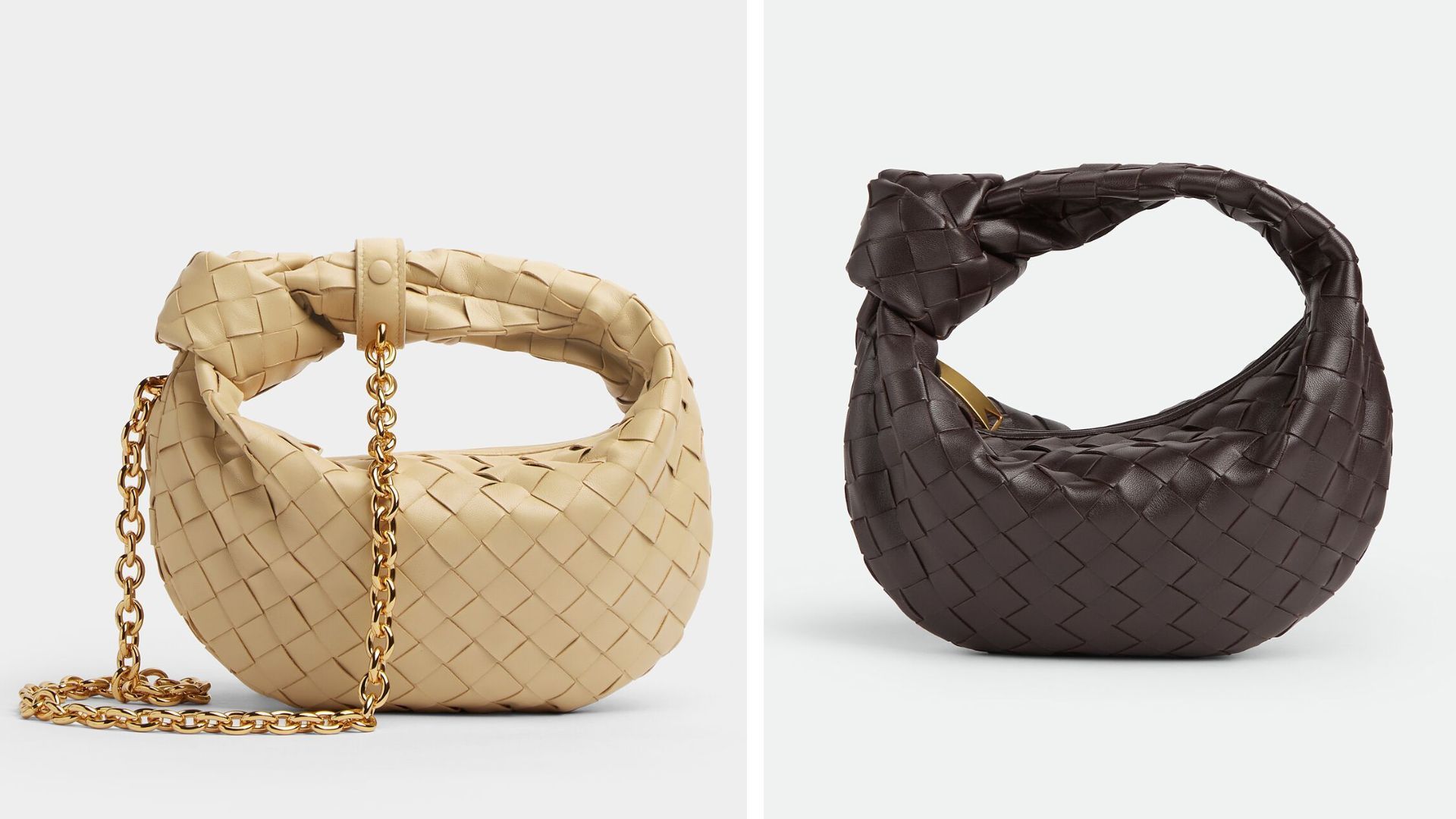 The bag had already hit the stores in 2020 but it didn't spark any curiosity until actress Jodie Foster was seen shielding herself from the press with a large black Bottega Veneta bag, and since then it took her name.
A recent entrant in the elite club of handbags, the Jodie bag shares many similarities with the Hobo bag, but creative director Daniel Lee added a knot to it. The bag also arrives at a time when the hegemony of brand logos and monograms is the most trending fad. This bag aims at offering a cleaner and chic minimalist design that is both modern and elegant.
It comes in several sizes — candy, teen, mini, small and maxi — and is available in myriad colours. The most common design features an intrecciato leather, but other variants in padded intrecciato and puffy leathers are also quite fashionable.
A Jodie mini leather tote can cost USD 2,176.
Buy BOTTEGA VENETA Mini Jodie Hobo Bag Here
Balenciaga's City bag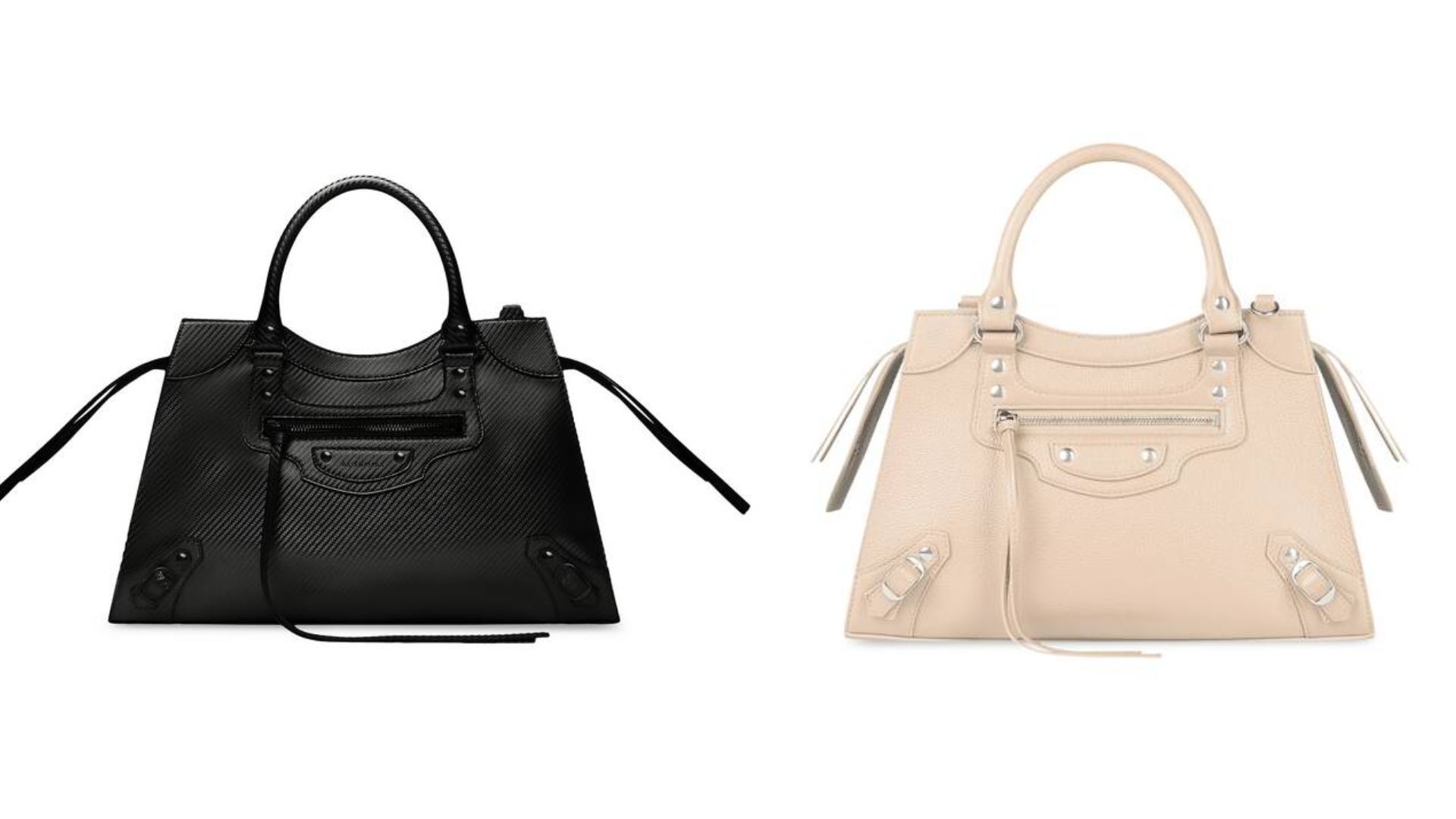 Though it debuted in 2001, this Balenciaga bag was not approved initially. When the house's former creative director Nicholas Ghesquière first presented the design to the brand's management it was rejected for being slouchy. However, Ghesquière managed to convince them and made just 25 copies of the bag for the runway show. He also gifted them to models who liked them and it was instantly lapped up by actress Kate Moss. Well, the rest is history.
Today, the official Balenciaga website only carries the modern iteration of this iconic bag — the Neo Classic (in picture). The bag has refined hardware and comes in several colours. Available in sizes mini, nano, small, medium and large, the bag is offered in several leather options including grained calfskin and crocodile embossed calfskin. The main difference between the Neo Classic and the City is that the latter doesn't use 'aged' leather and the former is a tad more structured. However, the zippers, studs and other hardware remain the same.
A Balenciaga mini Neo-Classic City bag can cost USD 1,979.
Buy Balenciaga mini Neo Classic City bag
(Main and Featured image credit: Gucci)