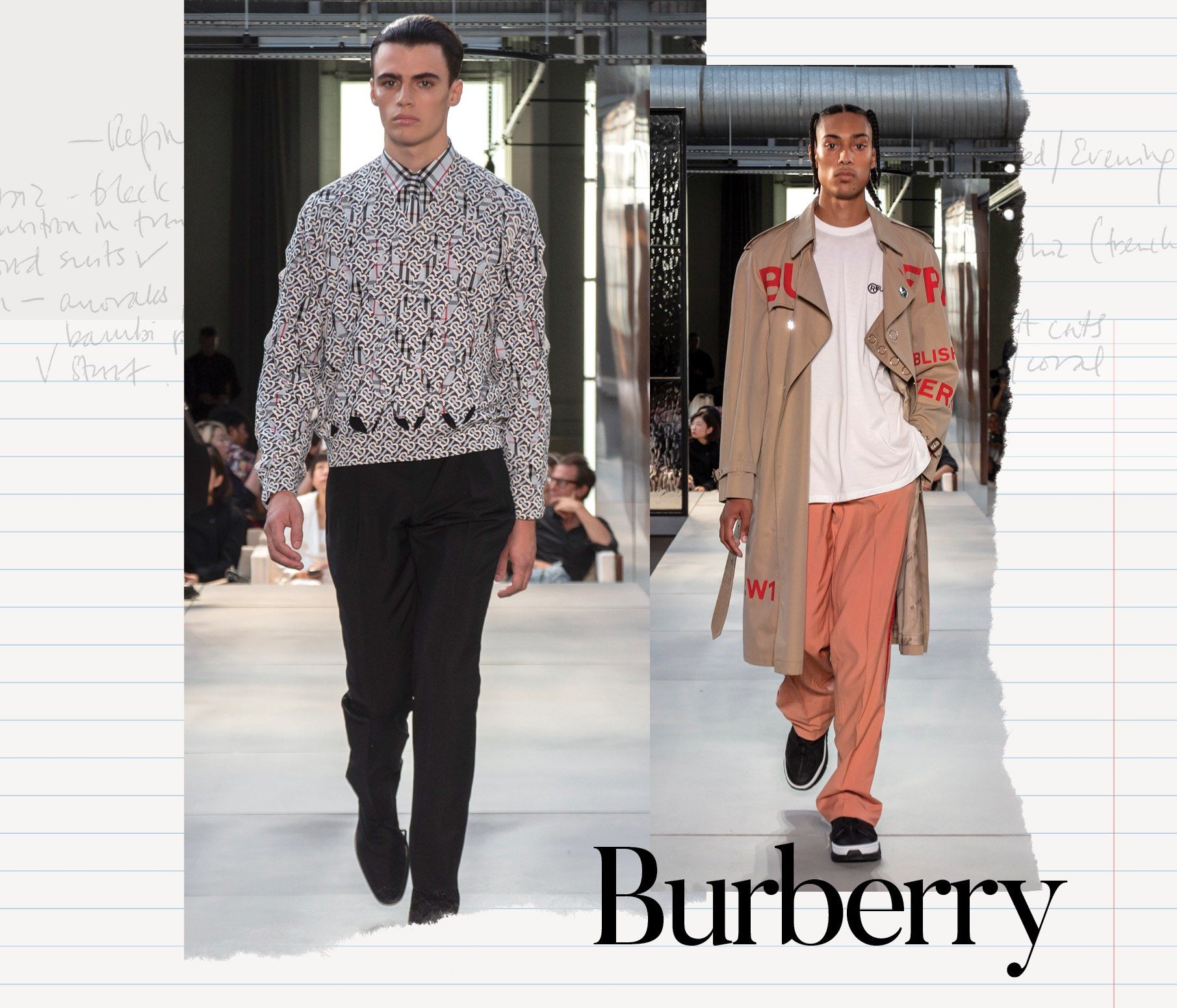 Reflecting on the shows, the sets and the word on the street.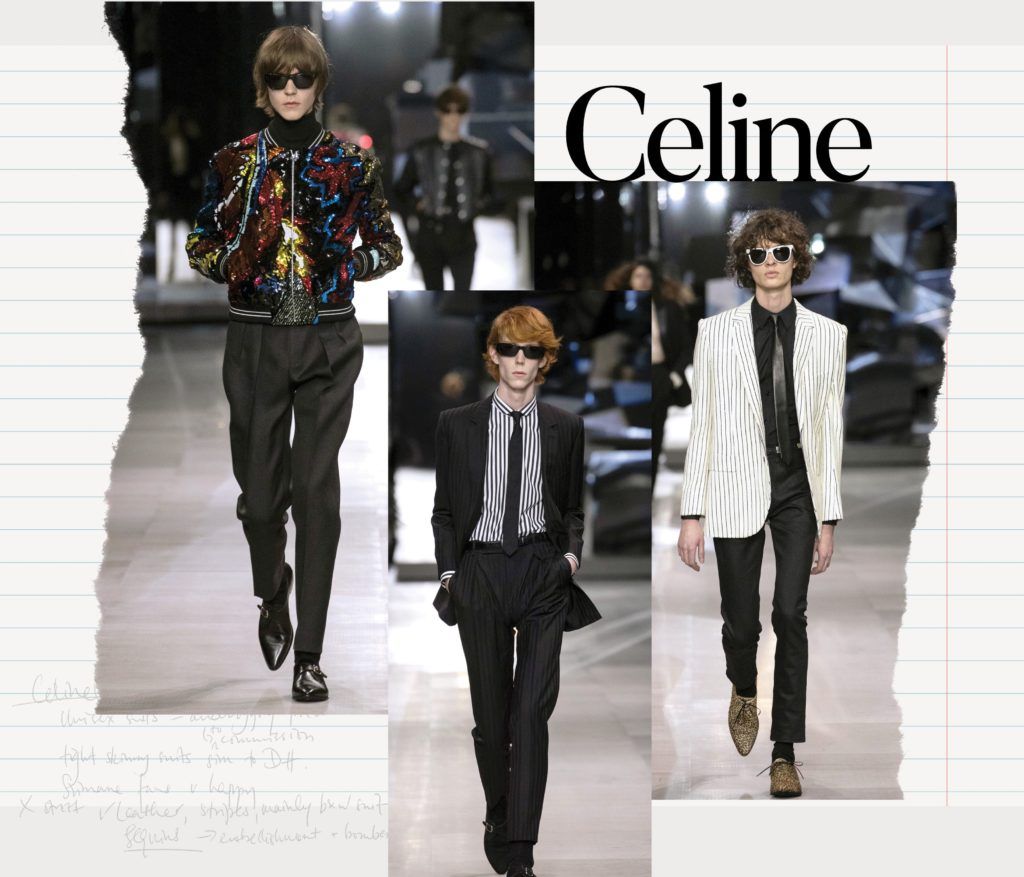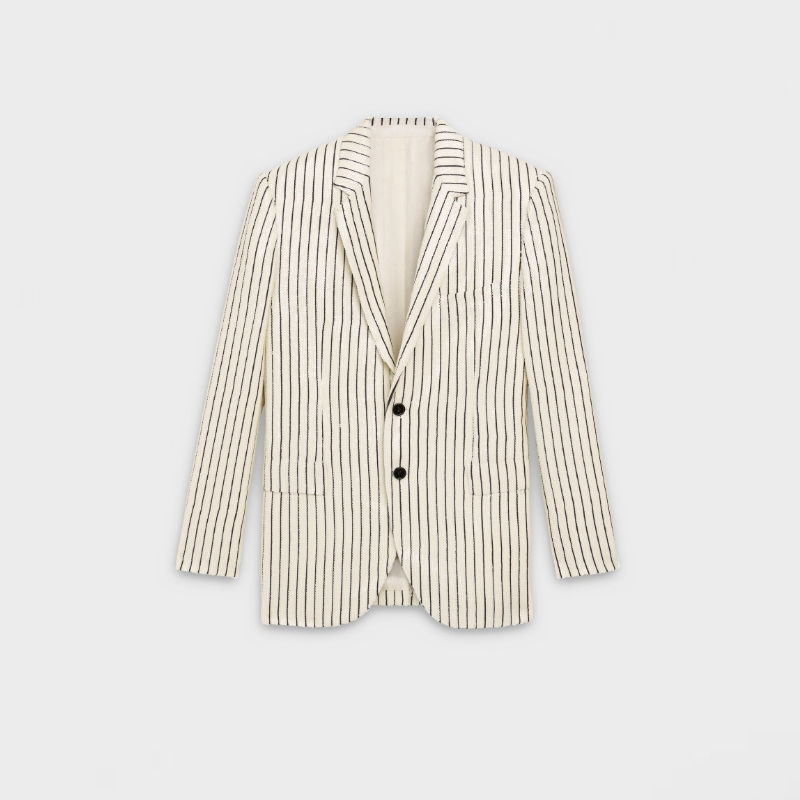 Sequins Embroidered Rectangle Jacket
HK$54,000
Sequins Embroidered Rectangle Jacket in Tennis Striped Wool
Buy now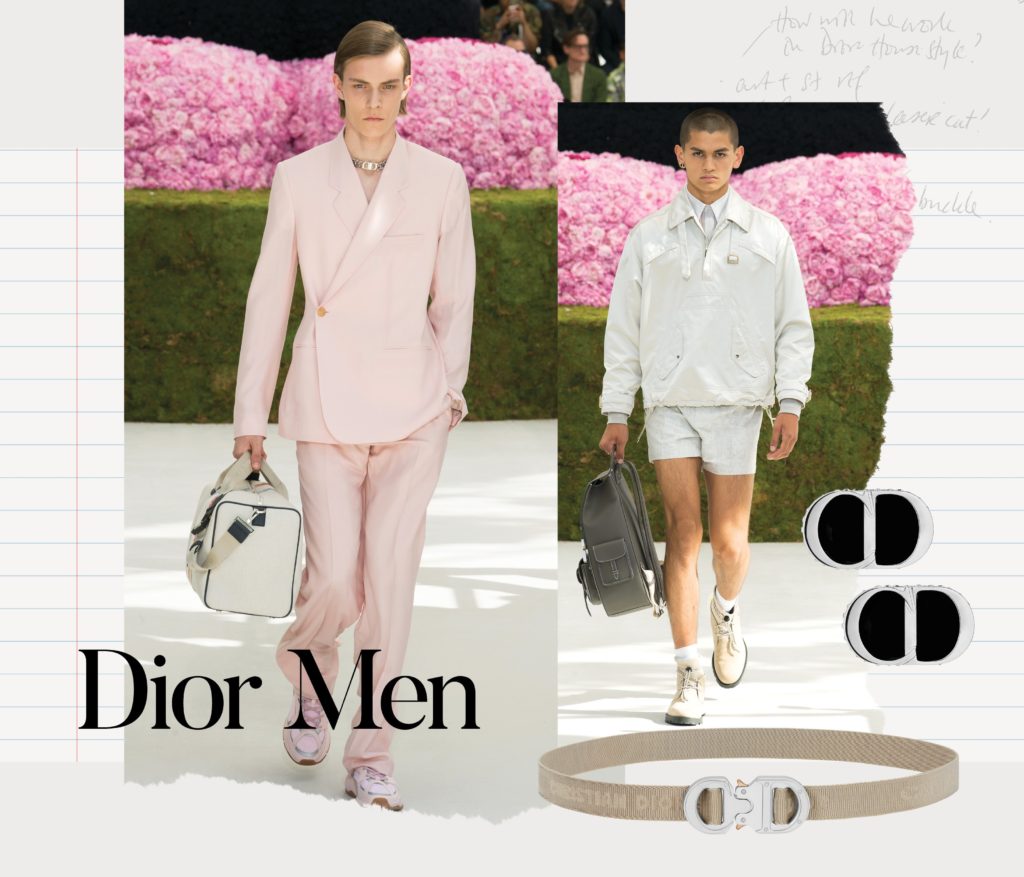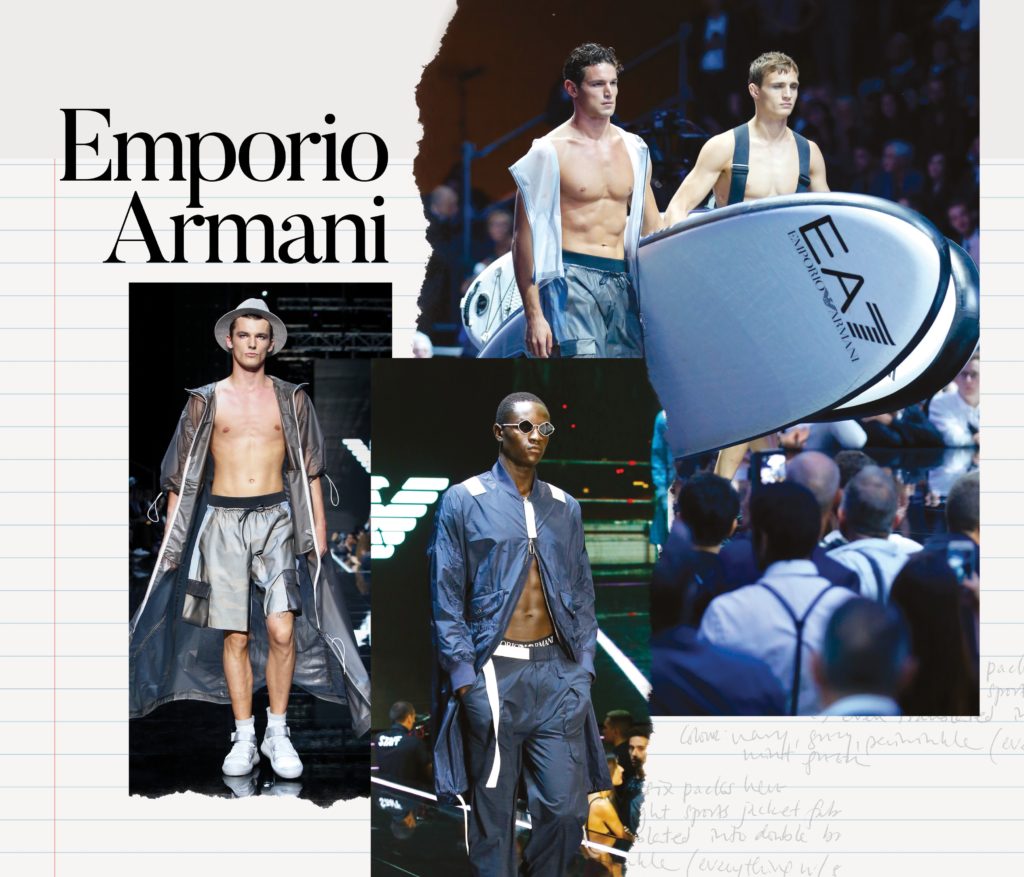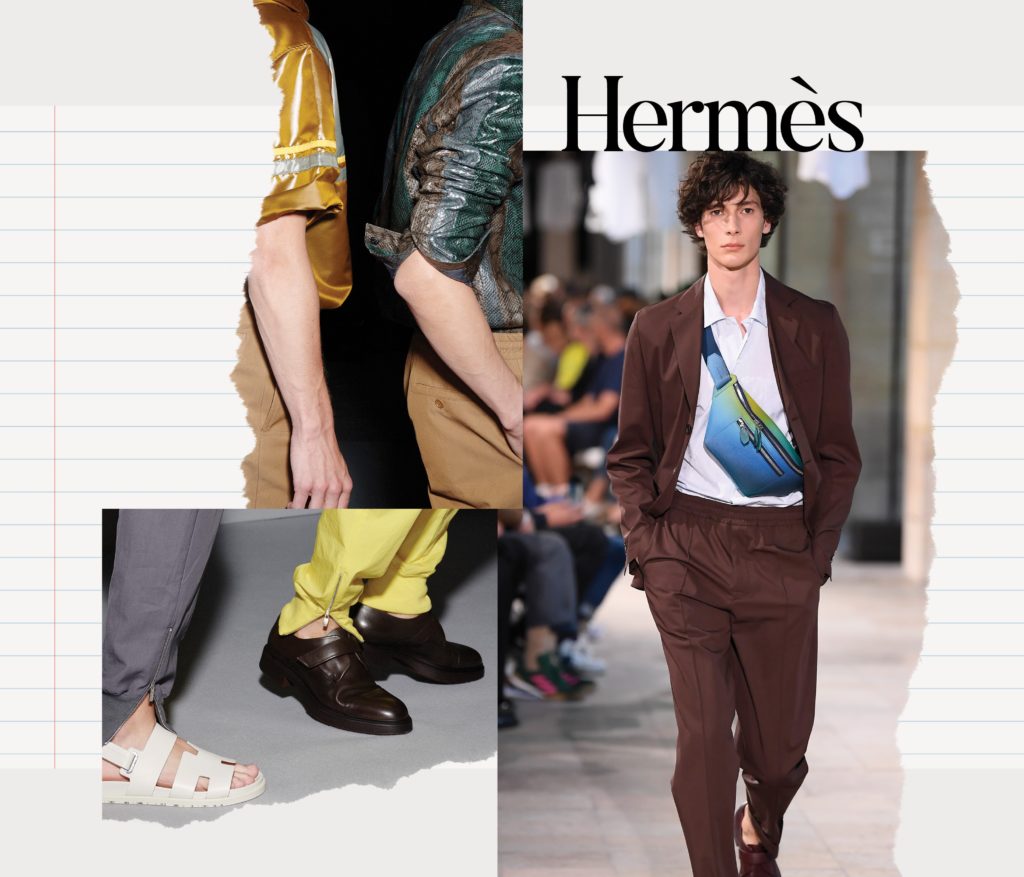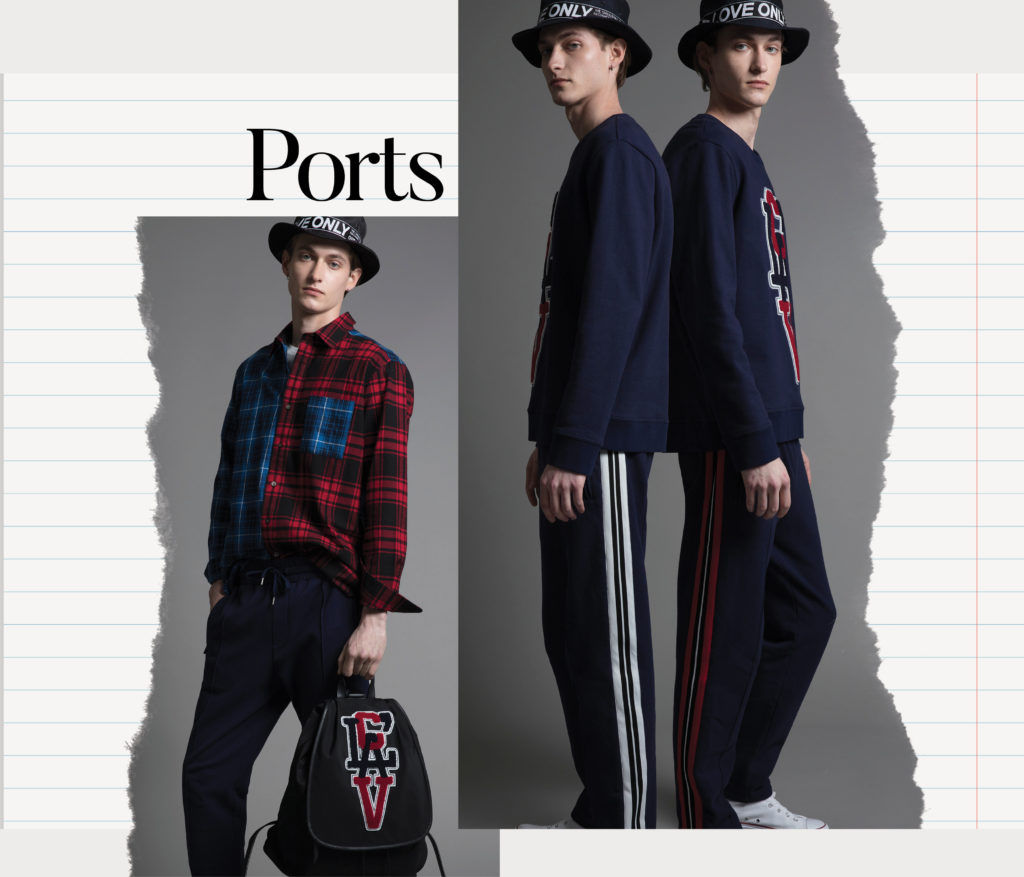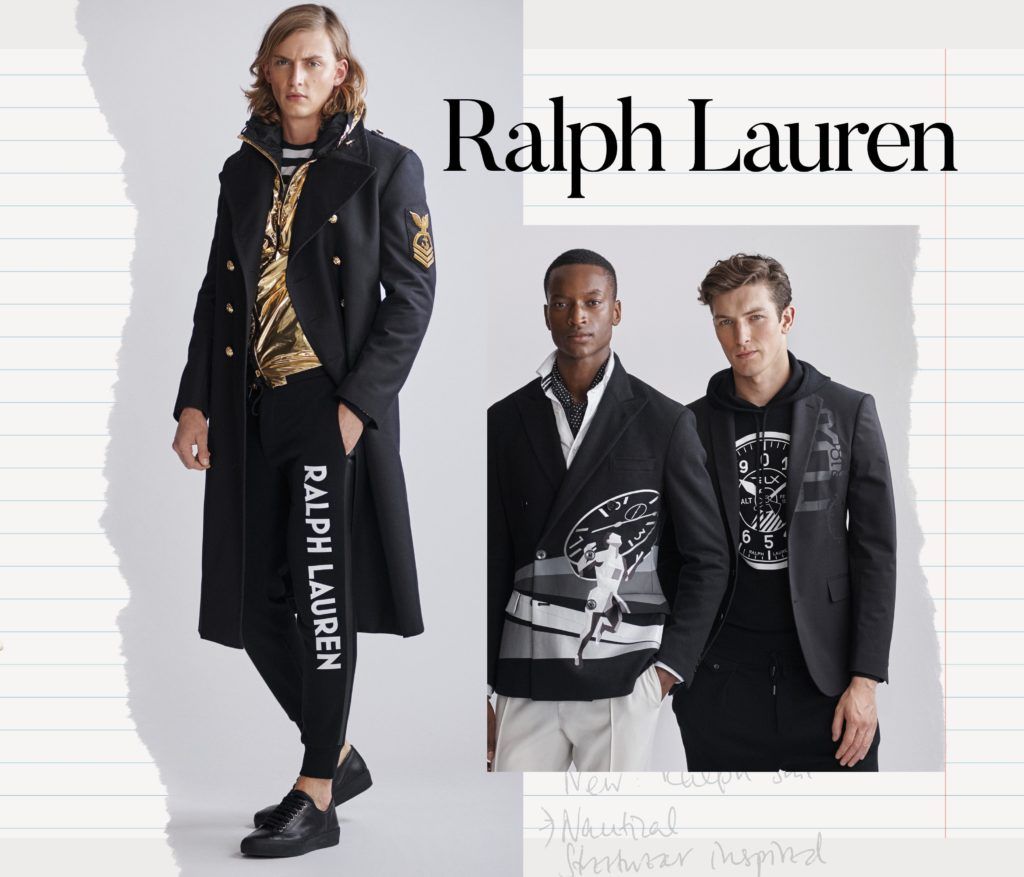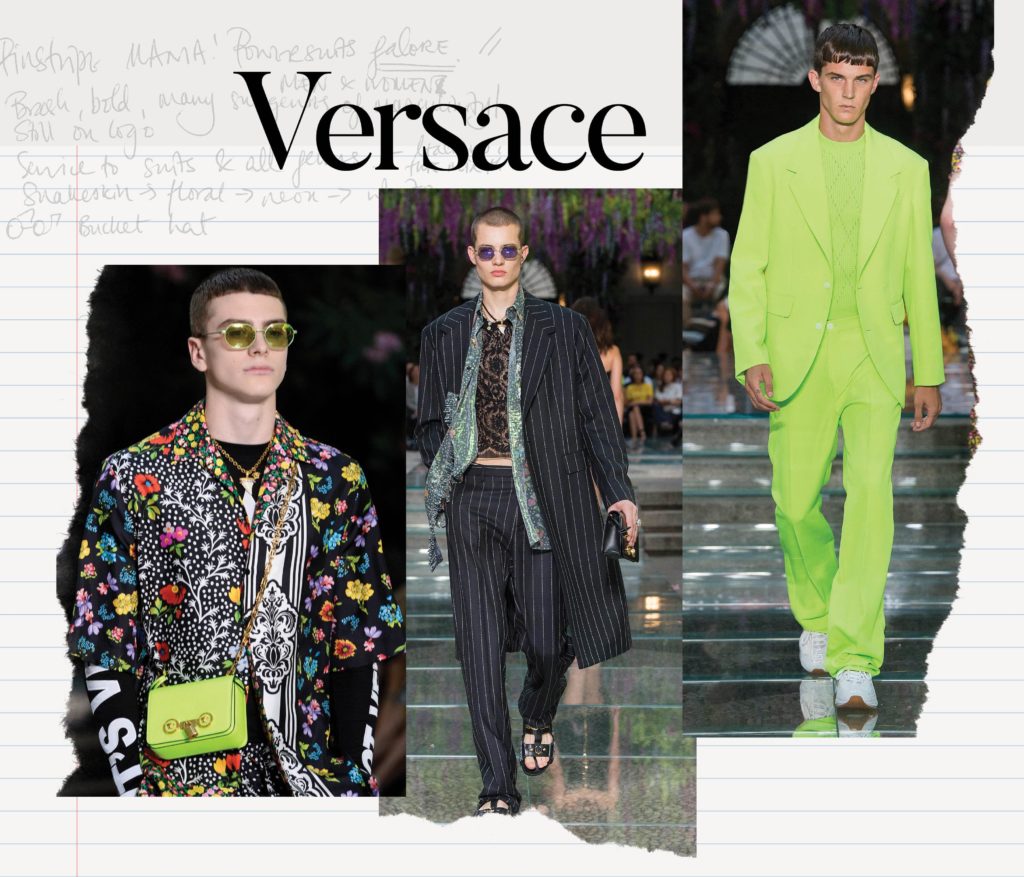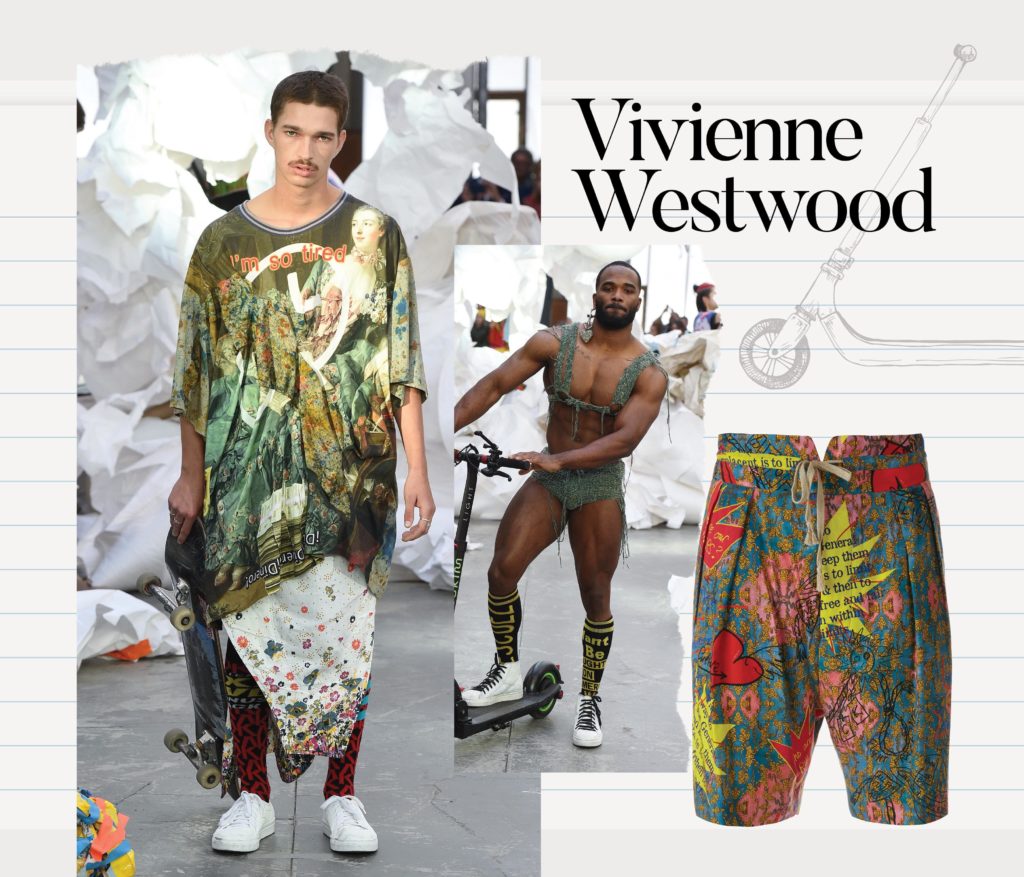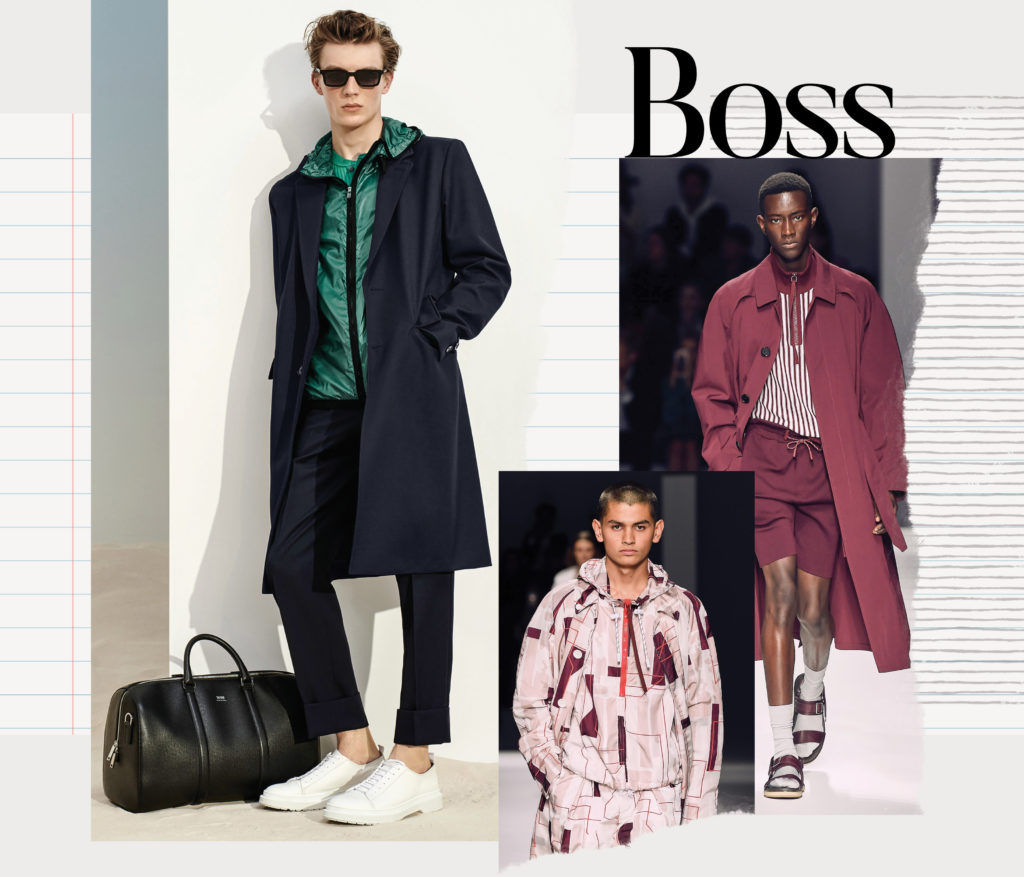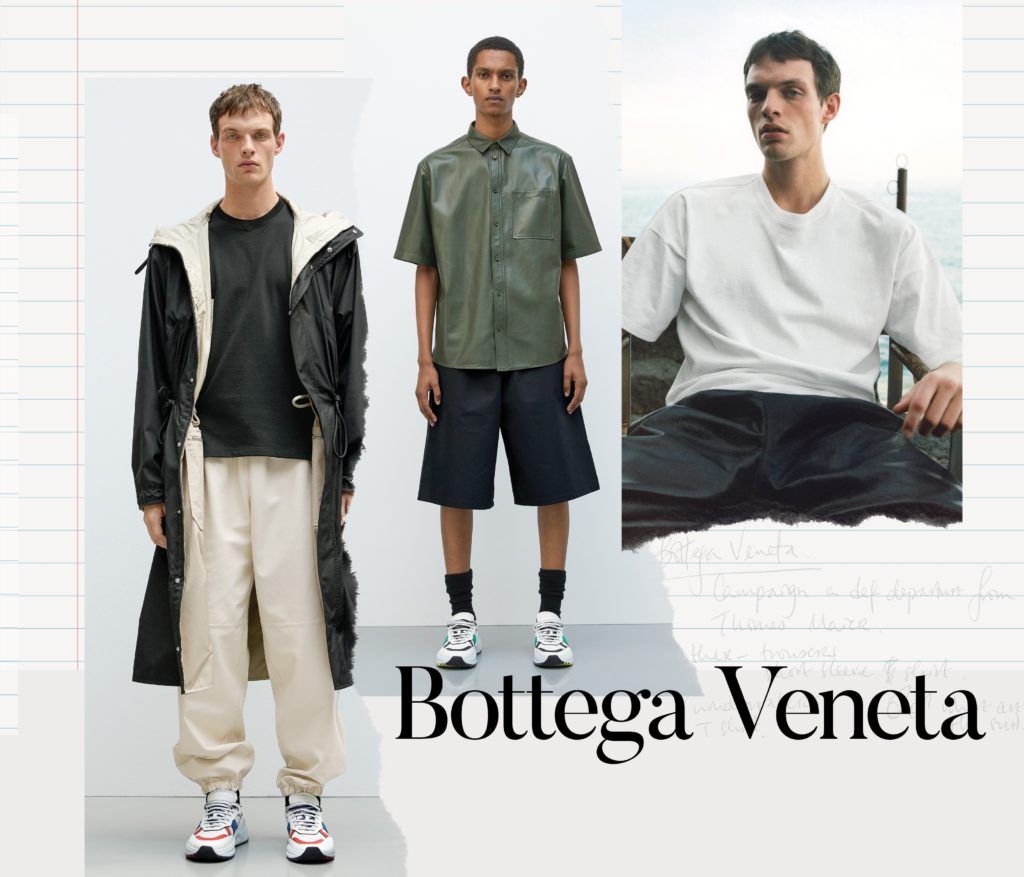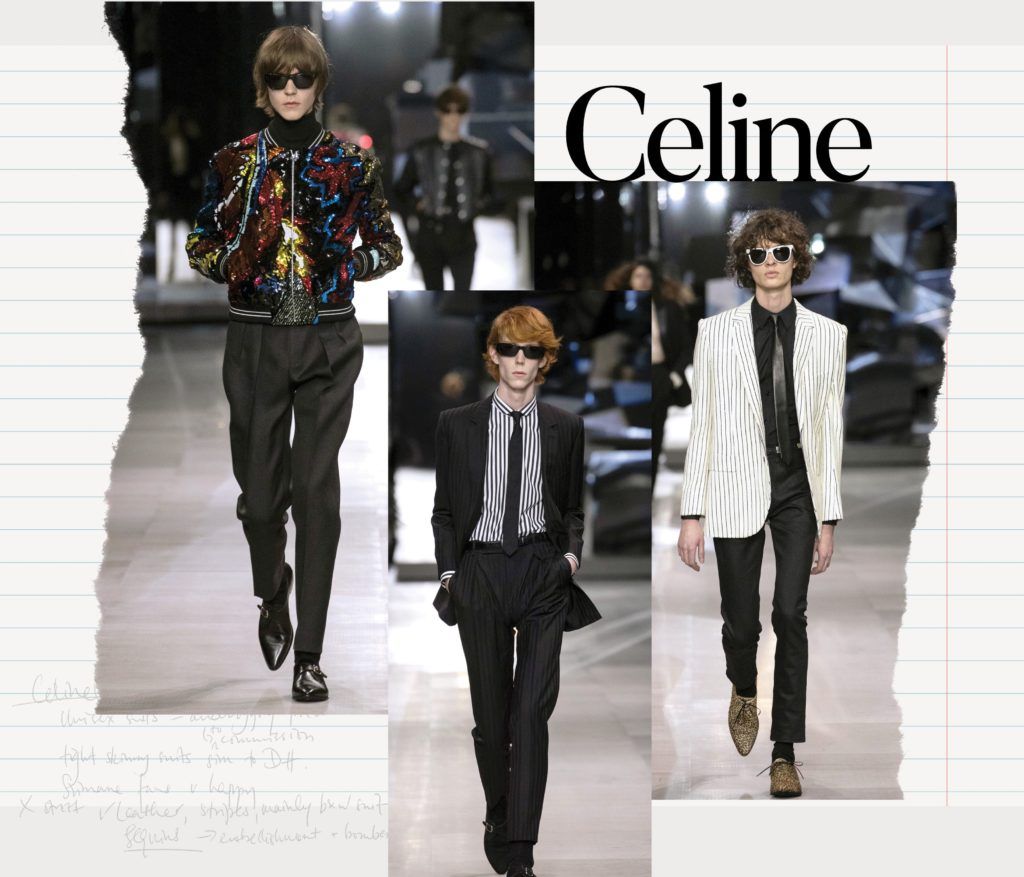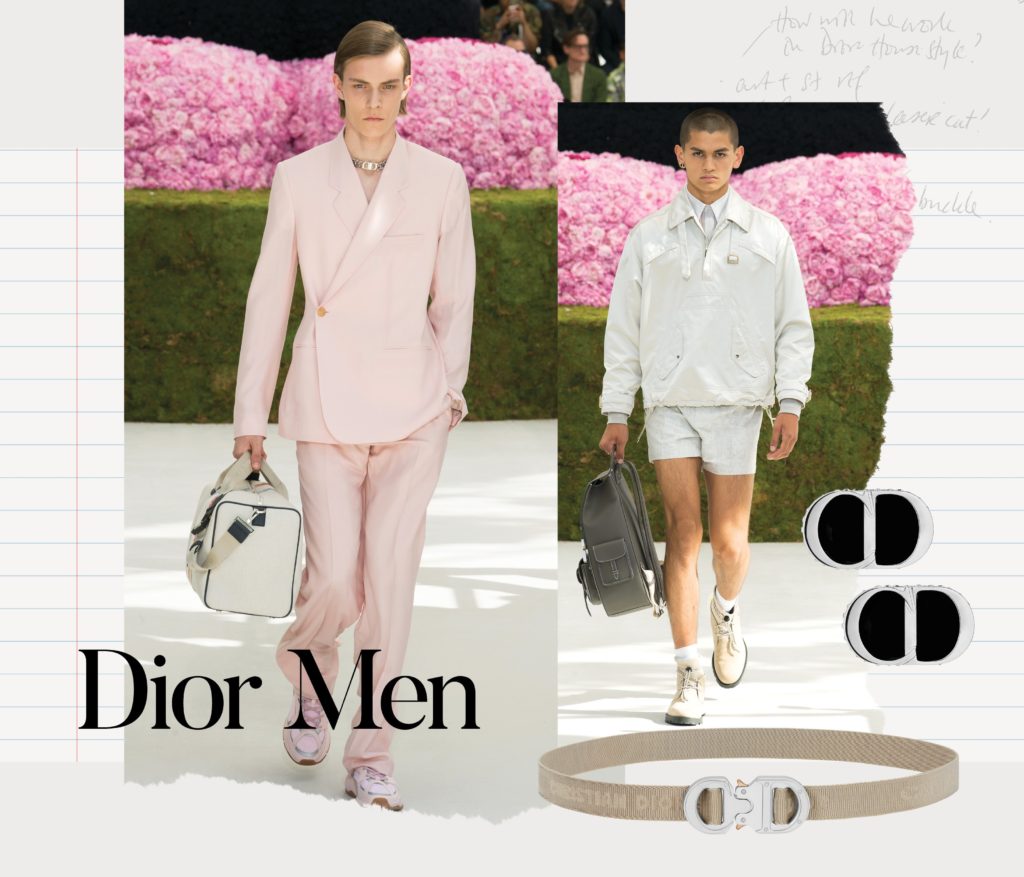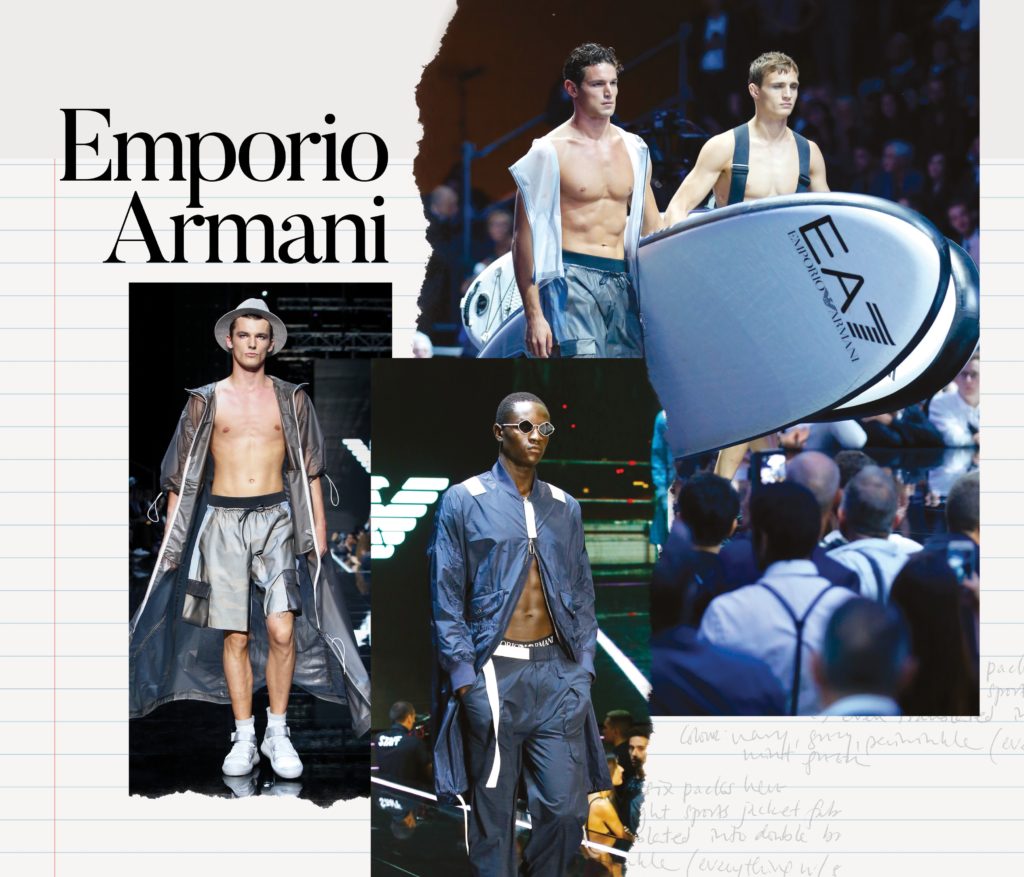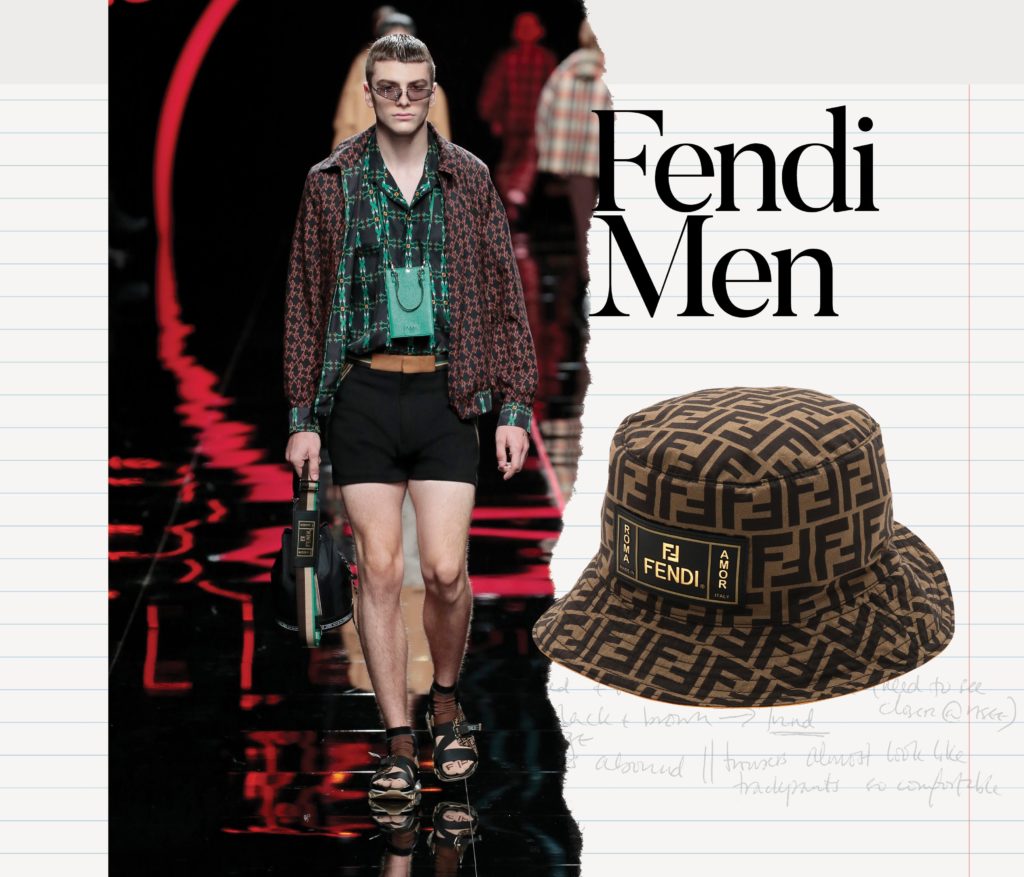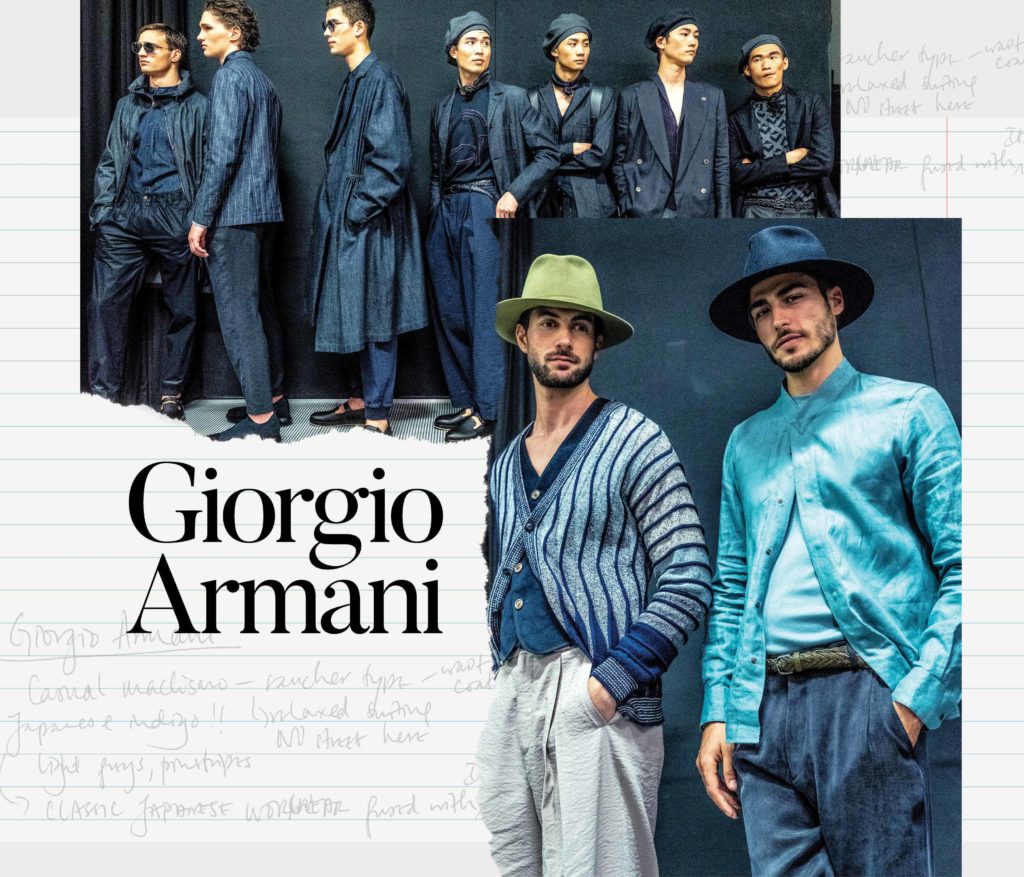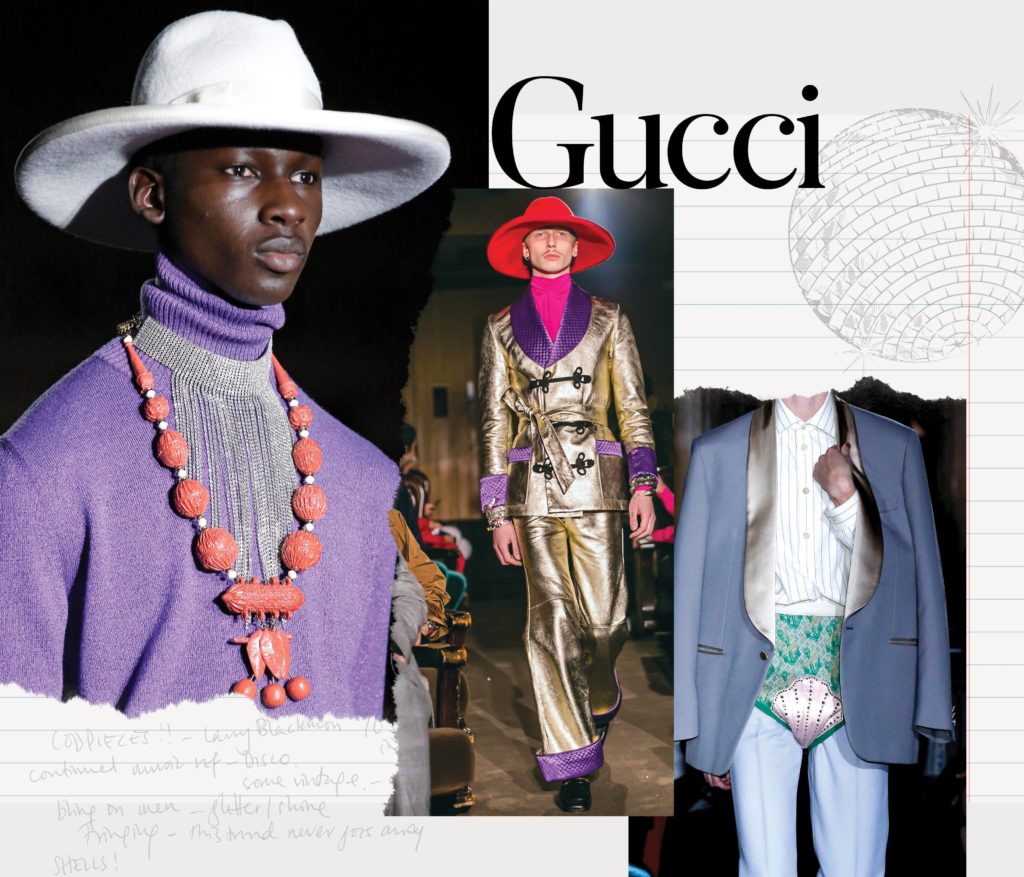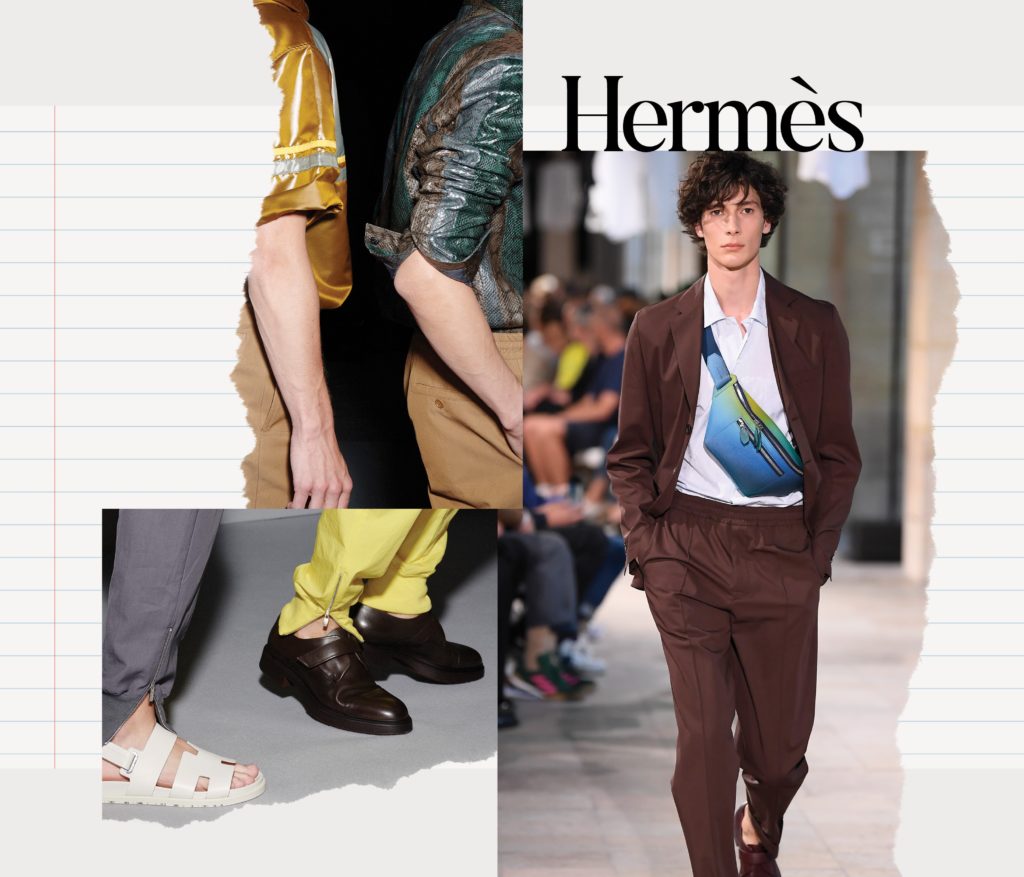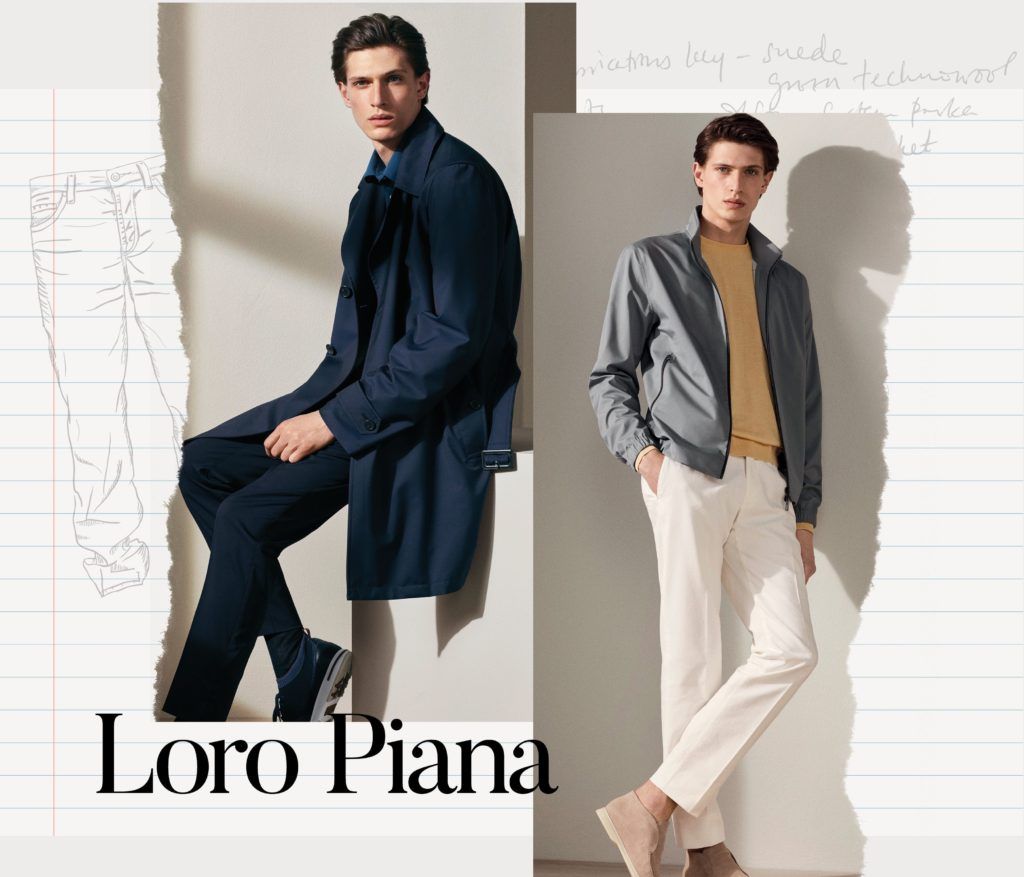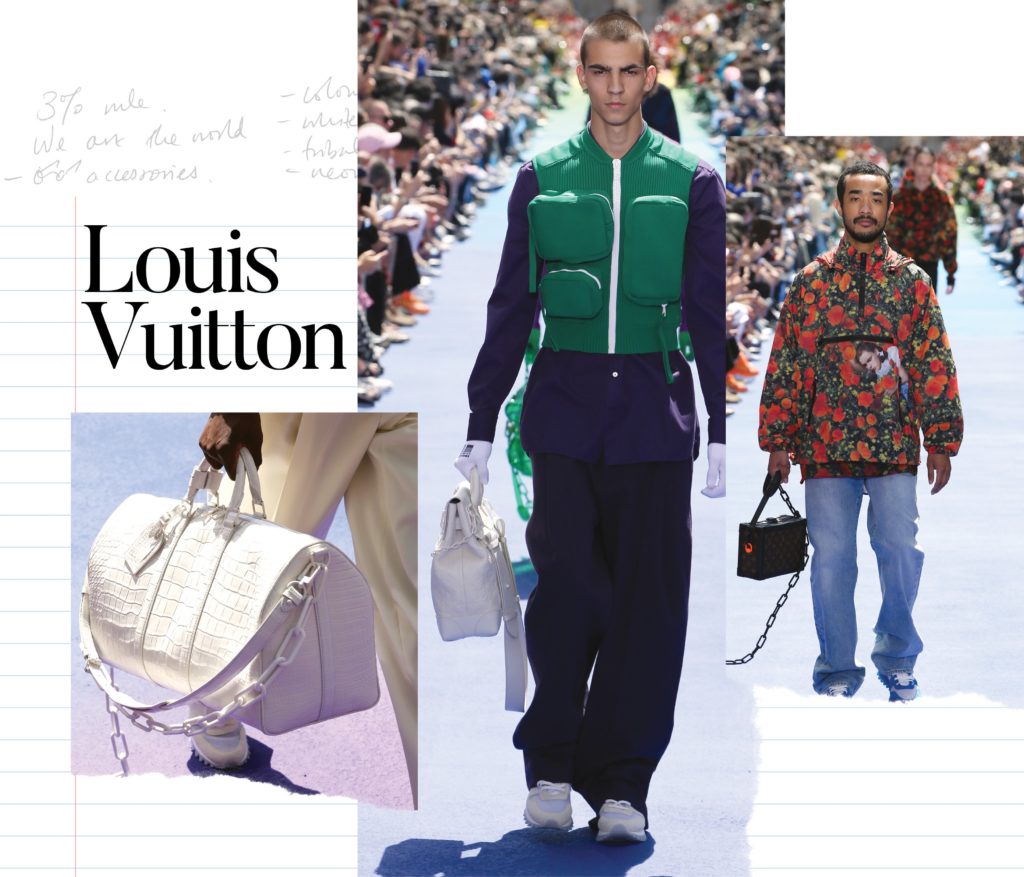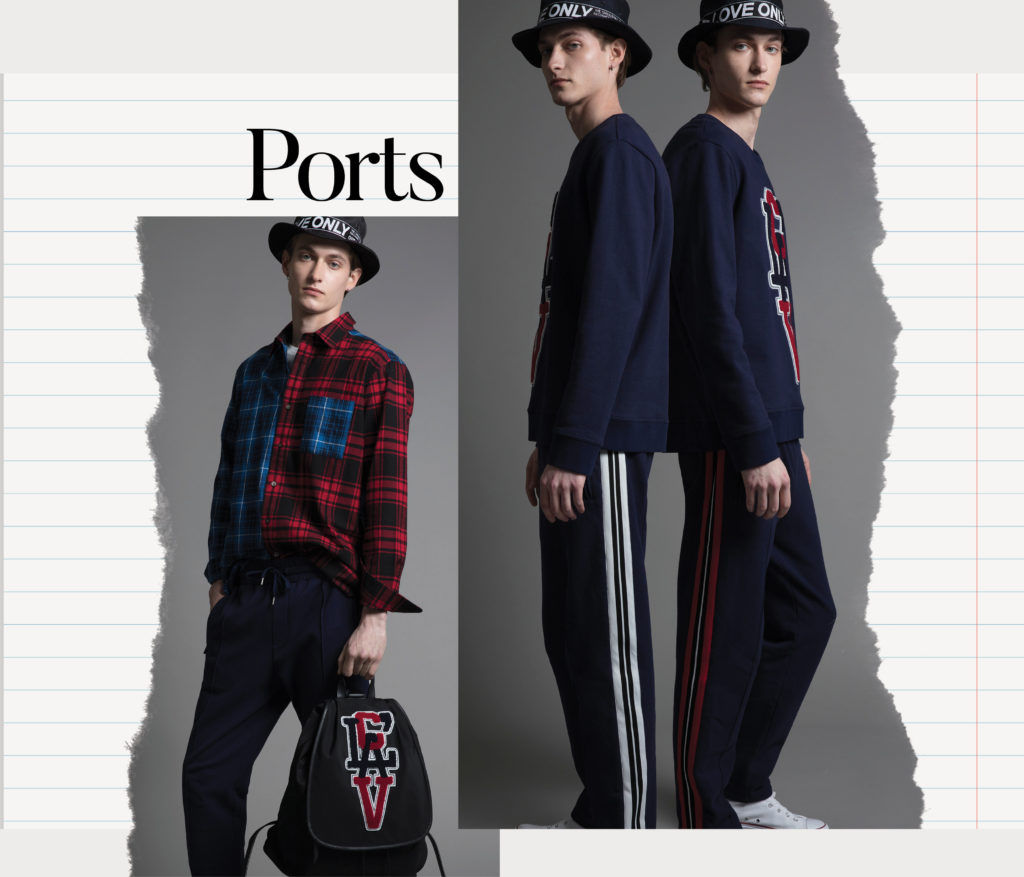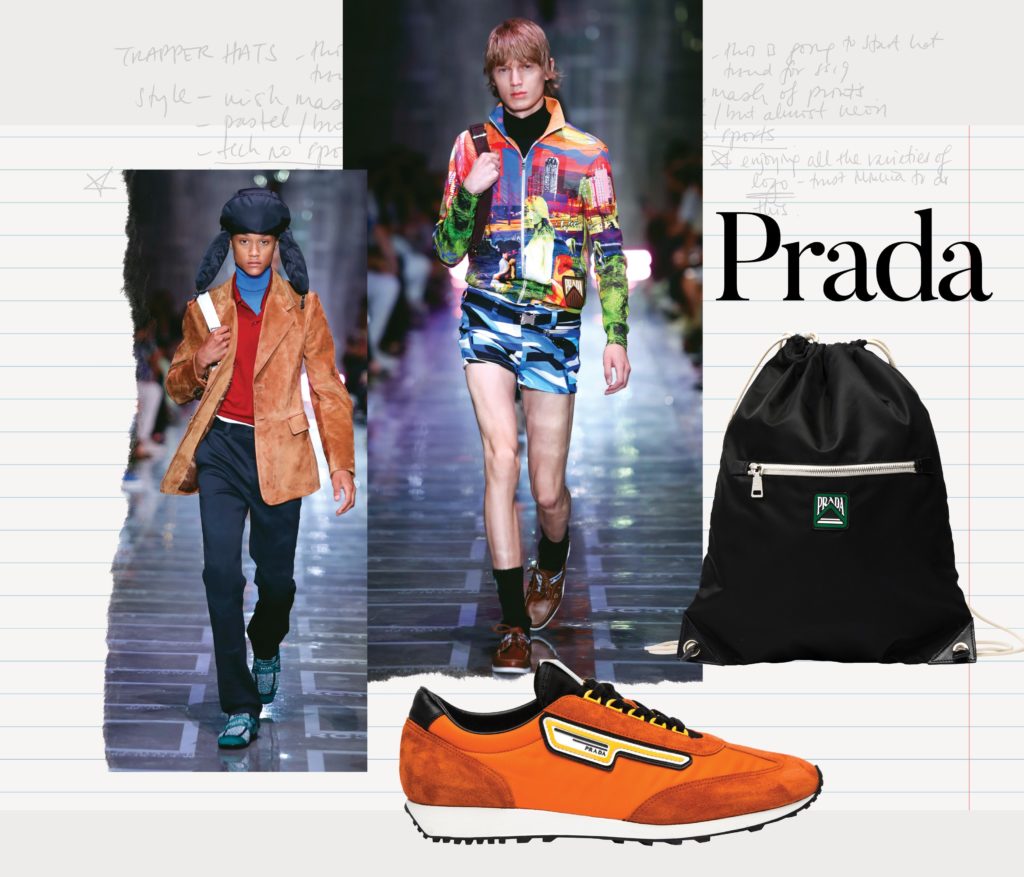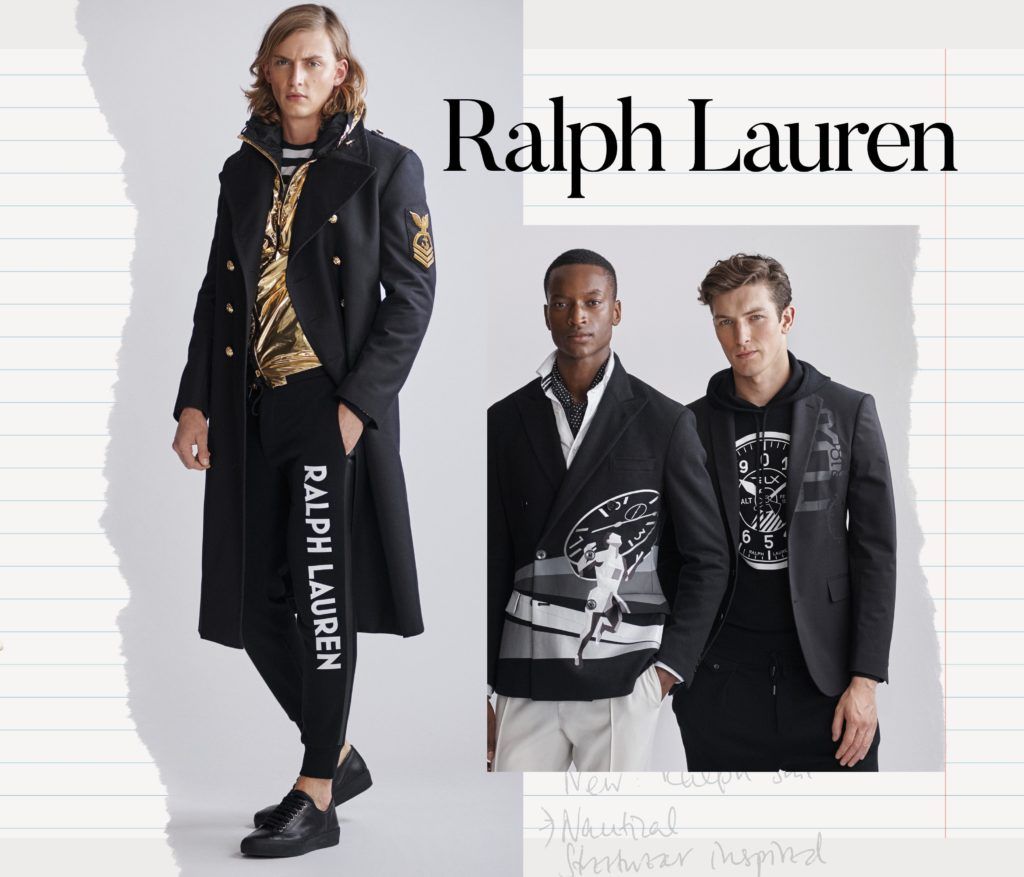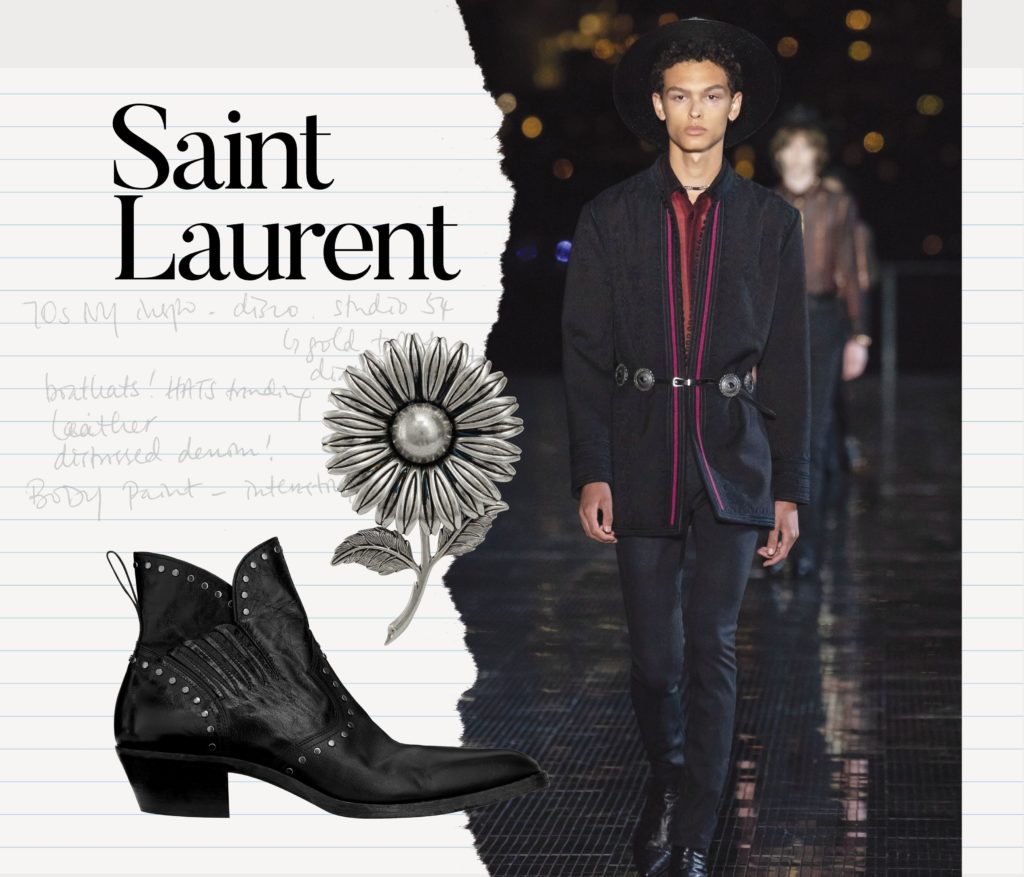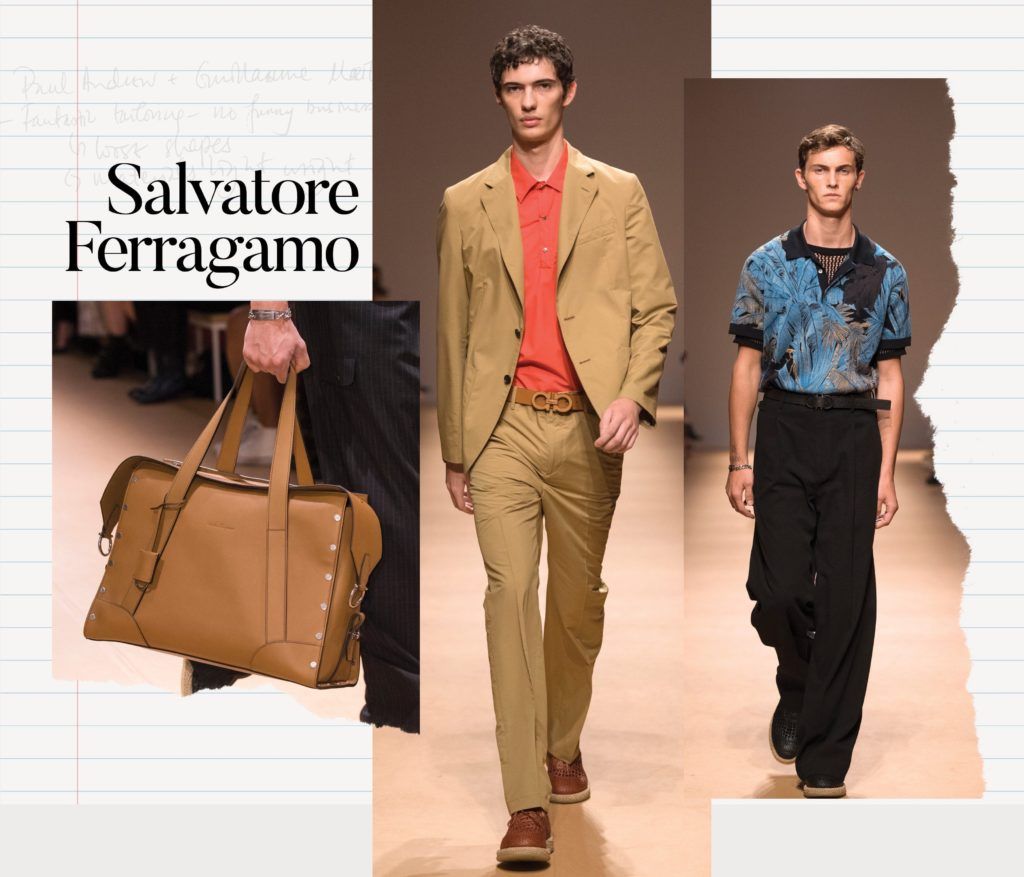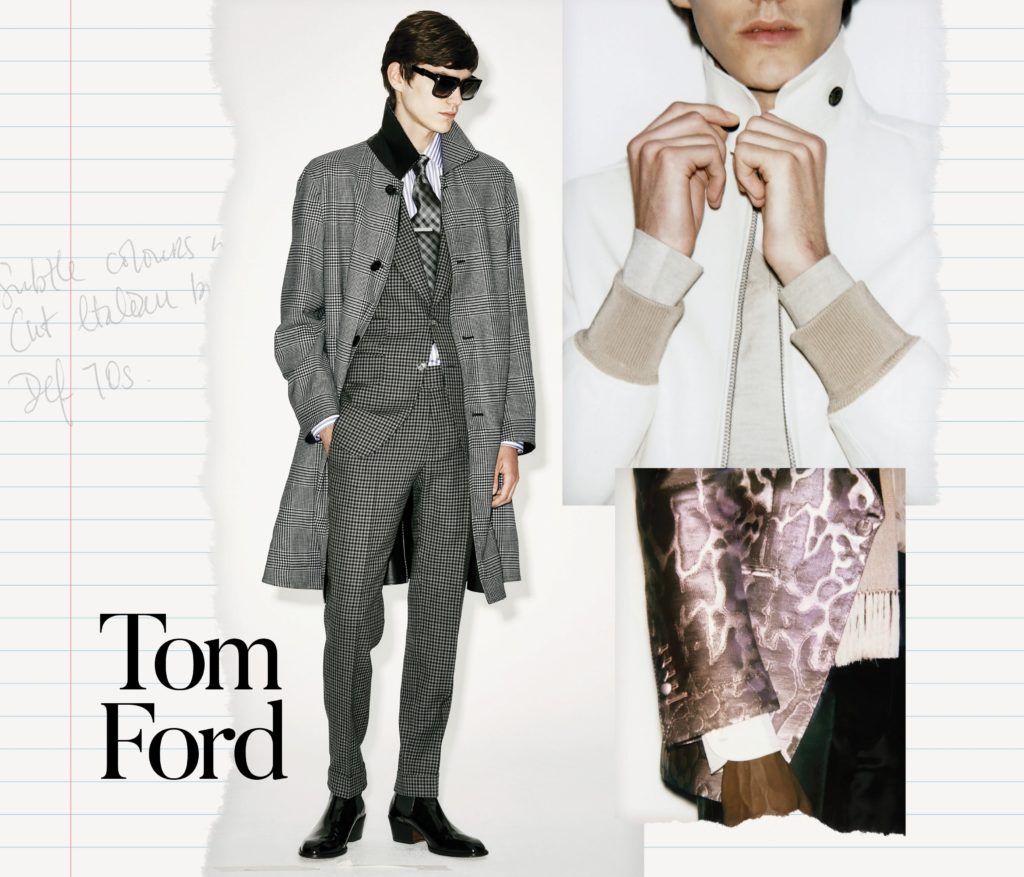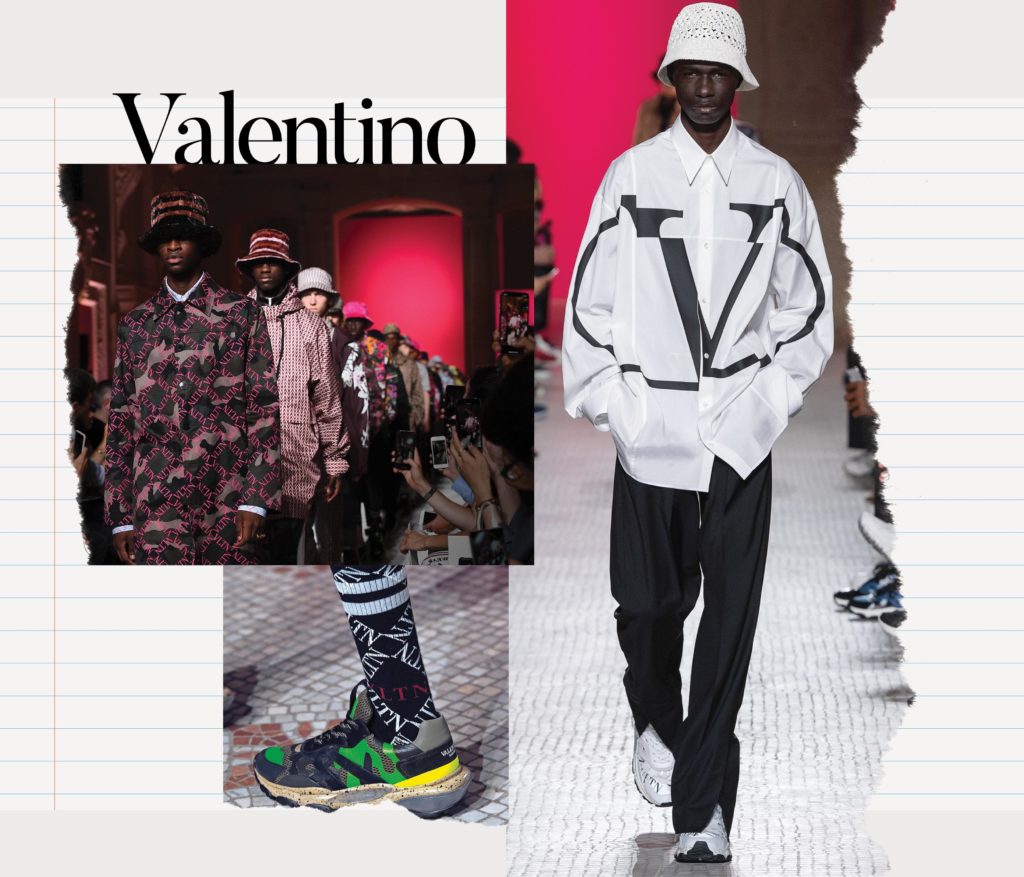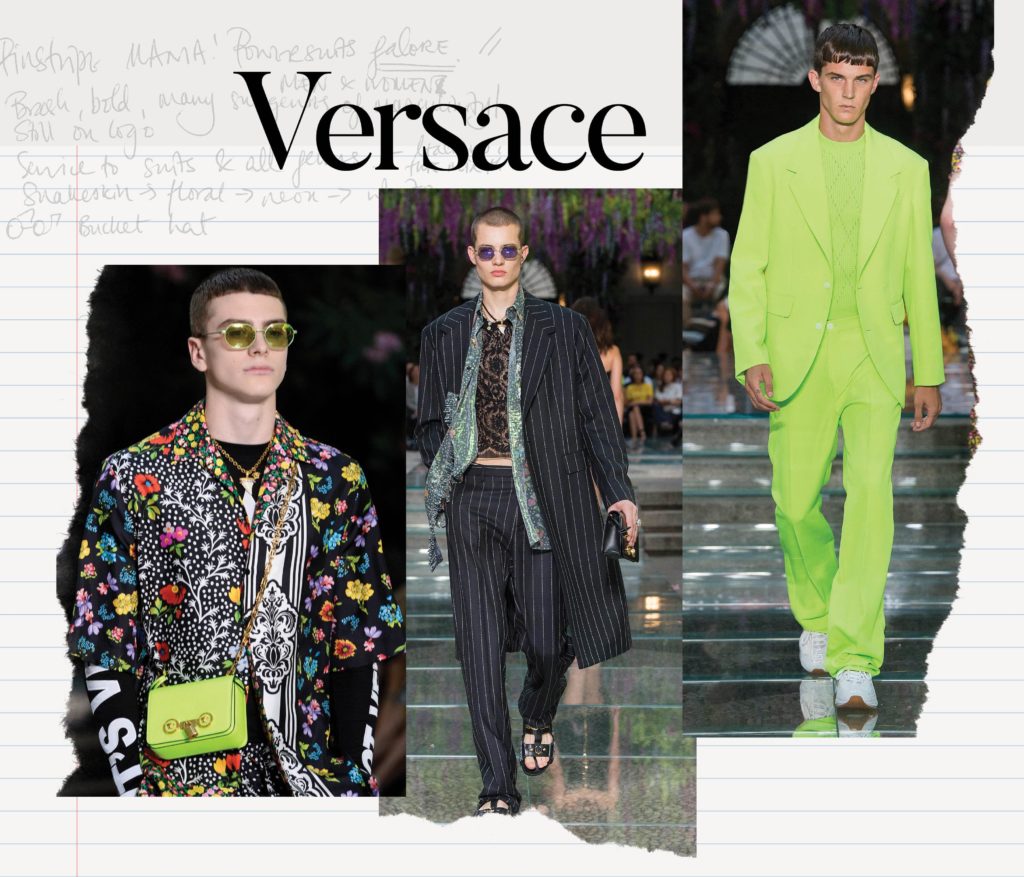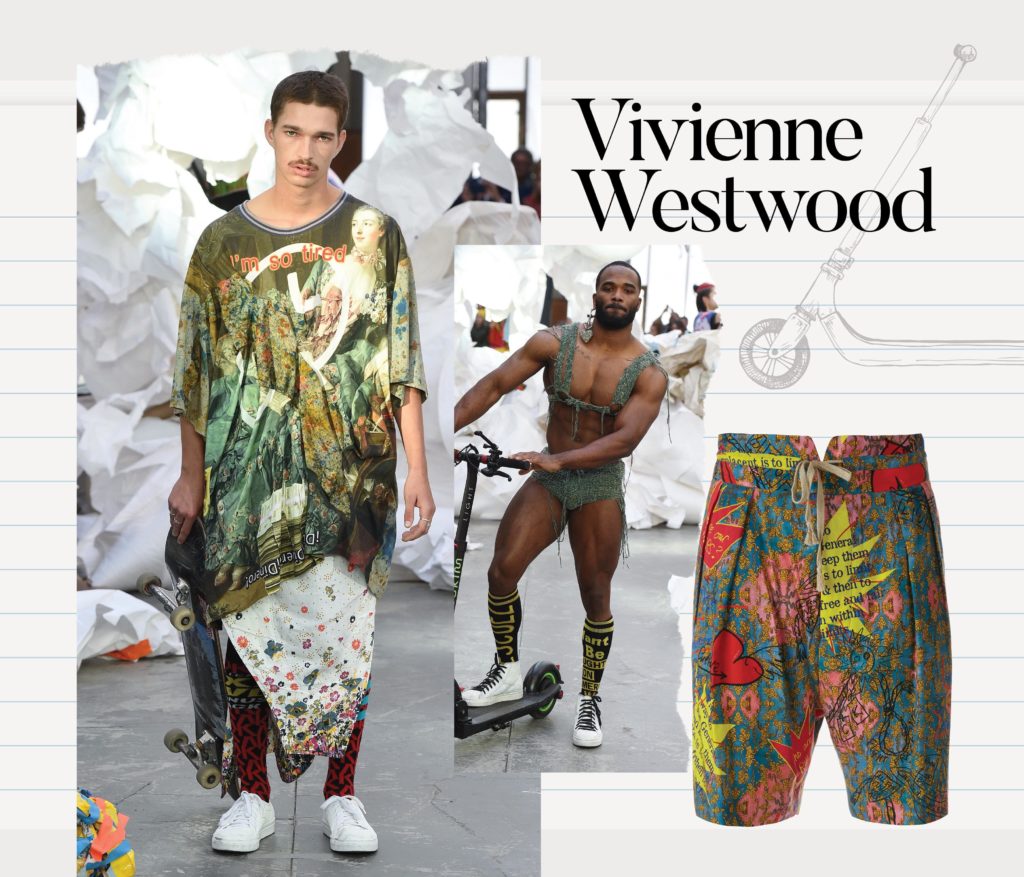 I / XXI
Lightness of being is not unbearable for the team at Boss after its anchor, Jason Wu, departed the brand last season. With that, the clothes lightened up. Folks, it seems, were less uptight with pressed fabrics — suits came crinkled, windbreakers were layered underneath suits, and instead of a suit jacket, cropped corduroy jackets topped shirts and trousers. The brand played it up a little, introducing stripes and, as always, playing with colour.
II / XXI
Celine alum Daniel Lee made his first foray into menswear after serving as head of ready-to-wear at the French house prior to his current appointment. Taking a few cues from his own simple uniform of T-shirt, jeans, knitwear and trainers, Lee looked to inject a sophisticated Italian put-togetherness into clean design. Think leather short-sleeve shirts, baggier trouser lengths and lightweight windbreakers paired with leather joggers.
III / XXI
Riccardo Tisci's first chapter for British house Burberry focused on the dynamic of father and son in menswear. The mammoth collection saw a gradual shift from traditional black trench coats and suits to more street-ready, grungy looks. Shirts made way for T-shirts and trenches had the brand name emblazoned across them — because all youngsters now like a good dose of logo. It's worth noting that craftsmanship still took centre stage as one particular jumper (shown above) was stitched out of the new Burberry "B" logo on top of the house's heritage check.
IV / XXI
Hedi Slimane's much talked-about first collection for Celine incorporated men's looks — which, as per his wishes, were all available for women as well, because Slimane believes in the unisex uniform. Think sharp, slim suits with a dose of leather, stripes and sequins. It's a party up at Celine and you know without a doubt who's the host with the most (black suiting).
V / XXI
Kim Jones wrote Dior Men a new chapter this season and exceeded expectations by fusing his enthusiasm for streetwear with the women's couture signature of the house. For starters, we took a look at the Oblique suit, with its wrapped jacket and buttons off centre. This cut referenced a 1955 couture collection, while the introduction of rosebud pink referenced Christian Dior's own predilection for the colour. Of course, what would a Kim Jones collection be if not one that adds a soupçon of street? Jones called on the help of his friends Matthew Williams at Alyx and Yoon Ahn at Ambush, with the former tweaking his own familiar buckle shape for use across Dior Men belts, bags and hats, while the latter created this season's hottest jewellery, from chain chokers to earrings. Let's not forget that Jones managed to rope in KAWS to recreate his famous BFF character in pink and white blooms, and kitted out in a sharp Dior suit. A perfect collection to cater to existing customers and one that's sure to lure the street-style crowd.
VI / XXI
Virile masculinity seems to have been at the forefront of the Emporio Armani spring/summer collection. While many looks were in soft windbreaker fabrics in a toned-down navy, the relaxed fits allowed the men beneath to speak for themselves. There were ankle-length translucent windbreakers that frame washboard, exercise-toned abs, but even the double-breasted suits in the collection were made from lighter, activity-friendly fabrics that accommodated the muscled form beneath.
VII / XXI
Fashion tends to be a family affair, and it's no different when it comes to Silvia Venturini and her brethren. This season she passed over the creative reins to her de facto son-in-law Nico Vascellari, who wore the mantle of artist-in-residence. Playing with words — fun, because Fendi is all about the logo at the moment — Vascellari transformed Roma to Amor and reworked the double-F monogram for a dash of spice. He also had illustrations of Karl Lagerfeld dotted around (the Jokarl) and Fendi is now temporarily spelt Fiend — fiendish indeed. But aside from pizzazz, the quality of the collection remained uncompromised with light-as-a-feather suits, buttery-leather bombers and tracksuits that hung just-so, making the collection as commercial as it was titillating.
VIII / XXI
This collection was a striking mix of Italian men's style and relaxed Japanese savoir faire. The soft shoulders across the double-breasted suits and cardigan shapes spoke to a masculinity that needed no cut to give it shape, but could instead carry itself in casual cottons and linens. A cross between light greys, pinstriped and plain and indigo denim reminiscent of Japanese workwear, it was a welcome sign that classic suiting has made its way back into the menswear vocabulary and designers are once again playing with classic proportions rather than dashing it all for the verve of the street.
IX / XXI
Gucci's catch-all term for the men's spring/summer collection was a very in-tune-with-the-times "No Boundaries". Taking inspiration from the codpieces and bling worn by singer Larry Blackmon of the '70s-'80s funk band Cameo, the collection flaunted a devil-may- care attitude yielding decadent jackets, tops in a riot of colours, trousers festooned with tiered party fringing and glitter and shine galore. This was definitely a collection with which to unleash the inner animal.
X / XXI
What's the difference between plain old sportswear and leisurewear? Look to Hermès for your answer. It's all in the cut. It's all in the craft. It's all in the material. And aren't those the core tenets of the house of Hermès? The simplicity of the shape often concealed the technique required to achieve the effect of the piece. See the ombré tie-dye effect on the bags, the zipper detail at the cuffed hem of the trousers. We also took a moment to appreciate the level of attention that went into creating a leather shirt out of four alternating strips of water snake.
XI / XXI
The indulgent Italian brand took classic pieces and gave them a modern spin for spring, whether a reinterpretation of the classic denim jacket in its new fabric Smooth Suede or the trench coat in waterproof Green Technowool. All the favourites were still there, too, including luxurious cashmere knits, lightweight stretch-cotton trousers and highly functional Storm System parkas.
XII / XXI
Virgil Abloh embraced his debut for LV menswear with an all-inclusive We Are the World must-see show at the Palais Royal. The accompanying show notes, "The Vocabulary According to Virgil Abloh", laid out his philosophy for life and the season, including the kaleidoscopic colours of 'The Wizard of Oz', a thorough use of layering, the wealth of tribal motifs inspired by Abloh's Ghanaian tailor mother, and the transformation of streetwear elements into luxury goods.
XIII / XXI
Mix a former design director for Gucci Group, a pinch of Italian craftmanship and a mashup of streetwear and après-ski chic, and what do you get? Ports V, the limited-edition spring/summer menswear collection by Milan Vukmirovic. The eclectic pieces referenced mountaineering and old-school Britain with colour-blocked tartan, slogan Ts and hoodies, and Fair Isle intarsia sweaters.
XIV / XXI
Miuccia Prada likes to keep people guessing and her spring menswear show was no different. Space-age trapper hats? Suede jackets and short shorts? Retro sportswear and psychedelic prints? Why not? The collection was apparently a call for a "youthful, contemporary elegance" and, if the combination of styles was anything to go by, that pretty much means anything goes.
XV / XXI
Black, white and gold were the colours of the day at Ralph Lauren's Purple Label presentation, with the designer's ever-popular nautical references contrasting with streetwear-inspired colour-blocking and graphic logo prints. This season also sees the introduction of the Ralph Suit, a sharply tailored take on strong shoulders, wide lapel, contoured waist and shorter length with lower buttons à la Lauren's own double-breasted suits.
XVI / XXI
Inspired by the New York of the 1970s, Anthony Vaccarello brought glitz and glamour to life across the Hudson in New Jersey's Liberty State Park. The celebrity-studded audience was dazzled by the high-waist trousers, boat hats and slim-cut blazers, not to mention the parade of models closing the show in disco-worthy silver body paint.
XVII / XXI
"Innovation and high craft in light, effortless gestures" were the driving forces behind Paul Andrew and Guillaume Meilland's spring/summer offerings for men and women. For the guys, that meant impeccably tailored suits and separates in warm neutral tones spiced up with touches of colour and pattern. Shoes and accessories were also out in force, showcasing the materials and techniques the Italian house has long been famous for.
XVIII / XXI
There's a certain swagger that one envisions at the mere mention of Tom Ford's name, and his spring/ summer did not disappoint. Sharp suits, glistening fabrics and abstract prints created a sense of '70s cool. Colours were subtle but smart, while a clever use of patterns made for a totally mod look when layered.
XIX / XXI
Pierpaolo Piccioli has said he wants to bring couture to life, making Valentino a relevant brand for today's generation. His latest menswear collection certainly took couture to the streets, mixing bombers and tracksuits with camo and high-voltage colour. Logos were likewise magnified, cut out and duplicated; sneakers were shaken up with feathers; and tropical prints clashed with animal motifs.
XX / XXI
Donatella Versace's latest interpretation of the Versace man gave us a little bit of everything. Standouts included sleek pin-striped suits, over-the-top florals on edgy black backgrounds, patchwork tracksuits and in-your-face neon. Even the accessories brought something different, like the chain-link-soled sneakers and tabloid newspaper-inspired tote. As their designer said of her muses, "These are men who do not care about the rules."
XXI / XXI
It was hard to know what to focus on at Andreas Kronthaler's freewheeling spring show: the skater dude in an oversized patchwork T or the beefy bodybuilder types on scooters clad in barely-there knits? The crazy, kooky VW we know and love was on full display for both men and women, and one can only imagine that the clothes were designed to be worn by any gender.
Observations from the shows; the playlist you should download; and intel to drop on your friends so they'll be clamouring for your fashion-insider goss.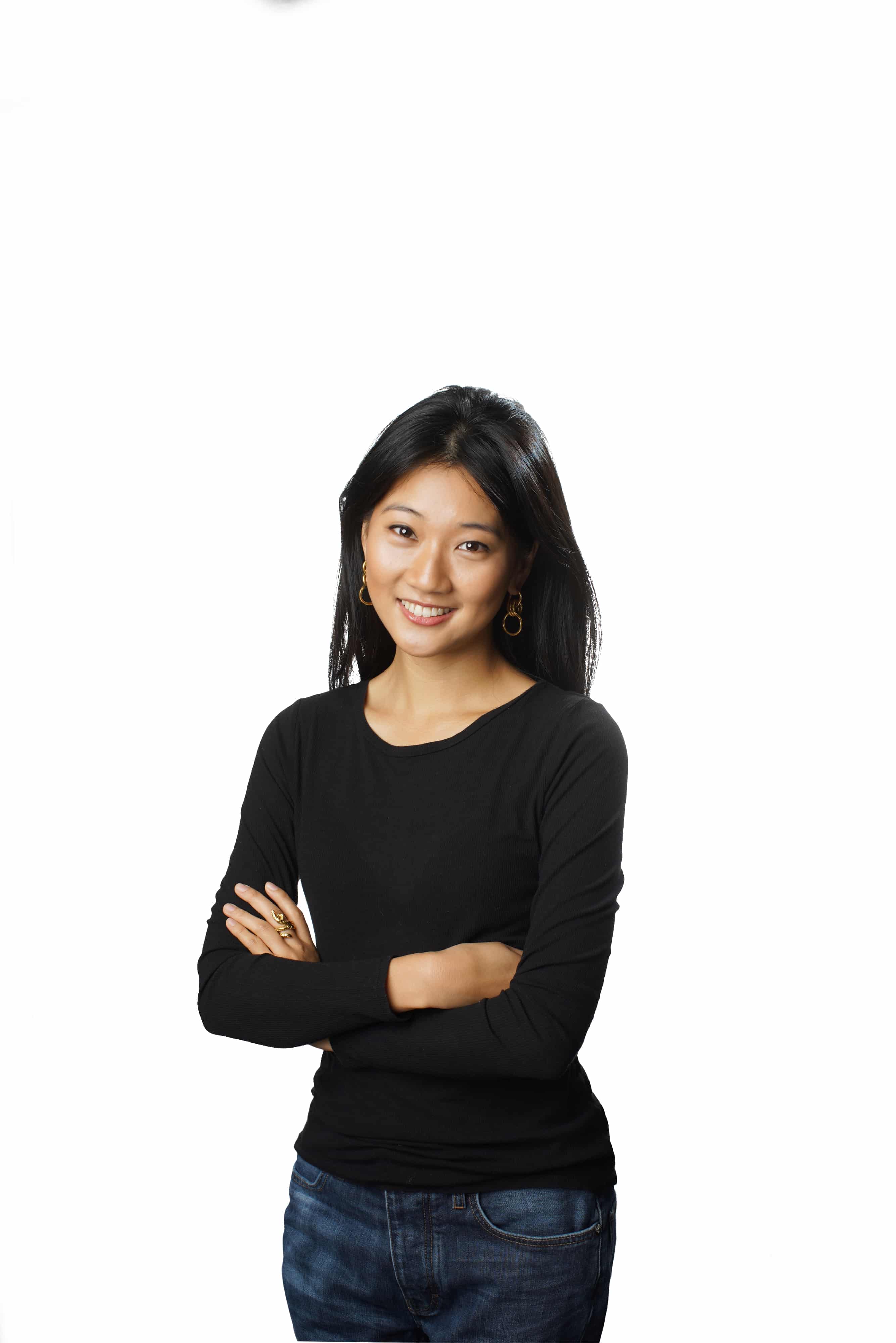 Zaneta Cheng
Zaneta started her career in fashion journalism at British independent magazine Tank after realising a masters degree in Shakespeare gave her more anxiety than joy. Having honed her eye and predilection for new and emerging fashion talent she returned to Hong Kong in the hopes of uncovering fashion talent across Asia whilst shedding new light on establishment favourites. She writes across fashion, travel, culture, jewellery and wellness. When she's not working, she's either online shopping, reading Joan Didion or pretending she doesn't drink but surreptitiously reaching for some ice cold Belle Époque.
---