Love is a many-splendored thing – as are these romantic gemstones, which aren't only exquisite in their own right, but also boost love and relationships with their energies.
Pink Spinel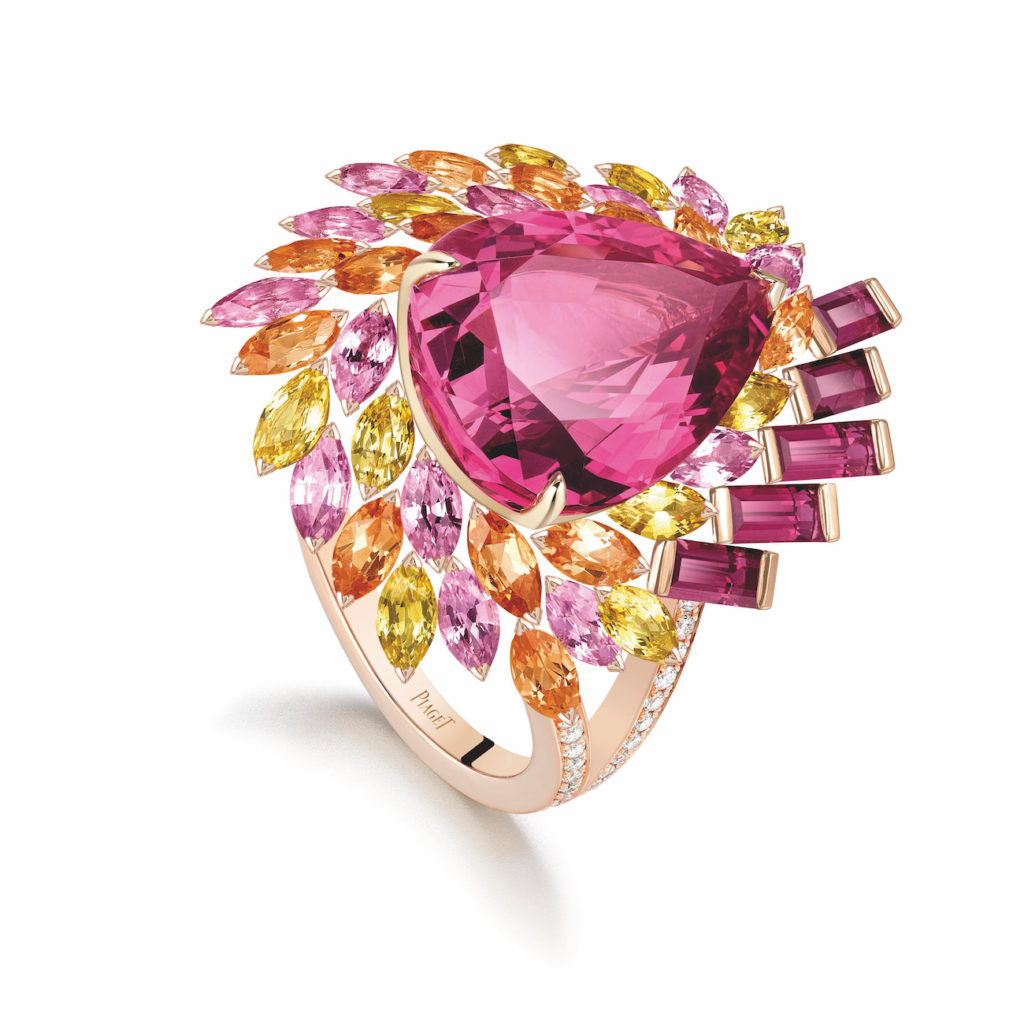 The spinel's name is derived from the latin spina (spine) and refers to the mineral's needle-like formations of small octahedron-shaped crystals. A jewel that condenses bright and positive energy, it offers encouragement when you're experiencing relationship challenges. The spinel is also said to foster a spirit of gratitude brought about by the realisation that love is a gift. Piaget's wings of light rainbow jungle ring in rose gold features a 6.82-carat pear-shaped pink spinel, pink and yellow sapphires, pink tourmalines, spessartines and diamonds.
Pink Tourmaline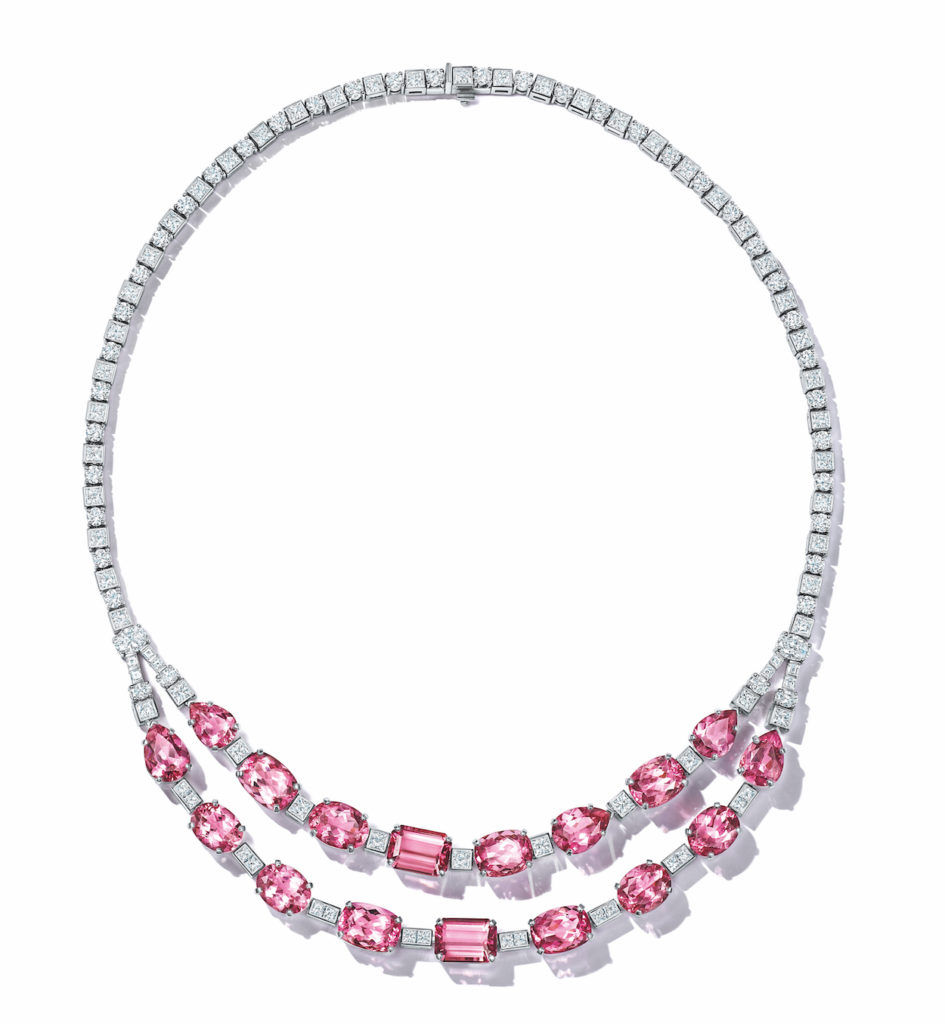 The tourmaline gained popularity as an American gem in 1892 thanks to the Tiffany & co gemologist, George F Kunz, who wrote about the quality gemstone deposits discovered in Maine and California. Ranging from pale pink to deep red, this gem is favoured by metaphysical collectors and practitioners for its versatile energy properties. It's believed to enhance love and spirituality, and encourage compassion and gentleness in periods of growth and change. This extraordinary Tiffany & co high-jewellery collection 2020 platinum necklace comprises more than 50 carats of vivid mixed-cut pink tourmalines and over 14 carats of diamonds.
Pink Diamond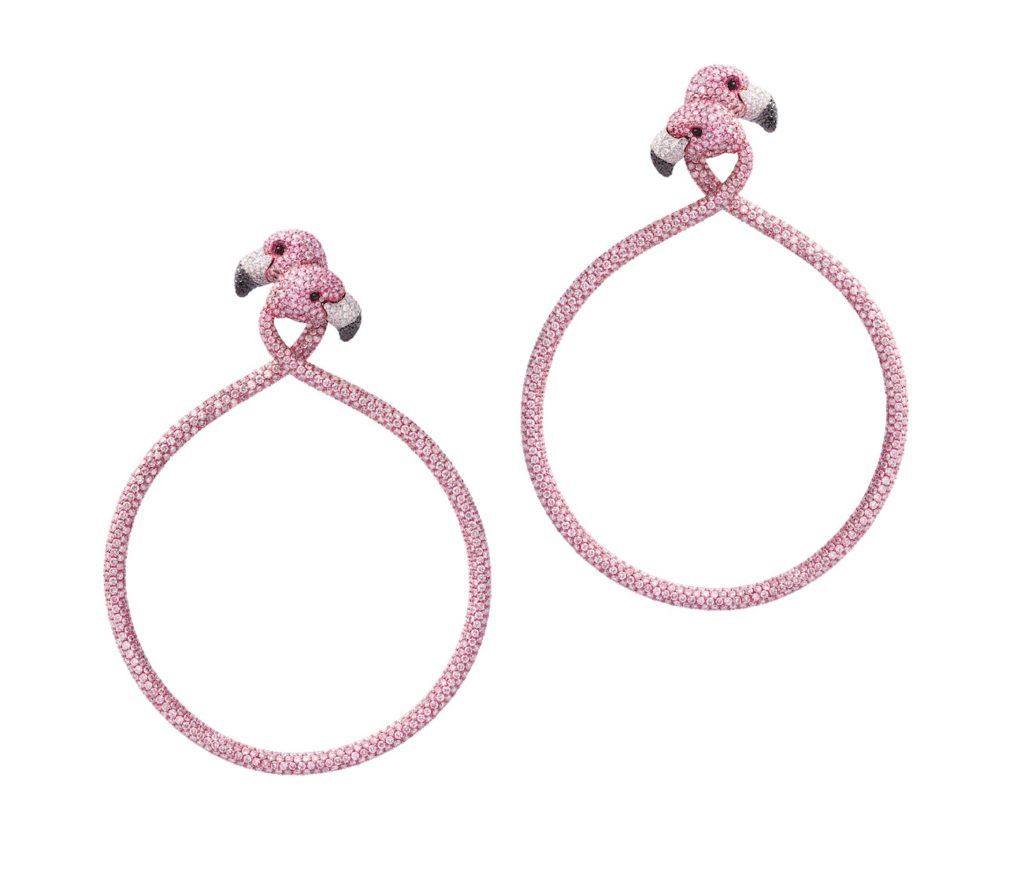 Nothing evokes romance like the pink diamond, which is associated with love, delight, tenderness and innocence. And like true love, pink diamonds are rare and mysterious: they're found in only a few locations and scientists still haven't determined what causes a diamond to take on this pastel hue. Not only does this stone symbolise femininity and creativity, but it also represents resilience and endless affection, making it a popular choice for engagement rings. These Chopard red carpet collection 2020 flamingo earrings in pink titanium feature pink diamonds totalling 18.4 carats, as well as diamonds and onyx.
Red Coral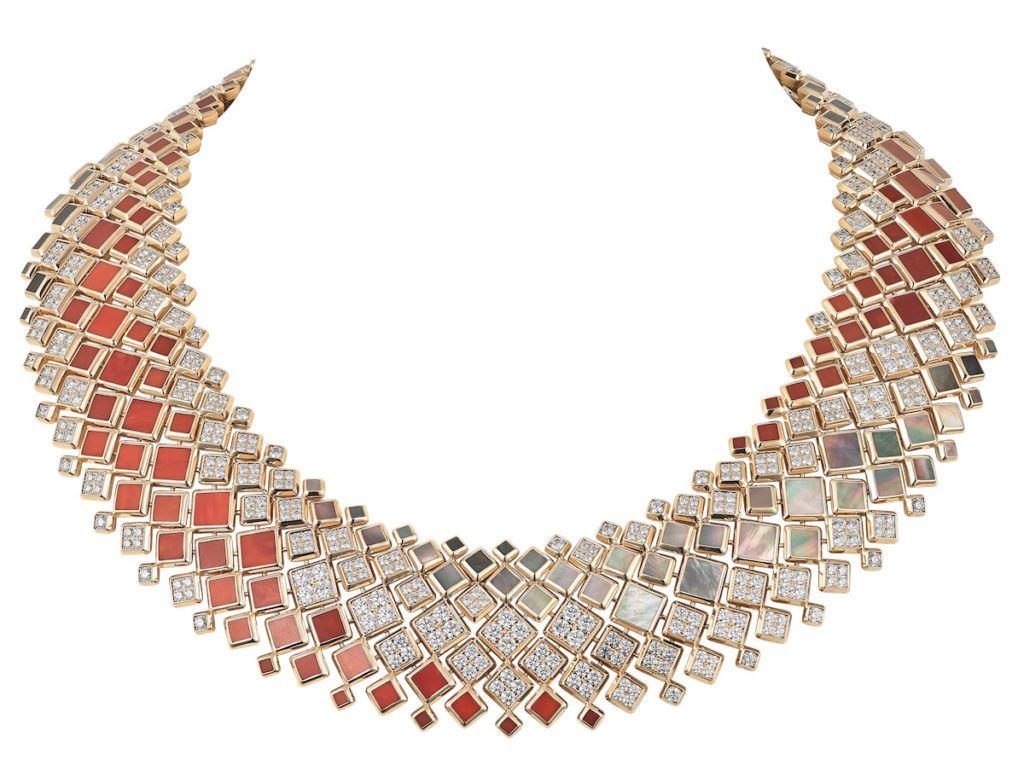 Although coral occurs in a wide range of colours, red is the most sought- after hue, with only two types of coral that can be made into jewellery: corallium japonicum and corallium rubrum. Coral gives you the power to overcome relationship obstacles and be a pillar of strength. It's also said to be able to temper anger, impatience and frustration, encouraging open and honest communication between a couple. This Cartier [sur] naturel pink-gold necklace is embellished with coral, grey mother-of-pearl and diamonds.
Pink Sapphire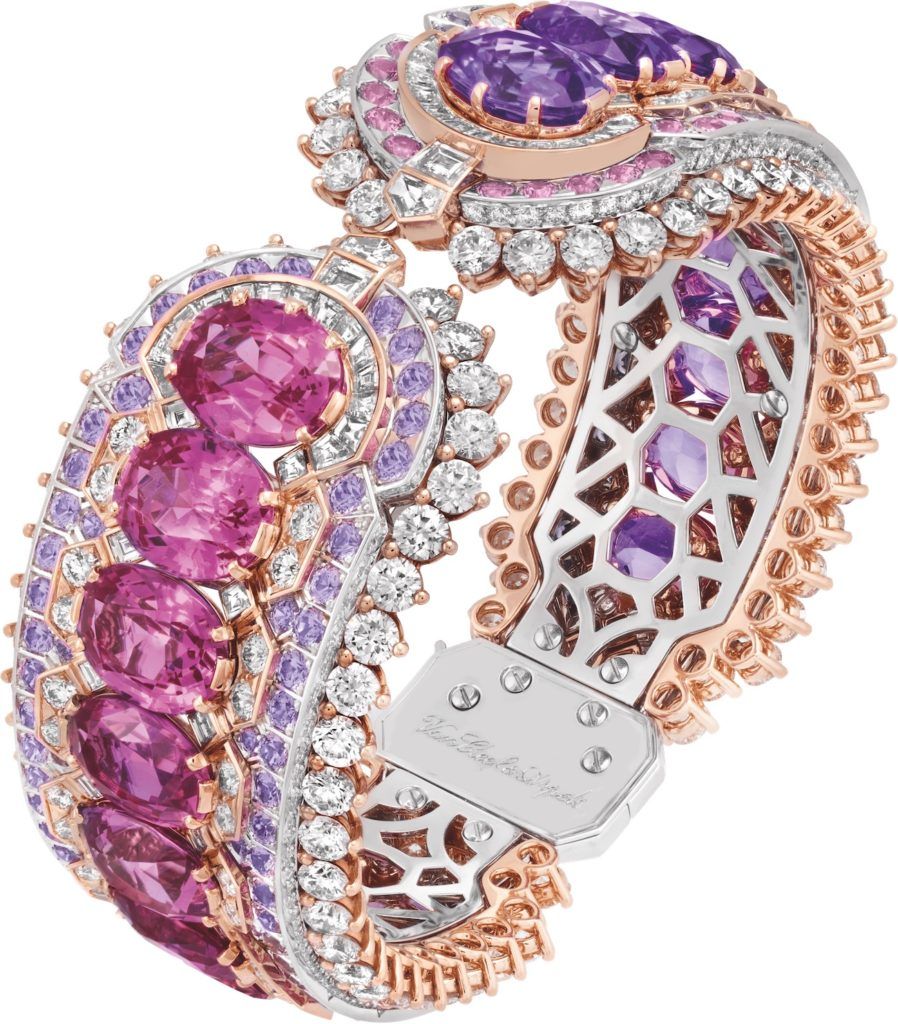 This stunning gemstone ranges from light to dark pink and also features secondary hues, such as purplish-pink — and, in the case of the rare Padparadscha sapphire, which is mainly found in Sri Lanka, even a glowing orangey-pink. A symbol of love, its use as a betrothal gift dates back as far as ancient Rome. It also symbolises trust, loyalty and sincerity, and is believed to bestow good fortune. Shown here is the Van Cleef & Arpels Romeo & Juliet Innamorato bracelet in rose and white gold, with 18 pink and mauve oval-cut sapphires totalling 70.23 carats, pink and mauve sapphires and diamonds.
Rubellite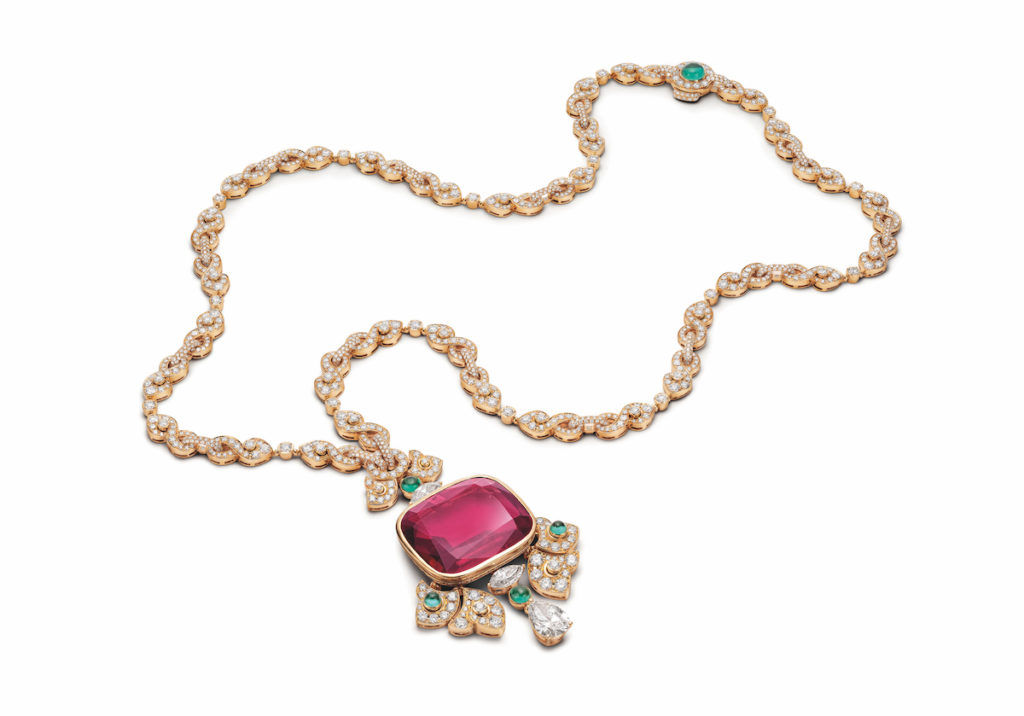 Among the most prized and priciest stones from the tourmaline family is the rubellite. While it's also known as red tourmaline, only the most vivid and saturated specimens are worthy enough to be classified as rubellites. This stone works to clear the communication channels between a couple to bring stability and security to their relationship. Shown here is the Bulgari Barocko yellow- gold necklace, which flaunts a 58.02-carat cushion-shaped rubellite, a 3-carat pear- shaped diamond, two marquise diamonds weighing 2.04 carats, five round emeralds totalling 3.31 carats and round brilliant-cut and pavé diamonds with a combined weight of 19.27 carats.
Ruby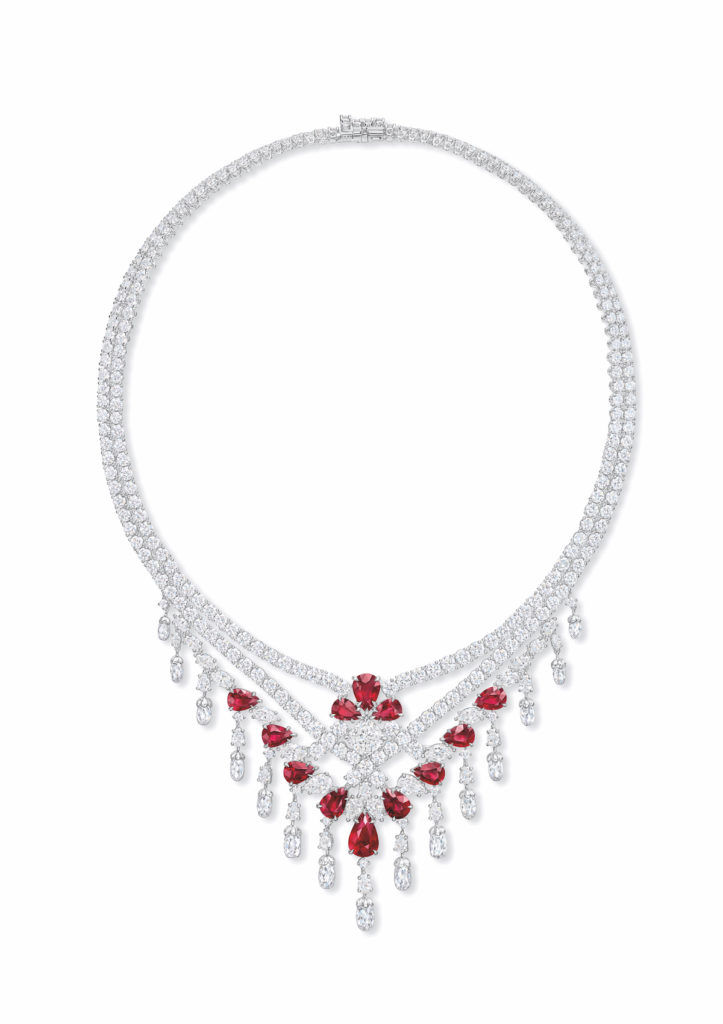 Hailed as the gem of gems throughout history and favoured by royalty around the world, this rich crimson stone is said to be the most powerful jewel of them all. Representative of love through the ages, the ruby is said to inspire faithfulness and devotion in a romantic relationship. French jewellers in the 1800s referred to it as the "dearly loved stone", whose fiery red hue was said to arouse the senses, stir the imagination and inspire sensuality in its wearer. This Graff peony collection white-gold and platinum necklace features multi-shaped rubies and diamonds.
The Harry Winston fifth avenue platinum necklace dazzles with 12 pear-shaped rubies totalling 20.58 carats, and 308 cushion- and pear-shaped, brilliant-cut and marquise diamonds wei.