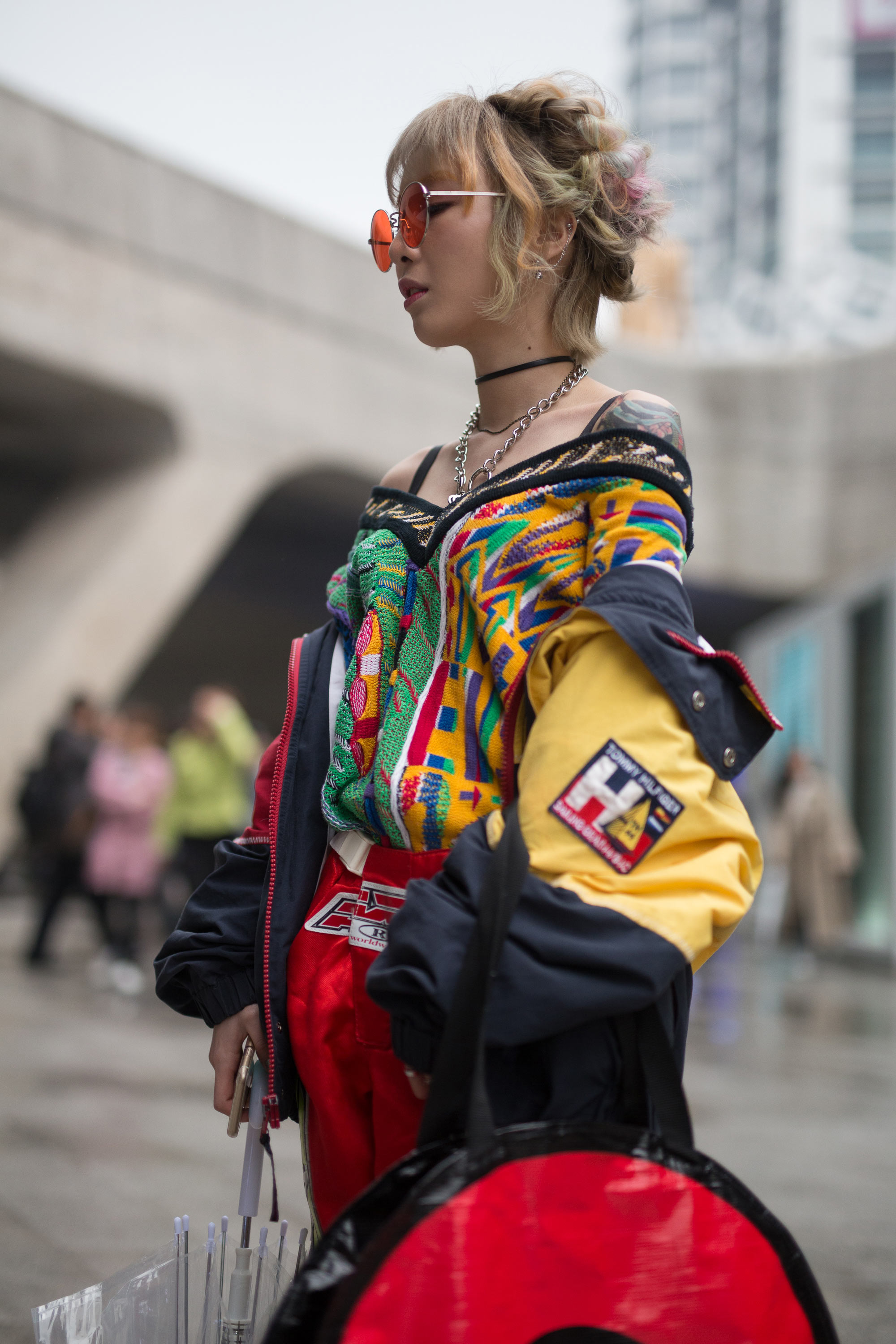 They say it's always the quiet ones you need to watch out for. No truer is this statement than for South Korea. The former "hermit kingdom" – as it was labelled from the late 19th to early 20th centuries – is now a commercial and cultural juggernaut, using lightning-speed bandwidth to disseminate its unstoppable pop-culture industry to the world, with fashion increasingly at centre stage.
Although Korea is still a fledgling compared with Asian style giant Japan, its fashionably late rise comes at an opportune time. The landscape of the largely Western-centric fashion industry is at an impasse. Structural fissures see creative directors whizzing in and out of superbrands, while some designers are under fire for cultural appropriation that borders on out-and-out replication.
In her "Anti-Fashion Manifesto", a searing critique of the industry's lack of innovation, veteran trend forecaster Li Edelkoort wrote, "These categories of designers are working on clothes and are no longer concerned or interested in change for change's sake – unanimously declaring newness a thing of the past. With this lack of conceptual innovation, the world is losing the idea of fashion." The quest for uniqueness in an increasingly homogenous market is a pressing one for both the producers and consumers of fashion. According to Candice Fragis, buying and merchandising director at Farfetch, "the Western consumer is getting hungrier for authentic referencing and learning about different cultures through fashion, art and music. What's standard for some can be novel to others."
Cue South Korea. Its fashion designers – and Seoul Fashion Week – have made headway with a unique and curious point view, bolstered by international K-pop sensations such as G-Dragon, Taeyang (both of behemoth pop music band Big Bang) and CL. Following down the path carved out by Psy and his hit track "Gangnam Style", stars such as these have seduced the West at breakneck speed with their neon-Technicolor aesthetic – a cacophonous mash-up of music, make-up and fashion that's expertly marketed via direct engagement with fans through social media to make the K-sensation seem attainable.
How did the South Koreans forge this new reputation as fashion's kitschy, off-beat newcomer? Inhae Yeo, director of Oikonomos, a fashion consultancy that works to bridge the Korean and European fashion markets, attributes the country's cultural evolution as part of the answer.
"I think for you to understand and talk about Korean fashion, you first have to understand what Korean culture is," she explains. "Think about it as an Egyptian tomb that nobody knew about, so the colours have been perfectly preserved.
"Take a Korean hanok, a traditional Korean house. The roof is composed of these simple curved plates, but if you look underneath that, there's a beautiful array of colours, all painted by hand with different motifs, different designs and carvings. "Our country tried to protect itself from invasion for many years and inside this little bubble we developed a unique pop culture that references the pop culture of Japanese and Hong Kong – their films, manga and pop music."
Unexpectedly, South Korea's Confucian roots come directly into play with its initial approach to fashion. Yeo tells me that when international brands began entering the domestic market, classical Confucian scholarship, which was a hallmark of the noble and upper class, fuelled the emergence of an elite group of consumers.
"I think what's interesting," she argues, "is that these elite savvy consumers approach fashion as a subject. Not only do they have a comprehensive understanding of different brands, but they're up to date on every tremor and trend in fashion."
Pointing to the Korean fashion publishing industry as an example, Yeo continues, "When I worked at Harper's Bazaar Korea, the editor in chief told me it was all about fashion features. It's about the people, the dialogue and the stories behind fashion. "It's natural, in Korean magazines, to put more focus on features than editorials. The Korean consumer is interested in the stories, culture and people of the industry. If they're going to talk about something that they really like, then they must know it inside out."
Therein lies its strength, according to Yeo. "The way I look at Korean fashion, and the designers who are leading the next generation, is that they grew up immersed in these brands. They understand Dior, YSL and Alexander McQueen. They understand the international mix and they're able then to try to create something quite unique and quite niche."
This brand of "unique" is not going unnoticed. Designers and industry insiders alike are taking note in the West. Fragis, who is making her inaugural trip to Seoul Fashion Week this coming season, has also picked up on K-fashion's subliminal impact on runways in the West. "I noticed significant Asian references in womenswear," she says, "especially in prints in Resort 2018 collections."
The influence does not end at design. One of the more noticeable adopted trends is the styling of fishnet tights under ripped denim. Deriving from Seoul's unique reinterpretations of street culture, it pervades the international fashion scene, as seen on 3.1 Philip Lim's autumn/winter 2017 catwalk, which was awash with fishnets peeping out from underneath leather vest tops. The secret to K-fashion's growing success lies in its capacity for what German critical theorist Theodor Adorno dubbed "pseudo-individualisation", an ability to appear different yet familiar at the same time. The fundamental building blocks of Korean streetwear are more or less universal and in step with – if not slightly ahead of – Western trends. Denim, hoodies, trainers are all staples of American and – thanks to coca-colonisation throughout Europe during the Cold War – European wardrobes.
The familiarity appeals to the Western eye and the addition of the Korean sensibility presents a unique proposition, twisting the familiar just enough for the garment to remain understood yet different. Topping the Fragis list of requirements when scouring for new labels to add to the Farfetch offering is what she calls brand identity: "It's key – if there's no recognition and understanding of the brand, it can be very tough to get visibility."
Korean fashion can certainly thank K-pop's signature style for easing the road to international visibility. Yeo tells a story of her conversation with Michel Gaubert, the man behind the catwalk music for brands like JW Anderson and Chanel.
"We were talking about the music he created for the Chanel Resort show in Seoul," she says. "It wasn't Korean music and I asked him what Korean music was to him and why he chose the music he did. He told me the reason he didn't use Korean music was because he was in Korea and the Korean audience would know Korean music better than he did because of its distinctive colour and tone."
Additionally, the country's fashion has achieved international recognition at an exponential rate, thanks to Korean designers – including Eudon Choi and Rejina Pyo – who left Korea and rocketed to prominence and success. The Western fashion educations and Korean sensibilities infused in their work continue to pave the way for other Korean designers to make it internationally. Pyo's collaboration with shoe designer Yuul Yie was seen on every fashion influencer's trotters, from Kate Foley to Leandra Medine, which gave the domestic brand international exposure. While everyone is beginning to want a piece of the K-fashion pie, this is not to say that the structure is without weakness. Seoul Fashion Week is a unique experience, a visual confirmation of why Korean fashion has its own indelible stamp. It's also an example of why it's still in its early stages as an international power player.
"Seoul Fashion Week is quite disadvantaged," says Yeo, "because in terms of scheduling, it happens at a time when all the buying will have finished. It's held when designers are closing their books and buyers are closing their budgets. They'd have already spent all their money, unless they've planned some kind of Korean capsule.
"This is why we see a lot of Korean designers coming to Paris, Milan, New York and London to show their collections, which then becomes available to the global buyer. I think Seoul Fashion Week has done an amazing job at bringing awareness and exposing the rich content in a short amount of time but now the next step is to implement a structure for global buyers."
Building infrastructure won't occur overnight but while it continues quietly to do so, Seoul remains a cultural hotspot. Last year, Condé Nast held its third International Luxury Conference in Seoul, and Chanel and Louis Vuitton both have Korean celebrities fronting campaigns. In July, Fendi launched Young Bae, a collaboration with Big Bang band member Taeyang, to the screaming glee of adoring fans across the globe.
It might take some time for Seoul to evolve its framework to adapt to a global structure but its pop-cultural clout is certainly helping fashion to go places – fast.