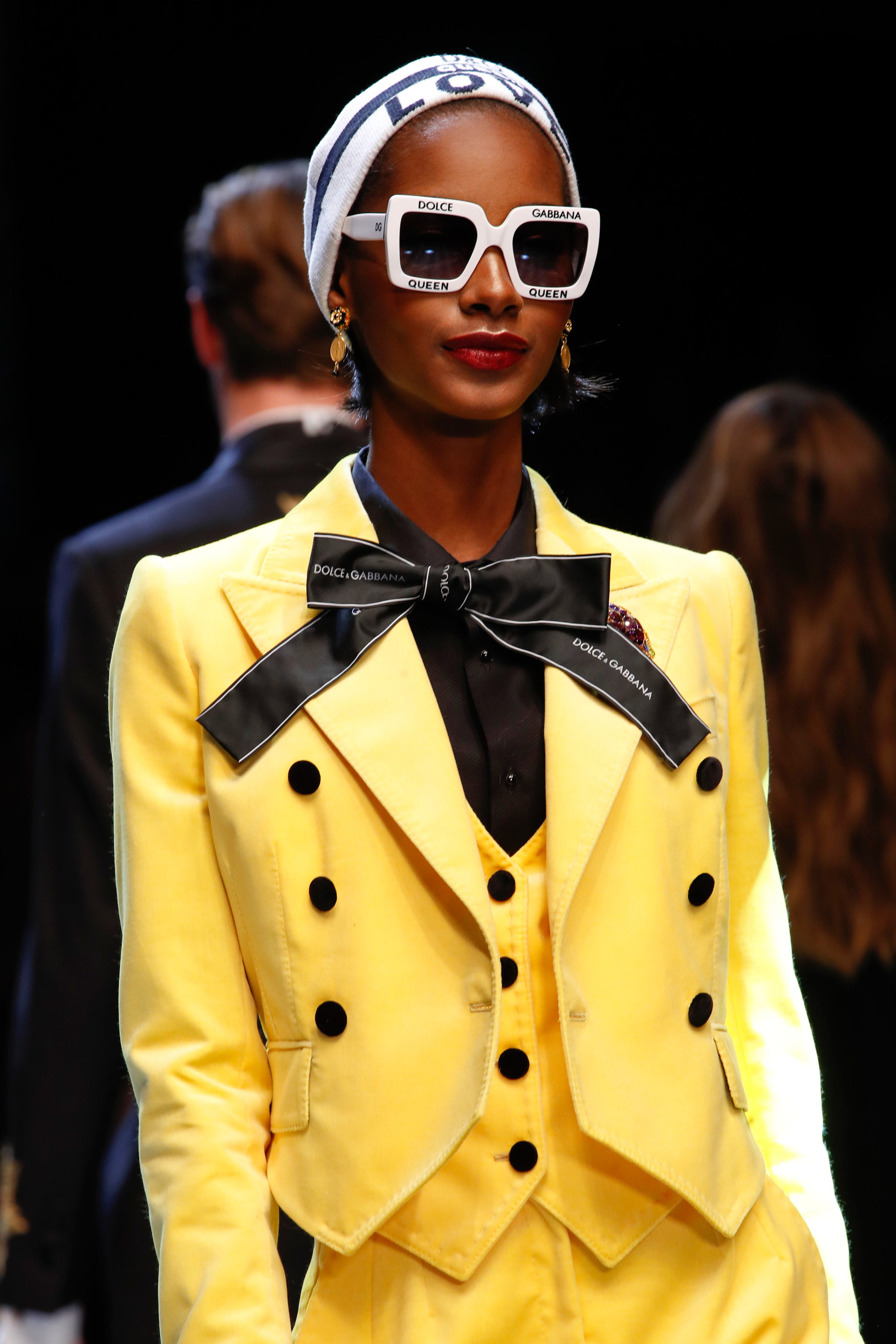 More often than I'd care to admit, new-season trend traps have me seriously considering the wildest fashion fails, so it's with gleeful abandon that I find myself praying to the Arctic gods to chill temperatures and grant me the chance to tap into my top autumn/winter 2017 style story: velvet. Was there ever a textile that so easily rolled opulence, decadence and utter richness into one touchable, plushy heap? I think not.
"Velvet has been in our hearts for quite a while now," says Jennifer Bishop, womenswear buyer at BrownsFashion.com, and fellow velvet lover. "After a short hiatus for the spring/summer 2017 collections, everyone was back to using it for autumn/winter. It was the hit of the season and showed up on more runways than it didn't – it's now a staple winter fabric in any wardrobe."
Across the four major show cities and within countless presentations, we did indeed see velvet reign. Take London-based Erdem Moralioglu; his eponymous line showcased breathtaking iterations of the ornate fabric. Patchwork dresses with a monarchic yet modern appeal came in a waterfall of colours and jumped to the top of more than one front row attendee's wish list. The man behind the brand explained his cross-cultural influences as an exploration of his part-Ottoman heritage (Moralioglu had an English mother and Turkish father), a story that's beautifully suited to finding life in the luxuriousness of velvet. Deep, often dark hues – midnight blue, mustard, blood red and bottle green – danced across the surface of these printed masterpieces. With lavish jewel tones as brooding as the luscious material itself, it's no surprise the colour/texture pairing seemed a perfect match for many designers, including Pierpaolo Piccioli at Valentino; one of our favourite looks from the whole season was a swishing raspberry-hued sequin and velvet dress that sashayed down his catwalk. At Italian powerhouse Dolce & Gabbana, a carnival of colour and fabric swelled down the runway: sheer splendour and indulgence. Domenico Dolce and Stefano Gabbana know how to take a typically masculine cut and unfurl a modern and majestic version of femininity that all the cool girls will be aching to get their hands on. For autumn/winter 2017, we saw it in a resplendent forest green three-piece and loud-and-proud yellow suit – both cut in velvet, naturally – each step the models took gave another dimension to the light-loving textile. Elsewhere in the show, molten gold brocade ran alongside boozy shades of chianti velvet on slim trousers and matching jackets that were dripping in regal sophistication.
Another designer to skip across the line of feminine/masculine tropes was that most lauded of creatives, Dries Van Noten. This season's runway was a triumphant celebration to mark his 100th show with a steady stream of stellar names and faces stalking by – Carolyn Murphy, Liya Kebede, Emma Balfour, Nadja Auermann and friends – each one kitted out in a remixed outfit pulled from the not unsubstantial Van Noten archives. With our trend in mind, two looks stood head and shoulders above the rest; the ever-alluring Kirsten Owen came garbed in a capacious velvet jacket, painted in the darkest shade of navy, layered over a classic white shirt/ denim jeans ensemble and topping a vivid iridescent sash, while Mica Arganaraz shone in a sensational two-tone velvet design loaded with a furry grape stole. One look influenced by the boys, the other led by the ladies. Velvet and versatility go hand in hand, it seems. "Velvet is strongly embedded in evening wear but it's actually a super-versatile fabric – perhaps more than people might first think," Bishop agrees. "It's easy to make it suitable for daylight hours, and personally, I love to see it worn in unconventional and unexpected ways. A velvet blazer, for example, is a great transitional cover-up and the perfect alternative to that tried-and-tested leather biker jacket. It looks incredible worn with denim.
"The best thing about the velvet trend is that it's incredibly far-reaching so if ready-to-wear feels a little daunting, there are plenty of fantastic accessory options," she adds. "Investing in one or two velvet accessories is a smart move."
We've zoomed in on shoes at Mary Katrantzou and Osman for our autumn/winter fix. Shades of crimson and deep blue made the cut on the runways and will last beyond the season, too. Footwear aside, Bishop is backing a mossy green velvet box bag from Turkish label Mehry Mu as the accessory you need come cooler weather, while Attico's harlequin dress is up there on her ready-to-wear lust list – "Attico made the wrap velvet dress the most desirable item for AW16; this version is even better than the original."
It's feeling a little cooler outside already.