It's in our nature to be scared of things we don't understand, and to question our own abilities when faced with the unknown. Most of us like staying in our own comfort zones. But there are some who thrive in uncharted territory and derive joy in pushing the limits in everything they do.
Watchmakers, I've always believed, fall into the second category. It takes a certain combination of perfectionist and mad genius to make miniature mechanical marvels, powered by nothing but springs and gears, which can withstand some of the world's – and even the universe's – most hostile environments. Watches have even made it to the moon.
Panerai is one such watchmaker. The Italian watch brand has an incredible heritage as the supplier of timepieces and high precision instruments to the Italian Navy. It created Radiomir, a radium-based powder that gave luminosity to the dials of sighting instruments and other devices, which then gave birth to the Radiomir watches that were created specifically for the frogman commandos during the Second World War. Today, Panerai continues to work with skilled divers and explorers to create watches that can go to the ends of the earth and survive.
These divers and explorers that Panerai has the honour of calling Friends of the Brand are, unsurprisingly, also mad geniuses. I remember the first time I watched Guillaume Néry perform one of his world-record breaking deep dives in a YouTube video. I watched with bated breath as the constant-weight freediving champion dived deeper and deeper into the abyss, guided by nothing more than flippers and a rope. But as I continued watching, I was engulfed not by a sense of anxiety, but of tranquility. There's something extremely ethereal about the journey into the waters, something Néry poetically calls "a journey undertaken between two breaths".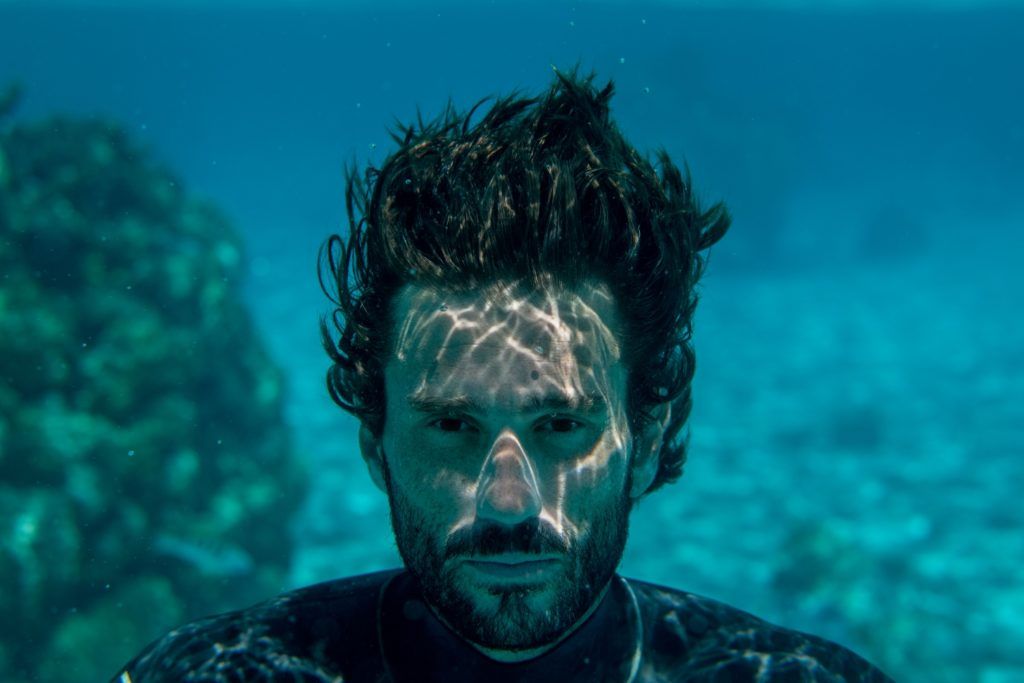 In a video call, Néry tells me he can fit 10 litres of air into his lungs through a method called carp, where he takes short gulps to compress air into his lungs. The human body is an incredible machine and we all have an innate ability to conserve energy the moment we're submerged in water.
"As soon as I leave the surface, my body enters a kind of economy mode," describes Néry. "This is called the diving reflex. So my heartbeat is slowing down, there's a change in blood circulation in order to save oxygen. There's pressure squeezing the body, in the legs and I have to be completely relaxed. And the deeper I reach, the colder the water gets, and my body slows down. So, I'm really saving a lot of energy when I'm going down."
It's the coming back up that's the harder part of the journey. Says Néry: "I've used up most of my oxygen, so I need to stay very calm and focused to come back to the surface."
With a bit of guidance, even amateurs such as ourselves can learn to hold our breath for more than a minute. Néry confidently tells me, "Beginners think that they can hold their breath only for 30 seconds and within 20 minutes, I can take them between two to three minutes." His own record is seven minutes and 42 seconds.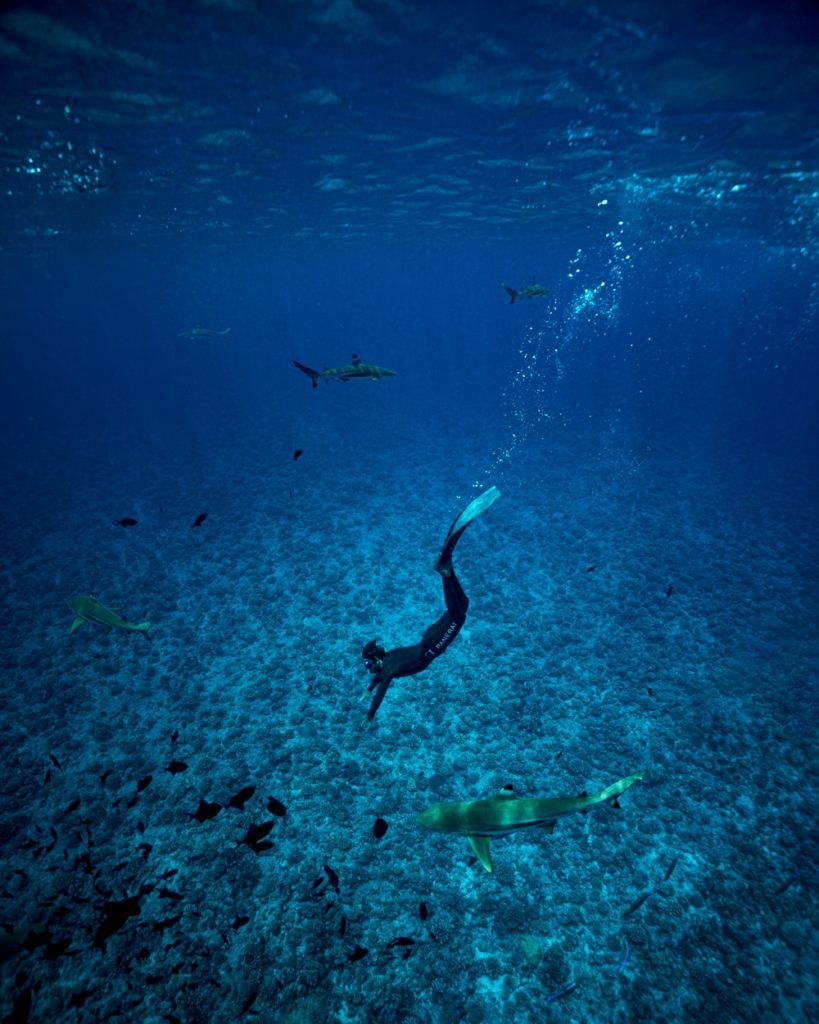 Growing up in Nice, Néry discovered his almost superhuman capabilities by accident, while playing a game with his friends on the school bus at the age of 14. He discovered he could hold his breath longer than most, and continued practising at home, before taking the plunge at sea. He's never looked back since.
He became the youngest free-dive record holder in 2002 when he reached a depth of 87 metres using fins only. He's beaten the world record three times and today is able to dive as deep as 126 metres.
An accident in 2015 caused Néry to retire. During the dive attempt, the judges and organisers made a mistake when setting the dive line, meaning that Néry dived too low, passing out metres from the surface and suffering a lung barotrauma. But he says he's back and thriving, with many challenges ahead he's excited for. "After the accident I had a break. But now I'm back in the deep end, and I'm training a lot. I still have some challenges ahead of me but it's not an obsession like it was before and I was just training to break records."
He'd like to dive deep again in 2022, to mark his 40th birthday. But for now, he's focused on his diving school and writing a book on the connections between man and water. Time is always at the back of Néry's mind when he's diving. "I can feel every second on the way down because it's kind of a meditation state," he says. "I don't think about anything else. I'm so connected with time that I can even tell time during the dive from when I left the surface. I could say it's been one minute 20 seconds." Time is never far from Néry as well, as he never dives without a watch. Panerai began working with Néry in 2018, a mutual partnership in which the watch brand supports the French diver's career and projects, and Néry test runs the watches.
"When we first met in 2018, we discovered that we share the same passion and philosophy for exploration," he says. He's worn Panerai watches on all his dives since. "My watch is the special link between the land and the underwater. The watch follows me in all conditions – that's kind of my role, to bring the watch everywhere to show that it's able to adapt to any place, even the most extreme places."
Panerai Luminor Marina 44mm Guillaume Néry Edition PAM01122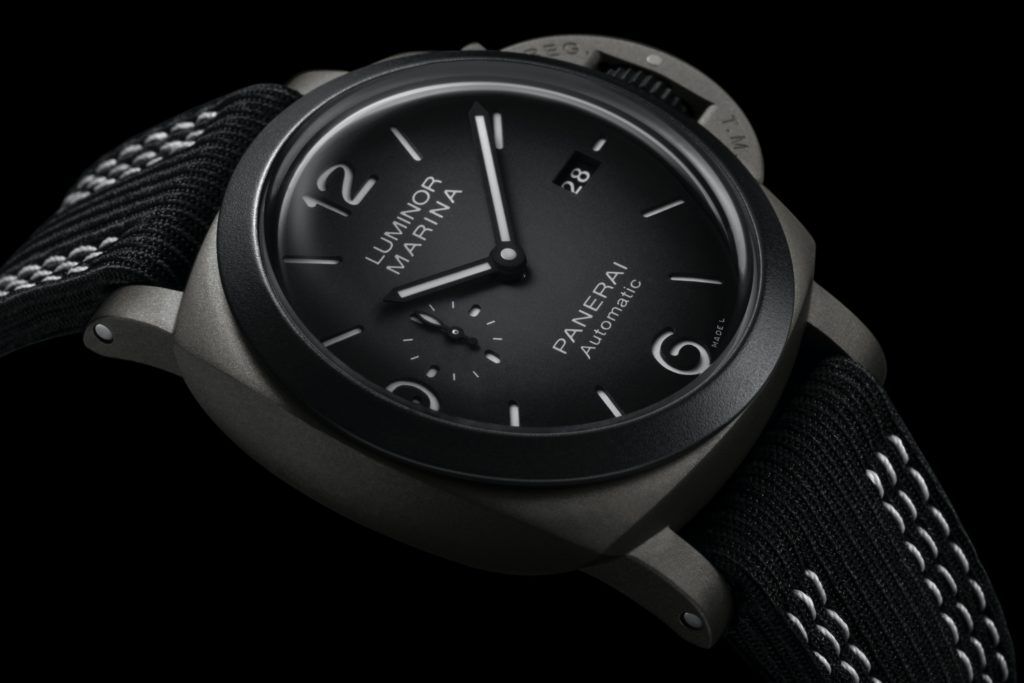 Celebrating their partnership together, Panerai has presented a new performance watch inspired by Néry, the Luminor Marina 44mm Guillaume Néry Edition PAM01122. This is the third Néry special edition and looks more stylish than your usual Panerai. At 44mm, the diving watch is a substantial one, but because it's made of sandblasted DMLS titanium, it's still comfortably light on the wrist. DMLS stands for direct metal laser sintering, a technology that shapes titanium using a 3D printing process and is 40 percent lighter than traditional titanium.
The watch comes with a rubberised coating applied to the bezel, crown and bridge lever. The accentuated convex glass and the black dial, given a dégradé effect that's lighter in the centre and darker around the edges, emulates the shades produced as sunlight filters through the water, giving the wearer a taste of what the deep sea looks like on a dive.
"I'm not a watch designer, so I'm only giving ideas and advice and feedback about the previous experiences," says Néry. "On this edition, the idea was to make a diving watch but not based on the Submersible. We decided to go with the Luminor, which is a classic Panerai watch. But it's still a watch that can dive, a little bit smaller but with the same elegance."
Long-time enthusiasts will remember the first Néry special edition, the Submersible Chronograph Guillaume Néry PAM0983 watch. The watch made a literal splash, as the 15 lucky clients were invited on a special diving trip to Moorea in French Polynesia, where Néry lives. But this year, Panerai is celebrating the 70th anniversary of the birth of Luminor, the patented tritium-based substance with luminescent properties that gave the collection its name. Naturally, the Luminor seemed like the perfect base to work from. The PAM01122 model is limited to 70 pieces and comes with a 70-year warranty, an incredible guarantee.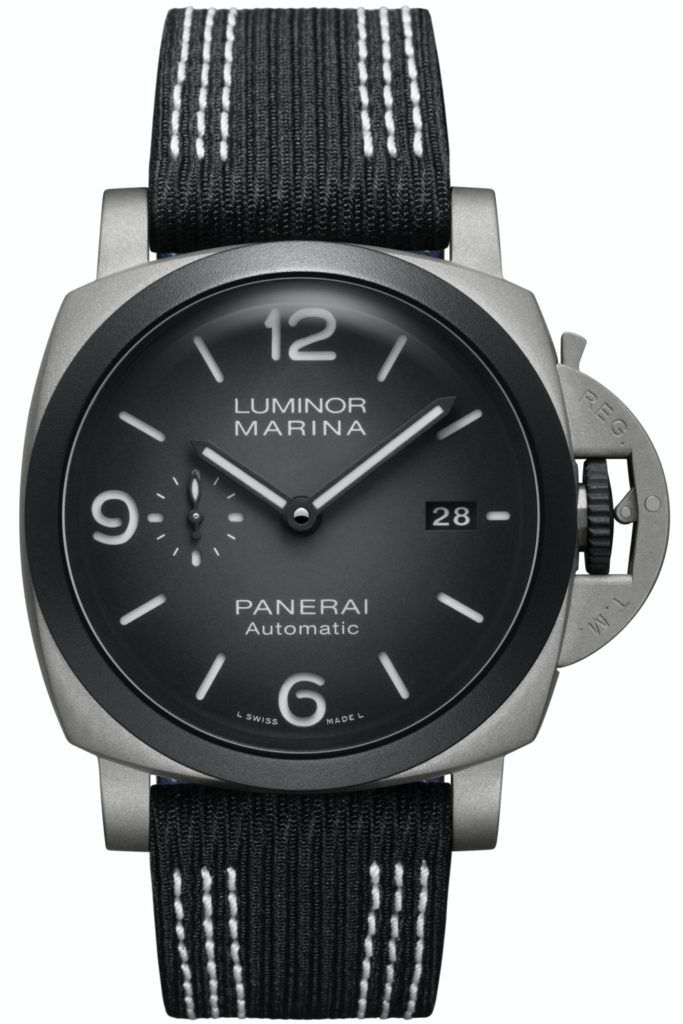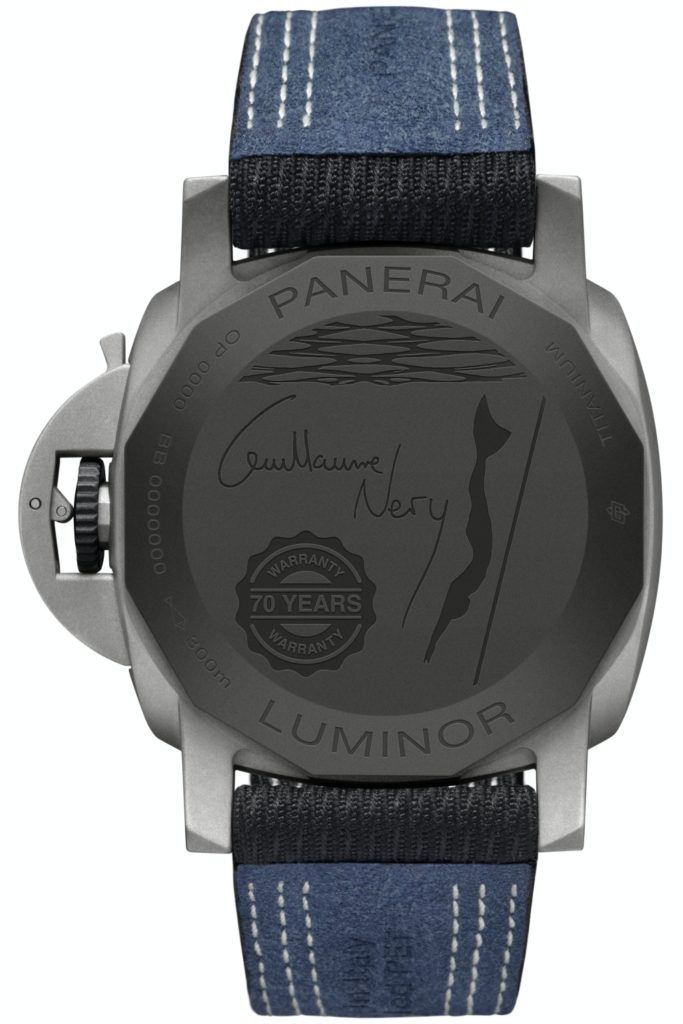 Inside the watch beats the self-winding calibre P.9010, which is equipped with double barrels for a three-day power reserve and a quick time-adjustment function that allows you to adjust the time, forwards and backwards, in increments of one hour.
Water-resistant to 300 metres, the watch has a screwed-down caseback that features an engraving depicting the silhouette of Néry and his signature. The strap of the special edition is made from black recycled PET material with white stitching, highlighting another issue that is close to Néry heart.
"We've had some discussion in the past and I shared with them my real concerns about the future of our planet," says Néry. "We get to the same conclusion that there's a lot of things that can be done, including in the watch industry. Panerai made this first step and we really wish to keep going in that direction."