We all wish for that Eureka moment. Having that one brilliant idea that will scoop us out of the pool of mundanity we've found ourselves in with our chosen (or not) career, which in all likelihood, has become far less interesting than it used to be.
The thing with such lightbulb moments is that they dawn on you in the unlikeliest places and moments, and are often motivated by simple practicalities. For Adam Brown, founder of British resortwear and lifestyle brand Orlebar Brown, that moment came while he was on holiday in Rajasthan, and was slightly irked about having to change for lunch while wearing swim shorts. "That's when I got the idea of a tailored swim short – that which I can swim in but also can wear to a restaurant and still look smart," Brown says.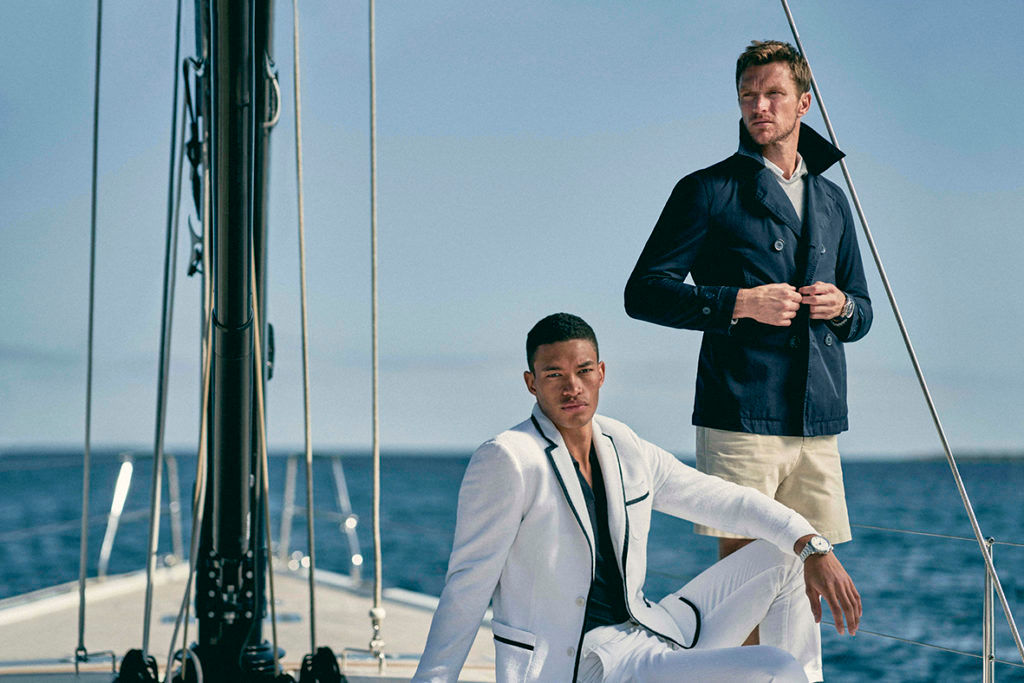 And Orlebar Brown swim shorts are surely not your run-of-the-mill variety. They're based on the traditional pattern of a pair of men's trousers, and designed to be a "transitional item" you can wear in or by the pool, as well as in establishments that require a dress code. As the brand's collections evolved, so did the variety of its products that eventually extended beyond holiday wear. And now, in light of Brown's collaboration with IWC, he's just added watch design to his résumé.
"It started with an email, and went on to a 'get to know you' phase with Chris Granger, CEO of IWC, and its creative director Christian Knoop; it snowballed from there. The creative process was really fun. I think the fun factor is an important part of any collaboration, and that both brands share the same values," Brown says. Numerous meetings, phone calls, emails and hours-long brainstorming sessions later, the Portugieser Yacht Club Chronograph Edition "Orlebar Brown" was born, and alongside it a nine-piece special Orlebar Brown capsule resort collection.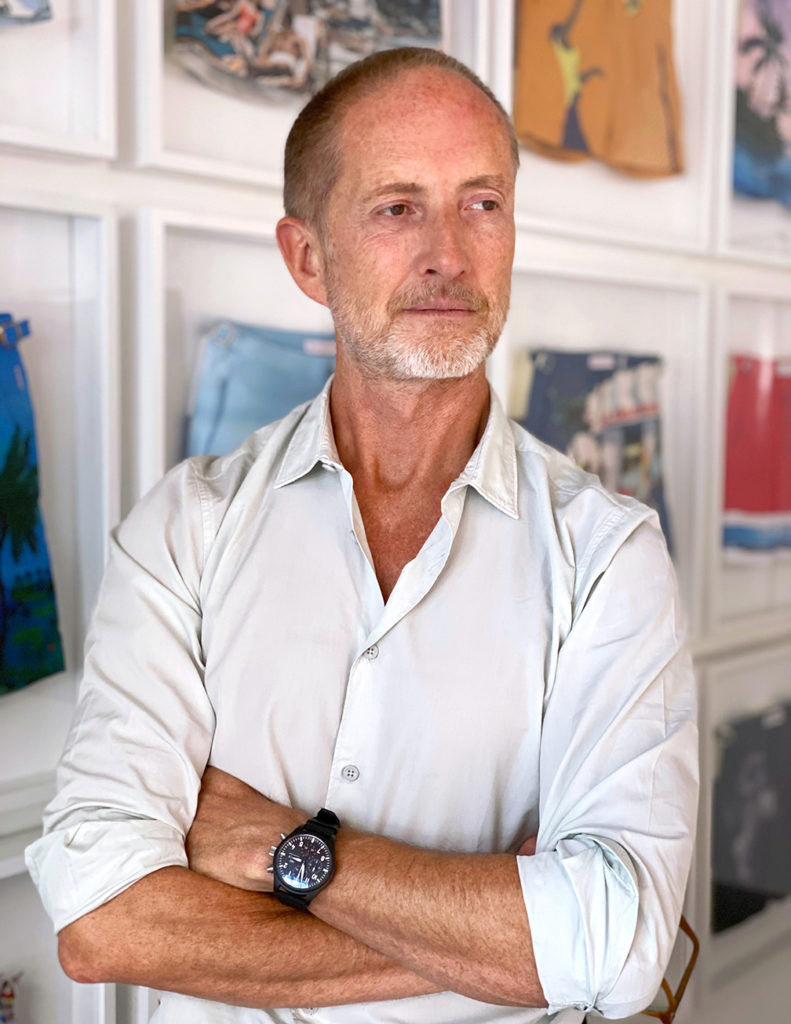 "It was a true collaboration, with both involved in each other's products – from the colour and design of the case down to the weight of the strap. It was very important to me that we both contributed to the design of the watch and the capsule collection. Obviously, the Portugieser is a watch that's been around for a long time and IWC was very clear about how it wanted to talk about the watch this year. It was something that absolutely fits with what Orlebar Brown is about," Brown says.
And the Portugieser Yacht Club Chronograph Edition "Orlebar Brown" indeed has that resort touch to it. Matching its stainless-steel case is a marine-blue dial and a co-branded side-fastener buckle with white and red colour accents, shades often used in Orlebar Brown's product range. The chronograph is equipped with an in-house calibre, and features a flyback function, a sub dial at 12 o'clock and a 68-hour power reserve. It's finished off with a blue rubber strap with textile inlay and is, naturally, water-resistant up to 6 bar, making it ideally suited for an action-packed adventure on the deck of a yacht, or a casual lounge at the beach or pool.
As for the capsule collection, it's not like any that Brown has done before. "It's high resort. The watch is called the Yacht Club, so it gave us a clear direction as to what the product would look like. That elegance, refinement, the approach to tailoring, the attention to detail. For instance, using towelling fabric in a blazer, the trim details, weight of the jerseys and use of the finest linen, or having gold fasteners on the trousers and other touches like that. It's different because of the lifestyle it's epitomising. Although we've done ready-to-wear for quite a while, it just needed a bit of a nudge and we made it a little more refined and a bit more grown up and just had that IWC feel about it.
"Just like the Portugieser Yacht Club, our collection combines timeless elegance and a love of adventure. We also drew inspiration from Portugieser family, a model that's traditionally associated with the world of water, sailing and navigation."
The collection includes a white towelling blazer with blue piping and a cotton/silk knitted polo. A highlight is a photographic swim short with signature side fasteners, depicting a Solaris 55 sailing yacht in front of Porto Rotondo in Sardinia.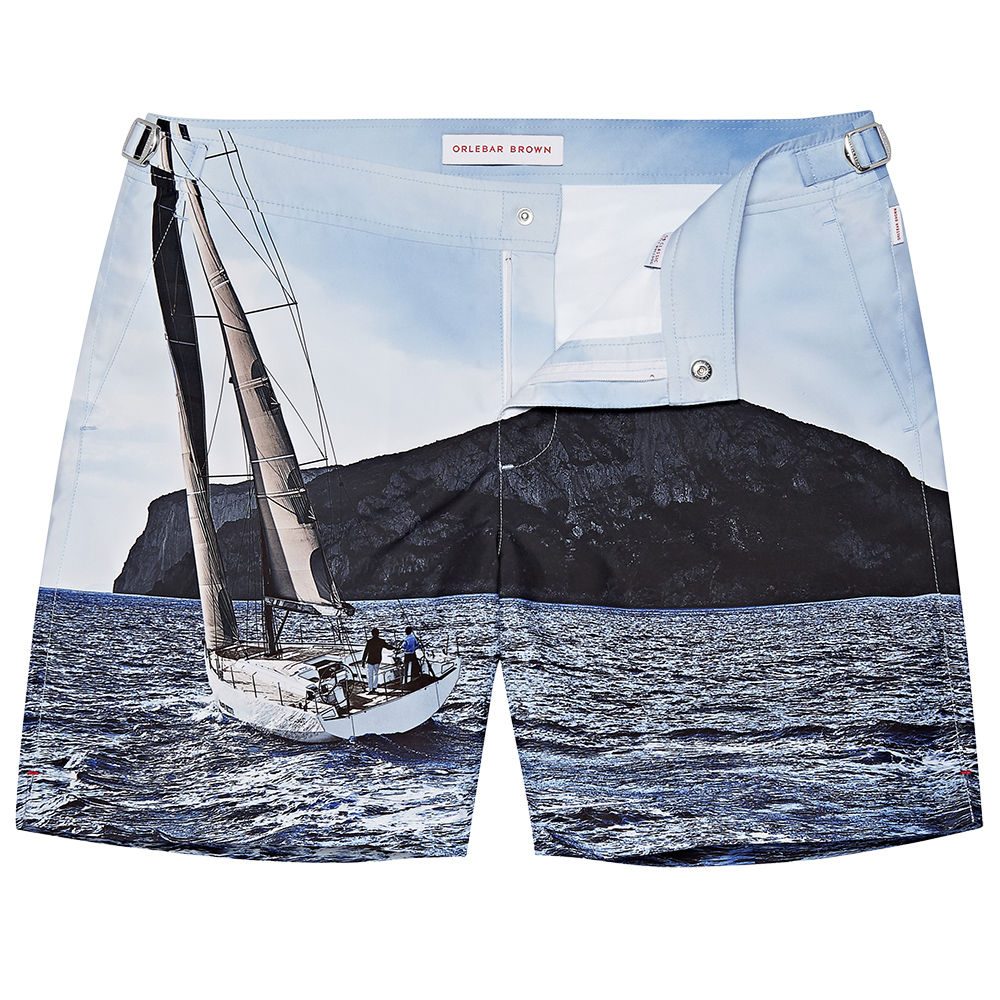 "When you do collaborations, the idea is to take your brand to a place where it doesn't traditionally exist. So whether it's the Bond collaboration, an artist or a graphic designer, it's just interesting to see how something that you know so well and something that's fundamentally Orlebar Brown can evolve into something that's slightly different and interesting for the customer."
In his design process Brown always considers where items will be worn, what the wearers will be doing in them, and the overall lifestyle they convey. "With IWC, there was a true resort style and elegance to it. Maybe a sporting touch, too – a bit more beach-volleyball feel, or playing with the kids in the water. Or there's the coast/Atlantic kind of holiday, like being on a big cliff, so it's very different from being in a resort or on a beach, so instead we do wind-blown effects, faded colours and a fabric that's slightly different.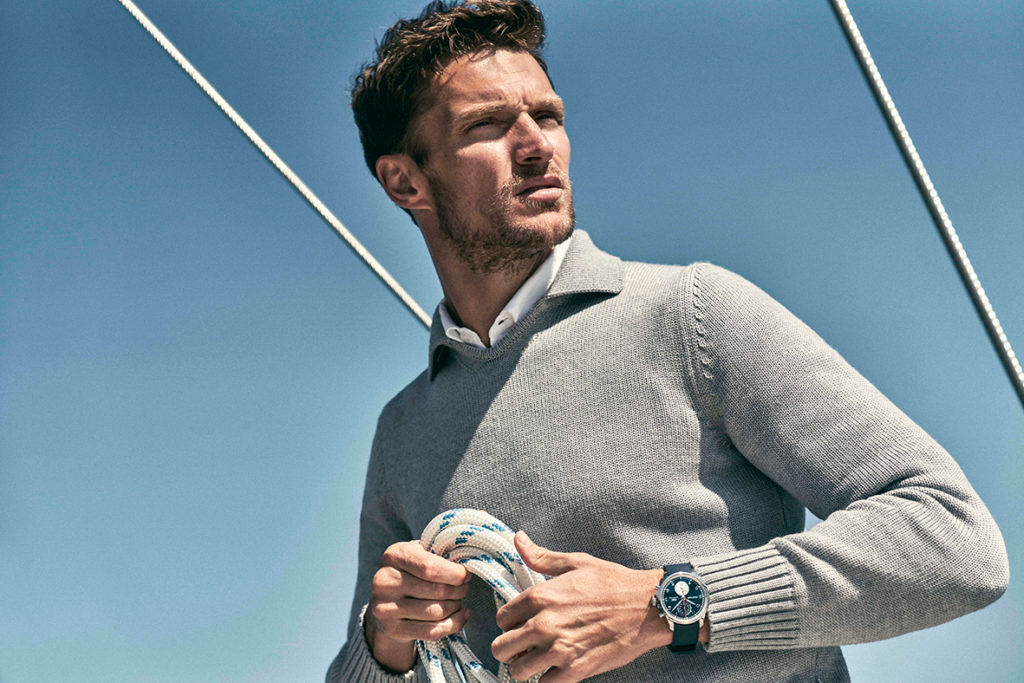 "My approach to design really is that the item needs to have a personality; it has to have a real relationship with the user, taking into consideration how you think the customer would want to wear it. It's not simply producing clothes. This whole idea of versatility is important, too. You need to look at things from different angles and perspectives, rather than making it about a specific place or activity. All those things come together to form a design philosophy," Brown says.
And surely wearing a smart linen button-down shirt paired with jacquard swim shorts – and, of course, with this handsome Portugieser strapped on your wrist – you could just as easily be frolicking on the beaches of Saint-Tropez as waiting to get seated at one of New York's swankiest establishments, yet feeling immaculately dressed for the occasion in both situations.