Travelling may not be on the cards right now but we can surely dream.
As travel restrictions remain, it seems my dreams of travelling have become more vivid; transporting me to scenes I've never seen or been to. From far flung cities and hidden kingdoms, to soft sandy beaches and ski slopes, my plans to travel are well and truly in action and I'm sure yours are too. Ahead, is my bucket list of dream destinations so that you may also feel inspired to dream and travel further, when we can.
Best travel destinations
1. Marrakech, Morocco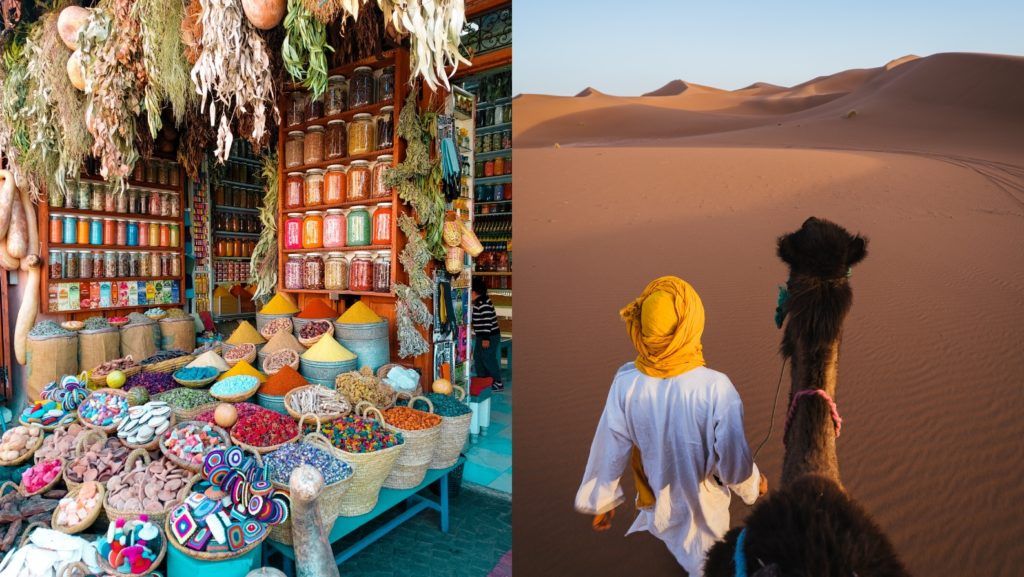 Offering a unique mix of history and traditions; landscape and nature; on top of its varied cuisine, the Red City is something of a hot spot for many to enjoy in luxury. Think balloon flights with champagne breakfasts, private treks through the Atlas mountains and even luxury camps in the deserts and dunes. Not to mention all the souk shopping and Moroccan food to indulge in.
2. Santorini, Greece
The iconic blue and white vistas, dramatic caldera landscapes and sunsets over the azure Aegean Sea, are but a few reasons to visit Santorini — especially if you are a photography enthusiast. And we didn't even get to the remarkable Hellenic wines or volcanic produce yet. So slow it down and head on over to this idyllic Greek island to inject a little Santorini magic in your lives.
3. Dubrovnik, Croatia
It might just be an unhealthy obsession with Game of Thrones, but we are all quite infatuated with Dubrovnik. Whether or not you recognise it as the set for King's Landing, this picturesque city has it all. Look past the ancient medieval walls and go explore stunning architecture, gorgeous beaches, crystal waters, waterfalls and one of the most vibrant summer festivals in the Mediterranean together.
4. Negril, Jamaica
Most of us don't need much convincing to head to the Caribbean, but if you were wondering why you should choose Negril in Jamaica — picture yourself on the uninterrupted sand and turquoise waters of Seven Mile Beach, exploring lush jungles and the country's most impressive waterfalls, and enjoying live reggae with rum cocktail in one hand and jerk chicken in the other. Negril, here we come!
5. Levi, Finland
Christmas almost always evokes a sense of magic and romance, so why not just create the same festive feels in Finland. Visit reindeers, go husky dog sledding and freestyle down the ski slopes, before snuggling up in a glass igloo whilst viewing the Aurora Borealis.
6. Cappadocia, Turkey
As if discovering the surreal landscapes of fairy chimneys and cities carved in stone wasn't enough. The number one thing to do in Cappadocia is bound to take your love to new heights, quite literally. One can enjoy spectacular views high up in a hot air balloon at sunrise — a fairytale sight with hundreds of them dotted in the sky. It doesn't get any more memorable than that.
7. Havana, Cuba
Havana is a travel destination for those who love all things retro. Drive a vintage car through the atmospheric streets lined with colourful wall murals, or discover the city's unique architectural mix and you will be transported to a different era. Then wind down like a true local and salsa with your partner while sipping on mojitos until the sun goes down.
8. Bhutan
Take the scenic route to peace and serenity and you'll end up in Bhutan — the last standing Buddhist Kingdom in the World — which is known to locals as Druk Yul, or Land of the Thunder Dragon. And it really is a mystical as it sounds, with its jaw-dropping landscapes, ancient monasteries and fortresses, it really is an adventure of a lifetime.
9. Amalfi Coast, Italy
If you're searching for la dolce vita, look no further. You'll find it on the Amalfi Coast. If the charming fishing villages or cascading cliffs over shimmering bays don't get you, the fresh seafood and limoncello will. It's also home to some of the best luxury hotels and restaurants in Italy, not to mention photogenic Positano and its well-known clifftop view.
10. Tel Aviv, Israel
It's one of the most happening yet historic cities in Israel, and still so underrated. Not only will you find the oldest port in the world, sandy beaches, Bauhaus-style buildings, a myriad of museums, galleries, and a fantastic food scene, but the nightlife also gives Ibiza a run for its money. If you're going to discover something together, let it be Tel Aviv.