Van Cleef & Arpels is and always has been unapologetically romantic – an approach that seeps even into the oft-bravado world of high watchmaking. We rediscover the house's enduring dance with complications and poetry through its new Lady Arpels Ballerines Musicales timepieces
The drapes part and ballerinas enter to fluid arabesques, grand jetés and elegant pirouettes, dancing to the music of Gabriel Fauré, Igor Stranvinsky and Pyotr Ilyich Tchaikovsky, then the drapes close. Such is the enchanting 20-second sequence you can play whenever and wherever you fancy, and it sits right on your wrist. Just like many of Van Cleef & Arpels' timepieces, the Lady Arpels Ballerines Musicales is not meant merely to be worn but, rather, experienced and inevitably connect with.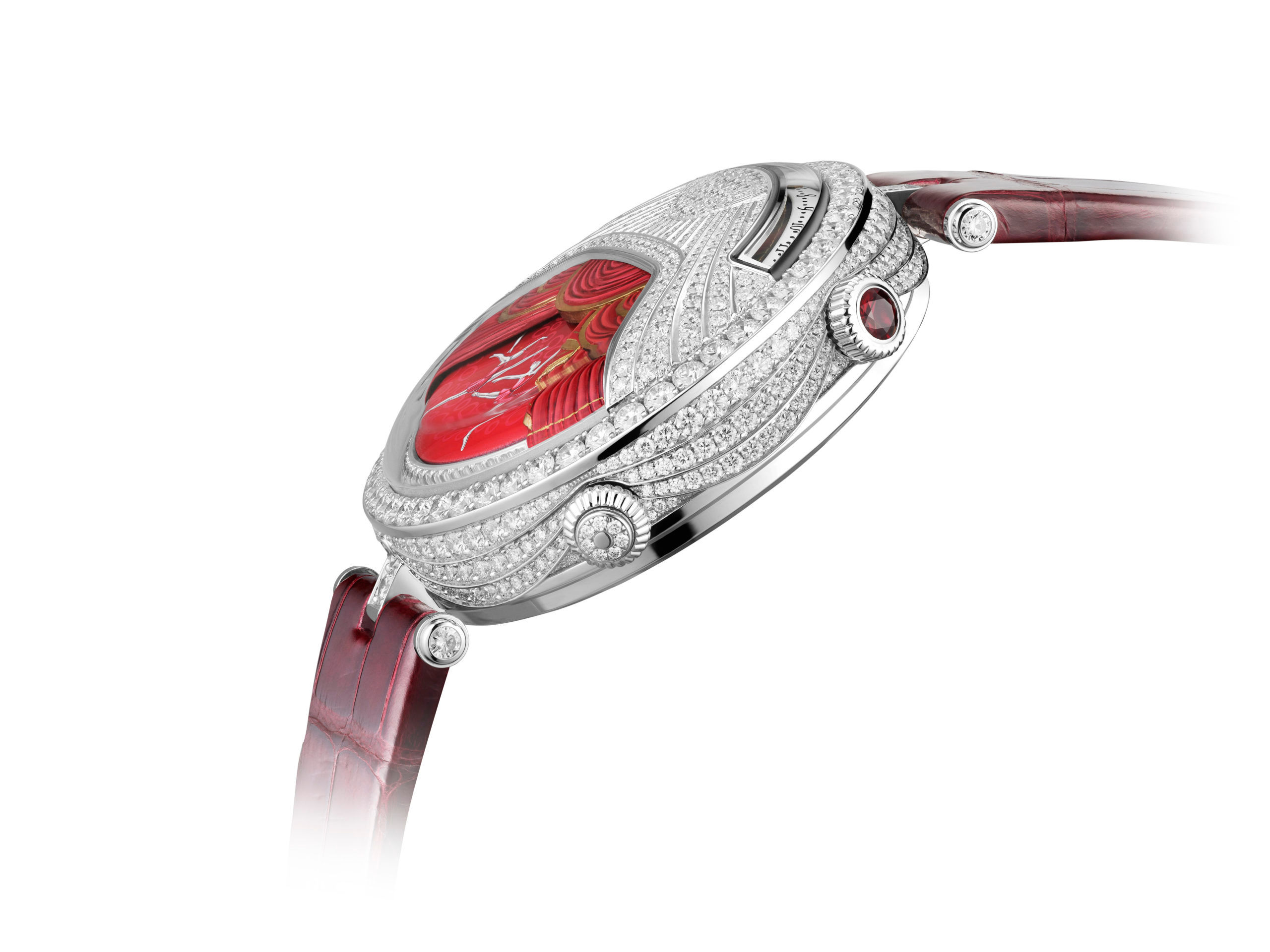 The Lady Arpels Ballerines Musicales is Van Cleef & Arpels' newest addition to its suite of Poetic Complications, which is inspired by one of the Arpels' other loves: ballet. Louis Arpels was known to often walk to the Opéra Garner, a short distance from his Place Vendôme boutique, to see a ballet with his nephew Claude. Such was their love for the artform that in the early 1940s, by which time the family had moved to New York, Van Cleef & Arpels created its first ballerina clips, which today is one of the house's most distinguishable designs.
Inspiration
This affinity with ballet only profoundly deepened as Claude met choreographer and co-founder of the New York City Ballet, George Balanchine, with whom he shared a passion not only for ballet but also for gems. This led to Balanchine producing a ballet called "Jewels", which made its debut in 1967 in New York, with each of its three acts linked to a particular gemstone and composer – Emeralds set to the music of Fauré, Rubies to Stravinsky, and Diamonds for Tchaikovsky.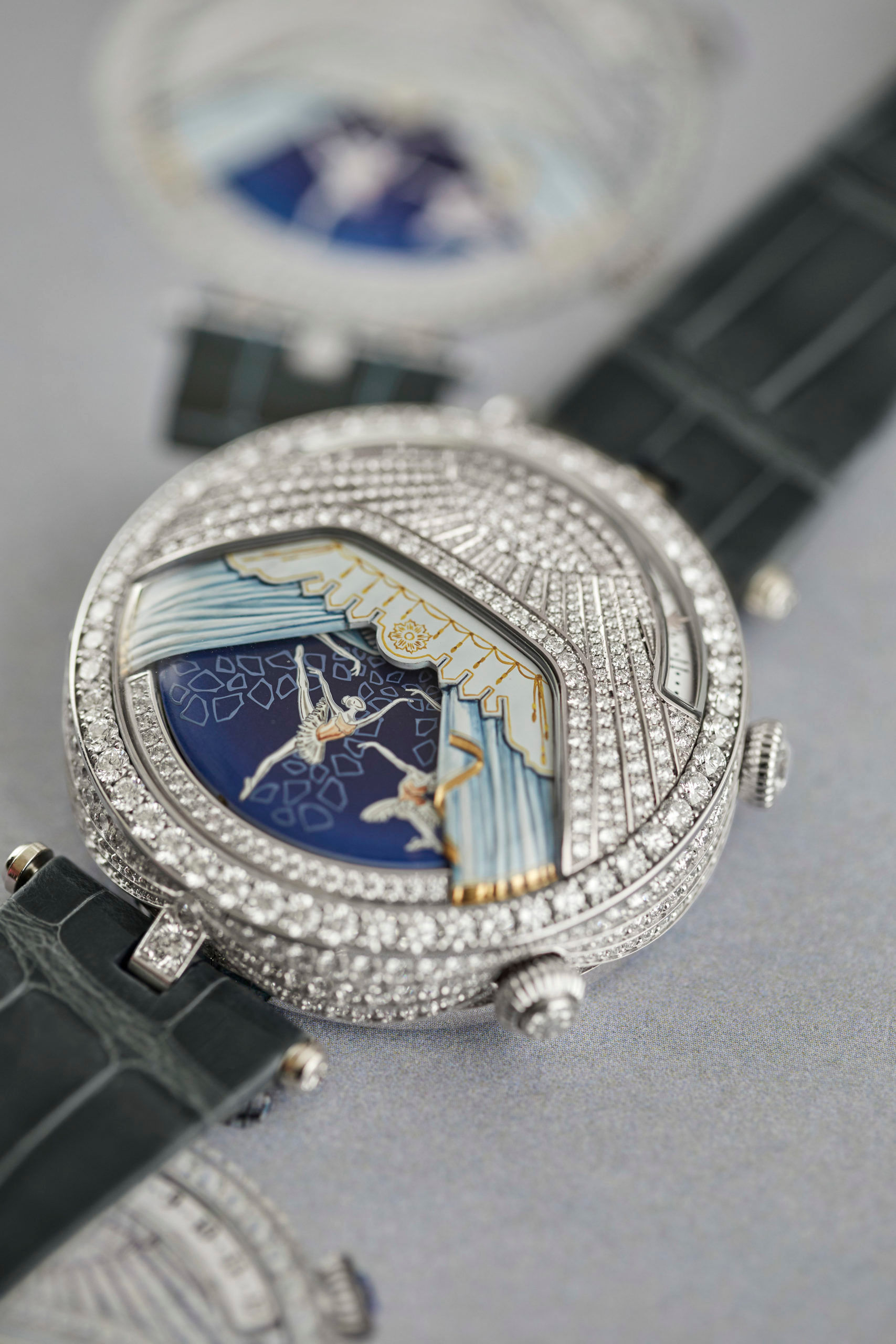 More than 50 years later, Van Cleef & Arpels revisits this ballet with magnificent timepieces that connoisseurs will find well worth perusing and, among those with a predilection for the finer things in life, owning. Each piece alludes to the three movements of Jewels: Lady Arpels Ballerine Musicale Émeraude with its green tones, Rubis in red, and finally Diamant comes in a combination of white, blue and golden hues. And on the upper crown of each creation, the stone it's referenced to.
Just as in all its other creations, Van Cleef & Arpels always starts with the idea of a story it hopes to tell, from which the team endeavours to find the means to bring this tale to life. For this, it was a collaborative effort between expert watchmakers, musicians, enamellers, engravers and jewellers, whose fresh perspectives brought the idea to fruition.
Sight to behold
Aesthetically, the pieces are striking. At once you're drawn to its baroque stylings. Upon closer inspection, you admire it for its beautiful intricacies, and from arm's length, its imposing heft. These timepieces have been conceived as three-dimensional tableaux of an actual theatre stage, hence the multitude of details infused into them. For instance, the upper-dial, fully paved with diamonds, represents a grandiose chandelier and curtains, while the rotating disc features sculpted, engraved and hand-painted draperies revealing five ballerinas in miniature paintings, dancing to the music. And then there's the combination of various crafts whose impeccable execution results in quite an enchanting scene. The beauty of it all is that the animation is on-demand.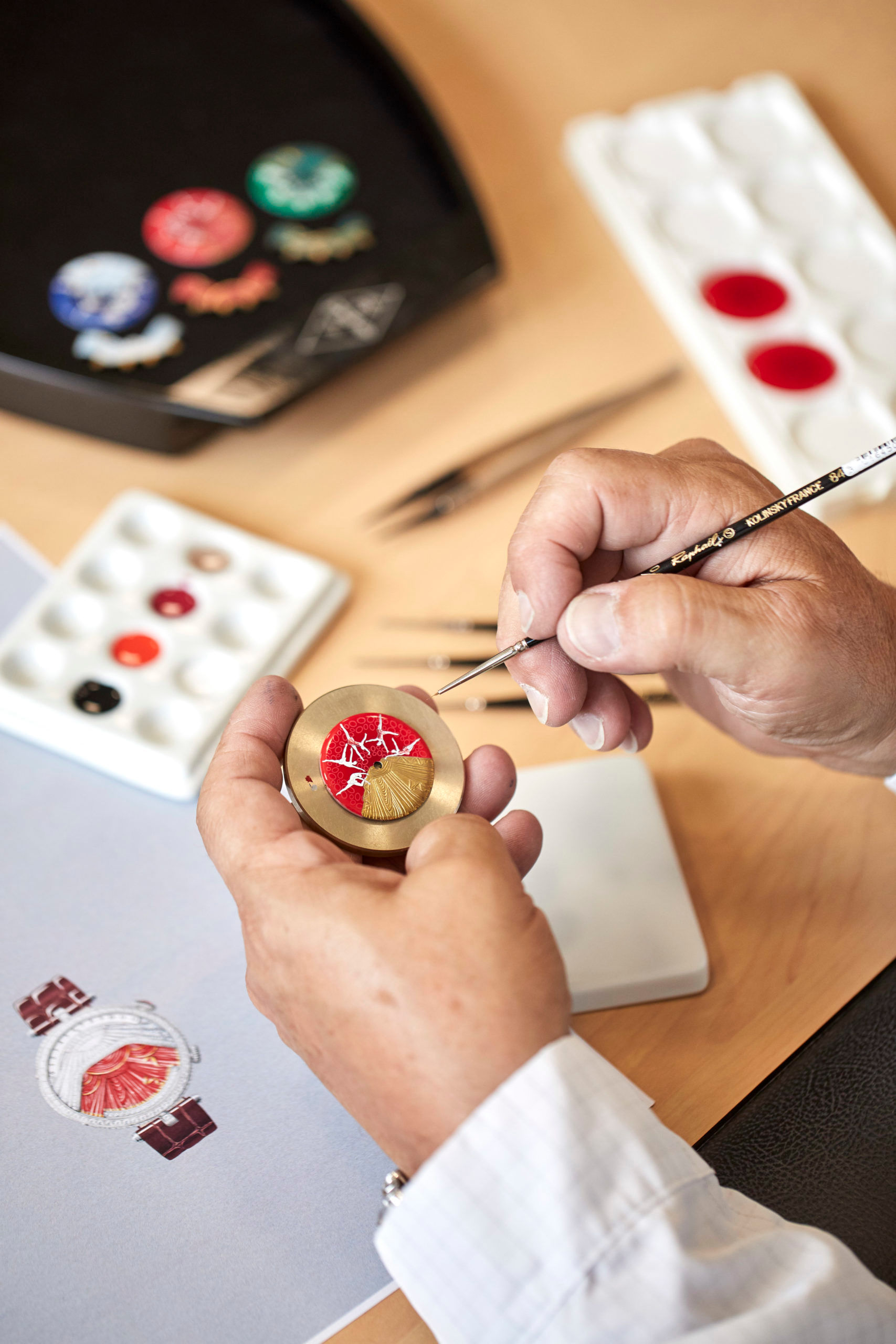 To give birth to these timepieces, Van Cleef & Arpels worked with several watchmakers and craftsmen from different disciplines, including lapidaries, stone-setters, miniature painters and engravers. For the sound, they collaborated with concert musician, Michel Tirabosco, who brilliantly adapted and simplified the three composers' music to just two instruments: the carillon and the music box, chosen to produce good quality sound – a real musicality, if you will, and a perfect pitch for the melodies.
Achieving musicality
Having these two instruments work together posed a tremendous challenge as they had to be carefully tuned, according to one of the experts involved in the project. An important consideration was that these musical pieces had to be complementary, producing a unique sound – and, indeed, the carillon provides sustained and rather low tones, while the music box plays the short and high tones.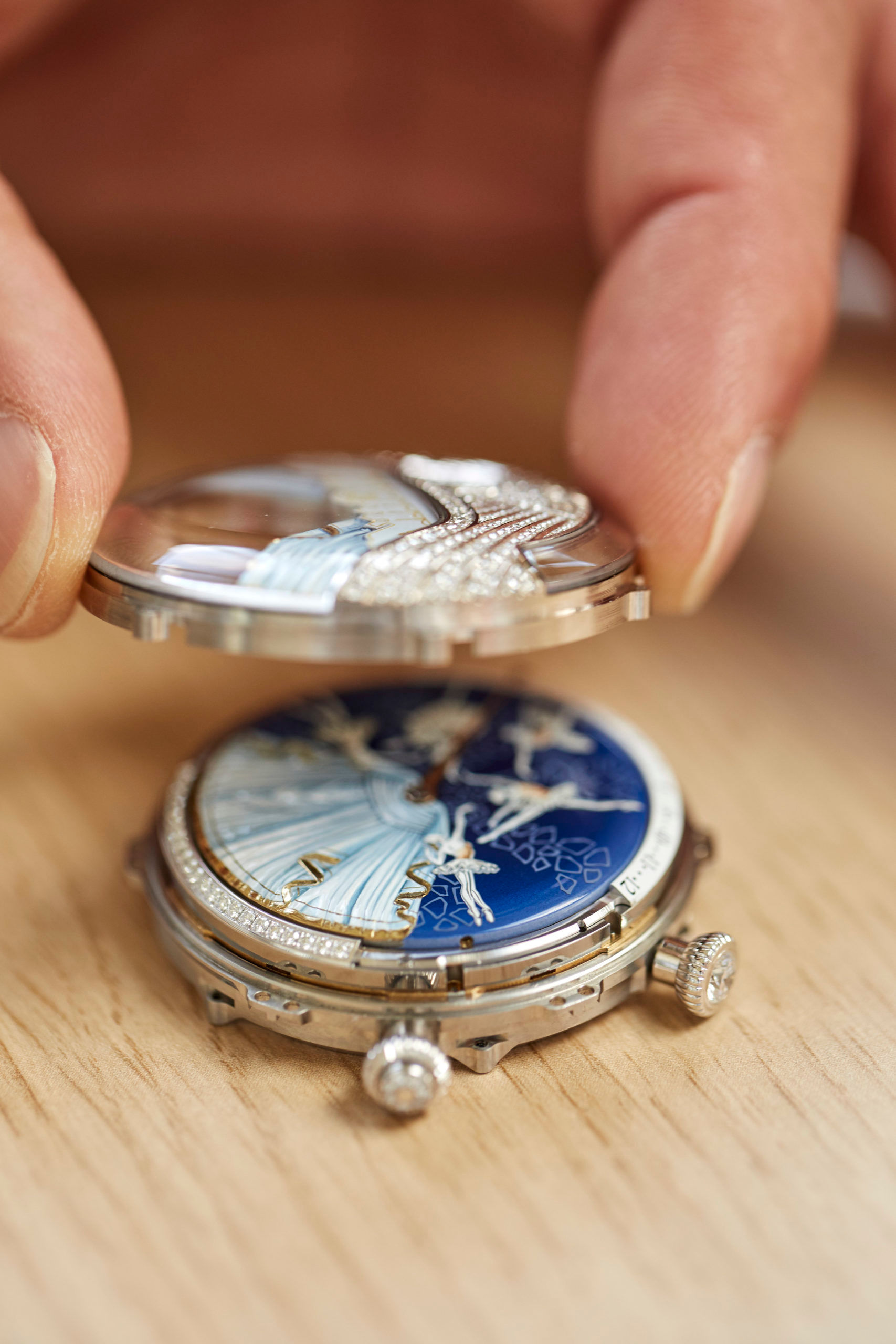 It was also important that they were able to create a specific watch architecture that integrated high-jewellery setting techniques in such a way that the sound comes out beautifully, while also protecting the mechanism. The case of the watch was constructed such that the melody offered by the carillon and music box is amplified, transmitting it through a diamond-paved surface. To heighten the listening experience, each watch comes with a birchwood and walnut marquetry case that was developed alongside luthiers and acoustics experts and enriched with an electronic amplifier.
No stone left unturned
The technical complexity of these watches cannot be overstated: the project required seven years of research and development to resolve the issues surrounding a manual-winding mechanical movement and the on demand animation alone. And yes, the piece does tell the time, a function which – though fundamental to any watch – almost feels like a secondary requirement for this fascinating piece. In fact, it tells the time magnificently, through a retrograde function at the top of the dial, indicated by a star – in homage to the Paris Opera's danseuses étoiles – demonstrating the passage of time on a graduated 12-hour scale.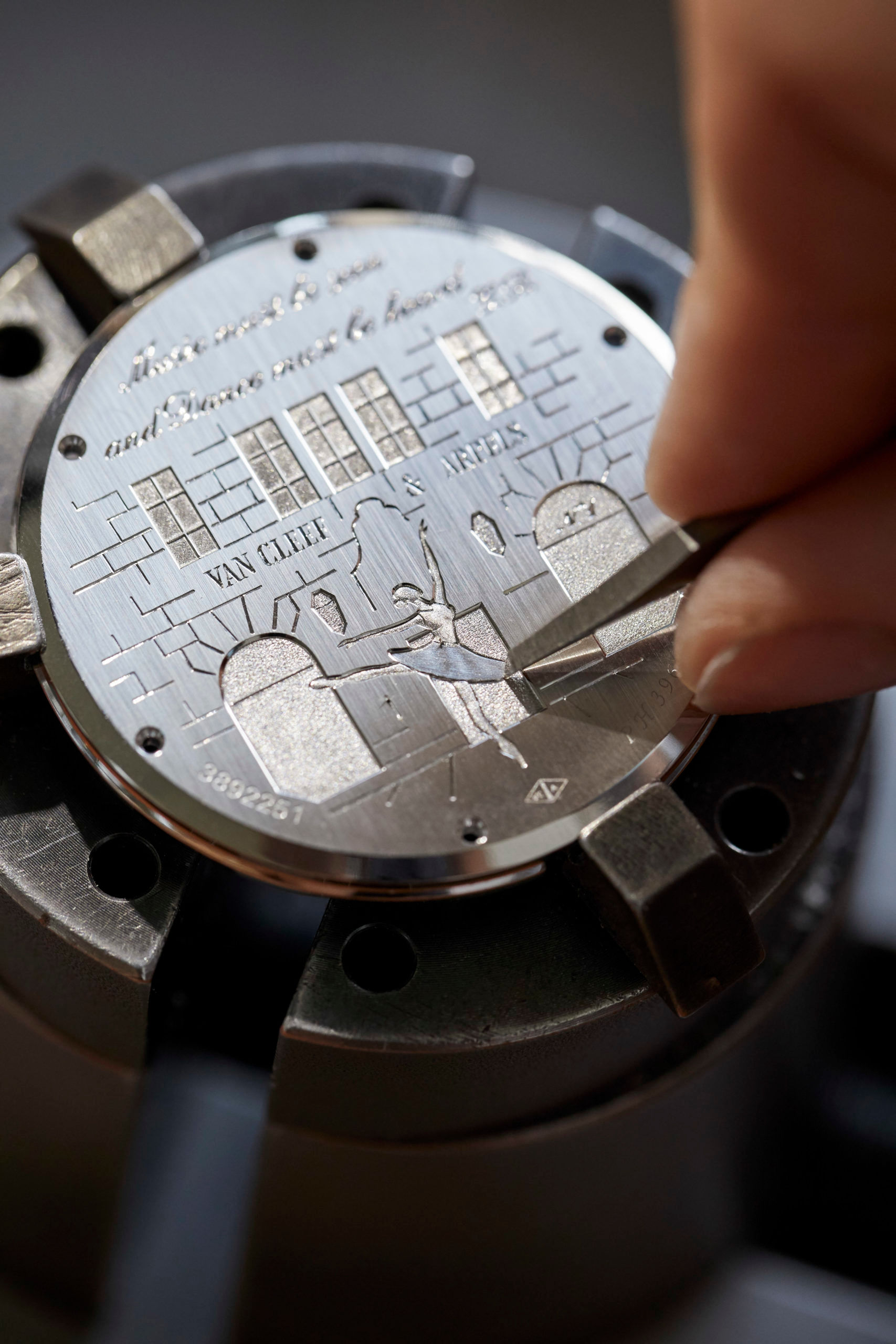 Turn the timepieces over and the storytelling continues with an engraved bas-relief illustration that portrays a ballerina dancing in front of the Van Cleef & Arpels' Fifth Avenue boutique where Claude hosted Balanchine in 1966 for a private viewing of the maison's creations. And there, Van Cleef & Arpels manages to demonstrate its prowess in jewellery and watchmaking, all while narrating a special love story between its founders and the world of ballet.
And as I immerse myself deeper into the world of this profoundly beautiful brand, I'm increasingly made aware that it exists in a field separate from those of other legacy houses. Van Cleef & Arpels embraces innovation without stripping its pieces of the romance and wonderment that only traditional savoir-faire and good old storytelling can bring. The maison manages to meld hopelessly romantic and sentimental tales into their pieces – unapologetically – but that never come across as contrived. And with its creations, there's always a sense of novelty – and unpredictability – that can bring even the most cynical consumers to their knees. Now isn't that truly precious?