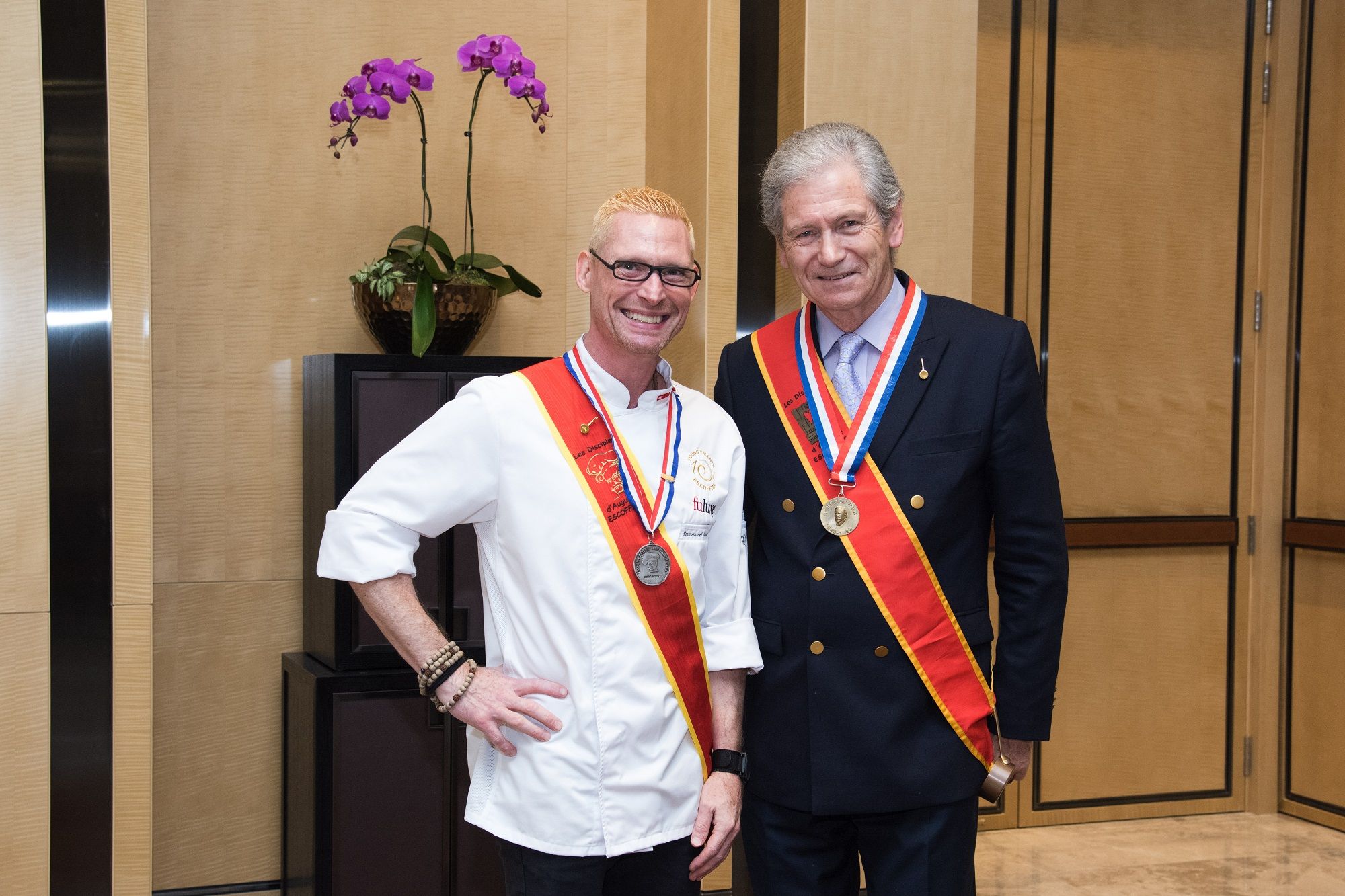 As the story goes, a historic partnership began when Auguste Escoffier was asked by César Ritz in 1884 to manage the kitchens of the Grand Hotel in Monte Carlo. This partnership created several celebrated hospitality landmarks: The Savoy Hotel of London, the Ritz Hotel in Paris and the Carlton Hotel in London.
Among Escoffier's most noted career achievements are: revolutionising the menu, modernising the art of cooking and the organisation of the professional kitchen. Escoffier simplified the menu as it had been, writing the dishes down in the order in which they would be served. He developed the first à la carte menu. He simplified the art of cooking by eliminating ostentatious food displays and elaborate garnishes, by reducing the number of courses served. He emphasised the use of seasonal foods and lighter sauces. Escoffier also simplified professional kitchen organisation, as he integrated it into a single brigade from its previously individualised sections that operated autonomously, often resulting to duplication of work.
"Auguste Escoffier is the father of culinary. Without him, there will be no chef in the world", my friend, chef Reza Budi Sumali, said to me when I asked his thoughts about Mr Escoffier. And this pretty much sums up the sentiments of all the chefs I spoke to…
In celebration of the birth anniversary of Disciple Escoffier International Founder, Auguste Escoffier, Nespresso and the President of Disciples Escoffier – Singapore Delegation, Emmanuel Stroobant, hosted an exclusive epicurean experience for 200 guests, including F&B heavyweights, embassy members, VIPs and select media members. The dinner was prepared by six of Singapore's leading chefs at the newly-opened Sofitel Singapore City Centre.
According to his great grandson, Michel Escoffier, who was in Singapore to grace this commemorative occasion of his birth anniversary, over 171 years ago: "A visionary, he wrote over a 100 years ago: Cooking, like fashion, must evolve with time and take into account the changes in peoples' lives. Whilst remaining an art, cooking will become more scientific, we will simplify it and enhance the nutritive and taste values of dishes. What will not change are the basic principles of cooking".
In your own words, can you explain to our readers why Auguste Escoffier, your great grandfather is so important and respected in the culinary world.
He introduced behavioural and organisational standards in the kitchen that are still in use today. He also left for future generations the "Guide Culinaire", a codified tool for modern cookery which is yet today the "bible" of every chef.
Tell us a bit more about his books and his philanthropic endeavours.
He wrote several other books, among which the "Livre des Menus" where he introduces "a la carte" and "prix fixe" menus, as well as seasons menus using local products. He was also the first chef to create fund-raising dinners to help colleagues in financial difficulties or retiring at a time when social security did not exist (early 1900s).
Tell us how the Disciples of Escoffier came about.
The Disciples of Escoffier where first created in Nice (Cote d'Azur) in 1954 and gradually developed in France and around the world, to reach about 30,000 members today.
How are you involved with the Auguste Escoffier School of Culinary Arts?
The Auguste Escoffier Foundation and Museum of culinary art were created in 1966, in Auguste's birth place. The Foundation has always been involved in promoting vocational training through workshops for professionals and in 2010 we engaged in a partnership with Triumph Higher Education group in the U.S, to create culinary schools in Austin, Texas, and Boulder, Colorado. In 2015, they initiated Escoffier online which is experiencing a worldwide success.
Tell us about how you keep his legacy alive with culinary schools and non-profit organisations bearing the Escoffier's name.
Auguste's legacy is carried out by the Foundation, the Museum of Culinary Arts, schools that teach his techniques and principles and the non-profit associations bearing his name around the world, such as Les Amis and Les Dames D' Escoffier in the U.S. The Disciples Escoffier globally supports culinary education through scholarships for kitchen professionals and food services professionals pursuing their careers in the hospitality industry.
The King of Chefs and the Chef of Kings – who came up with this salutation?
Probably a journalist in the U.K., where Auguste spent the last 30 years of his brilliant career at the Savoy Hotel and the Carlton.
How did this commemorative dinner, in Singapore, came about?
Every chapter organises 2 or more Disciples dinners where they induct new members and for a charitable cause.
Thoughts on Michelin stars.
Michelin stars is a good system for reference.
Do you cook?
Yes, but only confidentially with friends.
Click on the gallery for the evening's six-course menu at Sofitel Singapore City Centre.