Chef Angelo Agliano hits his stride with the bright flavours of Italy's Mezzogiorno and other worldly influences, at Tosca Di Angelo.
Operating in fits and starts during Hong Kong's lengthy pandemic restrictions and navigating diner-number fluctuations during 2019 were just some of the challenges for Angelo Agliano, director of Tosca di Angelo, who took the helm of the Ritz-Carlton Hong Kong's Italian restaurant last January.
"I brought six of my previous team to work with me," recalls the Sicilian. "I knew I was going to make a lot of changes and for those staff who are already there, it's always hard when a new chef comes in and does things differently. I wanted to have the support of those who knew my way of cooking." Challenges were duly met, according to the Michelin inspectors: the restaurant was awarded one star for the 2020 guide for Hong Kong and Macau.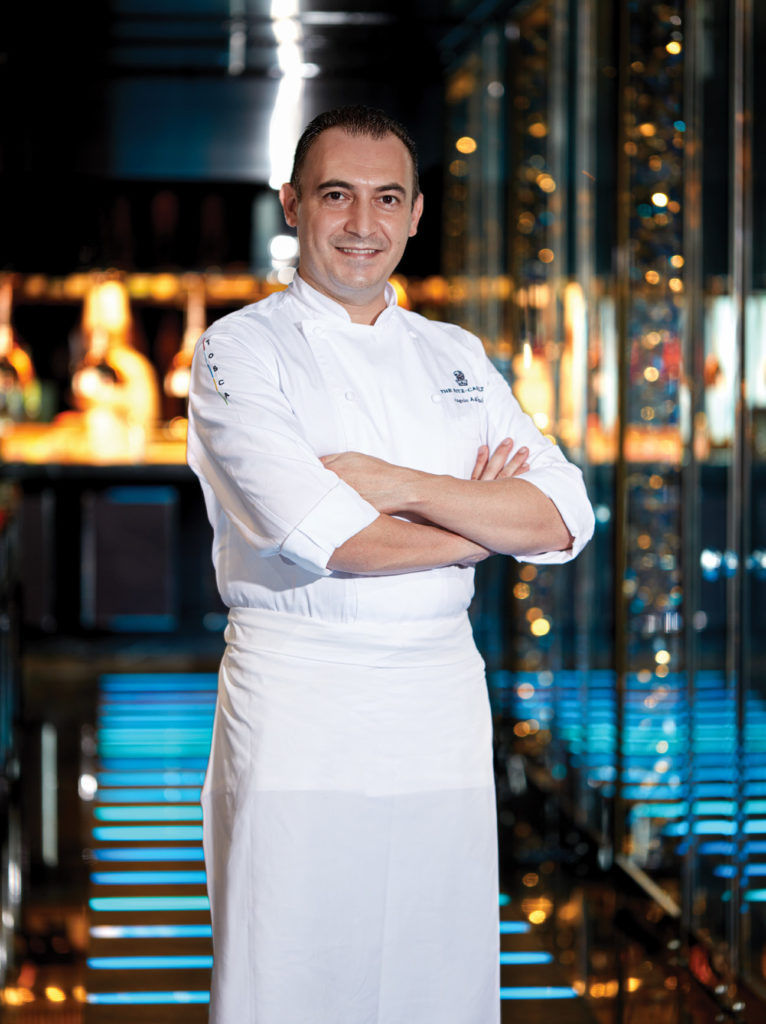 Adding Agliano's name to that of the restaurant makes it quite clear to diners that the restaurant has morphed into something significantly different from previous incarnations under other chefs. The menu's transformation was inevitable: Not only does Agliano have Mediterranean culinary experience that started at the age of 14 but, for more than two decades, he's also worked in top-tier restaurant kitchens across Europe, and – in recent years – in Hong Kong and Taiwan, developing a deep understanding of local preferences in the world of elevated dining.
Agliano's skillset includes pointers from Japanese sushi chefs for preparing seafood. "My parents and grandparents went fishing in Sicily and cooked with seafood, but when I studied how Japanese chefs use their knives to slice tuna, I knew I had start again."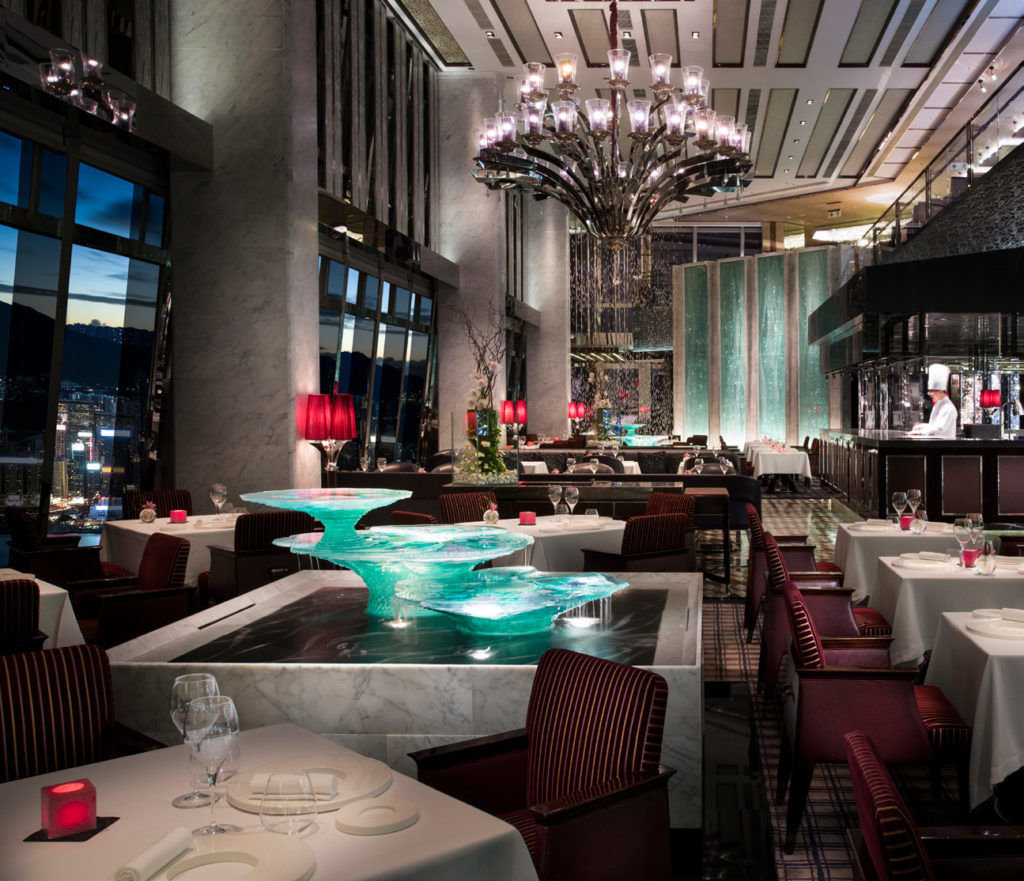 Working for the late Joël Robuchon in France, Agliano helped lead the launch of L'Atelier de Joël Robuchon dining rooms in Hong Kong and Taiwan. In 2016, after seven years with Robuchon, Agliano deemed it time to launch his own restaurants, first in Taipei then here in Happy Valley. The local dining room Locanda dell'Angelo was, he says, "cosy, with my original Sicilian recipes that were quite traditional in style. When I started at Ritz-Carlton, I was still going there once a week for a while before friends of mine took it over."
One bright lunchtime this September, the day before Hong Kong's Covid dining restrictions were relaxed from two diners per table to four, the amuse-bouche of ricotta mousse, topped with Sicilian tomato gazpacho, paired beautifully with a deep gold-hued, bone-dry Vigne Olcru Veuve 2014 pinot noir blanc de noirs. This wine also holds up well against two of this restaurant's starters with some robust elements: blue lobster – slightly poached with Sicilian peach, cherry-tomato confit and Kaluga Caviar; and the chef's signature lean delicately-flavoured Fassona beef carpaccio with light mustard, 24-month-aged Parmesan cheese, artichoke and arugula.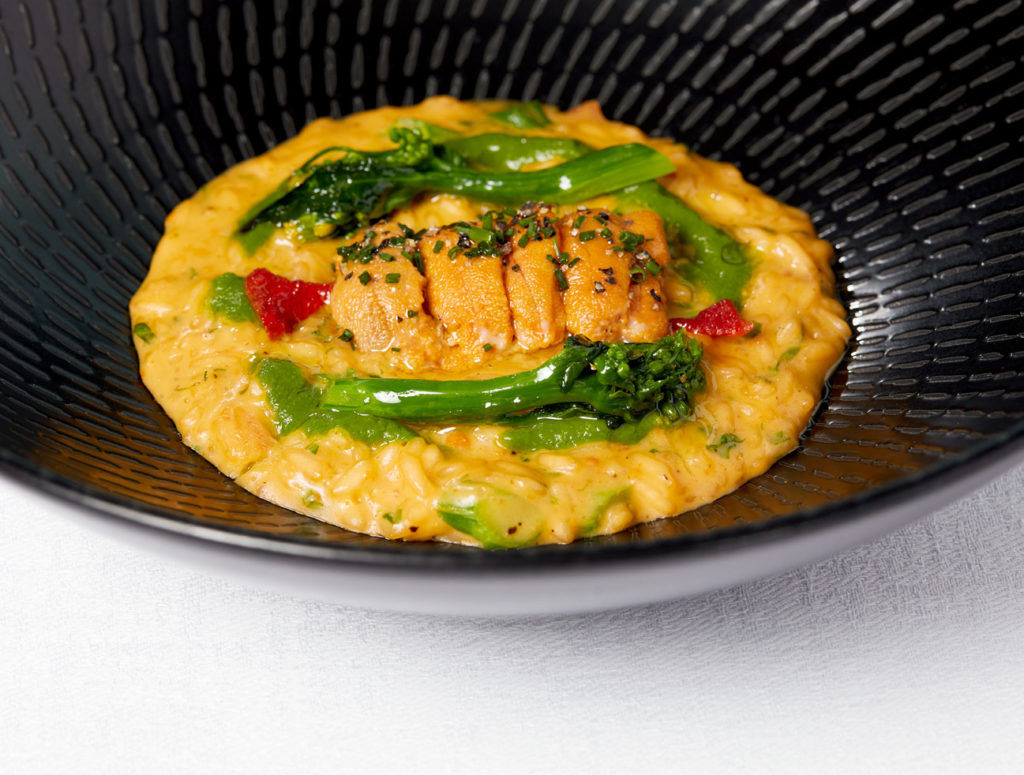 One of Agliano's most-talked-about signatures is his risotto with Hokkaido sea urchin. Although the Mediterranean species of this shellfish is occasionally used in pasta dishes, Tosca di Angelo's version is something completely different. For a start, the Japanese variety is far plumper, sweeter and creamier, with less zinging minerality than its European cousins.
"This dish, for me, is the best that I have made from a combination of ingredients from Italy and Asia," he enthuses. Agliano concocted its first prototype in Hong Kong while at L'Atelier de Joël Robuchon. "When Robuchon tasted it, he told me that we must have this on the menu."
Agliano uses a touch of fresh wasabi, and a garnish of either local choy sum or gai lan green vegetables for some bitterness in the flavour balance. "Rice, though, must be from Italy," he adds, with a smile. "I've tried Japanese rice and all other kinds, but it's just not the same – what can I say? I'm Italian."
The most unadulterated Sicilian dish on the menu is Mediterranean red-star grouper in Matalotta fish soup with olives, capers and cherry tomatoes. "It comes from memories of my grandmother making this on Sundays for our family," says Agliano. "But first, I cook it in a Japanese way – with a bamboo steamer over jasmine tea and spices like cloves, star anise and cardamom. In the soup, my ingredients are all from Sicily: Green olives, capers, the tomatoes; the stock comes from the head and bones of the fish."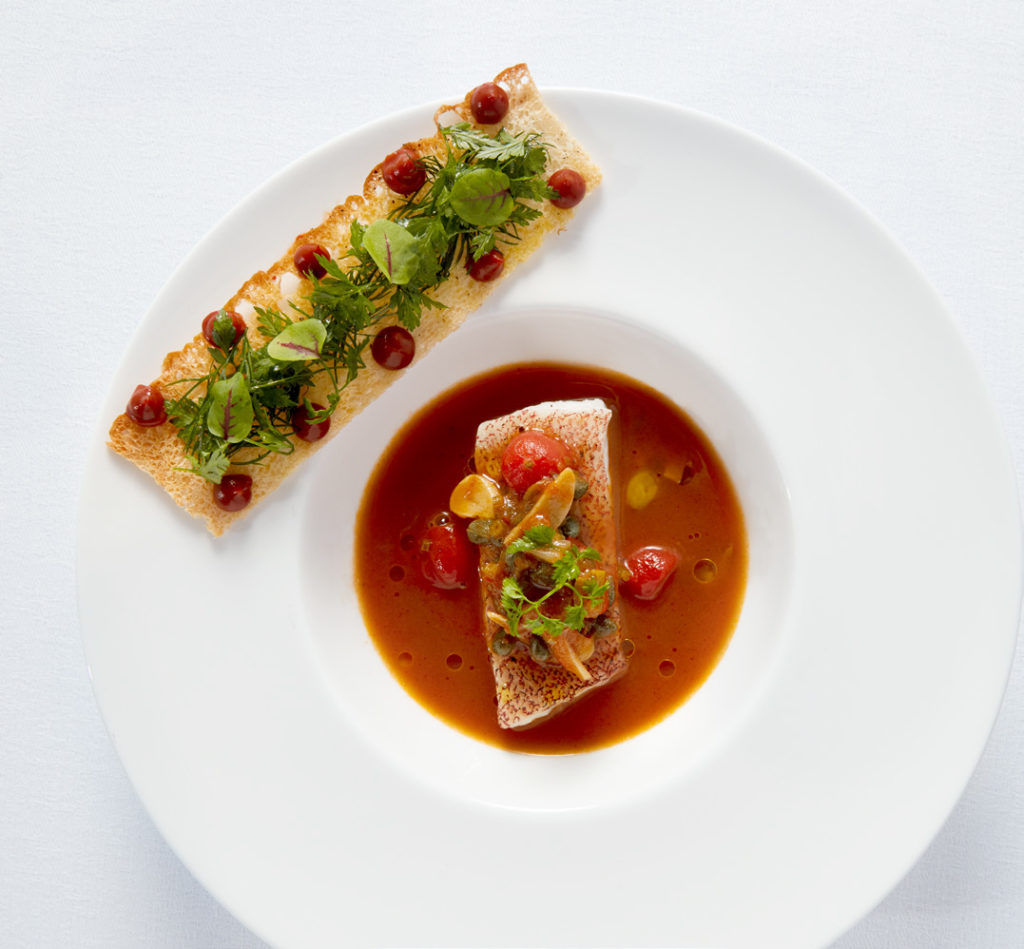 Dessert-minded folk: If you're not excited by the prospect of tiramisu, challenge yourselves – you'll be rewarded. The contrast of texture within the layered glass bowl is enjoyable, as crunchy biscuit plays against decadent creaminess. And instead of a big kick of fortified Marsala wine, the alcohol content is subtle. The biscuit crunch and a super-light mascarpone top layer, dusted with hand-grated chocolate (rather than powder) are all down to this being an à-la-minute dessert, rather than pre-made. It's served with an espresso granita. For a much lighter sweet finish, consider the mixed fruit salad with yuzu sorbet and blood-orange coulis.
The cheese trolley also deserves a mention, laden with both cow's- and sheep's-milk varieties; from creamy to hard and blue, at least half are Italian and the rest are French.
So how does Agliano sum up his cuisine now and in the future? "I always see French cuisine as 'square' – Japanese cooking is like that, too: very ordered and careful," he reflects. "Italian chefs are more like a circle – we don't like to measure quantities or look at timings too much. I've worked in French and Italian restaurants and in Asia, so I have a mixed way of thinking in my kitchen. I don't want people I work with to feel like machines; I want them to be creative and feel part of the team – and make everything as if they're serving it for their family. That's one of the things I took from my time with Robouchon.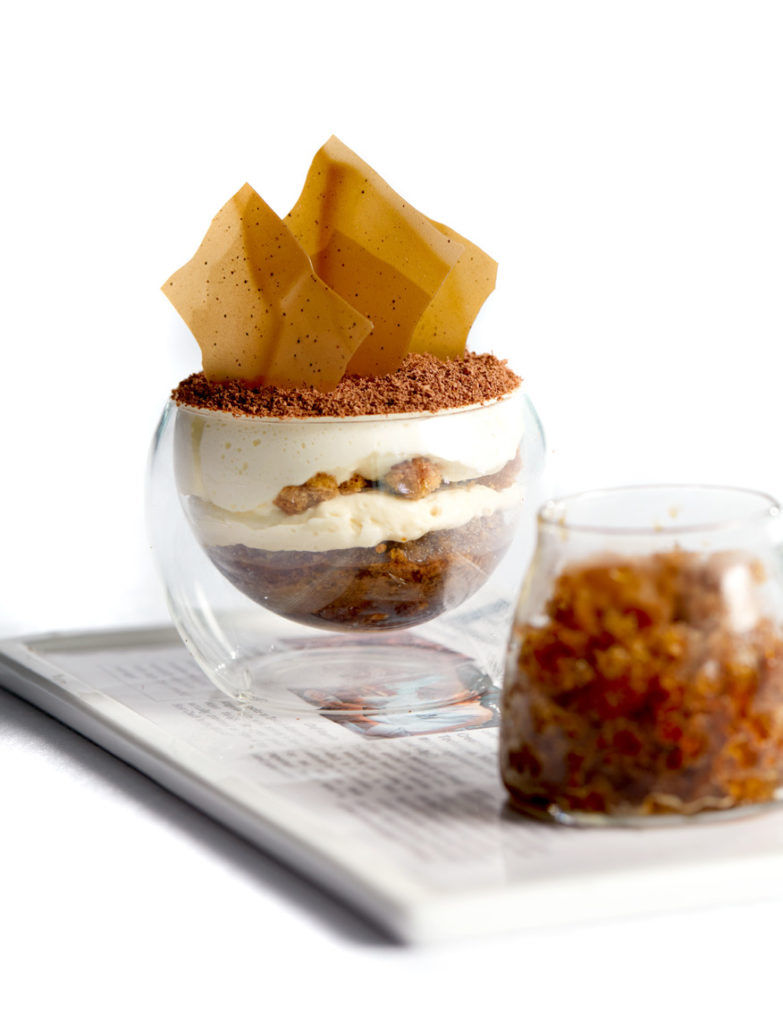 "I want people to have a dynamic experience here," he says. "It took us a year to really find our way with our menu. We had to open and close a few times since the beginning of the year. But from April when we re-opened we've been full and had very positive feedback from customers who hadn't been here for a few years."
Other pandemic responses included re-jigging a substantial take-away menu as demand increased; and launching a Cook at Home programme – to send chefs from the restaurant to prepare and serve a Tosca di Angelo-level meal at a requested residence – which has proved so popular it's set to continue.
"I really want to transmit something exciting to those who eat my food," says Chef Angelo of his wider aspirations for this restaurant, "and also to the chefs in my kitchen."
Tosca di Angelo
International Commerce Center, 1 Austin Road West, Kowloon, Hong Kong, China SAR