After serving elevated cuisine in Asia for eight years, executive chef Antonio Oviedo recently started something of a buzzing revolution at 22 Ships in Wanchai.
When the Jia Group decided to refresh its intimate restaurant-cum-bar, as well as a brightening its interior it also installed Oviedo, a veteran of some of the greatest teams in Spanish and modern cuisine, along with his newly picked team.
"I started to develop the new concept for 22 Ships in May," says Madrid-raised Oviedo. "We wanted to have a place that's like a real Spanish tapas bar, with aperitifs and fresh dishes that change all the time – to bring all the bites from Madrid and other cities where this scene serves super stuff, and to source premium ingredients from the greater area of Spain.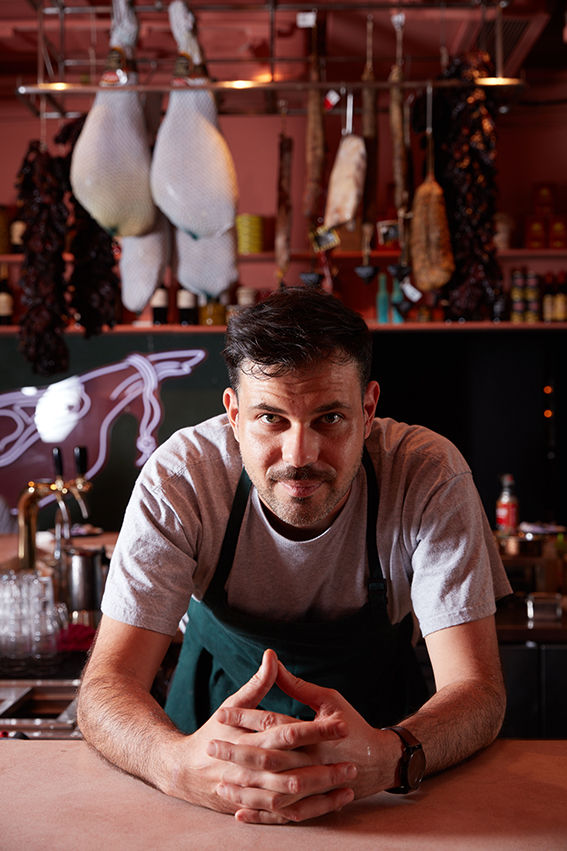 "We're trying to be authentic," he says; "I think there's a lack of authenticity in some restaurants here – not only Spanish ones. They try to change dishes for the local palate; that's cool, but then you lose the [genuine] concept."
Oviedo, whose initial foray into the Hong Kong dining scene began on his arrival from Singapore – he'd worked there as sous chef at the multi-awarded European-style restaurant Iggy's, and as group executive chef at Una and The Garage – does concede to the regional preference for less salt in savoury dishes. In fact, he says, "In our seafood paellas we get so much flavour from ancient recipes using roasted lobster heads, tomatoes, almonds and dried peppers in the stock that we don't need any salt at all."
On the evening I visit, a paella of ultra-red-shelled Mediterranean Carabineros prawn with salmorreta sauce (a pungent paste recipe from Alicante, comprising dried ñora pepper, olive oil, garlic, parsley and tomato) has the requisite wow-factor intensity of flavour and umami quality – and all without salt. Rotated seafood rice-pan regulars include blue lobster with salmorreta, and grilled octopus with black ink-enhanced grains.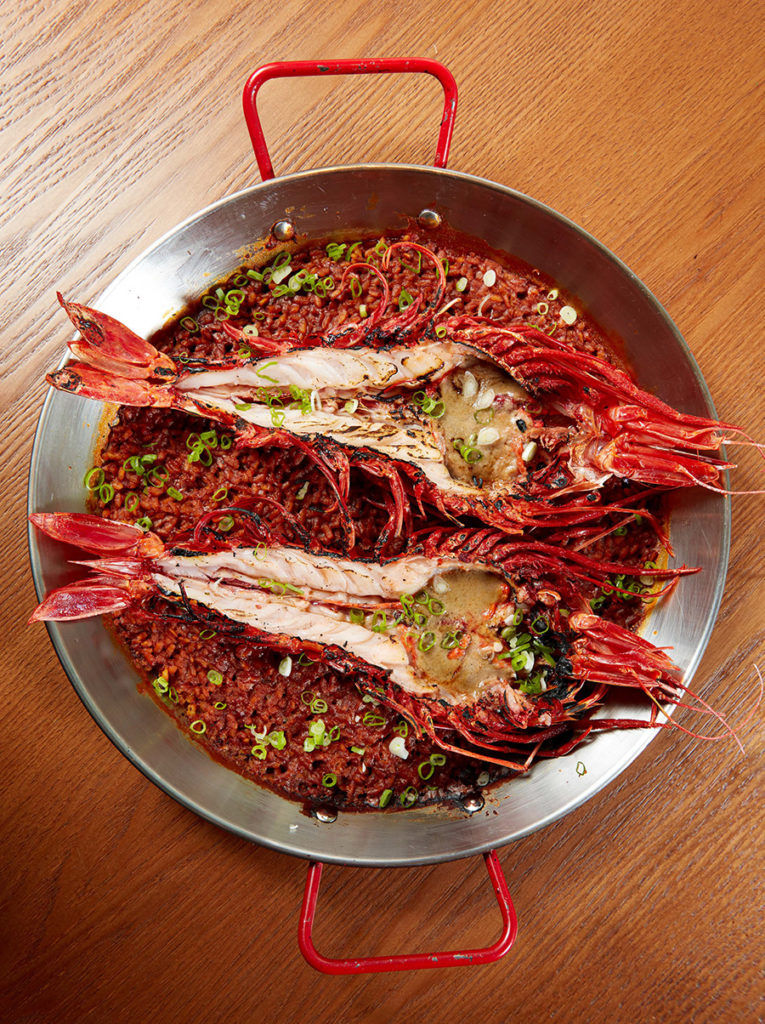 To help ensure both kitchen quality and an upbeat vibe with diners, Oviedo enlisted Nick Gellon, a former staffer in his previous private kitchen and catering operation. "It was in the middle of the pandemic and Nick was working in Switzerland," explains Ovivedo, "so it was very difficult to bring him over, but he made it five days before we opened. That was a relief, as it's difficult to find committed people."
A chalk board announces the restaurant's frequently changing specials, from snacks to tapas, mains, cheeses and vermouth sodas, many of which have a contemporary savoury edge. The intimate yet vibrant new interior provides a backdrop to an open-kitchen bar counter, a prime spot to watch and engage with the new culinary and bar team. Around the counter and dining-room tables, restaurant manager and sommelier Alice Douine offers accessible information on wines, citric-foam topped white or red glasses of sangria and house- made spirit infusions.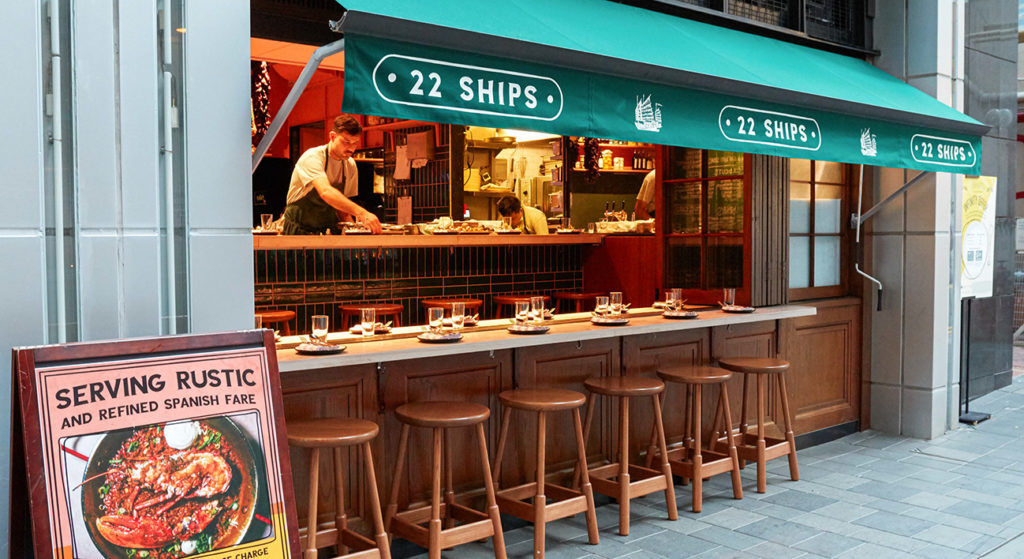 With authentic flavours being served, then what – one might wonder – has the local palate best responded to in the few months since opening? "For the Hong Kong locals, the uni [sea urchin] and suckling pig have been very popular," says Oviedo, enthusiastically. "They love both of these – and all seafood." He's referring specifically to the restaurant's Rusa and sea urchin on toast, and the roast suckling pig – a large main-course sharing platter. Rusa refers to Spain's popular potato-based "Russian salad", sometimes featuring seafood, of which 22 Ships presents a very refined take.
When it comes to seafood, few dishes could be more Spanish than anchovies and sardines – though here they're served with finesse. Take the cold ajo blanco almond-and-garlic soup, for instance, served with sliced Muscat grapes, just as it is in Malaga; Oviedo, however, tops it with grilled sardines, also enjoyed in the same region, adding herb- and spice-infused floating green and red drops to the white liquid for flavoursome and visual effect. Marcona almonds were originally brought to Spain by Tunisian and other immigrants from North Africa, who introduced the soup. Boletus mushroom and béchamel sauce croquettes have an airier quality than many served in Spain and are topped with fine aged Ibérico ham.
Oviedo has bolstered the selection of small-production cold cuts – Ibérico hams and salamis – and cheeses, many of which are unpasteurised and all of which result from a tireless sourcing process. These can be enjoyed as a prelude to dinnertime during la hora del vermut ("vermouth hour"), where cocktails, wine, citric-foam-topped sangria and house vermouth sodas are served with prepared snacks and tapas. Oviedo thinks this Spanish habit isn't truly replicated anywhere else in town – note that there's no lunch service here: with dinner preparations from scratch beginning around noon and lasting six to eight hours, there's simply no time.
Back to the small plates for dinner, a moreish starter dish is the Rubia beef tartare, made with prized meat from north-western Galicia that's aged for more than 90 days; its lasting robust flavour makes Douine's wine pairing with the Catalonian 2018 Xarel-lo Ca N'Estruc, L'Equilibrista, an intriguing one: a young white wine with such structure and length that it was in perfect balance with the seasoned aged raw red meat.
This grape – it's a key component in Cava – also goes well with the house signature main of suckling pig with grilled gem lettuce and pomegranate. Like the Manchego lamb-shoulder main, the pork is slow-roasted for 24 hours and the meat falls off the bone. With the delicate lamb, Ninja de las Uvas, a light 2018 Garnacha (Grenache) red from the Bullas region by natural wine-maker Julia Casado, is a perfect match.
Try to save room for dessert. The Basque cheesecake uses sheep's- milk Idiazabal, a smoked cheese produced close to Oviedo's father's birthplace in Navarre. The smokiness of the cheese is further enhanced by being baked in a charcoal oven. For a lighter finish, lemon sorbet blended with Cava is zingy with a slight granita-like texture, topped with soft meringue. Both these sweets are ample for two to share.
Oviedo has certainly worked with some of the past and present greats of Spanish cuisine. So what stays with him from his time working with late Santi Santamaria – known for his classic Spanish recipes – and the Roca brothers – who helped elevate the nation's modern culinary repertoire for years? "Santi Santamaria had a great traditional knowledge; his background was training in French cooking, so his way of thinking was very well organised," recalls Oviedo. "I learned a lot about details in preparation from him. The Roca brothers were my first real chance to experiment with traditional Spanish dishes and bringing other ingredients and techniques into Spanish food."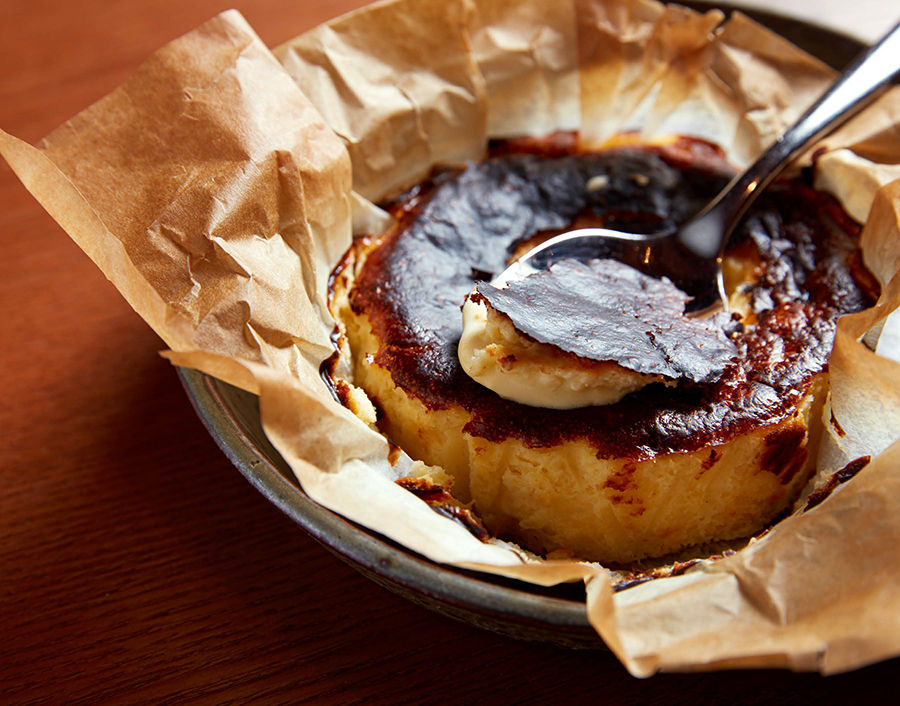 Lessons didn't stop there. Oviedo was also able to garner insights from other highly regarded kitchen heads and their teams. But his involvement and memories of cooking stretch back to childhood. "When I grew up, time was always spent around the kitchen table – I peeled garlic from a young age to help my mother. My grandmother, who was from the north of Spain, taught my mum how to cook some dishes. My mum came from the south, so this gave her an amazing selection of recipes. And the concept I have here of multi-regional tapas came from that."
It's been tough opening in summer 2020, but the plan remains just as it was at the start. "We opened in the middle of the third wave of Covid, so we're still on our first menu, but we change two or three dishes every day," assures Oviedo. "Sometimes the staff get mad at me because I try a new dish during preparation and then put it on the menu 30 minutes before we open – so we have quick training on it all together. But that's what we're about and I can see people are appreciating our produce and new ideas."