Championing his unique Chinese-French cuisine at one-Michelin-star restaurant VEA, chef and co-owner Vicky Cheng is considered one of the more creative culinary minds in Hong Kong. He tells us how this unlikely pairing of two diverse traditions arose.
For some reason, unbeknown to me, the forbidden F-word (otherwise known as fusion) is still considered offensive in the culinary world. Describing two or more cuisines that have merged in a deliberate manner, fusion has a bad rap for being, well, so often bad.
First coined in the late 1980s, fusion and the cuisine that followed it gave birth to a plethora of gimmicky foods that had no place on our plates nor palates. We can indeed all live quite happily without the diabolical ramen-burger, yet fusion need not be such a taboo.
After all, its roots go back centuries – since trade began, in fact, when cultures connected, people mingled and foods or ingredients overlapped in cuisines enhanced by diversity. For me, this is the most apparent in Asian-influenced fusion, such as that of chef Vicky Cheng's "Chinese x French" cuisine at VEA.
Hong Kong born but Canadian raised, Cheng is a fusion of sorts himself. But not until much later in life did he lean on this connection.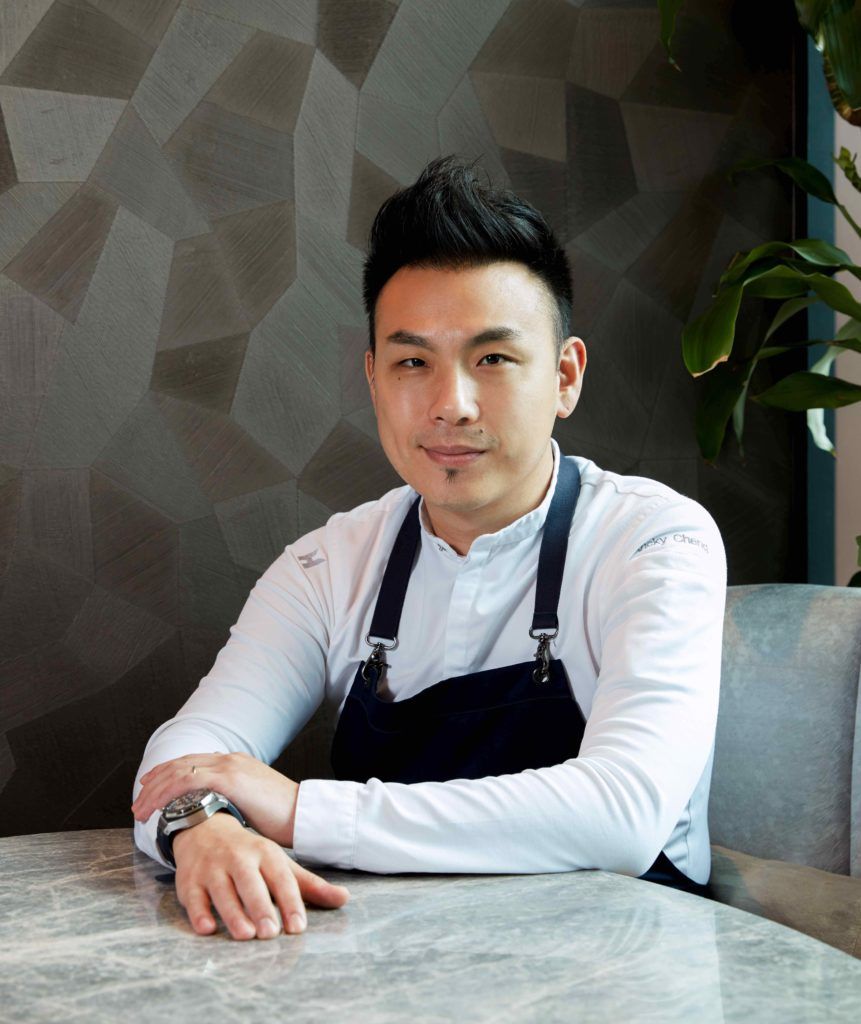 You might not expect such friendliness from an ambitious and successful chef like Cheng. But when I meet him in person, I realise that he's both considerate and affable, even with his own team. The mantra "teamwork makes the dream work" is emblazoned on the kitchen wall and serves as a constant reminder that the restaurant's success is based on their collective efforts.
VEA has been awarded one Michelin star for four consecutive years since 2017, and currently ranks in 12th place on the Asia's 50 Best Restaurants 2020 list, thanks to the execution of Cheng's inventive cuisine. "It's simple," Cheng explains. "Four years ago, we created what we label as Chinese x French cuisine, which basically takes all of the traditional French techniques that I've learned and then combines it with Chinese ingredients, philosophy and — sometimes — technique."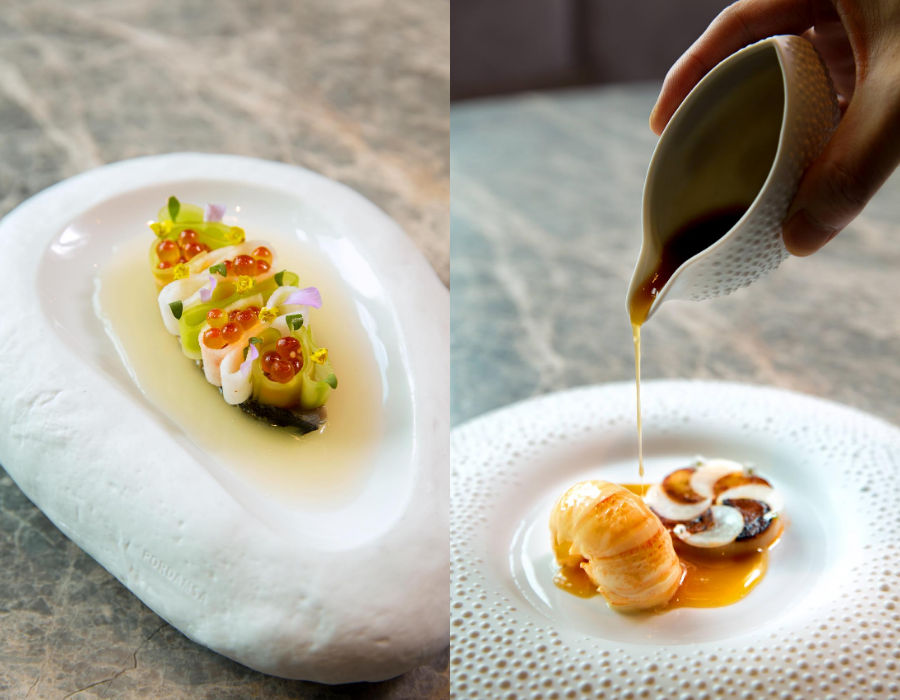 Describing how he pulled the two together, Cheng confesses "growing up, I didn't care too much for Chinese food. I'm Chinese, but my focus was always in French cooking. I thought that it was the best cuisine. I thought French cuisine meant fine dining, so that's all I wanted to do."
No wonder, then, that he chose to train in classic French cuisine, even though it was tough. He then went on to work with top chefs, including Jason Bangerter of Auberge du Pommier, Anthony Walsh of Canoe in Toronto and Daniel Boulud of the French fine-dining restaurant Daniel in New York. Thereafter, a need to renew his Hong Kong identity card resulted in Cheng relocating here in 2011, when he was appointed as executive chef for the now-defunct Liberty Private Works.
After a few years of working and living in Hong Kong, Cheng's interest in Chinese cuisine gained momentum and eventually led him to open VEA. "It didn't take me too long to say, 'OK, let's do Chinese and French…' I'm good at French cooking and I'm Chinese. My wife is Chinese, I'm eating a lot of Chinese food and looking for Chinese restaurants versus French restaurants now."
For Cheng, Chinese cuisine became a subject of fascination. The somewhat elusive wok hei (or smoky and charred aroma that's achieved by using a wok), the flavour combinations and the ingredients were all things he couldn't even imagine while only focused on French cuisine.

Like the vast land it hails from, Chinese cuisine is broad and its diverse nature enabled Cheng to explore numerous regions that sparked intrigue. He adds, "I take a lot of inspiration from Cantonese cuisine, but at the same time I'm inspired by Chiu Chow cuisine, because my dad is from there. And Shanghainese cuisine, as my mother is Shanghainese."It's with these influences that Cheng loads his curiosity to learn more and gain knowledge, before merging different aspects of different cuisines to amplify a dish; bringing together flavour, spice, aroma and texture in a truly original combination.
He uses the Chinese braised sea cucumber as an example. "I love it this kind of texture and flavour," he says, "but I understand how it can be difficult for people to get [or accept]."
This is the challenge that Cheng decided to take on. His solution: use one cuisine to influence the other and forge a bridge, or connection, between them. "I think with me telling the story of Chinese cuisine, it's more easily accepted… I'm trying to amplify the technique, ingredients and possibilities of Chinese cuisine through the lens of French cuisine, so that it may be experienced in a different way, and therefore understood."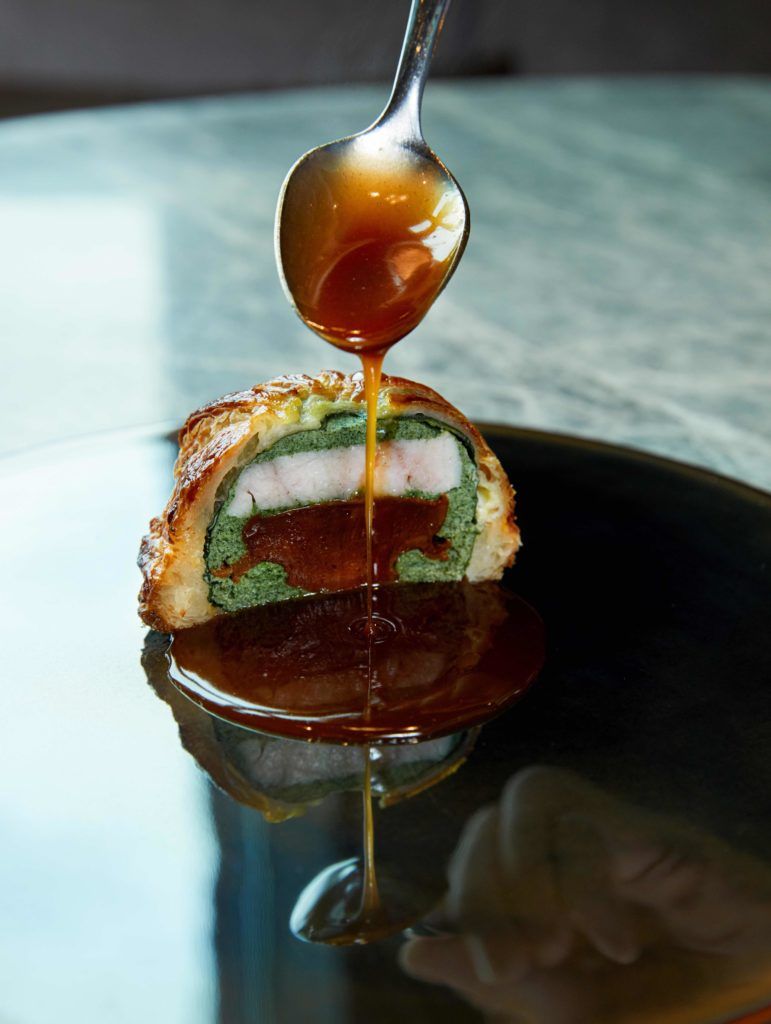 Other examples of Cheng's fused amalgamations can be found in dishes such as the Japanese mackerel, crowned with ribbons of crispy celtuce and pear, accented with Chinese aromatics and pops of ginger-infused salmon roe, and finished with cold-pressed pear juice; a take on a classic Chinese vermicelli dish, which uses spiny lobster poached in a citrus beurre monte, paired with a confit onion ring, stir-fried vermicelli, lobster roe, pickled garlic and a lobster consommé.
Then there is the signature abalone pithivier, which uses Japanese 27-head dried abalone, braised traditionally in master stock, with sweetbread wrapped in spinach mousse and buttery puff pastry; an interpretation of the traditional Chiuchow-style duck, which is reincarnated as the 14-day aged Racan pigeon from France smoked with sugarcane pulp from Kung Lee herbal tea shop on Hollywood Road, and topped with a crunchy sugarcane glaze, amaranth and pigeon jus.
Among the desserts is the chilled melon sago-inspired dessert that features sweet muskmelon from Shizuoka in Japan, layered with a rich Hokkaido milk panna cotta and double-boiled rock-sugar bird's nest.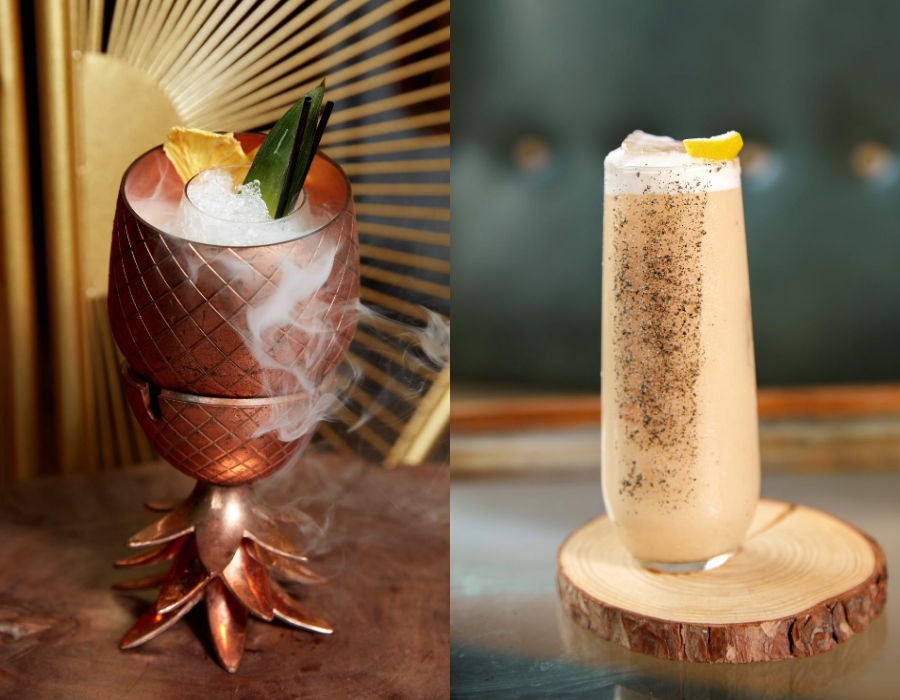 Meanwhile, in the sleek 29th-floor bar lounge, award-winning mixologist Antonio Lai showcases cocktails that fuse different flavour profiles. Take for example the flamboyantly presented, mezcal-based signature cocktail, the Cleopatra Formosa, which blends a silky texture with smoky aromatics and tropical flavours; the Hong Kong-inspired Mango Pomelo, which brings the summertime dessert to life with rum mingled with tropical fruits and coconut; or the more refined Cashew Ramos, which uses single-malt genever and gin, shaken with cashew milk for a malty version of the traditional Ramos gin fizz.
As I end the interview at VEA, I come to the conclusion that although fusion, in cuisine and culture, is not anything new, the creative connections, innovations and subsequently, advanced experiences in modern cuisine are, and thus, in my opinion, should be always be celebrated.
VEA Restaurant & Lounge
29 & 30/F, 198 Wellington Street, Central, Hong Kong
Click for more information