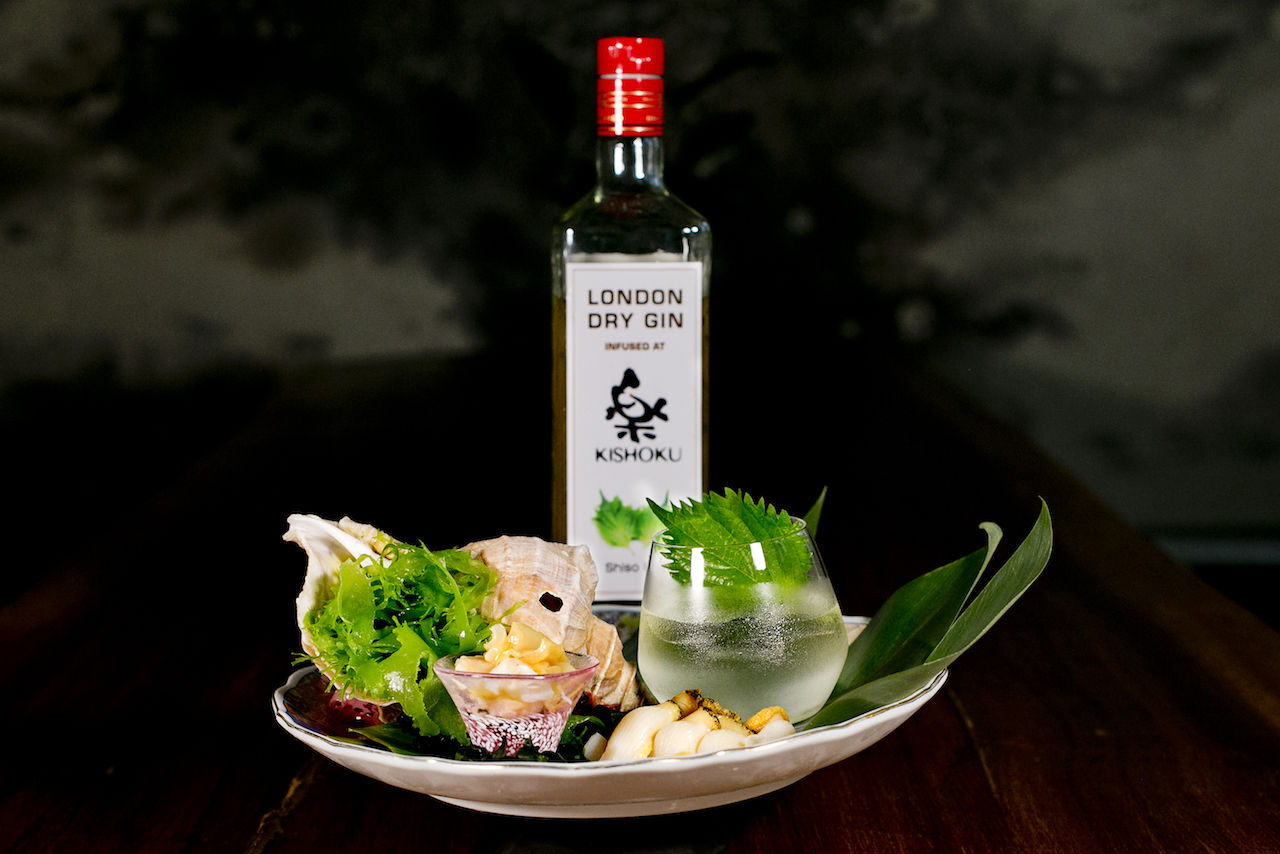 Cosy Kishoku in Causeway Bay's buzzing Zing! building has just unleashed an appealing food and drink match. Known for premium Japanese produce used in sashimi, sushi and a small rotating selection of dishes focused on seasonality, Kishoku commissioned five gin infusions concocted by bar owner and oft-awarded bartender Antonio Lai, to accompany three omakase tasting menus.
Using Beefeater London Dry as his base, each infused gin is mixed with one of three Fever Tree tonics. Although dishes change regularly as ingredients come in and out of season, those presented when Prestige visited last week, follow.
Cucumber gin and Indian tonic was poured with appetisers of marinated conch, sea urchin atop sea urchin tofu, and grilled star butterfish. A sashimi course of whelk, flounder and Kyushu prawn was served with shiso gin and Indian tonic, garnished with fresh shiso leaf. Lai believes that grapefruit-infused gin featuring grapefruit peel for more structure cuts through the heaviness of mains – and with light tonic water it was a good accompaniment to a trio of chestnuts (fried as chips, baked and grilled); it was even better balanced with the oiliness of crisp-skinned grilled eel. Lemon-infused gin and yuzu peel with Mediterranean tonic also brought helpful citric acid to balance the oils in sushi – noticeably so with horse mackerel, sea urchin, or the lush house signature hand-rolled tuna belly, salmon roe and hand-rolled sea urchin.
The final gin – Earl Grey-infused – served with lemon peel and Indian tonic was used for dessert pairings. The fragrant Earl Grey was deemed to be a fitting finale to the meal, echoing a traditional post-meal cup of tea or coffee. It worked a treat with freshly cut Japanese fruit (particularly rock melon) and milk pudding.
These special G&Ts can also be ordered on request, without committing to an omakase set.
The open-sushi-countered lounge-like restaurant, helmed by veteran Chef "Dragon" (real name: Lau Wai-lung, previously of Iwanami, Tsuki Iso and Kaika) and Chef Lam Yiu-fai, has now pushed past its five-year mark – no mean feat for any Hong Kong restaurant, let alone a Japanese one in Causeway Bay where competition and rents are fierce.