Matt Reid of Maximal Concepts talks to us about KIN Foodhalls, the tech-driven concept that aims to change the way we eat.
Serial entrepreneur Matt Reid's ventures extend across hospitality, technology and environmentalism. Together with Malcolm Wood, his long-time business partner and co-founder of Steelhead Group, Reid has been pushing the boundaries of hospitality in Asia since the establishment of Maximal Concepts, which is behind successful restaurants such as Mott 32.
After years of building restaurants around the world and producing environmental documentaries – including the acclaimed A Plastic Ocean – which explain the industry's impact on our planet, Reid and partners Wood and Jonathan Yeoh decided to further take the matter into their own hands.
KIN Foodhalls uses pioneering technologies to change the way we experience and think about food. The omnichannel concept aims to redefine the current delivery business models by creating a more financially and environmentally sustainable solution.
Essentially, KIN is an app-forward business with a real-world element: food. Imagine scrolling through Instagram and being able to order or pre-order the dishes you see being made in video reels. The food can be variously consumed in a food hall located on the first floor of Taikoo Place's Devon House, picked up or delivered in the immediately surrounding area.
During an exclusive tour of the premises, Reid took us around the kitchen, which measures an impressive 10,000 square feet (the dining area measures a further 8,000 square feet) and employs AI technology to develop recipes that are franchised from beloved local restaurants, new talents and acclaimed chefs.
While walking around KIN Foodhall, which opens this month, Reid, who's the CEO, talked us through the project's ambitions to expand to multiple locations, the prominent use of technology and how he sees this as his ultimate – and probably last – business venture. He also found time to answer some questions.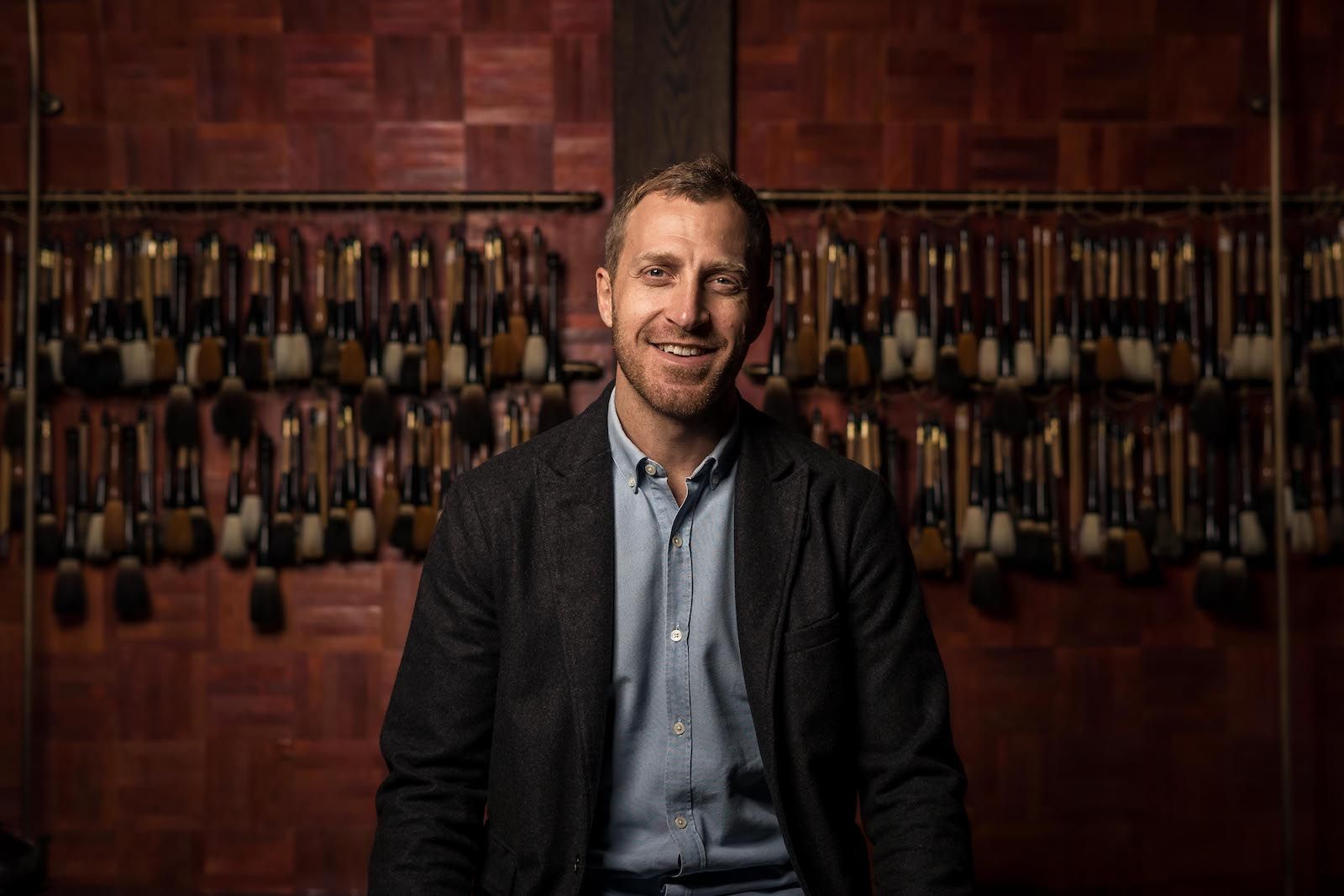 Inside KIN Foodhalls with CEO Matt Reid
How does KIN work?
Here in Taikoo Place, we have a vertical community of 50,000 people who can access the food however and whenever they want it. Traditional restaurants, which I've been focusing on for a long time, aren't built for this. The first critical piece of innovation – and it seems quite simple – is that customers can come up the escalator, see their order on the screens (which resemble those in a busy airport) and collect it at the right counter. You can order up to two days in advance, or just before a meal and wait around 10 minutes. Ordering in advance can allow people who are coming to the office to plan their meals for the week, for example, and to plan a balanced diet.
Because the kitchen is divided into different sections and uses many technologies to sort on-site orders, deliveries and takeaways, we're able to produce more than 500 items an hour without impacting the experience of those dining in the food hall. Additionally, thanks to technologies, we're able to control the temperature of each item.
By 2025, we're going to remove all packaging from our takeaway and delivery orders. We're planning to be completely circular. What we have here to solve this monumental task is that everybody is above us and we're doing deliveries up these towers nonstop. So, there's really no reason why we can't collect containers as well as build washing facilities around the areas. The process of becoming circular will start with opt-in programmes and we'll expand from that once we understand what doesn't work.
The use of technology is an integral part of KIN. How will diners experience it?
At KIN, we want to offer an immersive experience. On the screens we'll be playing reels of the food you can order. Every single item has video content associated with it. The idea is for people to connect to the stories behind the food. In many ways, it's like being able to buy something on Instagram, but with meals. We've spent a hell of a lot of time creating content.
In a traditional franchise system, we'd ask a chef/owner to bring a concept to the food hall. Now we ask to capture your story and to try and sell it to the customer directly, and if they're engaged, they'll buy it. We offer a platform for them to do it and we help to create the content.
How are you moving away from the current delivery model used by most establishments?

We think the current delivery model is fundamentally flawed. We started thinking it didn't make sense to try and serve a city or a big portion of it. Instead, we want to think of it as a smart food ecosystem and deliver to the buildings we can see and that are a short walk away from where the food is prepared. For this to work, we need to be located in a densely populated area. The other difference from a "traditional" delivery model is that we aren't a faceless outlet. As we made the radius a lot smaller, people can actually come here and tell what's wrong with their order. When people download the app, they essentially join the community.
What are the various food concepts available at KIN and why have you selected them?
Firstly, we choose to work with people we believe are talented and that we respect. If the products we're selling aren't amazing, the whole thing won't work. Underneath that, we can try to change the ingredients and the delivery system to have a positive impact.
Following the charter we created, we only use highly regenerative ingredients, organic where possible, ethically sourced meat and so on. We're able to do that because we franchise the recipe from a restaurant. So we show them how it could be done and then potentially help them to transition into our ingredient charter. At the end of the day, the main reason some restaurants don't use these ingredients is because they're more expensive. Because we're franchising restaurants, we pay them 5 percent and the cost of goods sits with us. We're the one making the decision to make less margin, but we're using technology to get that margin back elsewhere.
At the bar, we have 18 taps with local breweries and serve natural and biodynamic wines from places like the Hong Kong-based wine cellar La Cabane. On the conveyor belt, we have KIN sushi. We're convinced sushi kind of embodies everything we're trying to do within our ingredient charter. We only use fish from two farms, which have been audited and we're sure will do things the right way – salmon from New Zealand and a hamachi from Australia. We made a whole menu based on those two fish and hydroponic vegetables from the region. The sushi recipes aren't franchised from any restaurant, but we see it as the farms themselves being on our platform, rather than a restaurant brand.
In the afternoon, the conveyor belt serves pastries and snacks, like Cookie Department cookies and plant-based desserts from Essentia, while from 5.30pm it'll serve cheese and charcuterie. For Iberico ham we're working directly with a farm, exactly as we do for sushi.
In the adjacent area we have a pizza oven with 16 seats where we'll have pizza at night, but also do pop-up kitchen experiences with chefs actually coming here to cook. We partnered with Emmer – they're proper pizza geeks and are Asian. We want to celebrate Asian chefs and talents here. So, as long as the creators are Asian, we can bring any food. In front of additional seats and dining areas – where 25 percent of all materials we used to build the space are regenerative or renewable – there's the soup noodle station, which is a big part of what we do.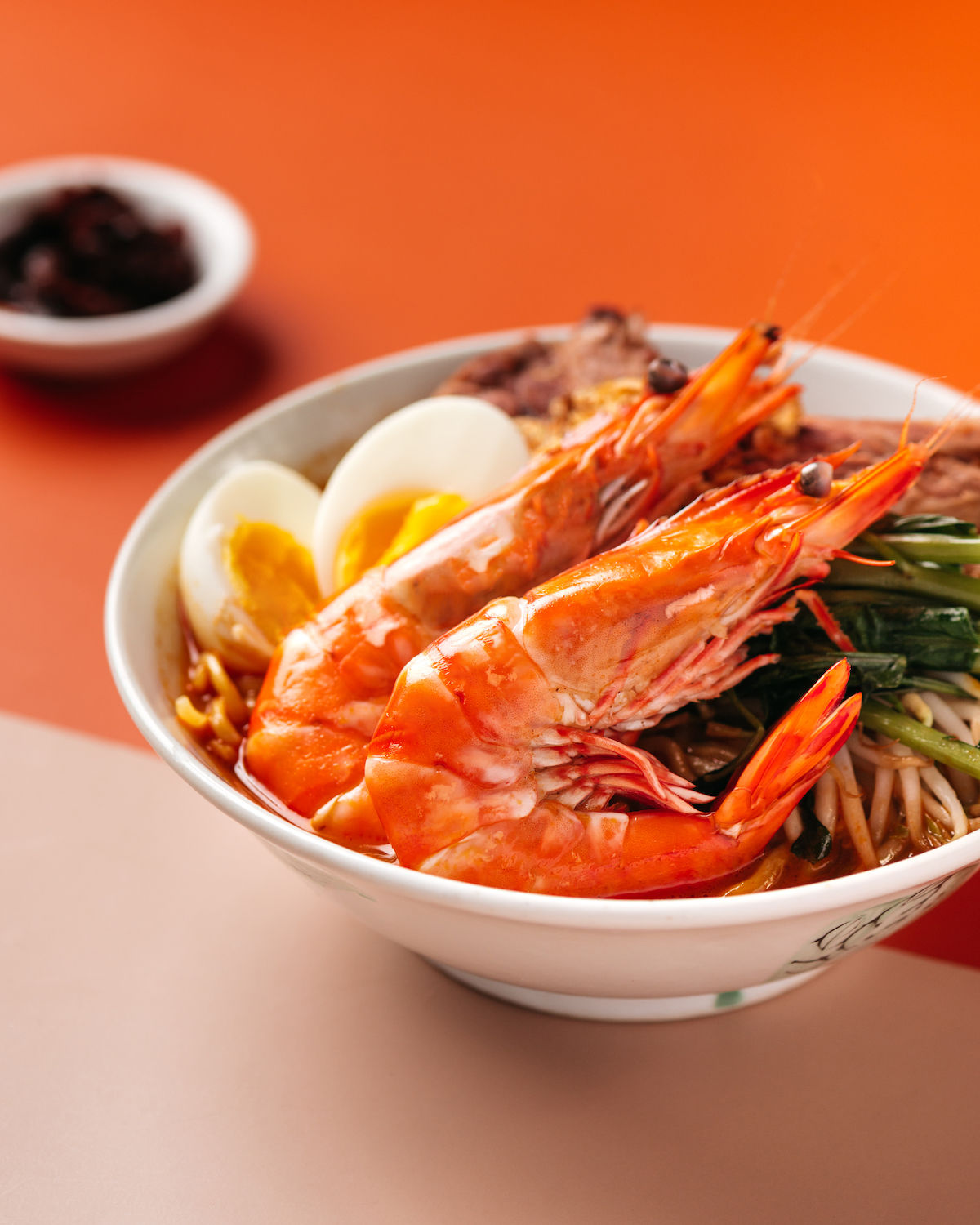 What's your mission?
We want to do a million dishes a year, at an average price of $100. In 2019, 3.9 billion pieces of food packaging were used in Hong Kong, which landlords had to clear away. These buildings weren't designed for 50,000 people – of which, say, half of them order food delivery every day. It's a cost for them, but it's also an ethical cost. This needs to change and we can only do that if we move away from the systems now in place and integrate into a building's ecosystem. That's why we partnered directly with Swire, the landlord at Devon House.
When we conceived this project, we thought about it as an engine. We're launching a piece of engineering in a building that can run as an engine. And this is, in essence, the pilot of an engine. There'll be plenty of improvements, but the core part of it is to produce a million high-quality dishes a year from an engine like this.
At the same time, we hope to use our kitchens and facilities to train young chefs. We have a one-year trainee programme that anyone with almost no culinary experience can attend and go through every kitchen at KIN to learn different techniques.
How did you come up with the original idea for KIN and how will it evolve?
After spending the last decade building a luxury Chinese restaurant brand and expanding it around the world, we'd been talking about this idea of creating the Netflix of food. We even had a location in London where we were going to do it, which we still have and we'll use for a future project. The idea we then developed is similar but not exactly the same: a food hall with a central kitchen, licensed brands and video content.
Then Covid hit when we'd already done the first layout for the London space, so we decided to pause it. During the pandemic, when so many restaurants had to rely on deliveries, it became even clearer the system really wasn't sustainable and there were no margins of profit.
We basically implemented an evolution of it, here. We think this engine is highly repeatable. If we flash forward to the future, we could have KIN in Australia, the UK and Japan, for example. The current target is to get to five million dishes a year by 2024. If one location can do one million, it means we need to expand throughout 2023. By 2050, 80 percent of the world's population will live in cities. So, if we want to target climate change from a food perspective, we need to change the way cities eat and we need to do it systematically.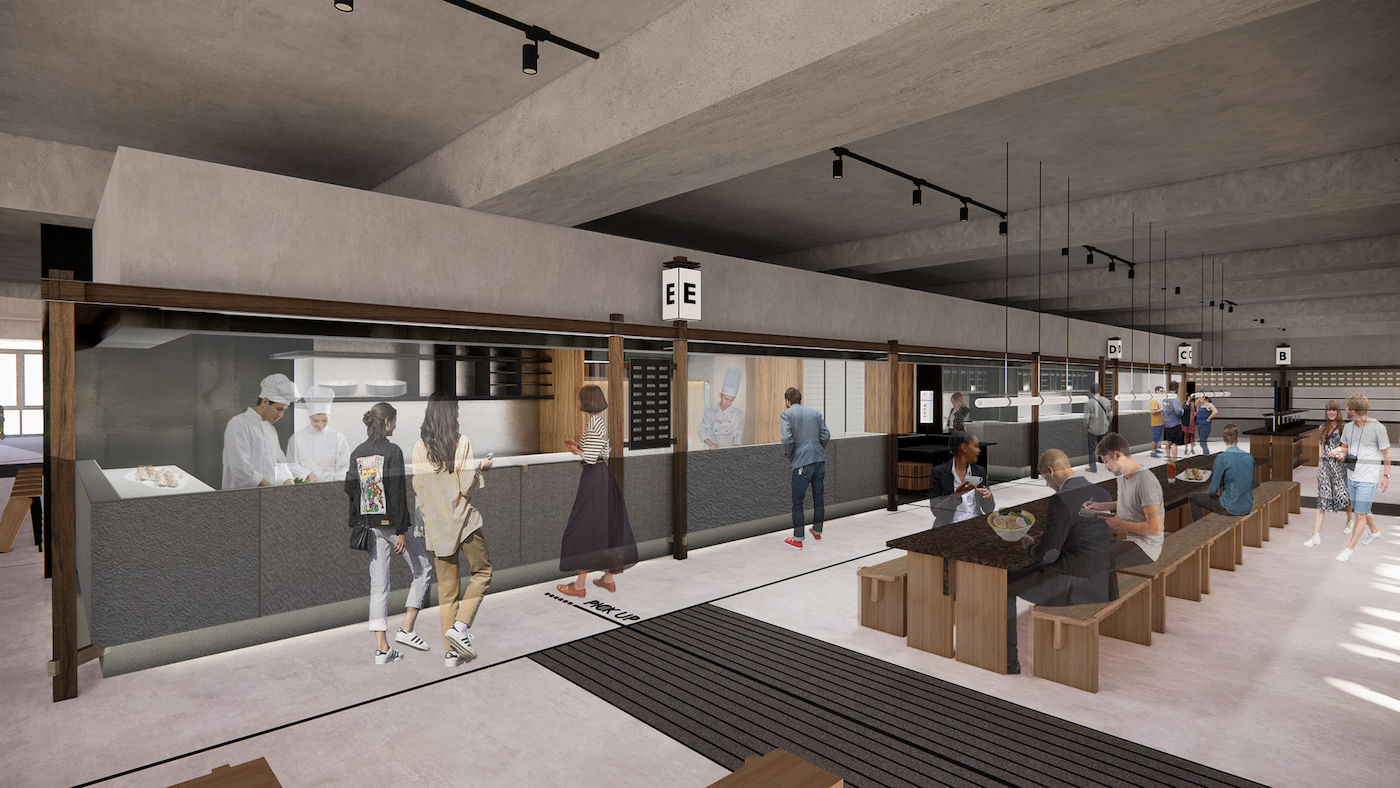 How does KIN represent your evolution as an entrepreneur?
Malcolm and I set up our first company together when we were 19. I turned 41 last week, so we've been working together for a long time. We built companies and, in our partnership, we built a central piece of infrastructure that enables us to chase our dreams. So we started off doing restaurants together and then we spun out in different directions.
Malcolm wanted to start making films and I got into healthcare, and made a company called Disruption Labs. After five years of learning about climate change through making a film, we just couldn't bring ourselves to not try and apply our skills as restaurateurs to this huge problem we're facing as a society. This is also the first time Jonathan has founded a company with Malcolm and I, but he's been involved in our projects every step of the way. He was one of our original investors in Maximal Concepts and left banking to join us for a while. He's always been with us and been part of the journey.
I've never done anything harder than building KIN. There's so much to learn, and certainly so many mistakes to make. I definitely want to put everything into this, and I think this is the one where we can really make a difference – and it's probably my last project.