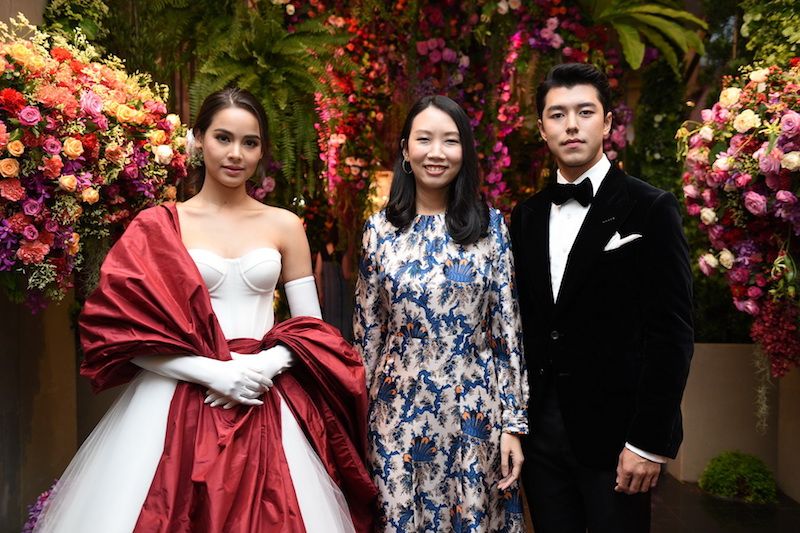 The festive season doesn't begin until we get to feel the light presence of cool breeze, and the floral spectacle of Central Department Store's anniversary celebration. This time, Thailand's retail giant is moving into its 72th year with a "Floral Paradise of a Million Blooms" at Central Chidlom and Central Embassy from November 1-5, 2018.
The opening event, held on November 1 at the Lobby Lounge, 1st floor, Central Chidlom, welcomed esteemed guest of honour Thaweesak Lertprapan, Deputy Governor of Bangkok, who admired the highlight show 'The World of Floral Wonders' featuring an appearance of showbiz superstars Urassaya Sperbund as the Floral Princess, together with Naphat Siangsomboon.
Throughout the whole 'Central Anniversary 2018 – Floral Paradise' period, the flagship stores and iconic shopping destinations will be turned into a heavenly set of gardens. Central Chidlom will be home to the giant 7-metre tall gazebo, centred in the store, while each floor takes on a floral life of its own. The first floor is the main focus, with vivid red tones, bird cage décor and an exhibition highlighted by 5 wonderful rare rose varieties from the UK and 8 beautiful unique varieties from France.
Central Embassy is filled with exhibits and activities to enthuse all. The Front Yard is a field of 1,000 Cordia-shaped windmills, complimenting the art masterpiece 'Fruits Tree' by the famous Korean artist and designer, Choi Jeong Hwa. Other floors feature different floral spectacles for those who enjoy selfie and snaps to have at the time of their life.